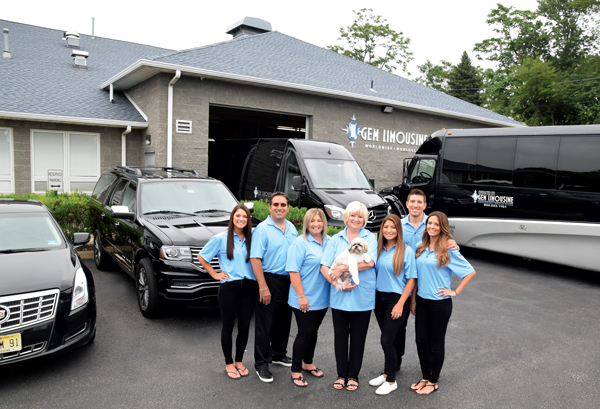 After four decades in business, this New Jersey operation is run by three generations of family.

With three recently acquired limousines in her New Jersey driveway, Barbara Chirico sat at her kitchen table, dictionary in hand, and tried to find the perfect name for her burgeoning limousine company. Entering the field was a bold decision for someone who had never even ridden in a stretch, but Chirico was looking for a career to fill the time as her daughter Deanna entered kindergarten. The new operator thumbed through the book's pages, searching for a word that was short, catchy, and could be visualized by a simple logo. Before long, she came to the "G" section—and Gem Limousine Service was born.

Flash-forward 41 years, and that initial fleet of three Cadillac Formals—in actuality, two, since one was only used for parts—has long been supplanted with a lot of 100 diverse vehicles, ranging from sedans to minibuses. Moreover, Gem has flourished as a true family-run organization. Deanna Gulino, the kindergartner who inspired mom to enter the industry, now serves as the company's CEO alongside her husband Joe Gulino, who is president. Their son Joe Jr. (Joey) is Gem's director of strategic partnerships, and daughter Nicole is director of finance. With three generations active in the organization, Gem is considered a leader in the greater New Jersey/New York area marketplace, and the lady at the helm is recognized as an industry legend. And while Gem now operates out of a 17,000-square-foot facility in Woodbridge, N.J., just across the river from New York City, it's a considerably different environment than the company's early days.

"We had a small house in Linden, New Jersey, with only five rooms," shares Barbara. "And I worked out of that home for 15 years. We parked cars in the driveway and in the street. The kitchen and an extra bedroom became the Gem headquarters. Drivers were in and out at all hours of the night. While I was in the house, I had two-way radios that would be next to the bed and even the shower."

Barbara recalls those initial days as an operator as a "grind," and would often seek help from family and friends. Deanna was taught to fold and file invoices, and Barbara's best friend Elsie Pepe would come over to help wash cars and answer the phone. She was with the company for 30 years as Barbara's "right-hand woman," until her passing nearly a decade ago. Meanwhile, the rookie owner was pounding the pavement to look for retail clients for proms, weddings, and funerals. "Honestly, I wasn't sure how long I'd be able to continue," she confesses. However, a random but fortuitous encounter at a Jersey diner two years after starting the company would change the course of Gem's business model.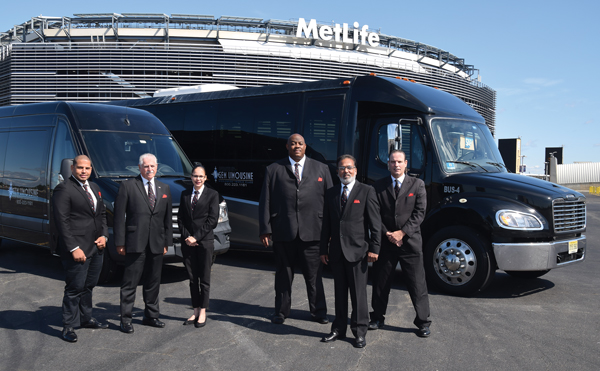 A few of Gem's chauffeurs in front of MetLife Stadium "I had a part-time driver who was also a fireman. After his shift, he went to the diner to eat around 3 a.m. This night, he overheard a conversation between two women in the booth behind him. One of them was fretting about her job because the limousine hadn't shown up to pick up her boss. After an introduction and a quick chat, he made an appointment to see her in the office—which happened to be at a Fortune 100 pharmaceutical company. We came to realize that the area corporations needed limousine service, which ultimately became a huge turning point for Gem. To this day, we still are contracted with them. It was a struggle until we stumbled into the corporate side."

Back in the late '70s and early '80s, Barbara faced more than the typical trials and tribulations of the nascent limousine company owner—that is, finding new business, buying vehicles, hiring staff—but she also had to deal with the difficulties of being a woman in an overwhelmingly male industry. "As a female operator in those days, there were a lot of people who wouldn't lend me money. Fortunately, Jack Schwartz from Gaines Leasing believed in me and leased me a used limo. To this day, I owe him credit for giving me a shot. Through him, I met Bruce Cirlin (now with Complete Fleet Livery Sales), who is still a friend we do business with."

Barbara is also quick to mention the importance of new business owners getting involved in industry associations. In 1977, she joined the Private Livery Association, which was mostly made up of N.J. funeral companies. "Back then, funeral companies were starting to get into sedan work. I learned a lot from them, and the association got me networking. I felt I was all alone on an island in an industry I knew nothing about. Later, the New Jersey Limousine Association started to organize networking, with great people who were willing to talk and share experiences, and establish a benchmark. It really helped my company keep growing."



"We came to realize that the area corporations needed limousine service, which ultimately became a huge turning point for Gem."
– Barbara Chirico, Founder/Chairwoman of Gem Limousine

Chirico continued her devotion to industry associations. In 1998, she became a director of the NLA, eventually becoming president in 2001. Barbara also held the position of treasurer with the Limousine Association of New Jersey. Recently her years of constant service to the association were recognized with a lifetime achievement award.

After cementing its place in the industry, Gem enjoyed a steady period of growth still operating out of Barbara's home. Eventually, though, she realized it was time for a change, and it was none other than a prom that opened her eyes. "I always felt bad that Deanna had to grow up in that atmosphere, with drivers coming in and out of the house at all hours. She was trying to live a normal life of a kid. When she was a teenager, Deanna was getting dressed to go to her prom while the phones were ringing and drivers were in and out. I finally said to myself 'I have to get out of the house.' She left for the prom, and I cried because it just wasn't fair to her. At the time, I was running 18 cars out of my home, and we knew it was time to look for a small office building—which we found in Linden."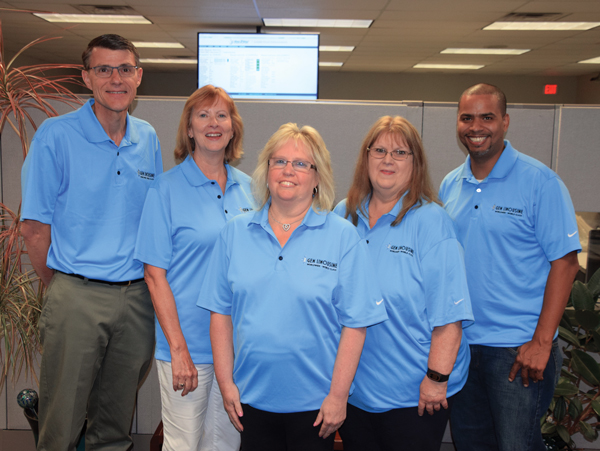 Members of Gem's staff (L to R): Kevin Boughton, Kathleen Tuccillo, Alyse Stauffer, Jackie Sue Sperber, and Jason Martinez With Deanna playing such an important role in the development of the company, it should come as no surprise that she would eventually find her way into her mom's business; however, Barbara insisted that she work for another company first.

"I worked for my mom part-time when I was a kid," says Deanna. "I would go out and sunbathe during breaks. I considered entering the biz out of high school, but she wanted me to join the corporate world to get some knowledge and experience. So right out of high school, I was recruited by a huge pharmaceutical firm."

But after she married, juggling work and family, corporate changes threw a wrench in the mix. "I had been there five years and had a 2-year-old when the company announced they were moving to a new location. They offered to pay to relocate us, but at the time, my husband owned a popular local bar and restaurant. The commute would have been very difficult, and I didn't know what to do."

Leave it to Mom to come to the rescue: "She looked at me and said, 'Would you like to come into the business?' At that point, a lightbulb went off."

Deanna started in 1992 as a reservationist, ultimately learning every aspect of the business. Eventually, she went into accounting and handled the books, payroll, and payables—while offering her mother some much needed family support. "I truly believe that if I didn't come in, I don't know how much longer she would have been able to continue on her own."

With the next generation recruited into the company, it was only a matter of time before Barbara looked to add more familiar, or more accurately, familial, faces into the fold. Joe and Deanna Gulino were high-school sweethearts—he was her date for the aforementioned, fateful prom—and they had married in 1990. Not long after Deanna joined Gem, her husband decided to dip his toe in the water, too.



"I'm a blue-collar, hands-on type of guy. I like getting my hands dirty."
– Joe Gulino, President of Gem Limousine

"I was running a successful sports bar that my brother and I bought out from our parents," says Joe. "Barbara asked me if I'd consider a career change. She recognized my work ethic, and thought I might be a good fit. I took a leave-of-absence and started as a chauffeur in 1997."

"And he hated it," laughs Deanna.

"It was very hard with three small children to wake up at 3:30 a.m., work 12-hour shifts six days a week, get home at 8, and clean the car and my suits. But Barbara said, 'you have to trust me; you have to understand what the drivers are feeling and what the clients need.' So, I did it for 24 months."

While Joe was driving, he realized he was in an ideal place where he could pay close attention to the needs of his clients as well as those of their companies. After his morning runs were complete, he would literally knock on office doors with brochures in hand. "I would go to the top floor of mixed-use office buildings and drop off business cards one floor at a time."

After his tenure as a chauffeur, Joe started dispatching during both day and night shifts. By taking on as many roles as possible, it allowed him to get to know the nuts and bolts of the operation. "I'm a blue-collar, hands-on type of guy. I like getting my hands dirty. When I was in the restaurant biz, I did everything there, too," he says.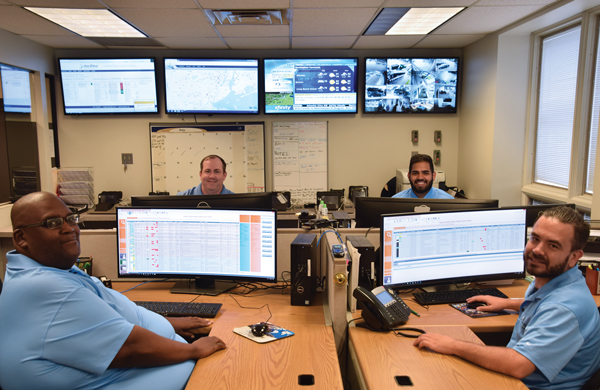 L to R: Dispatch Manager Anthony Wright along with dispatchers Tim Trenery, Karan Randhawa, and Adam Izquierdo After learning the ropes in dispatch and sales, Joe next tackled putting together a nationwide affiliate network for Gem, inspired by a visit from a competitor during a period of economic downturn. "After 9/11, the CEO of a large competitor made an offer to buy us out. He looked in my eyes and said, 'How do you expect to compete against companies like mine?' He really scared me, but I turned my fright into determination. He lit a fire, and it was the best thing that ever happened to me."

Soon, he was able to sell his new affiliate program to Gem clients, for which Joe takes a great deal of pride. "Gem Limousine Worldwide, our affiliate side, represents 40 percent of our gross sales. It allowed me to put my stamp on the organization, and it was gratifying for me."

"He went from being a chauffeur to president of the company, and he has a true passion for the business," Deanna proudly says.

In May 2011, the third generation of Gem entered the field after Joe and Deanna's son Joey graduated from Monmouth University. He jumped right into the business, building the operation's website and digital presence in addition to creating presentations and RFPs.

"He knew what he was getting into," says Joe. "He watched us work. We had babysitters caring for him after school while we both worked full-time. Unfortunately, we talked a lot of shop at the kitchen table. We didn't have a traditional family life."

"Joey has goals and ambitions for the company that includes a lot of technology," says Barbara.

Joey's wife Lauren also has an role in the company as director of global business development. Her father-in-law Joe calls her an "affiliate manager on steroids" who has the respect of all the reservation agents in the company. Furthermore, Joe and Deanna's middle child Nicole, a recent Monmouth University graduate, now serves as director of finance. She has plenty on her plate planning her wedding to fiance Kevin Stankewicz this December.



"You need to care about your employees. You need to be honest and treat people fairly, no matter what position they have in the company." – Barbara Chirico

"She has always wanted to come into the family business," beams Deanna. "She told me that she wants to take my job!" The Gulinos are currently empty-nesters as their youngest daughter Gina is studying business administration at college, and will soon be the family's third child with a business degree.

But there are more involved in the company than the Chirico/Gulino clan. A key factor in their corporate culture is that each member of the team is part of an extended family. Employees are labeled as "The Gem Family" and Barbara, Deanna, and Joe make sure that everyone on staff is treated with the same level of respect.

"You need to care about your employees," says Barbara. "You need to be honest and treat people fairly, no matter what position they have in the company."

"We'd never ask anyone to do something we wouldn't do ourselves," adds Gulino.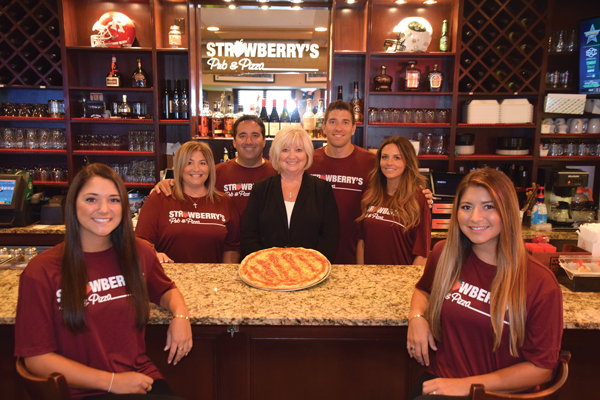 In 2008, the "Gems" bought the property next to their headquarters that included a well-known N.Y. style pizzeria Strawberry's Pub & Pizza Case in point: "To clear my head at lunch, I go into the parking lot and blow leaves around," says Joe. "My car washers look at me, and say 'this guy doesn't stop.' But they respect me for it. I'll pick up a brush just to talk to them and break up the day. I connect with them. The secret of the business is connecting with your team."

The Gem team includes employees that have been with the company for more than 20 years. Mechanic Sandor Lech has been with them since 1990, and Barbara says that he takes pride in each and every one of the vehicles as if they were his own. "Our drivers are more fearful of him than Joe," she jokes. "He's on them about keeping the vehicles clean and regular oil changes. He's a great asset to the company."

Another employee they are quick to recognize is Gem's Executive Account Manager Worldwide Groups & Events Cindy Chase. She was hired to "fill in" for Deanna during her first maternity leave in 1992, and is still here today. Other longtime staff are Anthony Wright, dispatch manager, who supervises four different dispatch teams; Ian Reilly, manager of chauffeur training and operations; Ed Walch, vice president of client relations; and Kathleen Tuccillo, manager of finance, who streamlines all processes within the finance department.

The upper management of the company values each member of the 140-plus Gem family, which includes 40 office staff and more than 100 chauffeurs. But that doesn't even include the 30 people that work at Strawberry's.

Strawberry's...?

Diversification in the chauffeured ground transportation industry is certainly not uncommon. Many operators have expanded their business to include DMCs and even bridal shops or gas stations. However, in 2008, eight years after Barbara made the decision to build Gem's own facility, the company had already outgrown its parking area and was still expanding. Unfortunately, she found herself butting heads with the owner of the neighboring property.

"The properties included a successful pizza parlor, warehouse, and parking lot, but the owner wouldn't separate the lot from the building. So we looked, but it was less expensive to buy the two properties than it was to move." Thus, Gem became the owner of Strawberry's Pub & Pizza.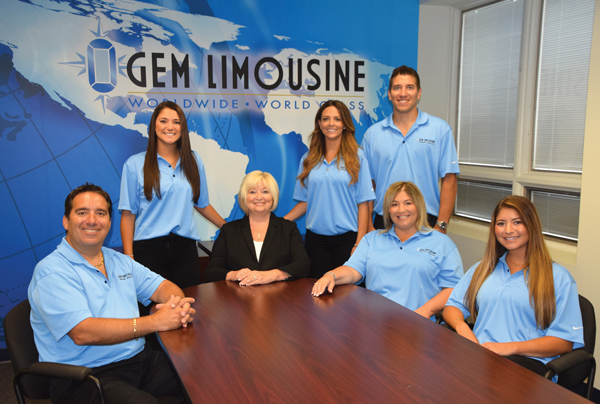 L to R: Joe Gulino, Gina Gulino, Barbara Chirico, Lauren Gulino, Joe Gulino Jr., Deanna Gulino, and Nicole Gulino "With my background, it wasn't strange or foreign to own a restaurant," says Joe. "This was a good opportunity, but it was scary because it was a whole other business and team. The staff there made it work. They had a great team in place, so we kept everyone on."

"We love them," says Gulino, "and they love us. People come in for our New York-style pizza and to see the people who work there."

The gamble fully paid off. After an 11-month period of renovating the building, Strawberry's reopened in 2013, ultimately growing profits by a full 100 percent. "It's become an institution," says Joe. "We all have our hands in that part of the business. Joey handles every aspect of running the restaurant, and Gina and Nicole work shifts bartending and serving." With three generations active in the business, it's only natural that the family would continually be clashing over ideas and business practices, right?

Not at all.

"Even though Joe and I have offices next door to each other, there are days when we never even see each other," admits Deanna. "You'd think the kids would get tired of us, but the kick of it is that after work, we frequently get together for dinner. We see each other almost every weekend, too."

In reality, it's the family aspect of the business that they find most rewarding. Amidst the challenges of regulations, pricing, and dealing with the insane volume of traffic in North Jersey, the family takes comfort in having each other close. Although Barbara is semi-retired and spends her winters in Florida, Deanna says it's still a thrill having her mother in the business.

And for Barbara her greatest reward, after 40 years of business, is equally simple.

"The best thing for me is having my kids and grandchildren here; every morning they come into my office and give me a kiss. What could be better than that? Life is good." [CD1017]