BY SUSAN ROSE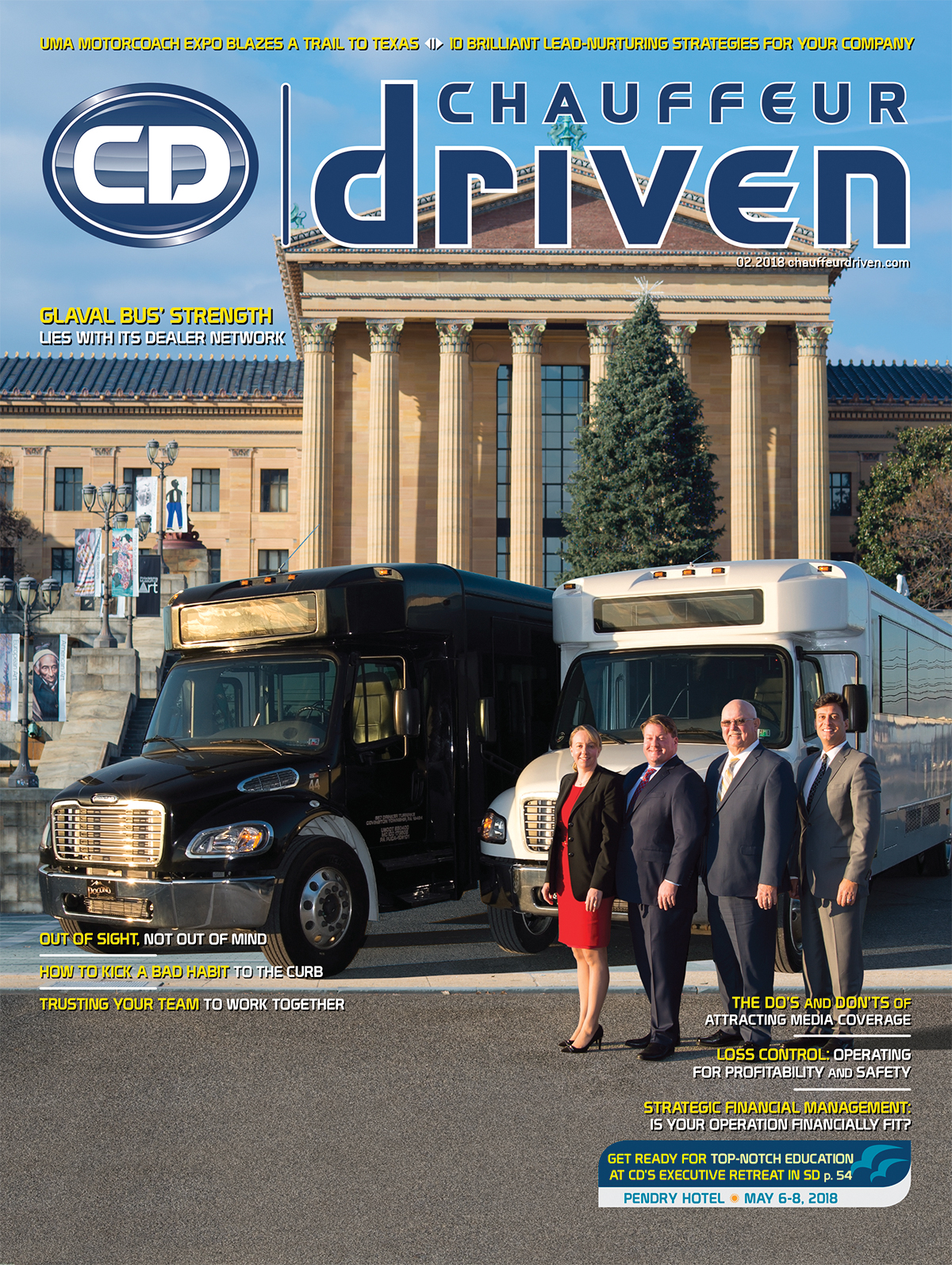 Cover Art: Celebrating the Glaval Bus and Wolfington Body Company partnership (L to R): Eganne Wolfington and Richard Wolfington of Wolfington, Paul Marnocha of Forest River (Glaval's parent company), and Brian Engle of Wolfington at the Philadelphia Art Museum. Cover photo by Ron Farina of Ron Farina Photography. Every company has a foundation, and for Glaval, its history was rooted in custom vans more than 40 years ago. At its peak, Glaval Vans was the largest in the industry, customizing upward of 200 vans per day to keep up with the intense demand. But, like any trend, tastes changed over time and OEMs shifted from vans to sports utility vehicles. In 1999, Glaval restructured and retooled its line to focus on a much more stable and upcoming market: shuttle and midsize buses. Several years later in 2002, while the company was still finding its footing, it was acquired by recreation vehicle manufacturer Forest River (which also owns bus brands like Battisti Customs, Berkshire Coach, and Starcraft). The infusion of capital jump-started a growth phase that continues through today.

"The commercial bus business is quite a bit different from the van conversion business. Vans were consumer products with very few structural modifications, while commercial buses require extensive structural work and must be built for commercial duty," says General Manager Phil Hayes, who has been with the company for 37 years. "To make the transition, Glaval required different skill sets in engineering and production. The one thing that remained constant was our culture of building higher quality vehicles than our competitors."

With a forward-thinking R&D team in place and a catchy tagline—Think Glaval First—Glaval soon realized that its midsize buses were adaptable for a wide variety of industries, a positive position to be in in such a competitive marketplace. But to really capture the unique challenges and needs of chauffeured ground transportation, Glaval relies heavily on its dealer network for direct feedback and design input from customers, which is currently 20 strong nationwide.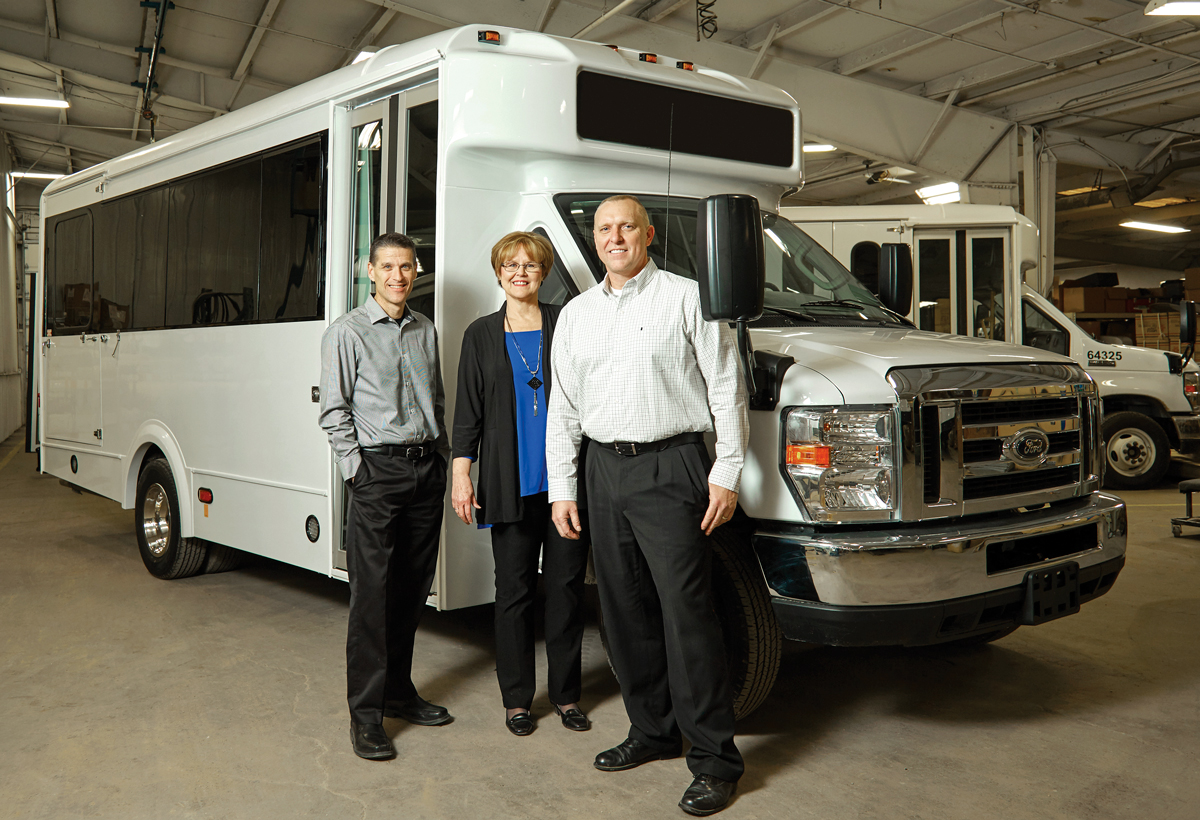 L to R: Director of Sales Scott Mamone, Director of Customer Service Vickie Stout, and Director of Engineering John Skelton at Glaval's headquarters in Elkhart, Ind., with a 25' Universal model "One of the things that makes Glaval so unique is that we have the ability to build specialty-type vehicles, including limousine-style executive buses and for other types of transportation as well. We're driven by our dealer base, so we have that flexibility and experience to build most anything for our customers. We rely upon our dealers to identify market opportunities, and we support them in their efforts," says David Wright, president of Forest River's bus division.

One of its longest-running and largest volume dealer relationships is with Wolfington Body Company, which is based in Eastern Pennsylvania and sells exclusively to the Pa., N.J., and Del. market. Wolfington dates back to 1876 as one of the leading carriage builders of the time, but more recently, the company is known as one of the largest providers of high-end school buses to the tristate area. Like Glaval, Wolfington was attempting to expand into the commercial bus market about a decade ago and sought out the manufacturer based on its character.

"Glaval had a reputation for producing a well-built, premium vehicle at a smart price point and for standing behind its warranty," says Brian Engle of Wolfington Body Company. "We prefer to sell quality products that we can put our company behind, and we only work with manufacturers that stand behind their products. What you get with a lot of those low-cost builders is that they just walk away if there is a warranty claim. We wanted to partner with a manufacturer that shares our mentality, and we found that with Glaval. We were fortunate enough to obtain the franchise, which has since become the backbone of Wolfington's commercial bus division."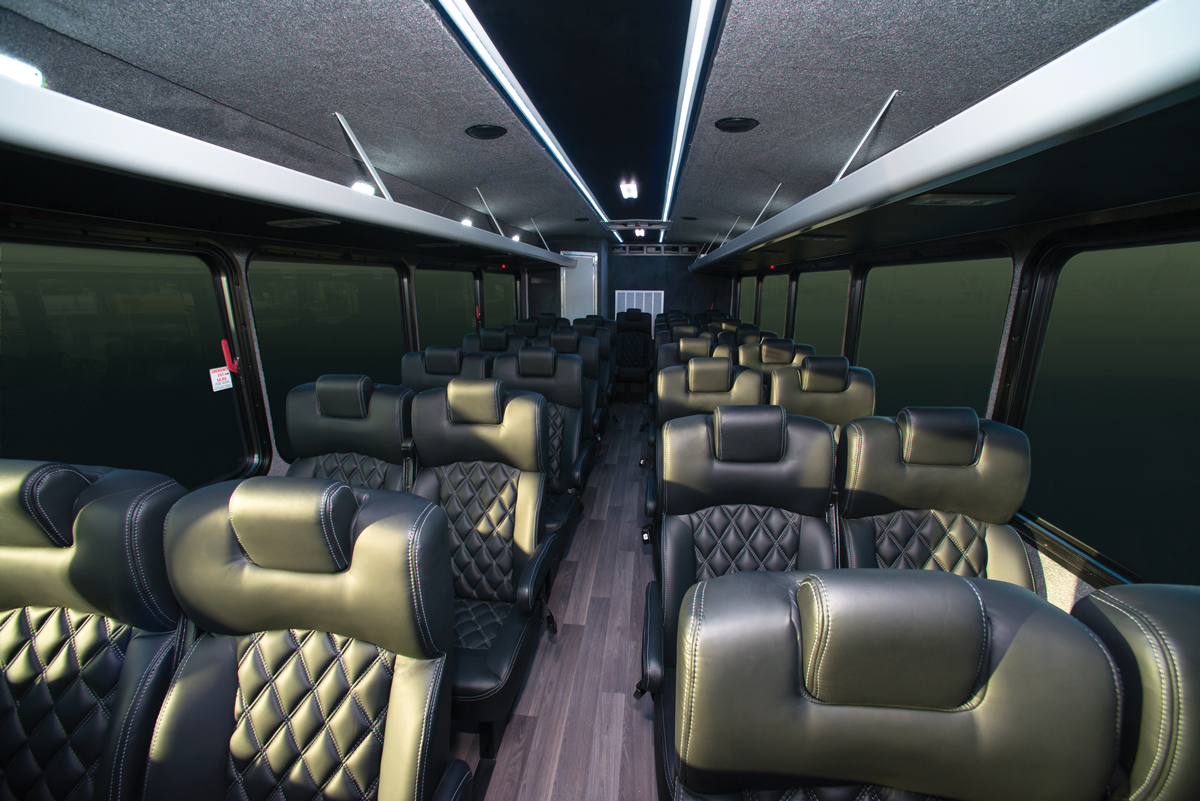 An upgraded interior with carpeted walls, overhead luggage, and restroom "Wolfington has definitely been a great dealer for Glaval products," says Scott Mamone, general sales manager and one of the newest members of the Glaval management team. "They have the financial resources to be able to service their customers, they take pride in what they do, and they stand behind the product line—which is important to us as we continue to build the Glaval name. They're growing with us, and have just been a phenomenal partner with us. We see them as a big part of the future with both Glaval and Forest River."

Glaval currently offers more than 10 vehicles, the smallest built on a Ford Transit and the largest on the heavy-duty Freightliner S2C chassis, although Wright says that its midsize buses have been most popular with our industry. Engle identifies the Universal and Legacy models, with maximum capacities of 25 and 35 respectively, among those receiving the most interest from operators.

"Medium and larger body vehicles built on the Freightliner and Ford F550 and F650 chassis are the models that are most requested," says Wright. "I think most operators are trying to move as many passengers as possible as efficiently as possible, so maximizing those passenger capacities eliminates the need for our smaller chassis like the Ford Transit or the E350."

One of Glaval's assets has been its consistent, long-term management team, which includes Hayes, Wright, Director of Engineering John Skelton, and Director of Customer Service Vickie Stout. Mamone is new to Glaval but has been with Forest River for the past eight years.

Skelton has been with the company since its inception, and has been integral in developing industry-leading designs over the past two decades. He works closely with several departments, including production, sales, and purchasing to insure that all of Glaval's products are built correctly each and every time—and according to customers' wishes. But customer demands have not only changed the engineering process, so too have the required governmental regulations, improvements in vehicle efficiency standards, and explosion of electrical components. The challenges a builder faced 10 years ago are very different today, and its Skelton's job to be on the forefront.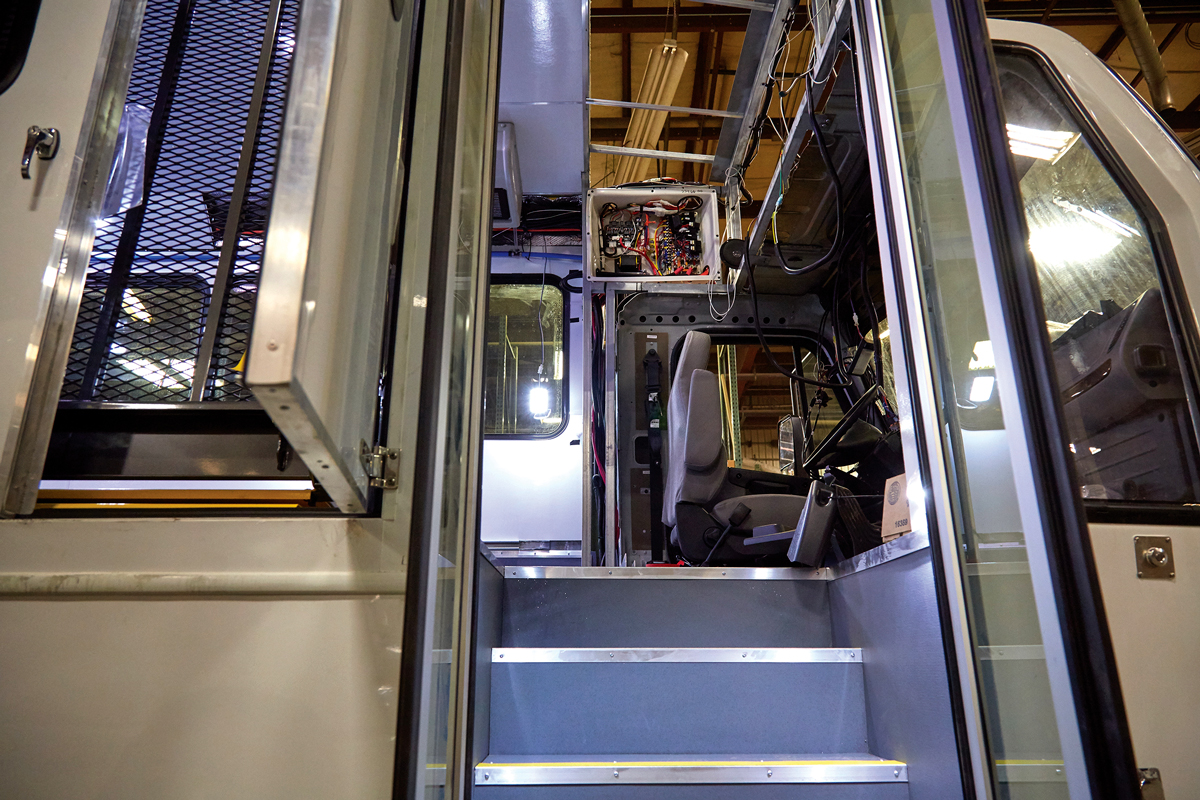 Electrical installation featuring Glaval's multi-plex system "We're proud in how we've positioned ourselves to really listen to what the customer is looking for. If they're asking for specialty camera systems or other video systems, for example, we really try to package it to be best fit their operation. We're always looking to be innovative," says Skelton.

Skelton says that there is an emphasis on safety in all of Glaval products, starting with bolted and welded walls and roof, a welded steel cage frame, solid block 1.5" dense foam insulation, galvanneal steel exterior skin, and ¼" isolator rubber is used the entire length of the rails for unified weight distribution. Vacuum-laminated sidewalls is the latest technology for durability. Glaval also offers one of the industry's strongest warranties at

5 years/100,000 miles, and its Vickie Stout's job to be the go-between with dealers. Stout worked with Glaval Vans in the 1980s as a customer service rep and worked her way up to director of customer service in the '90s. She left the company when it was sold but had the opportunity to return in 2008, where she has been ever since. Although most warranty work is handled exclusively with dealers, chances are it's Stout or her department you'll talk to if there's an issue.

"I currently have eight people in my department to handle warranty claims, parts orders, technical advice, or information on how different components work. Together we have a combined total of 105 years of customer service experience and 58 are with Glaval Bus," she says. "We are in an environment that constantly changes and at Glaval, training and continual improvements are a must. Our successes in customer service are definitely due to the people who work under me and how well the departments work together."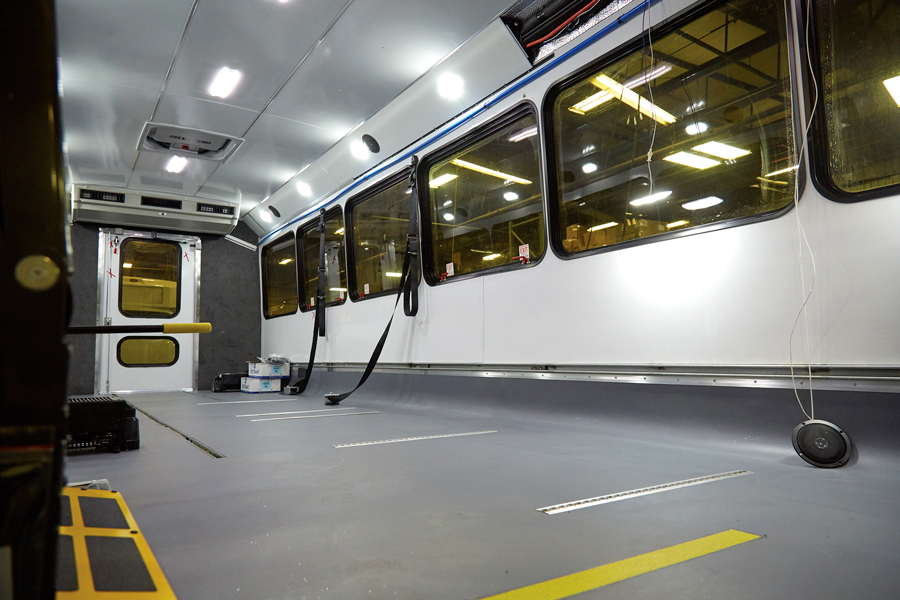 Flat floor construction After 37 years—18 with Glaval Bus—Hayes will retire at the end of 2018, but he says that he leaves the company in good hands and that's he proud of his contribution during his tenure. "In addition to offering better quality construction, Glaval Bus decided to become the most flexible and most caring midsize bus producer. We now offer more models, more options, and more customization than our competitors. We care about our employees and our customers as true family members," says Hayes.

Mamone will fill Hayes' sizable shoes, a position he says he is ready to take on. "I'm very excited for my new role and to preserve the reputation and culture that we've built at Glaval. We strive to exceed customers' expectations and will continue to deliver high-quality, durable buses with value-added features at a competitive price."

In 2005, Forest River and its subsidiaries were acquired by Berkshire Hathaway, whose chairman and CEO is none other than the celebrated Warren Buffett. The "Oracle of Omaha" is notoriously picky—but also very successful—when it comes to his portfolio of companies, and obviously saw the potential that Forest River and its divisions offered. Furthermore, the companies have a strong financial backing.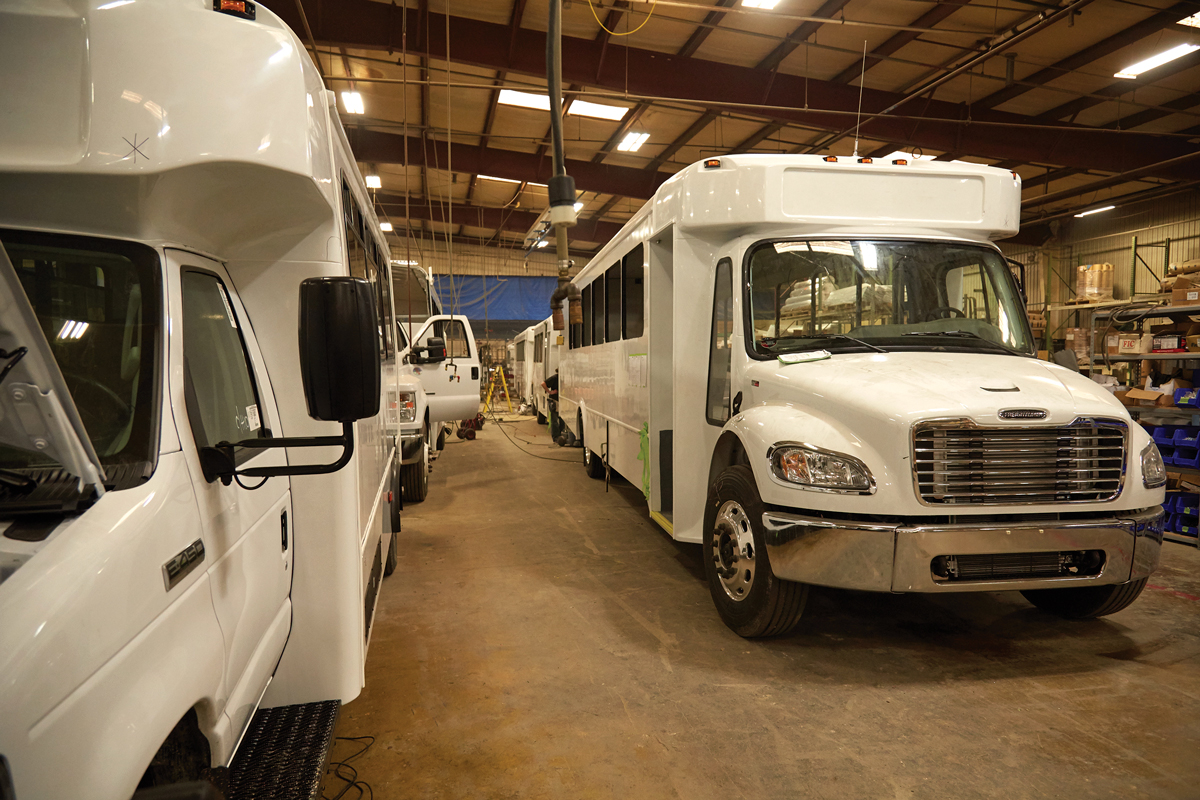 Glaval bus line "At the end of the day, we're all buying parts from the same suppliers and building on the same chassis," says Wright about the competition in the market. "But for us at Glaval, we emphasize what we do well by building and delivering vehicles designed for the long haul at affordable prices. Because we have the flexibility to customize and to try to meet the specific necessities of the customer, as opposed to being the largest builder out there which would limit some of our flexibility, we're thrilled to be where we are and deliver on our promises."
---
DEALER SPOTLIGHT: Wolfington Body Company, based in Exton, Pa., is one of Glaval's largest volume dealerships in the country, a relationship that was forged about a decade ago when Wolfington was breaking into commercial bus sales.

Competition in bus sales has become fierce as demand has increased exponentially, especially for the midsize buses that are ubiquitous in chauffeured ground transportation today—the next step up from a Sprinter but not quite a motorcoach. Brian Engle, vice president and commercial sales manager, says that Wolfington sought out the partnership after hearing good things about the builder, and that there was no question that Glaval was the right builder after witnessing its quality and longevity firsthand.

"Glavals, in my opinion, are time-tested and they hold together beautifully. Their products are Altoona tested. So yes, it may be a little more at purchase time, but over the life of the vehicle's service—8 or 10 years or more—the cost of ownership is well below that of inferior products. They are built for the transit world, which is known for its demanding duty cycles in our industry," says Engle.

Engle describes the ideal Glaval customer as anyone who wants a premier, well-built, and durable product with a strong warranty and the backing of Berkshire Hathaway (which purchased Forest River in 2005).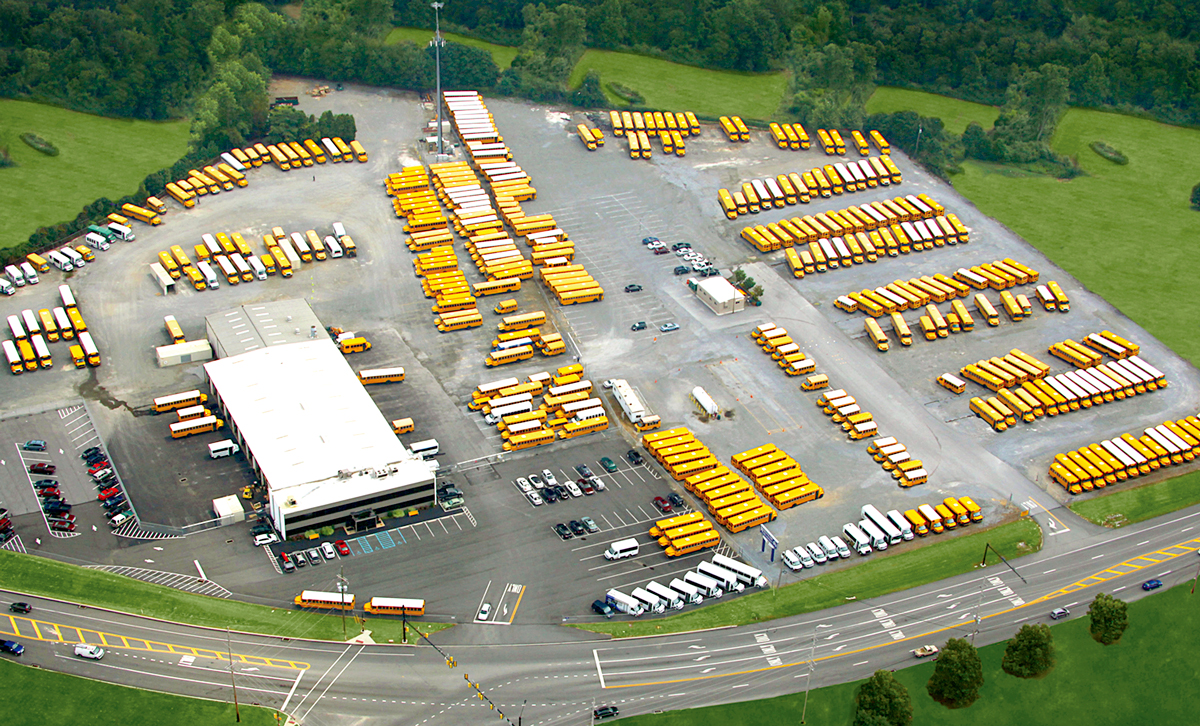 An aerial view of Wolfington's headquarters Engle says that Glaval's Universal model is most popular with his customers, which can range in passenger count from 21-25 with and without luggage.

He also recommends the Legacy model, a larger bus built on the heavy-duty Freightliner chassis, which also has a competitive price point. Glaval is also the only builder to offer this at 102" wide, which increases passenger comfort and offers a motorcoach feel inside," he says. The vehicle is available up to 35 passengers with and without a restroom.

Engle also says that Glaval focuses on the interior where customers will spend the majority of their time: in the seats. "Livery customers have different needs than some other industries purchasing Glaval products, so we had to step it up when it came to seating. They weren't excited or wowed by the standard seating, they didn't feel as though they were up to par or luxurious enough for their customers. It's the first thing you notice when you enter a bus. We've been getting incredible feedback since using upgraded Premier seats as part of our livery package that we put together."

Because Glaval is a dealer-based manufacturer, Wolfington has a lot on the line if something goes wrong with one of the products it sold to a customer, and it was Glaval's ironclad commitment to its products that initially attracted Wolfington to the builder. Time off the road is time the operator is not making money—and Wolfington is sensitive to this.

"We absorb a lot of cost for those gray areas that may not be under warranty. We feel that the customer is in the right and the product shouldn't have any issues—that's just our philosophy in that we don't just sell buses but we sell Wolfington Body Company's reputation," he says. Wolfington has a long history and reputation to protect in its 142nd year of operation under fifth-generation ownership, now under the leadership of Richard "the younger" Wolfington and his sister Eganne who skillfully seized the reins when their father—Richard "the elder"—passed away at the end of 2014. The company began as the premium carriage company before the automobile even existed, and over the years adopted the latest motorized technology of the time and age. In the '60s and early '70s, the company's focus was on hearses and ambulances; however, that changed to school buses in the late '70s and '80s. Commercial bus sales is its newest segment, and the livery industry is one of its strongest areas of growth. In addition to its Exton HQ, they have additional locations in Mt. Holly, N.J., New Buffalo, Pa., and its newest facility just outside of Pittsburgh, Pa. Wolfington sells exclusively to the Pa. tristate area.

"There's no doubt that we're built on relationships because our products are not the lowest cost but the best and most durable. We're always trying to help our customers keep their companies strong, because, in return, a strong company will appreciate you as a business partner and buy from you again. Together, we all thrive."   [CD0218]
---
Images courtesy of Bryan Chris Photography