By Susan Rose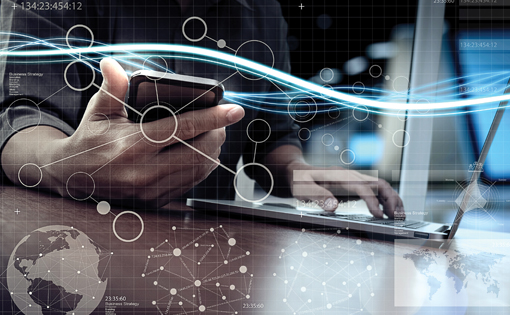 Imagine that you're about to take a business trip to Seattle. Before you leave your house, your Amazon Alexa informs you that your flight is departing from a new gate and that you should pack a light jacket because it will be unseasonably cool during your two-day stay. Moments before you arrive at the airport, you receive another alert that the book you've been eyeing is $5 off if you purchase today at the store located on the way to your gate, and here's another coupon for the coffee place that you always stop at when at the airport. After zipping through security (thanks to TSA PreCheck), you get another alert with the map of the Seattle airport because you've never been before. Coffee in hand, you use the biometric scanner to open the elite traveler lounge, where you relax until boarding. After you land, you're greeted by your chauffeur—who found you from your phone—and driven to your hotel where the reservation desk has your key waiting and your favorite music playing when you arrive in your room. When you depart, your final bill is emailed and immediately uploaded to your expense report for the accounting department. This isn't science fiction or in the distant future; the era of Big Data is upon us, and it's being used to make your life a bit easier—today.

It's often a punchline that Google knows more about you than you do, or perhaps you've heard about the creepy accuracy of personality assessments based off of your Facebook likes and posts. Your life—thanks to millions of voluntary clicks and hits and profile updates and midnight food deliveries—is constantly being culled and dissected so that you see more of what you like and want online, while keeping the things that you don't like or don't pertain to you at a minimum. That type of intimacy with your computer/smartphone/Google profile might be unsettling at first blush, but can be a time-saver when used the right way.
AI and its impact on CTM was the focus of ­numerous sessions at last fall's GBTA Europe convention, where AI is being adopted more readily than in the U.S. within the business travel space.
Corporate travel management (CTM) is also being disrupted by artificial intelligence (AI) and bots via some of the most popular booking tools. In fact, AI and its impact on CTM was the focus of numerous sessions at this past fall's GBTA Europe convention, where AI is being adopted more readily than in the U.S. within the business travel space. If your first thought is to connect bots to the fake accounts on Facebook and the interference with the 2016 presidential election, think again. Next-generation bots are being used with all kinds of technology to continuously search for the best rates for your upcoming Mexico trip based on the amount of interest for your dates or rate increase predictions, or to alert you that it's time to take the car in for service because you're nearing your next maintenance milestone. An online insurance company called Lemonade uses bots exclusively to quote, write, and pay for your personal insurance policy, without ever interacting with a human being. It's a new day for customer service. The more the travel industry understands the traveler, the better the experience is going to be for everyone—and that is possible with Big Data.

Equally, bots are being used by the largest corporate management tool, Concur. Several years ago, Concur rolled out a bot for use with Slack, a popular cloud-based team-collaboration tool. Users of both found that they will receive notifications of the best flight prices once they've input their travel schedule, or a hotel receipt will be attached directly to a Concur expense report from email or a picture so that expense management for the project is neatly preserved in one place. It's also scanning your email for important dates and trip information so that it can send you reminders. Concur is also in the process of integrating with Microsoft 365 so that business travelers can be alerted if they haven't yet booked a hotel for an upcoming trip—all by "peeking" at Outlook calendars, meetings, and inboxes.

Traditionally, CTM has been managed primarily via desktop computers and/or a laptop since the internet rendered phone reservations all but obsolete, and until recently, bookings with airlines, rental cars and car services, and hotels were done separately. But business travelers of today aren't using laptops but rather smartphones and tablets, and those devices need to operate seamlessly with their work computer. They are using social media more than ever, so many travel companies like Concur are testing airline check-in through Facebook Messenger. China's most popular app WeChat, which began as a social media platform in 2011, has become the app for practically everything including buying something online or paying a utility bill. Airlines are watching and looking for ways to make it easier for their business traveling class to connect with their brands.

Behind the scenes, apps are also adopting policies before the rest of the industry is even aware that it's a problem. For example, new travel booking app Lola predicted that economy fares—the lowest, no-frills, no-perks rates aimed at budget travelers—on airlines were anathema to corporate travel managers and scrubbed those options from its platform. Those rates, while attractively low, had the most restrictions, and due to the fluid nature of business travel, the savings quickly disappeared if the traveler needed to make a change. Airlines would require a whole new ticket purchase at that day's rate, which was often hundreds more than if they had purchased a less-restrictive ticket in the first place. Without the help of Big Data, it would have been longer for humans to pick up on that trend and even longer to implement it.

AI and bots have been around for a while, used mostly as a complement to customer service through machine driven learning, but as more and more data points are collected about each of us, the smarter and more relevant the connection between traveler and the travel experience. Machines are becoming more capable of handling all of those data touchpoints. We're moving into the next stage called cognitive computing, which relies exclusively on us to feed it more about our wants and needs through the apps we already use. That technology can process enormous amounts of data about us—more than a human ever could—to deliver a customer service experience that resembles an interaction with a human, but one that is actually more personalized.

In 2016, Hilton and IBM began a test program with a robot "concierge" they called Connie. The robot interacted with guests at the concierge desk to answer any number of questions about the hotel or the area around it. That robot technology itself wasn't so dramatic, but the ability of it to "learn" more about the humans it was interacting with on a daily basis was pretty advanced. It could sense emotion and the urgency of the request. Most of all, Connie could answer questions that would normally be dealt with by human staff, and thus, created a faster desk experience and shorter lines.
Big Data—within privacy parameters set forth by the traveler—will allow companies to share information that was once behind a brick wall or sitting in a filing cabinet
The applications aren't limited to just business travel. The rise of "bleisure"—popular especially with younger travelers who extend their business trip to include a few days (or more) of pleasure travel—will definitely benefit from Big Data immersion. Many Millennial travelers are already pushing for more authentically local experiences even during the business portion of their trips by demanding an Airbnb instead of a hotel room, and AI will soon be able to recommend hot spots for dining or lodging that offer opportunities to meet other young travelers based on their age, line of work, hobbies, and more.

None of this should be surprising given that we handed over the keys to our online masters a while ago. Amazon shows you the best credit card to use for your purchase based on your reward points, Netflix predicts movies you might enjoy, Tinder attempts to match you with like-minded people, and Google shows you ads based on your search history. We leave our digital footprints all over the place.


Not all technology will resonate with customers, which is why you will see a lot of different attempts before something becomes commonplace. For example, self-checkouts at supermarkets are universally disliked for a variety of reasons: the interface to search for produce codes isn't intuitive, or the scale is too sensitive that you have to wait for staff assistance, or it just doesn't work the way you expect. Meanwhile, you could have been through the staffed line and on your way home to eat your melting ice cream. Supermarkets want the machines because it's clearly cheaper than 4-6 cashiers and data show that we spend an average of 30 percent more when we aren't worried about a cashier judging our purchases. As a result, they are testing ways to improve the experience by moving machines closer to the exits or offering special incentives. Even changing the voice on the machine improved customer satisfaction. But despite a low rating for supermarket self-scanners, airline kiosks don't face the same level of scrutiny. Perhaps it's because those kiosks are simpler or more user-friendly?

If all of this sounds confusing or overwhelming, don't worry. You may have technology like this in your household right now if you use those virtual assistants like Amazon Alexa, Google Assistant Mini or Max, or Siri on your iPhone. Ten years ago, you were printing maps from Mapquest and praying that your plans didn't change; now, you simply tell Google Maps where you are going and it gives you the best route in real time. If you're logged in to your Google profile, it may even autosuggest the address before you finish typing because you searched for it back at the office. Admittedly, some of this technology is still in its infancy, but it's moving at a break-neck pace and it's getting "smarter." Also, the consensus at GBTA Europe was that this technology would continue to be a complement to actual humans rather than replace them altogether ... at least for now.

So, how will this innovation impact you? If you have a strong tech phobia, you can't afford it anymore. As a business traveler (or if you have traveling staff), planning and booking travel will be a more personalized and streamlined process, complete with easier expense reports and local information you need. As a transportation provider working with corporate travel managers, data that you have on your client will help to create a better experience overall for the customer and make the corporate travel manager's job a little easier in the long run. Perhaps you don't realize that duty of care is also a part of this labyrinth of Big Data—and soon will include autonomous vehicles (read more about them on p. 58). Big Data—within privacy parameters set forth by the traveler—will allow companies to share information that was once behind a brick wall or sitting in a filing cabinet. We never lacked the data but the processes to connect them. And the future? We're on the ground level of automation and need to be working with these forward-thinking travel platforms NOW, so that we'll have more than just a foot in the door when it comes time for the next evolution of transportation.   [CD0418]