By Madeleine Maccar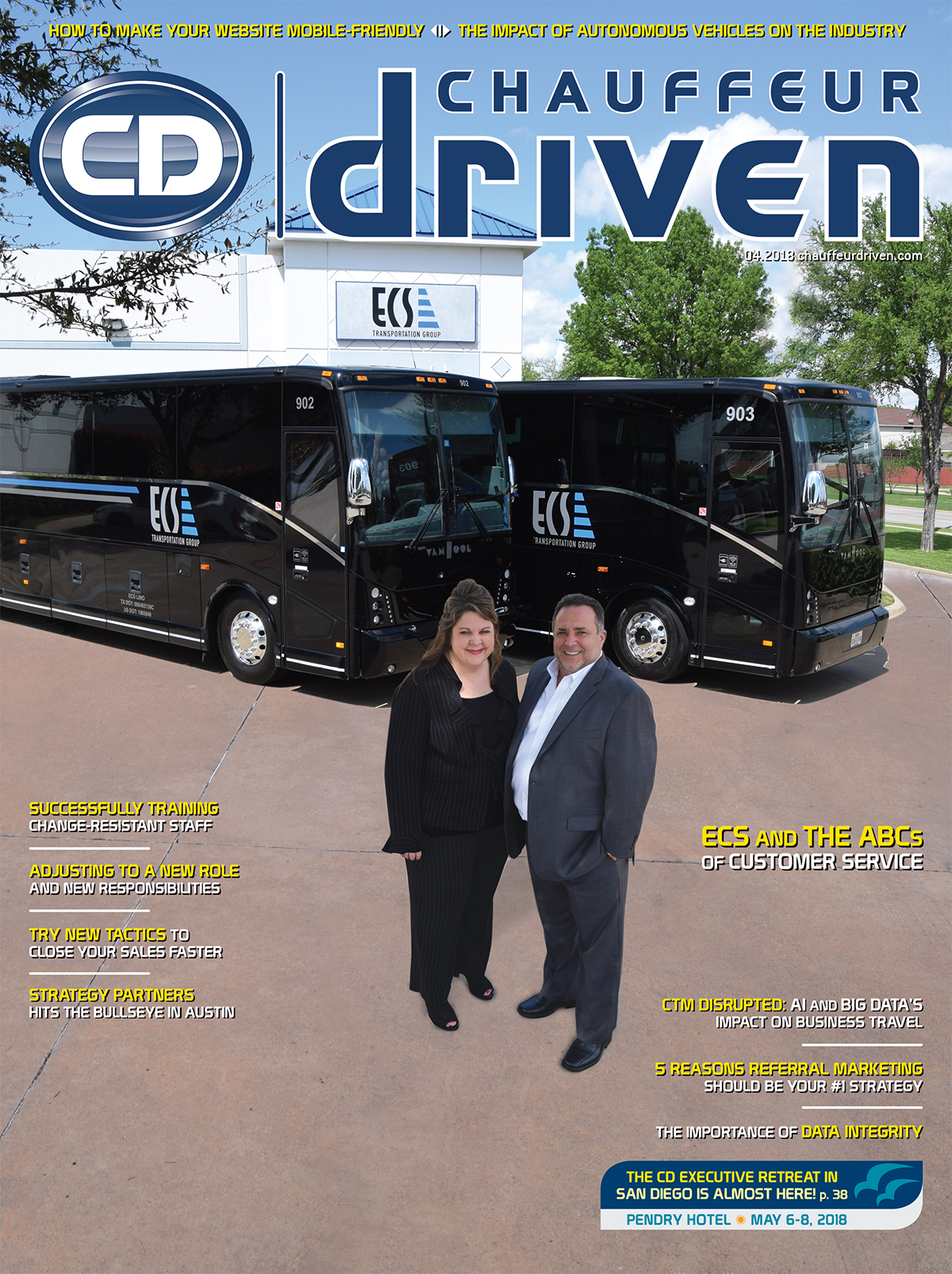 Cover Art: Joanne and Simon Hazan of ECS Transportation Group with their ABC motorcoaches at the company's Dallas-area headquarters. Photography by Chris Weiss. Like the mighty oak that grows from a tiny acorn, a thriving transportation company typically starts with just one car. That one car is usually driven by just one person, and that individual is often serving as an accountant, dispatcher, detailer, chauffeur, marketing manager, and owner—which is exactly where Simon Hazan found himself when he started ECS Transportation Group from a home office with a stack of index cards painstakingly itemizing the day's runs back in 1996.

Five cars later, Simon transplanted his burgeoning company to a small office in the Dallas-Fort Worth area, and ECS hasn't stopped growing since.

Simon now co-owns the company with his wife Joanne, who joined in 1999. They take the shared responsibility seriously: She serves as president and he's taken on the CEO role as they steer their 70-person, more-than-50-vehicle company toward continued, calculated growth.

And they say that ECS has, indeed, enjoyed a manageable, profitable rate of expansion all throughout its two-decade history.

They credit referrals for organically spreading the word of the high-touch services they've brought to a market where there's abundant opportunity to snatch up a steady stream of new clients who gravitate to a region known for a big-city feel at a budget-friendly price.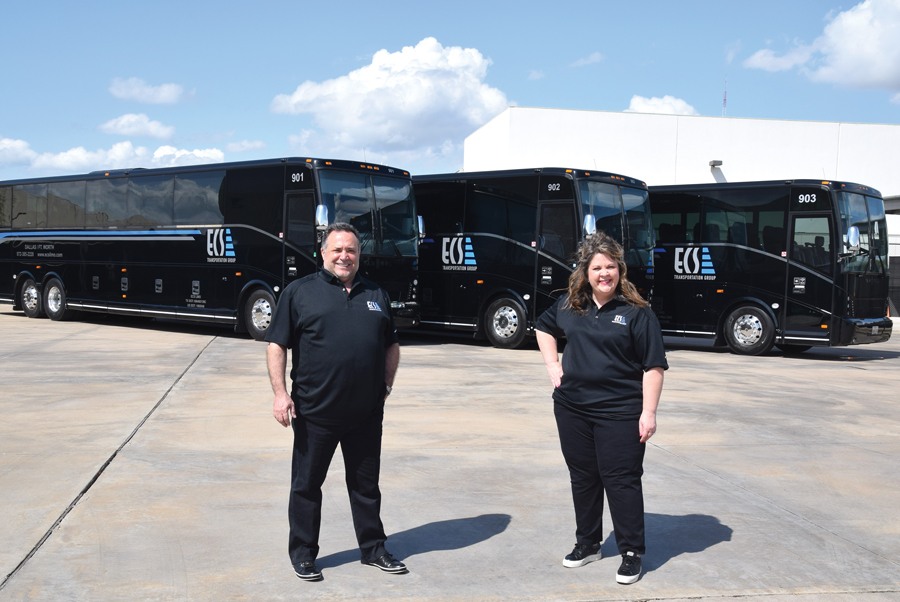 ECS Transportation Group's CEO Simon ­Hazan and President Joanne Hazan with their three Van Hool CX-45 motorcoaches at the company's headquarters "A lot of industries have moved here because of the cost, and the lower taxes also offer cost benefits for them to be in Dallas," Joanne says. "Dallas-Fort Worth has always had a pretty healthy corporate headquarters' presence, plus I don't think Texas has had the same highs and lows that some of the East and West Coast markets have faced. Right now, we're in a boom."

But it's prioritizing "conservative and consistent" growth that has been a cornerstone of what helped ECS first establish its foothold in its market and then secure its place as a major player in the local transportation industry.

Or as Simon puts it: "If you want to stay in this league, you have to compete in this league."

That means, in addition to managing its growth, ECS is also juggling an array of demands to ensure it retains that high-touch, competitive edge its dominantly corporate clients have come to expect: setting itself apart from the herd with white-glove service, staying ahead of the software curve, ensuring its affiliate work stays top-notch, adapting to trends, and even partnering with industry entities that embody those same philosophies and standards.
"Adding buses has opened up markets to us that we could have never been working with before." – Simon Hazan, CEO of ECS ­Transportation Group
In 2016, the ECS team entered into a unique partnership with ABC Companies, a North American bus and motorcoach distributor with seven locations in the U.S. alone—including one facility that's only 35 minutes from ECS's headquarters.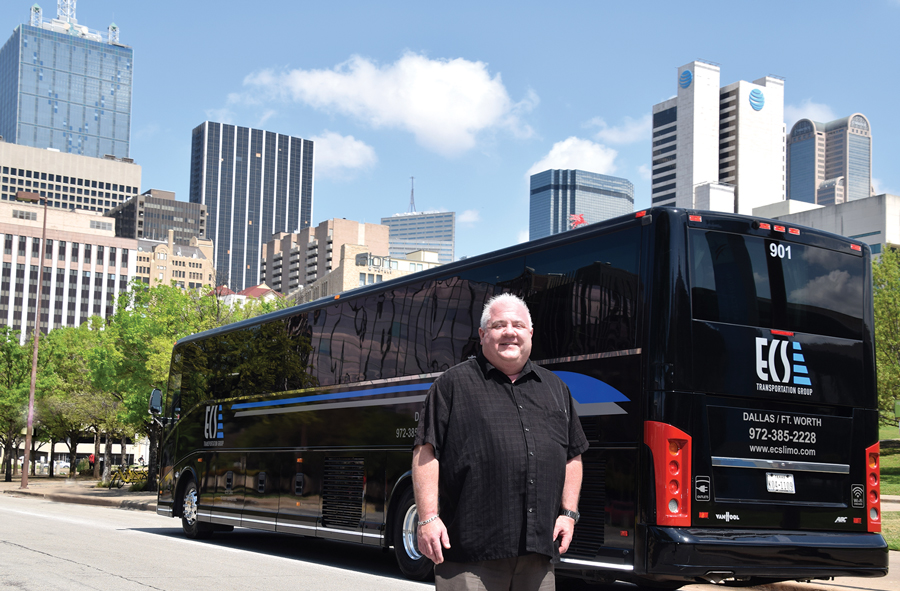 Director of Affiliate Relations Dave Erdman with a Van Hool CX-45 motorcoach in downtown Dallas A neighborly proximity is just the tip of the iceberg when it comes to what the two companies share. According to Simon, Joanne, and ECS's Director of Affiliate Relations Dave Erdman, the two companies not only feature harmonious customer service expectations, growth models, and ­visions, but also are family-owned outfits eager to share their areas of expertise to the other's benefit.

Both ECS and ABC have been assets to the other as each has learned the ins and outs of a whole new market. As ECS is a decidedly recent entry to the motorcoach world, the management team has been grateful to have a true insider's perspective on the key differences between operating sedans, vans, and SUVs and larger, more specialized vehicles.

"We come from a different world than the bus companies," Simon says. "Our expectation is a little bit different than a bus or motorcoach operator, and we are new to the bus business so we're still learning."

"Everyone's learning together," Erdman adds. "We've learned things from ABC that we now use in our market, and they've learned things from us that they've taken to the industry all around the nation."

Chief among those ECS-imparted lessons is how a black-car company's demand for its buses and motorcoaches is all about the high-touch experience.

"Since we buy our buses from ABC, we've tried to mentor them a lot on what the expectations are from a chauffeured transportation company," Joanne says. "And they've been very open and welcoming to those discussions, and I think it's helped them to get deeper into and better understand the limousine market, what our service expectations are, and what we need from them to operate these big coach buses."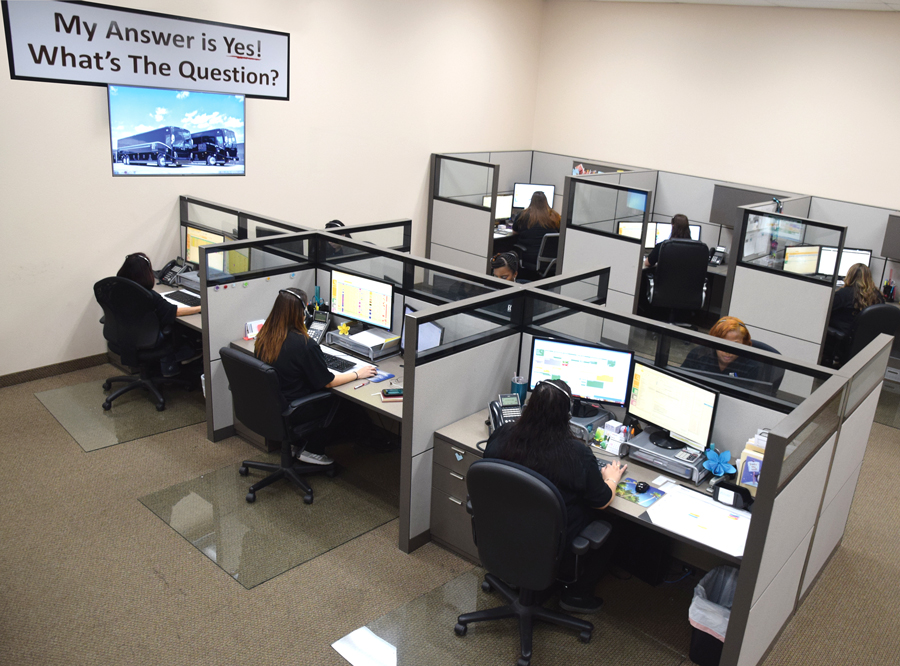 The 24/7 ECS call center And since ABC's standards are well aligned with ECS's equally lofty ones, it makes things like providing the 24/7 service the industry runs on an easy promise to keep. Erdman recalls a few weeks earlier when a bus had trouble starting at 7 on a Friday night. ABC not only had someone on the phone to handle the call but also was ready to send out a repair truck right away—and the bus was moving mere hours later with just some over-the-phone mechanical advice.

"These are brand-new coach buses so there's not a lot of mechanical things going wrong—"service issues" for us are usually just minor adjustments," Erdman says. "But our sense of urgency is critical, and we've kind of been like a case study for other coach bus companies. They've actually rolled things out in their company in other locations based on findings they've had specifically with us."

And it's not just prompt service and a quick study that ABC hastens to offer: It's on the spot when it comes to supplying temporary metal, too.

"Because we're still new to buses, we don't have a huge fleet yet," adds Joanne, noting that ECS bought its first motorcoach in 2016. "So if we need a loaner bus, ABC is right there with one."

ECS, its clients, and the luxury ground transportation industry all demand the best—and with the Dallas-Fort Worth area seeing the same consistent growth from which ECS has always benefited, the increasingly corporate flavor of the metropolitan macrocosm is becoming just as discerning as the microcosmic forces working within it.
"We've learned things from ABC that we now use in our market, and they've learned things from us that they've taken to the industry all around the nation." – Dave Erdman, Director of ­affiliate ­relations of ECS ­Transportation Group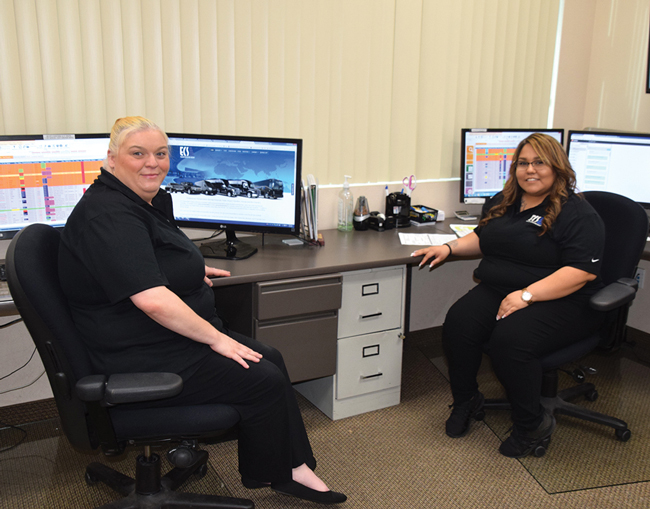 Dispatchers Caroline Groff (left) and Alex Benavidez Dallas itself is one of the fastest growing cities in the country—thanks to transportation helping it develop a strong industrial and financial identity. The image of both Dallas and Fort Worth as flourishing inland ports was first established by railroad lines opening up easy access to the region, then the construction of the Interstate Highway System further cemented their prominent role as national commercial heavy-hitters. All roads lead to Dallas, as four major interstate highways now converge within the city's limits, and a fifth encircles it with a loop. The 1974 opening of the Dallas/Fort Worth International Airport further established the area's importance; today, it is the world's fourth-busiest airport in terms of aircraft movement (655,287 in 2017).

The bustling airport—as well as the Dallas Love Field that predates DFW and serves as Southwest Airlines' corporate headquarters—isn't just bringing in corporate clients, and certainly not all of ECS's work is dependent upon aviation's arrivals and departures. The area is home to all four major sports teams—including the NFL's Cowboys and a die-hard college football scene that culminates in the Cotton Bowl—as well as a deliciously iconic culinary culture that both includes and extends far beyond Tex-Mex and BBQ fare, a thriving arts and cultural scene (Downtown's Arts District is the largest contiguous one in the United States), and an endless parade of seasonal mainstays like some truly vibrant Cinco de Mayo celebrations and the massive State Fair of Texas, which has been an annual event at Fair Park since 1886.

With Dallas-Fort Worth's appeal as a bona fide destination bringing in scads of business and leisure travelers—and, of course, the metroplex being home to a population of 7.1 million permanent residents with their own transportation needs—the work that ECS does isn't just strictly the bread-and-butter of corporate.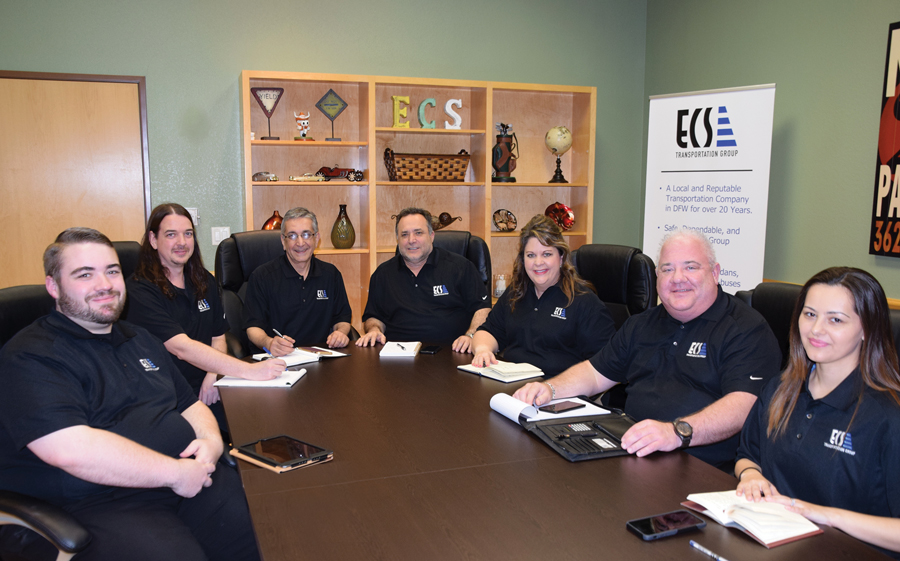 L to R: Charter Division Coordinator Stewart Merrell, Executive Assistant Michael Slatton, Fleet Manager Marco Sarkardeh, CEO Simon Hazan, President Joanne Hazan, Director of Affiliate Relations Dave Erdman, and Reservations Manager Christine DeVivo Embracing buses and motorcoaches has helped ECS tap into the group-move business. With corporate work still accounting for the majority of what the company does—and setting the standard for any of its trips—it has since found opportunities providing transportation for schools, churches, sports teams, tours, and DMCs.

"A lot of who we're working with now are people we never saw or worked with before we really got into the coach bus business," Erdman explains. "We've really expanded our reach. We used to do some work with DMCs but that side of it has really exploded in the past couple of years."

"Adding buses has opened up markets to us that we could have never been working with before," Simon affirms. "When we were running only cars and smaller vehicles, we used to be limited to hotels and corporate, and it was basically just that."

While it finds the big-rig niche to be fruitful, ECS is still, at its core, a luxury transportation provider—and has more than two dozen sedans to prove it, which include Mercedes-Benz S- and E-Class sedans, Lincoln Continentals, and Lincoln MKS sedans. They also have nearly one dozen SUVs, all of which are Chevy Suburbans with black leather interiors. Four Mercedes-Benz Sprinters account for its executive van allotment, and ECS's seven minibuses range from 20 to 39 passenger capacities. Three 56-passenger motorcoaches from ABC—with a fourth on the way and a fifth scheduled for September—round out the company's fleet, which management is emphatic about keeping fresh.

"We've always had newer-model vehicles," Erdman says. "We don't really let our sedans and SUVs go past three years old. We don't believe in keeping older vehicles, because our clients want the newest, the nicest, and the cleanest vehicles."

Of course, you can't be in the service industry and expect your metal to do all the work. It takes a stellar team to foster great rapport with clients and provide the top-notch service they demand, and ECS is meticulous about who is hired to uphold its exacting standards.

"We need people who are good communicators, who are positive, helpful, friendly people," says Simon.

"They don't necessarily have to have worked in our industry before," Joanne continues. "As long as they have a willingness to work hard, an understanding that we're not an 8-to-5 job, and the drive to do what it takes to get the job done, they're someone we're willing to have on our team."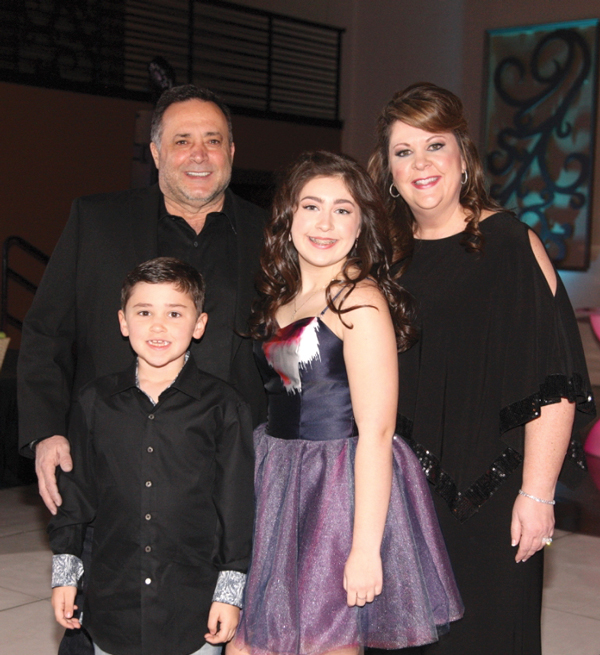 The Hazan family: Simon and Joanne with their children Aiden and Lauren The Hazans are quick to credit 15-year company veteran Erdman as one of their biggest standouts—which is no surprise given that his relationship with the company began as a client, which means his unique vantage point includes both sides of the customer/company relationship. Erdman oversees and manages all the local, nationwide, and worldwide relationships with affiliates who send work to Dallas or to whom ECS farms out work on a daily basis.

"Dave is absolutely an integral part of our management team," Joanne affirms.
"Simon and I take very seriously the responsibility of putting chauffeurs on the road to drive people. One person matters, but when you have 56 in a vehicle, it's a huge responsibility." – Joanne Hazan, President of ECS ­Transportation Group
Potential chauffeurs are scrutinized during their vetting process, and ECS only hires those who prove that they value each and every life placed in their care—a responsibility not to be taken lightly, especially as bigger rigs underscore it exponentially.

"Simon and I take very seriously the responsibility of putting chauffeurs on the road to drive people," Joanne says. "One person matters, but when you have 56 in a vehicle, it's a huge responsibility. So it's very key that we have the right people chauffeuring the clients who trust us with their safety."

Having a driving staff who meets those rigorous standards yields vast potential for star employees, which includes Fleet Manager Marco Sarkardeh, who started out behind the wheel and subsequently rose in the ranks and who management unanimously declares an important part of the office team and customer-facing departments.

The all-star ECS management team is rounded out by Reservations Manager Christine DeVivo, Charter Division Coordinator Stewart Merrell, and Executive Assistant Michael Slatton. Their collective can-do attitude has helped shape the positive, proactive culture at ECS that the Hazans feel contributes to the overall team's determination to provide impeccable customer service to each of their clients.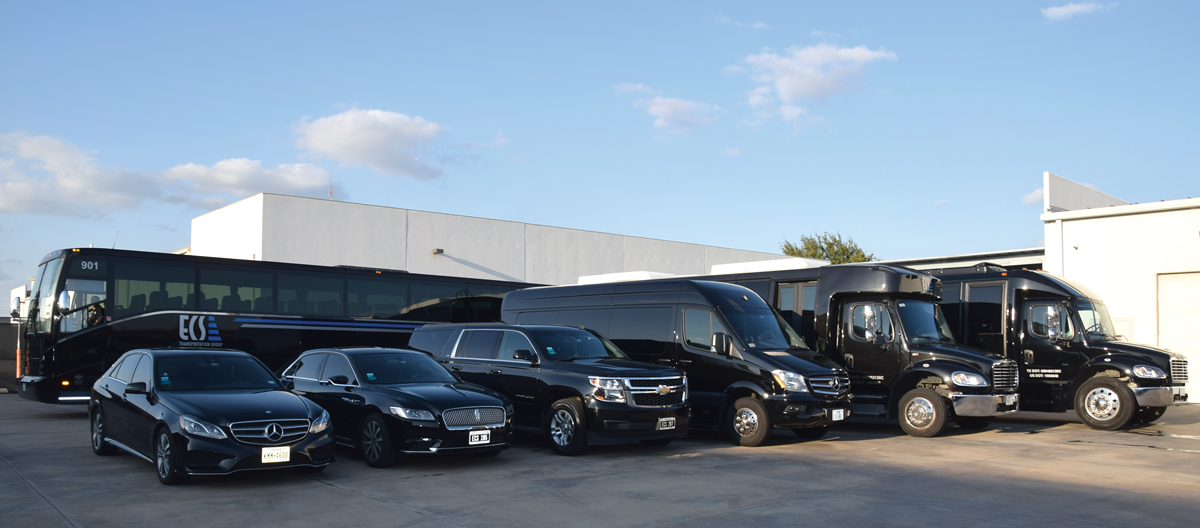 The Mercedes-Benz E250, Lincoln Continental, Chevrolet Suburban, Mercedes-Benz Sprinter van, Turtle Top Freightliner minibus, Grech Freightliner minibus, and Van Hool CX-45 motorcoach that are all part of ECS's more-than-50-vehicle fleet ECS's dedication to teamwork extends far beyond the office, as evidenced by its participation in numerous parallel associations. In addition to being a Certified Woman-Owned Company, ECS also finds that being active in the National Limousine Association, American Bus Association, United Motorcoach Association, Global Business Travel Association, and Meeting Planners International is immensely beneficial. And attending the many events each association hosts is crucial for a team that places a premium on face-to-face interactions and is thirsty for all the knowledge within its reach.

"We've been going to the industry's trade shows and conventions for years, and Simon and I started going to the bus shows, too, once we got into buses," Erdman says. "We've learned a great deal through all of the educational seminars. But more importantly, it's the opportunity for one-on-one conversations with other operators. You learn what to do and what not to do from other people, and there's always a lot of eye-opening discussions going on. Plus, I pick up new affiliates and clients at every show."

Empowering its staff and broadening its horizons has helped the Hazans take some steps away from the company that is essentially their third child: Both they and Erdman remember the early days of lugging a bulky, early-model cellphone everywhere in fear of missing an important call, as well as sleeping with a phone within easy grabbing range. Both Joanne and Simon appreciate that they can have identities beyond co-owner, and they credit the ECS staff for allowing them that freedom.

"Thanks to our hard-working team in the office, we can go home to our kids at 5 p.m. and be Mom and Dad instead of Simon and Joanne," Simon says. "We used to work eight days a week in the beginning. Those first seven or 10 years, we were working 20-hour days every week. And now, we don't have to be as involved as we used to be. It's all because we have Dave and Marco and one great team."   [CD0418]