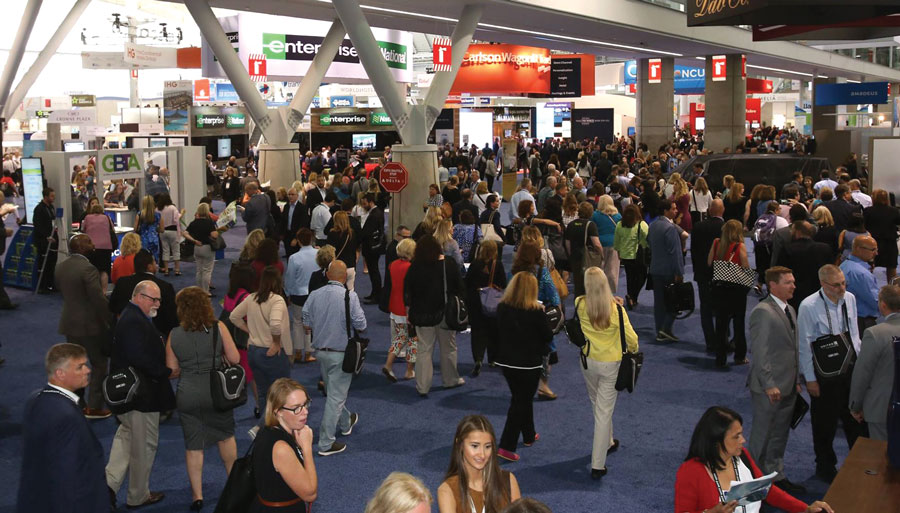 After a record-setting conference in Boston last year, the annual Global Business Travel Association (GBTA) Convention is already set for another milestone: its 50th year of providing a platform for thousands of corporate travel professionals to explore and share innovative practices, policies, and solutions for the industry's greatest issues.

The annual event will be heading to the San Diego Convention Center from August 11-15 this year. It always sees a healthy turnout from professionals representing the luxury ground transportation sector who are looking to network with decision-makers for hotels, airlines, retail outfits, technology companies, consumer products, media outlets, Fortune 500 companies, and an array of potential buyers. In fact, more than three dozen livery companies were among the exhibitors and attendees at last year's conference—a trend that isn't slowing down.

Like any event that has you working on your business rather than in it, however, you do need to justify that time on the road in terms of ROI. Rest assured that there is something for everybody at an event that offers more than 100 educational sessions, the opportunity for global networking, insightful speakers from both within and beyond the travel industry, and a chance to put yourself, your company, and your services in front of thousands and thousands of eyes.

Attendee Demographics
As it's one of the largest gatherings of business travel professionals in the world, the GBTA Convention is a great place to look at the travel industry in a broader context while learning about current and emerging trends, better understanding new regulations, discovering untapped business potential, and forging new professional connections.

Networking is just one of the major benefits of attending the GBTA Convention, as the gathering attracts a broad representation of the international business travel industry. Nearly 7,000 attendees are expected at this year's event, and they represent industry suppliers and buyers (including roughly 400 exhibitors) from more than 50 countries. On top of that, according to the GBTA, the average buyers attending the convention anticipate that their organizations will select three new suppliers based on their interactions at the expo.

The GBTA compiled stats on its 2017 convention's attendees, and the breakdown yields some compelling information: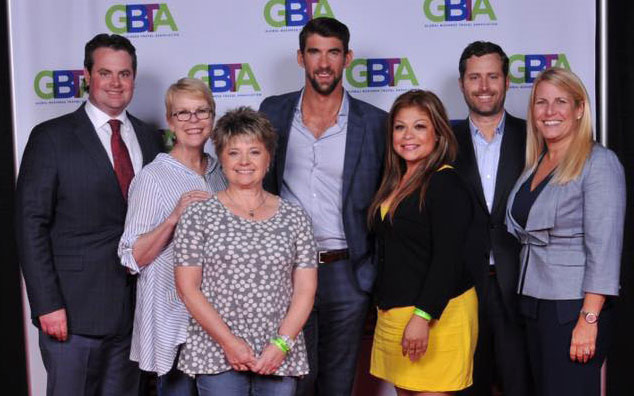 The Texas Business Travel Association won its seventh consecutive GBTA PAC Chapter Challenge at the 2017 convention. L to R: Matt Assolin of Nikko's Worldwide Chauffeured Services, Ellen Meyer of Marathon Oil, Linda Loesch of TCG Consulting, 28-time Olympic Medalist Ryan Phelps, Rebeca Palatka of Pacific Drilling, Chris Maguire of Nikko's Worldwide Chauffeured Services, and GBTA President Christine Johnson • Nearly 1,300 of the attendees are travel buyers actively seeking new suppliers and partners

• 80 percent of convention-goers are company decision-makers

• 80 percent are also handling high-volume travel programs with spends that are at least $10M and can exceed $100M (in fact, 30 percent of travel buyers attending the expo are handling accounts that spend $100M or more)

• 7 out of 10 buyers are actively seeking new suppliers on the show floor

• The majority of buyers manage their companies' meetings, events, and incentives; 29 percent of buyers control travel programs with more than 25,001 employees within their organizations

• 91 percent of GBTA Convention attendees gave the event and their experiences there high ratings, with 93 percent of exhibitors saying that they would recommend exhibiting to their colleagues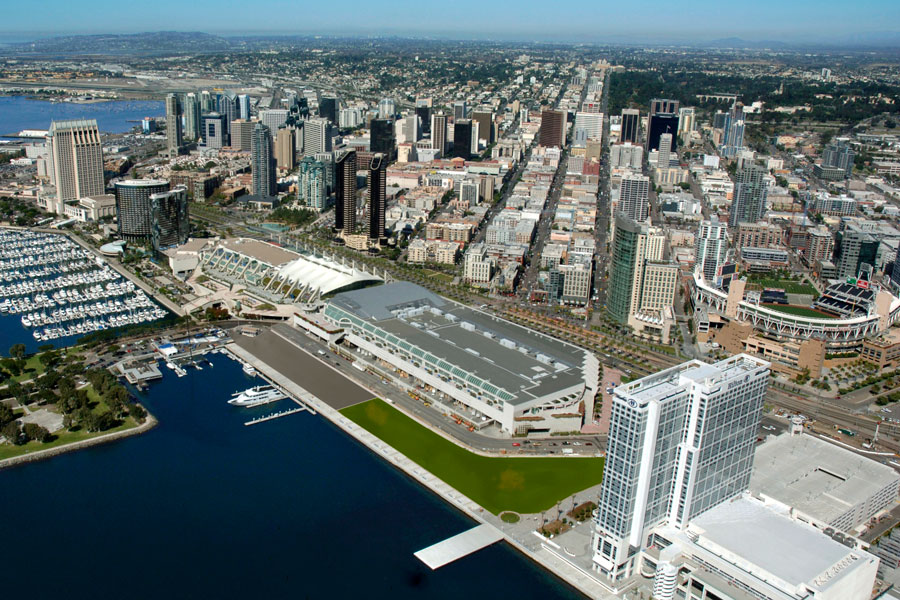 The San Diego Convention Center What does this mean for an operator in our industry? Global attendees, deep pockets, big names, and primed buyers are all looking to work with YOU! And even if you're attending without exhibiting, the convention offers plenty of opportunities to capitalize on those potential working relationships with everything from ready-made meeting spots right on the show floor (think food and drink stations, high tables, and couches) to ample networking events.

Networking Opportunities
Put thousands of people together in one place and it's downright impossible to leave without making a significant connection. There are plenty of organic opportunities to connect with your fellow expo-goers as you learn about the similar challenges the business travel industry faces and discuss solutions together: Introduce yourself to your table-mates at each speaker's luncheon presentation, pass your business card to someone you chatted with while waiting for your morning coffee, strike up a conversation with your neighbors before and after each seminar you attend—and be sure to check out this month's tip article starting on page 104 for more networking advice.

But the 2018 GBTA Convention has plenty of events specifically geared toward making new business connections through socializing with your peers. GBTA hosts a handful of Kick-Start Social Events, such as its GBTA Cares Service Project on Saturday, where altruism and activism come together to benefit a charity of the association's choosing. And on Sunday, the 12th Annual GBTA Golf Classic at Torrey Pines Golf Club treats avid golfers and recreational players alike to a picturesque course overlooking the Pacific coastline and deep ravines. Enjoy a beautiful day on the green and network with your colleagues to kick off a busy week in San Diego.

Additional networking options include Sunday's First Time Attendee Orientation & Luncheon as well as its Opening Reception at Hilton Bayfront Park. Both events are guaranteed to have you mingling with and meeting with attendees in relaxed, informal settings that facilitate all kinds of conversations—and future business.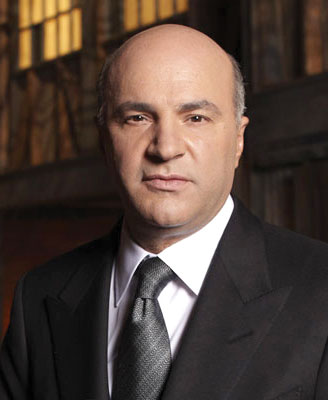 Speaker Kevin O'Leary Educational Seminars & Speakers
If you're looking for education, the GBTA Convention has got you covered! This year's sessions are organized into 14 tracks, including accommodations, transportation, expense management, technology/innovation, and more. Topics will cover everything from duty of care to the future of the RFP process, from data analytics to managing meetings, from safety to financial concerns, and will be presented in formats like roundtable discussions, seminars, and Q&As.


The 2018 convention will feature GBTA's most flexible education program to date. With an array of concurrent sessions tailored to serve as introductory conversations demystifying the basics of timely topics to in-depth explorations of more hyper-specific ones, there is truly something for everyone. And they're all presented in easy-to-digest half-hour sessions, making each class accessible and engaging while allowing attendees to learn as much as possible by being available to personalize their educational experiences according to their needs and interests.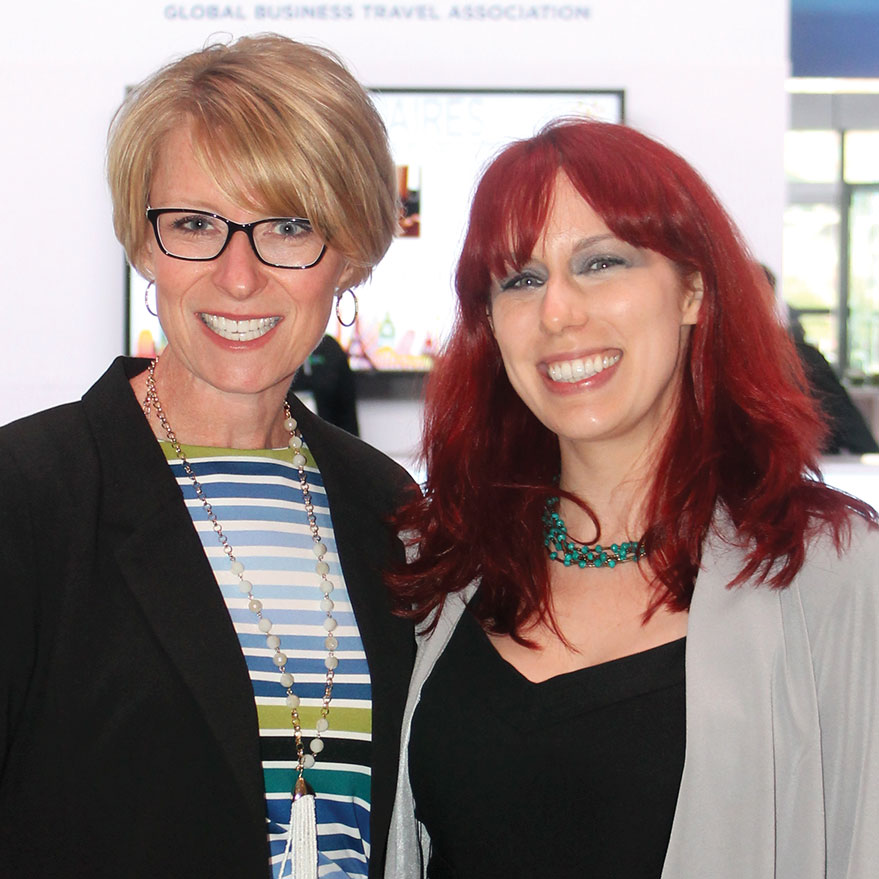 GBTA Director of Strategic Partnerships Heather Haley (left) and CD Editor Madeleine Maccar at the 2017 Convention in Boston Educational opportunities aren't just limited to seminars and sessions, though. GBTA's convention also attracts plenty of high-profile speakers hailing from the business travel sector and beyond who offer insights, solutions, and fresh perspectives gleaned from their own experiences and observations. And this year's expo is no exception.

The Convention Area Luncheon offers attendees not only tasty sit-down fare but also three days of speakers hailing from various backgrounds. While Wednesday's speaker is still to be determined, Monday will feature tennis legend, social justice pioneer, and entrepreneur Billie Jean King, and Kevin O'Leary—an investor on the TV show Shark Tank, chairman of O'Shares ETF Investments Financial Group, and bestselling author—will take to the stage Tuesday.

There are also some Center Stage panels to take in: on Monday, check out Successful Women Leading in Business Travel in the morning and The Challenges of Security in Today's Volatile World in the afternoon.


Speaker Billie Jean KingSuccessful Women Leading in Business Travel will be moderated by Dorothy Dowling, the senior vice president and chief marketing Officer of Best Western Hotels & Resorts, and feature CMO of Hertz Jodi Allen, Expedia's SVP of Marketing and Innovation Melissa Maher, and Senior Vice President of Global Lodging, Ground and Sea, for Sabre Travel Network Traci Mercer. The Challenges of Security in Today's Volatile World, moderated by GBTA Executive Director and COO, will include TSA Administrator David Pekoske and U.S. Customs and Border Protection Commissioner Kevin McAleenan as panelists.

The Tuesday panel Turning the Tables—Buyers Take Center Stage will have moderator Kurt Ekert, the CEO of Carlson Wagonlit Travel, giving a panel of senior buyers the opportunity to sound off on the latest trends, top opportunities, and major challenges facing today's business travel industry.

Registration is still open, and you can head on over to ­convention.gbta.org/Registration to claim your space in San Diego at the business travel event of the year. Once you register, you'll have access to the numerous lodging options the GBTA has reserved for its attendees.

Visit gbta.org and convention.gbta.org for more information.

[CD0618]