By Madeleine Maccar


Cover Art: Rental Limo and Book.limo founder and CEO Ryan Hilberth at the Capitol Building in Washington, D.C. Photography by Andrew Schneps of Back Bay Photography. When bottom lines and razor-thin profit margins are so often the name of the game, it can be easy to lose sight of the bigger picture. Fostering community goodwill at a local level and giving back to an industry of peers don't always spring to the forefront of one's mind when the necessary priorities of survival like calculating costs and turning a profit take center stage.

But it is easier to stay focused on giving back if you imprint it into your company's DNA. And ever since Rental Limo and Book.limo's founder and CEO Ryan Hilberth first caught the charitable-giving bug a couple years ago, he's become increasingly dedicated to giving back not only through a product designed to make companies more profitable and efficient but also by putting his money where his mouth is.

"It started with donating a few months of a Book.limo subscription to the associations like the NLA's charities and Chauffeur Driven's charity auction benefiting WISH for OUR HEROES," Hilberth explains. "Those were the things that really got me into charity work and sucked me in. Giving back to industry causes has become a focal point for me because I think the industry really needs the support and the increased attention to philanthropy."

Hilberth has since taken a boots-on-the-ground approach to organically reaching the industry through sponsorships, face time, and volunteerism, affirming his support for the luxury ground transportation's operators, associations, and initiatives alike.

And in an industry where technology is an increasingly important advantage, Hilberth sees the potential—and need—for his tech-based company to grow both alongside and within the end-users, ensuring an insider's understanding of how to best deliver the most efficient, effective tool possible to an industry that comprises a wide range of company sizes, markets, generations, comfort with technology, and desire for a product that is flexible in its customization options.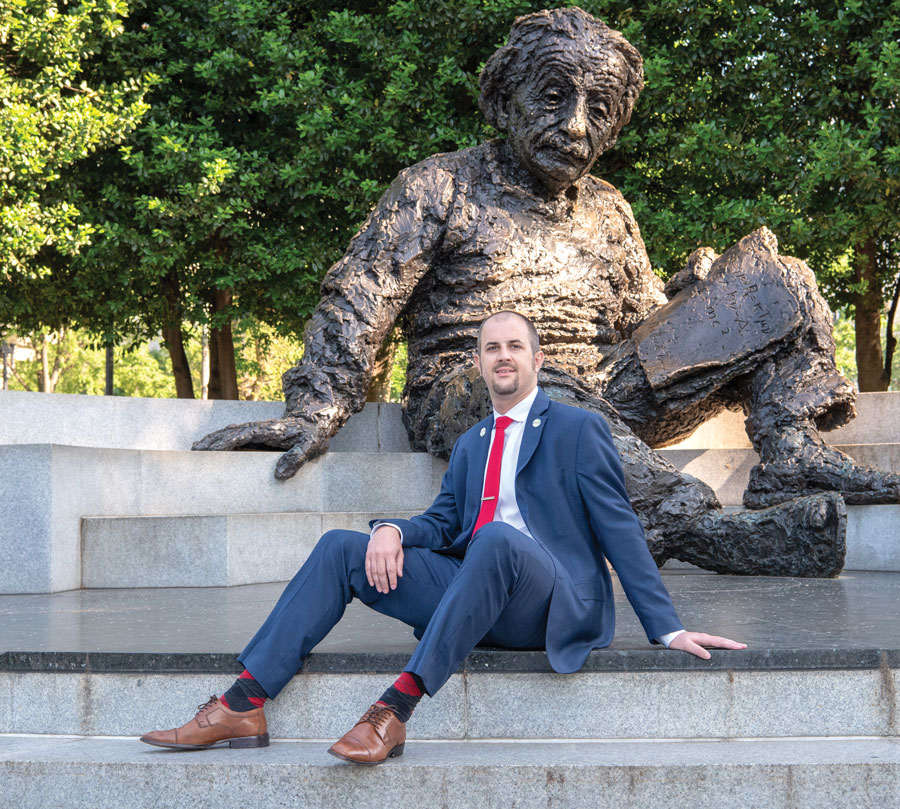 Founder and CEO of Rental Limo and Book.limo Ryan Hilberth with the Albert Einstein Memorial in Washington, D.C. Rental Limo is the first-born of the two-pronged organization. The nationwide network of chauffeured transportation companies allows clients to quickly browse, compare, and book rides online. Book.limo is the natural successor, a white-labeled version of the online reservation system that, citing numerous case studies, Hilberth says "delivers the highest conversion rates and ticket prices for booking while reducing labor costs by as much at 86 percent." And since ­Book.limo works with much of the office technology currently available to the livery industry, operators can be as hands-on or hands-off as they want to be.

"Because we have built an environment where integration is not necessary to thrive with our program, Book.limo has an open-integration policy with back-end systems," Hilberth explains. "The name of the game for the future of technology is accessibly. We have circumvented the dependency on integration so any operator—small, medium, or large—can give their clients an easy way to do business with any company because it works with all kinds of technology already in play."

Brett Barenholtz of Boston Car Service/Above All Transportation says that Book.limo's numbers have spoken for themselves since getting on the reservation platform.

"In terms of ROI, I would say our online booking is up 600 percent," Barenholtz estimates. "And about 35 percent of our clients using it now are new accounts. So if on a daily basis you're picking up someone who's never used your services before, that's a good thing. Implementing Book.limo has been a really great investment for us."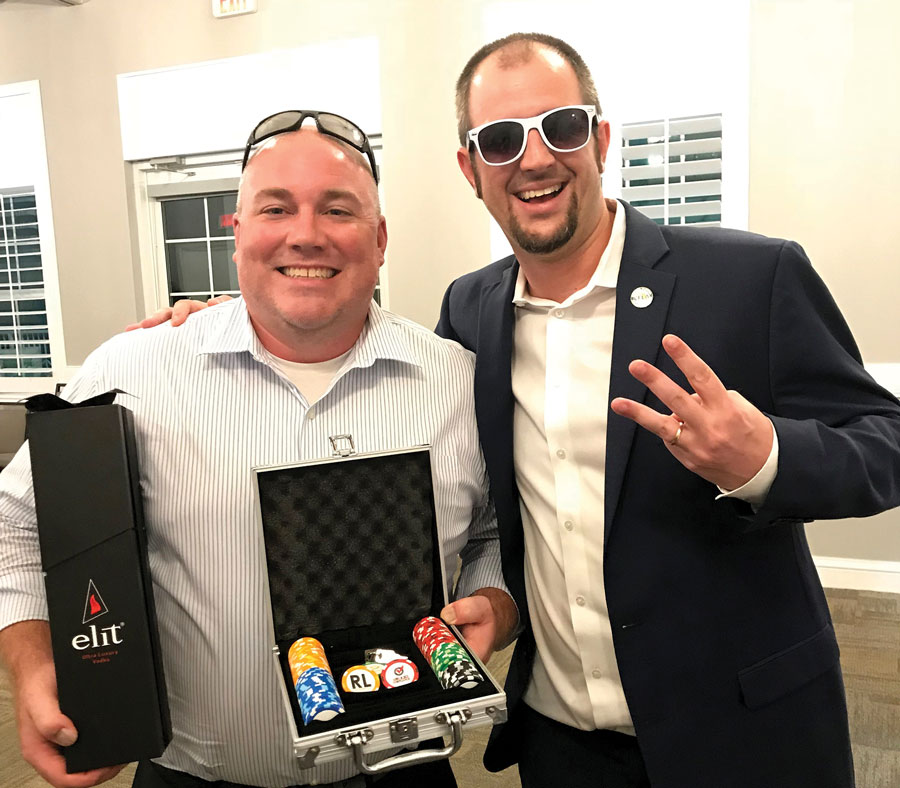 WFLA President Jeremy Jenkins of His & Hers Limousines (left) and Hilberth with the customized poker chips used at the CFLA's recent poker tournament With a dedicated home-base team working behind the scenes at Rental Limo and Book.limo's offices in St. Petersburg, Hilberth is able to act as the far-traveling face of the company. And in addition to supporting industrywide events with a physical presence, the companies are frequent sponsors of industry trade shows, regional association meetings across the country, fundraising events, and lobbying days.

Most recently, Book.limo served as one of two Premier Sponsors of the NLA's annual Day on the Hill this May 22-23. Hilberth was among nearly 50 industry representatives appealing to government representatives on behalf of the luxury ground transportation industry as it continues to rail against illegal operations and educate legislators on how TNCs are compromising safety and operational integrity in ground transportation (see page 94 for our coverage of this year's NLA Day on the Hill).

Barenholtz, a co-chair of the NLA's sponsorship committee, personally asked Hilberth himself to consider sponsoring Day on the Hill for a second year in a row.

"When I reached out to Ryan, he said he'd love to help," Barenholtz says. "The industry should be happy to have vendor partners like that. You see him everywhere—and that's important. What these vendors do for our industry is extremely helpful, especially with this war we're in with TNCs right now."

NLA First Vice President Laura Canady of SC Express considers Day on the Hill the singularly most important event of the year, so it speaks volumes to her about a vendor's commitment when they step up to do more.

"I think that having vendors like Book.limo sponsoring events is their way of giving back to the industry that uses their product, while also reiterating that it's about more than the bottom line, that they really do care about the industry," she says. "In my opinion, Day on the Hill is the most important meeting of the year because the most important thing we do is ensure the future of our industry. Having our vendor members participate in it makes their presence more meaningful."

With Book.limo also supporting the Harold Berkman Memorial Fund through donations, it's fitting that the NLA is a frequent recipient of Rental Limo and ­

Book.limo's sponsorship, especially since so many association members also have firsthand experience with how the tool comes with myriad benefits.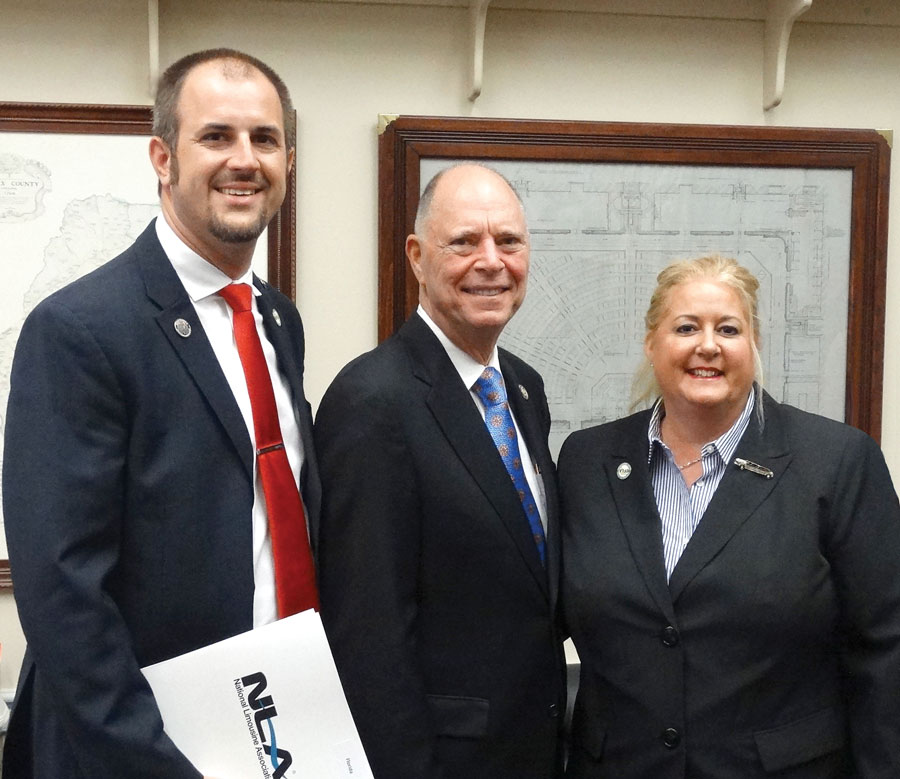 L to R: Hilberth, Congressman Bill Posey (R-FL), and CFLA President Wendy Kleefisch of Brevard Executive Transportation during this year's NLA Day on the Hill "We use Book.limo at SC Express and it has saved our staff a lot of time—and our clients, too, because they don't have to call in, they can do everything online," Canady says. "If people can just press a button or tap something on their phone, it's so much easier than making that phone call. And if clients can just handle things themselves so we can have fewer hands on the reservation, it typically means fewer mistakes."

Rental Limo and Book.limo are just as involved at the local and state levels of the industry, too. Hilberth is on the board of directors for both the West Florida Limousine Association (WFLA) and Central Florida Livery Association (CFLA), helped redesign their logos, assisted in retooling their websites' interfaces while securing more streamlined URLs for them, and has supported each association's charitable endeavors.

The WFLA soon will be kicking off its inaugural Scramble Charity Golf Tournament, of which Hilberth serves as director. WFLA President Jeremy Jenkins of His & Hers Limousines says that the June 24 event, which is not only benefiting but also granting wishes in partnership with the Children's Dream Fund, has flourished with Hilberth's assistance.

"Ryan's done a lot for the WFLA," Jenkins confirms. "For the golf tournament alone, he reached out to local clients and vendors and basically put it all together. He has a plethora of knowledge about the industry, so he's always up to speed about what's going on and keeps everyone in the know."
The industry should be happy to have vendor partners like that. You see him everywhere —and that's important. What these vendors do for our industry is extremely helpful, especially with this war we're in with TNCs right now.
Brett Barenholtz of Boston Car Service/Above All Transportation
For the CFLA, Hilberth just finished his second year of supporting its Cans for a Cause initiative, where the association collects hundreds of canned goods to donate to charities. This year's two recipients were One Heart for Women and Children, an outreach for families dealing with domestic abuse, and Hope & Help, which provides support and education for people with HIV. When the CFLA debuted its Texas Hold 'Em Charity Poker Tournament this past April with Hilberth at the helm, 50 percent of the proceeds—more than $1,300—put 22 boxes of canned goods in the food pantries at both One Heart for Women and Children and Hope & Help.

Hilberth was drawn to the WFLA first by proximity: "It was the closest and most appropriate association for us to join, and some of our clients play a large role in the association, so we've joined forces to work together in the trenches." His involvement in the Central Florida association stems from CFLA President Wendy Kleefisch of Brevard Executive Transportation bidding on Book.limo's services at a Harold Berkman Memorial Fund auction in 2016. Recently, Kleefisch relied on Hilberth to act as a director of the poker fundraiser.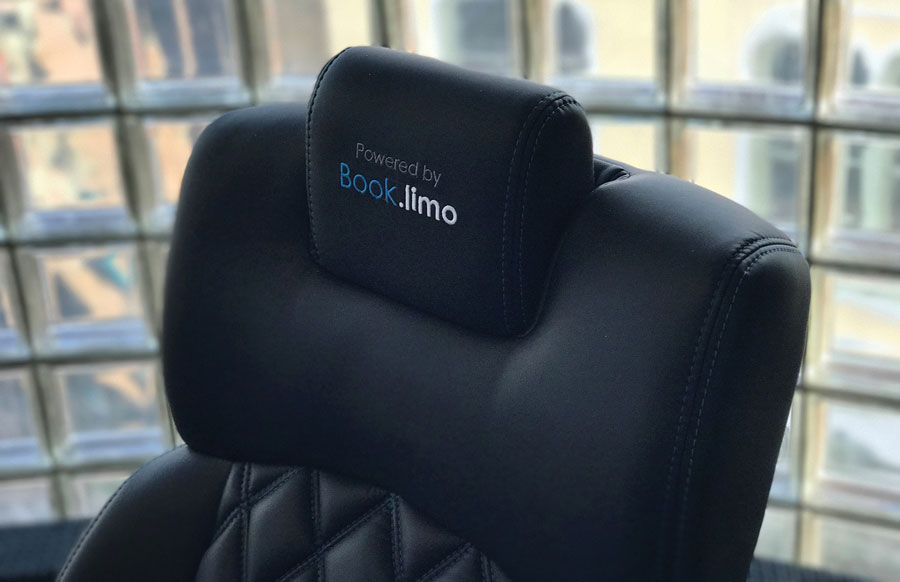 Book.limo's generous donation at a CD charity auction yielded a set of branded chairs "Without Ryan, I know our poker tournament would not have been the success it was," Kleefisch says. "His industry involvement benefits us in two ways: He has all these connections and knowledge that he brings back to the association. He was there for the GCLA (Greater California Livery Association) and ALA (Arizona Limousine Association) poker tournaments and knew how to run ours based on those."

Beyond charitable work and advocacy, Hilberth believes in taking industry unity one step further and works in tandem with many of the other technology companies operating in the transportation sector.

"Book.limo works closely with other tech companies because we believe in the idea of integration," Hilberth says. "It works with the majority of back-end systems in general, connecting everybody better so that transportation companies can pick and choose who they want to work with, without being limited by who's using technology that's integrated with theirs."

After all, now that Hilberth has had a front-row seat to witnessing the power of people coming together for a common cause, he is eager to apply that same philosophy to the business world.

"We reinvest our profits in our clients, in our community, and in our industry," he says. "As a business, you have to balance your decision-making and profitability with the best interest of your clientele: In an open-enterprise market, there is a wide gamut of where companies fall on that spectrum. We believe that making the best decision for your clientele should be synonymous with making the best decision for your business."

[CD0618]