By Madeleine Maccar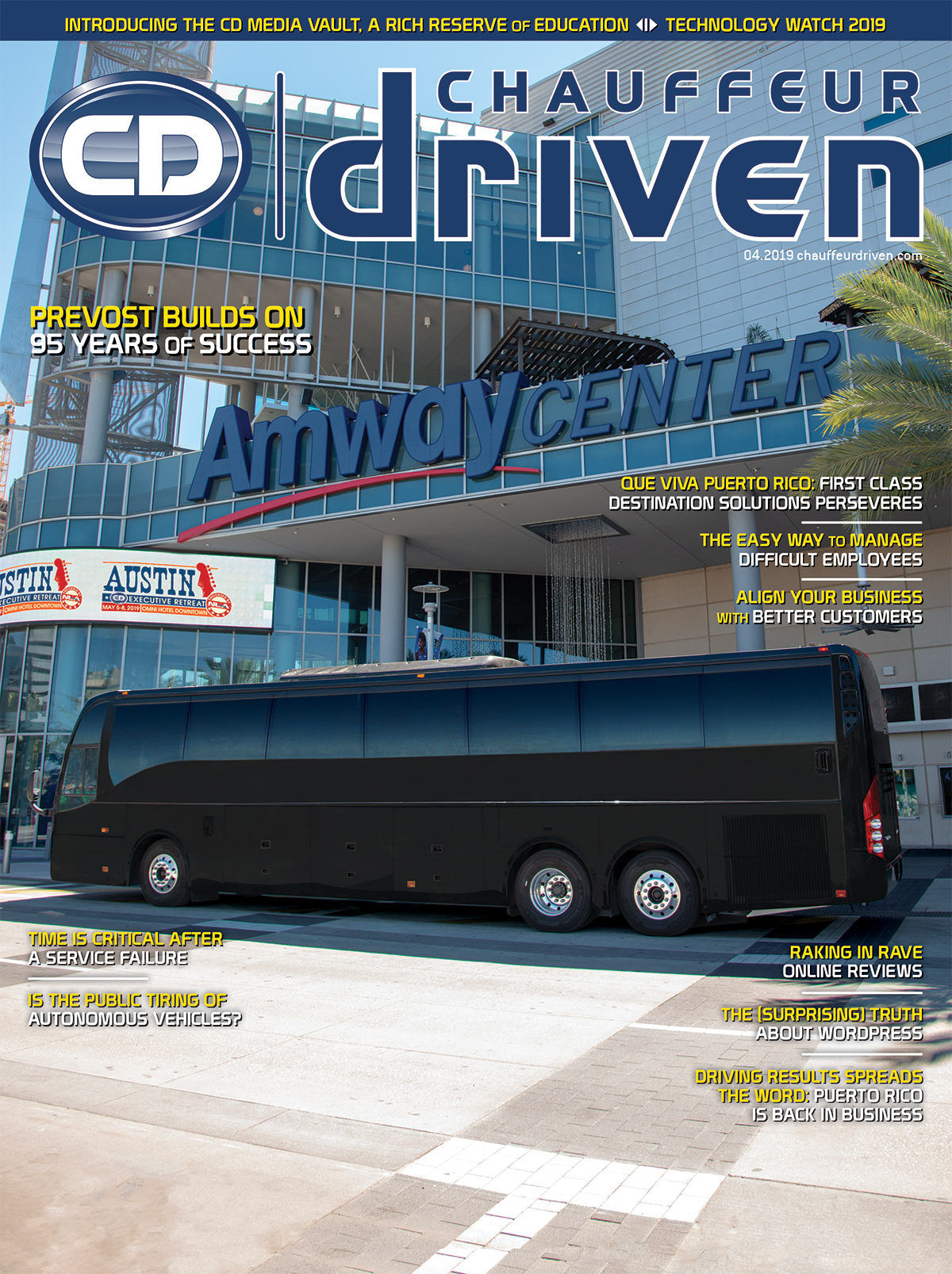 Cover Art: The Volvo 9700 in front of downtown Orlando's Amway Center. Photography by Minion Media and provided by Prevost. A company has to be doing something right to have nearly a century of success to its name.

When it comes to Prevost, the North American bus manufacturer that's owned by The Volvo Group and known for its flagship H3-45 luxury bus, Marketing Director Michael Power believes that the company's longevity all comes back to never straying from the ideals first espoused by its founder Eugene Prevost.

"We're celebrating our 95th anniversary right now and we're very, very proud of that," Power said. "We're the oldest coach manufacturer here in North America, and our commitment to quality was ingrained into the company from the get-go by our founder."

The nearly centenarian company has built its foundation on its namesake's three core values: premium quality, which prioritizes safety and solid construction; customer intimacy, or a deep-rooted understanding of what clients demand not only from the Prevost and Volvo brand but also buses and motorcoaches in general; and sound innovation.

"When we say 'sound innovation,' what we mean is that we're maybe not going to be the first ones to market; when our products do come to market, however, you can be sure they're going to uphold the standards of Prevost and the standards of our operators—and the standards of Volvo, too, which is a brand that is synonymous with quality and safety," said Power. "We make sure that when we deliver a product, it has been tested well first."
"Prevost is the Rolls-Royce of the motorcoach industry even our customers recognize that, and they're more than happy when we put them in a Prevost because of the ride quality, the technology, and the overall experience."
– Prevost customer Jason ­Sharenow of Broadway Elite Worldwide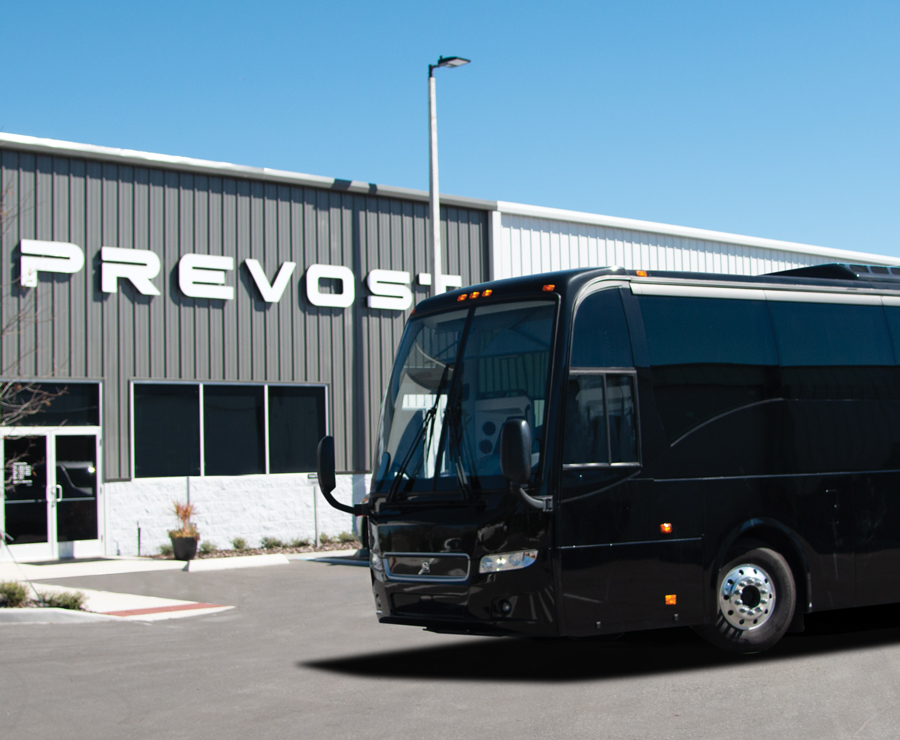 The new Winter Garden Prevost Parts & Service Center, which is just outside Orlando, Fla. But for as long as the company has been around, Power explains that Prevost didn't specifically position itself to appeal to luxury ground transportation operators until fairly recently. While it began to "dabble" in the chauffeured car world about five years ago—just as the industry was fully embracing buses and motorcoaches to its fleets in earnest—Prevost didn't ramp up those efforts until two or three years ago.

And it has been, as both Power and Prevost see it, a match made in heaven.

"Luxury vehicles are something we're very familiar with," he said. "Our products fit very well with that high-end level of service and presence that the limousine market offers. So for us, we saw that as a perfect fit, and we've seen in the past two years how many operators are looking to branch out and have approached us looking for new business opportunities. That's how we started seeing that these are great operators who were willing to help us understand how to best support their market. We've been looking at all kinds of opportunities to bring the right technology and types of products to the market for limo operators."

Power describes how Prevost packs its vehicles with a keen eye for aesthetics, comfort, and the little touches that go a long way. Those amenities are included in everything from its bestselling favorite H3-45—the 45-foot mainstay that boasts elevated seating and generously expansive luggage space—to its similarly popular and reliable Volvo 9700 that comes in a "limousine edition" specifically for this industry to the brand-new X3-45, which debuted at January's United Motorcoach Association (UMA) Expo and, according to Power, has already proven to be a hit.

"We just launched our X3-45, which is a redesigned vehicle with a new look and feel," he explains. "We launched that at UMA and we're already pre-sold 'til at least the end of the year, if not until February 2020."

And that's not all: The aforementioned Volvo 9700's limousine edition demonstrates that Prevost is committed to delivering not only the luxury that this industry's passengers demand but also the safety that separates it from TNCs.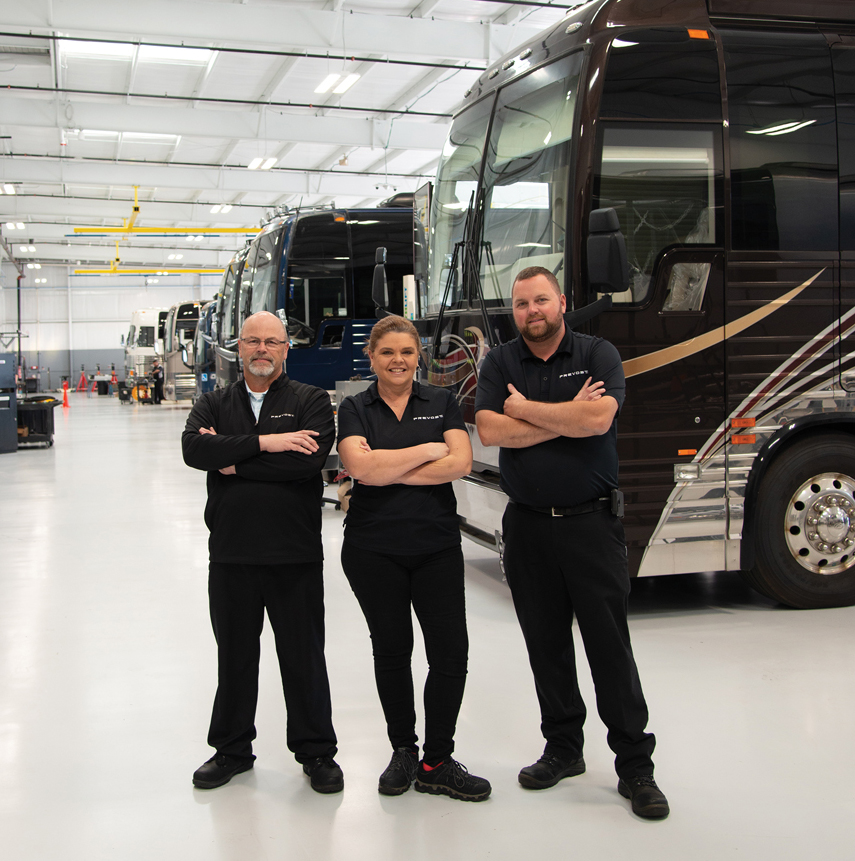 Orlando Service Center Employees (L to R): Branch Manager Mike Fitch, Customer Service Coordinator Michelle Burkhalter, and Service Team Lead Dave Leclerc"The 9700 is one of the only vehicles to offer reinforced front-end impact protection systems," Power says. "In a face-to-face accident, not only are the driver and passengers protected as much as possible, there's also a front under-run protection system that stops the other vehicle from going under the bus."

Aside from the company's high-end conversions, which include motorhomes fetching $2.5M and coaches outfitted for celebrities' long-haul entertainer or music tours, Prevost's more group-mover focused offerings for corporate work and ground transportation in general do not skimp on safety, luxury, highly customizable options, and well-appointed extras. It has also embraced technology in a big way, and particularly benefits from its exclusive partnership with Icomera.

"Technology is in the DNA of both Prevost and Volvo," Power says. "We're bringing in things like the Prevost Entertainment System, which is similar to what you see in airlines as a way to view movies or TV shows or listen to music or eBooks, for example, via a system that pushes it to passengers' handheld devices instead of having four or five TV monitors or ones in the seats. It's very user-friendly: It's web-based so you don't even have to download an app, and it s among the best WiFi in the industry when it comes to reliability."

Of course, passengers aren't the only ones Prevost wants to win over, and the Volvo subsidiary makes sure that the operators running their vehicles are well taken care of, too. Because, as Power says, if there's anything that both chauffeured ground transportation companies and Prevost share an equal passion for, it's nurturing an intimate client relationship and delivering above-and-beyond customer experience.

"The service side of Prevost is where we really shine in the limousine market, particularly since Prevost and limousine operators are dedicated to maintaining our brands' integrity and reputation," says Power. "Prevost is well-known, and our reputation is built on the quality and reliability of the product, but also the service and the support we back up our products with. We're always there to support our customers."
"The company that I bought four years ago, Passaic Valley Coach, is Prevost's longest-running customer. When I went to their factory two years ago to buy two brand-new coaches, the entire staff were so over-the-moon excited that their longest continuous customer was in the house. It was remarkable." – Jason Sharenow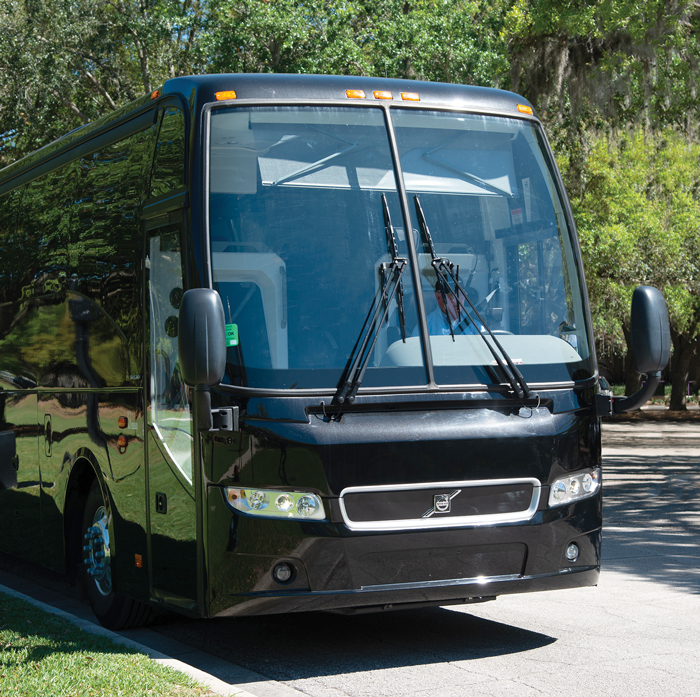 The Volvo 9700 coach with lower mirrors comes in a limousine edition that was built specifically with the luxury ground transportation industry in mindThat after-sale support begins with its Prevost UPTIME service contracts, a three-tiered program that includes Service Agreement, Sound Service, and Prime Service. The UPTIME model is designed to both lessen the hassle of and eliminate the guesswork in tracking and scheduling maintenance procedures, as well as ensuring that warranty claims and repairs are handled as quickly as possible.

While its custom­izations have been shipped to as far as Saudi Arabia and Russia, the bus side of Prevost maintains a strict North American presence. This allows the company to focus on the services it offers throughout Canada and the United States, including 15 service locations across America. Prevost's most recent facility opened in Orlando, Fla., in the second half of 2018, and it has "an aggressive plan" to open up four or five more service centers in the next year, with a location just outside San Francisco scheduled in September.

For those operations that don't yet have a Prevost plant within easily accessible proximity—or if there are there are a number of Prevost buses congregated around one event like, for example, this year's Super Bowl in Atlanta—there are more than 55 service trucks dispatched all over North America serving as mobilized garages at a moment's notice.

Prevost's deepening commitment to the chauffeured transportation space itself even spawned a new training program through Prevost Technical Institute, which aims to help operators bridge the gap between what they know about operating sedans and SUVs and what they need to know about running buses and motorcoaches while giving them full access to the Prevost team's knowledge as they adjust to having buses in their fleets.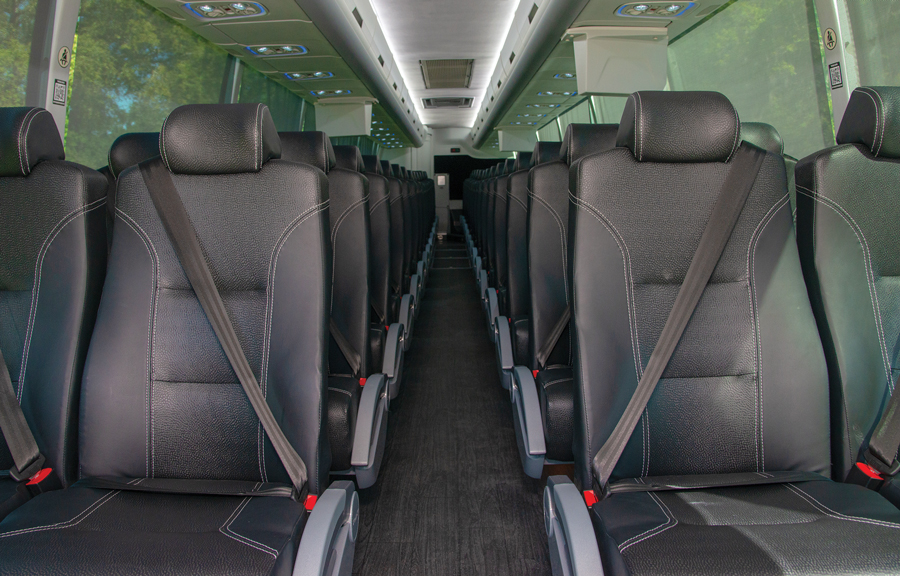 Black leather seating in the Volvo 9700's limousine edition"As the limousine market gets more into motorcoach operations, our technical institute helps them by training their mechanics on how to upkeep the vehicles, which I think is crucial for them," Power says. "Plus, we offer service contracts so we'll support them while maintaining the vehicle for two or three years, allowing them to get used to our vehicles. Our mindset is to give them the time to evaluate the feasibility of motorcoach operations in their organization with our full support behind them. That's where we feel we really differentiate ourselves from other OEMs"

Prevost isn't content to rest on its laurels, however, and is already looking ahead to what more it can offer all of its clients in the years to come.

"I'm very excited for the future because of the markets that we're getting more into and the commitments we're making to them," says Power. "There's a lot of new technology developing, and Volvo especially keeps us directly tapped into all kinds of different opportunities, from autonomous driving vehicles to electric vehicles. We're in a good seat to be able to achieve a lot of things for our brand—and especially our clients."

[CD0419]