By Rob Smentek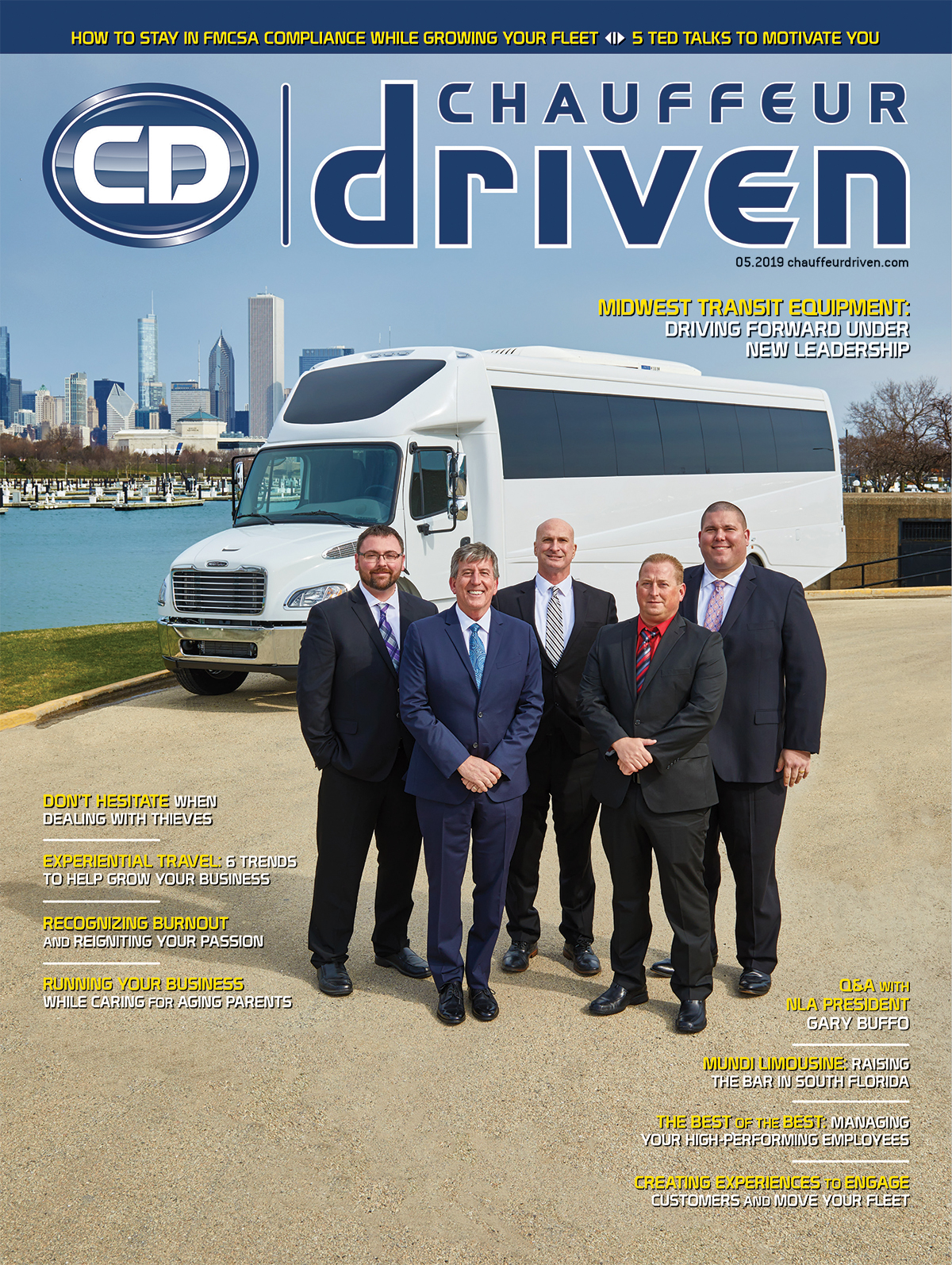 Cover Art: The Midwest Transit executive team (L to R: Bill Battisti, John McKinney, Chris Norlin, Adam Kiran, and James Ryan) with a Berkshire Freightliner bus on location in Chicago. Photography by Bryan Chris. When new President & CEO John McKinney purchased Midwest Transit Equipment from industry mainstays Barry Huebner and Jim Bridgewater in June 2017, he brought with him more than 30 years of executive experience in the school bus industry. Now, with a new team in place, he's excited to use the decades of knowledge and success he gained with those big yellow vehicles in order to further expand the company within the black car marketplace.

"We have an appetite for growth," says McKinney. "Currently, the school bus business is around 65 percent of Midwest's revenue. While we love that sector, we want our commercial and luxury transportation business to be just as large—and I believe we're on our way. There was a great team in place, but I think we've been able to add to that team—and assemble the right kind of leadership to drive the business forward."

With help from his executive team, which includes Vice President of Commercial & Used Bus Sales James Ryan and Manager of Specialty & Mobility Markets Adam Kiran, McKinney is looking to build on the stellar reputation that Midwest developed through the years. He already has plans in place to grow their Nationwide Bus Sales business, which caters its to commercial and luxury ground transportation clients.

"Coming on board, our focus was really to grow our commercial side to be as big—or bigger—than our school bus division," says Ryan. "That side of our business sells roughly 3,000 units annually between new and used combined. It's a big hurdle to climb, but we have the right team in place to show chauffeured ground transportation operators that we're here to stay and not just playing second fiddle to school buses anymore."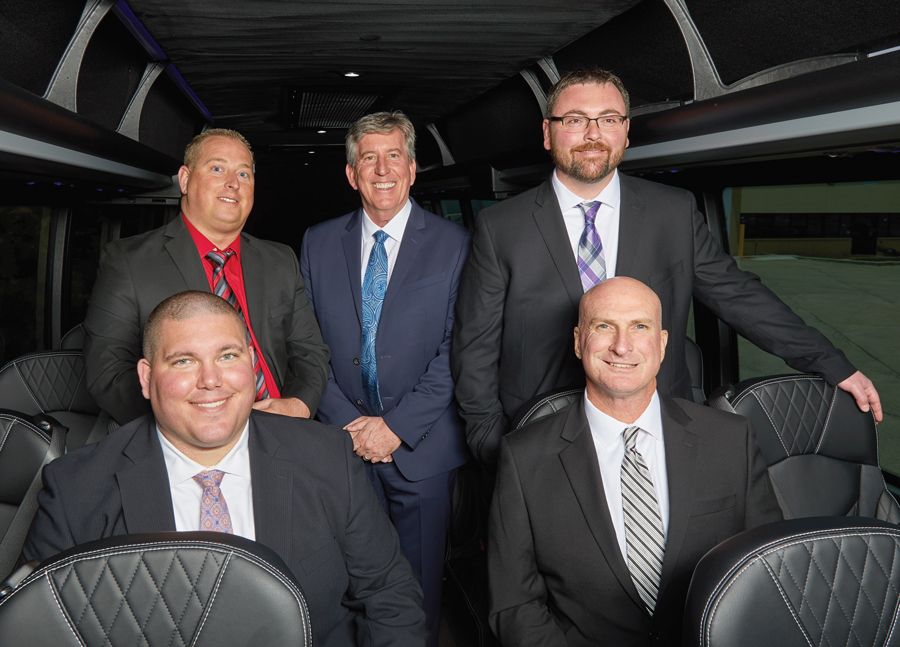 Back row (L to R): Manager ­of Specialty & Mobility Markets Adam Kiran, President & CEO John McKinney, and Regional Sales Manager Bill Battisti. Front row (L to R): Vice President of Commerical & Used Bus Sales James Ryan and Regional Sales Manager Chris Norlin. As a Forest River bus distributor—whose product line includes the Battisti Customs, Berkshire Coach, Elkhart Coach, Glaval Bus, Starcraft Bus, and StarTrans Bus brands—Nationwide is able to offer everything from an eight-passenger ultra-luxury Cruise Master to a 50-passenger 45-foot Freightliner, and anything in between.

"We're unusual that we stock a lot of units in different capacities and variations—anything from an economy minibus to a decked-out, fully custom unit," says Ryan. "I think for an operator who comes into the dealership, even if they're new to the bus market, we have a lot of options through Forest River to be able to suit anybody's needs. It's a turnkey process from start to finish."

Among Nationwide's most popular vehicles for the luxury ground transportation space is the Starcraft executive van built on a Ford Transit chassis. With its 14-passenger capacity, which Kiran points out is non-CDL in most states, the vehicle has a 30-inch rear luggage compartment in both the shuttle and limo configurations, which provides an abundant amount of storage without sacrificing seating. Further, the Starcraft is equipped with a traditional bus entry-style door, and a wide aisle, which gives passengers the ability to walk and stand comfortably.

And, as more and more operators are looking to add larger buses and coaches their fleets, Kiran believes that their Berkshire lineup fulfills the needs of chauffeured transportation clients while protecting the owners with a warranty that more than meets the needs of the industry.

"What makes Berkshire unique is that they've taken the most popular features in the industry and packaged it into a simple price and deal," says Kiran. "When you look at a Berkshire product, all the features you see are standard. It uses the best equipment—Trans Air fully ducted air conditioning, overhead racks, composite grid floor, FMS seating with a chevron-V stitched package, Jensen electronics, and USB ports on every seat. And, all of those features are covered by a 100,000-mile/5-year warranty."

The Midwest/Nationwide team is equally enthusiastic about Navistar's upcoming 44-passenger buses built on the international TC chassis. "This coach is Navistar's redesign of their medium duty, and I think it's going to be a game-changer for driver comfort and advanced futures in the industry," says Ryan. "We're really excited to have Premier seats in that unit. We're planning on unveiling the bus at the Chauffeur Driven Show in Boston in October. It's something new and exciting."

While supplying best-in-class metal is certainly key to the company's growth in the marketspace, McKinney sees after-sale support as integral when it comes to strengthening its ties to the luxury transportation community.

"We've doubled-downed on what I call our 'concierge warranty service.' We have a team you can call, and if we can't repair the vehicle ourselves, we'll get you to a place that can take care of it, and we'll be with you all the way through the process," McKinney says.
"We don't just want to sell our clients a product; we also want to provide solutions." - John McKinney, President & CEO of Midwest Transit Equipment
Ryan emphasizes that location will not interfere with any warranty issues, either. Whether an operator is located near the Midwest hub that the dealer calls home or as far away as Seattle or Florida, they will see that any issue is resoloved.

"We have an internal team in place that exclusively handles any calls coming in for warranty work. If a current customer, say they're on one of the coasts, calls and they have a service center they like to use locally, we will have our warranty department run the issues directly through the mechanic, so they don't have to take it to someone they aren't comfortable with. It's very unique and simple for our customers."

However, providing excellent service has long been part of the Midwest Transit model, and is definitely a carryover from its previous ownership; in fact, McKinney says he still speaks to Huebner and Bridgewater regularly. And thanks to the experience and hard work from Midwest's sales force—including Regional Sales Managers Chris Norlin and Bill Battisti—the distributor has maintained solid relationships with its longtime clients, which are among the biggest names in chauffeured ground transportation.

"I bought my first bus fro m Midwest Transit 20 years ago," says Art Rento Jr. of Pontarelli Companies. "They work with you. If there are any issues, they make it right. We have our own mechanic, but sometimes there are things that we can't do in house, and they'll step up and they're right there."

Furthermore, Rento is pleased to see that there has been no change in service since McKinney took over. "Recently, I purchased a 30-passenger Berkshire from Midwest, and I'm still working with the same salespeople. The service level is still there. It's clear that John wants to maintain that Midwest quality."

Another steady Midwest client is George Jacobs of Windy City Limousine & Bus. "I've dealt with Midwest for years and years, particularly Chris Norlin, and I've found them to always stand behind their products. Recently, when we got the McDonald's account, we needed four small ADA-compliant vehicles, and they got them for us right away. But there was a possibility that McDonald's might change the specifications after a year, so Chris said they'd take them back if anything changed. That's pretty impressive."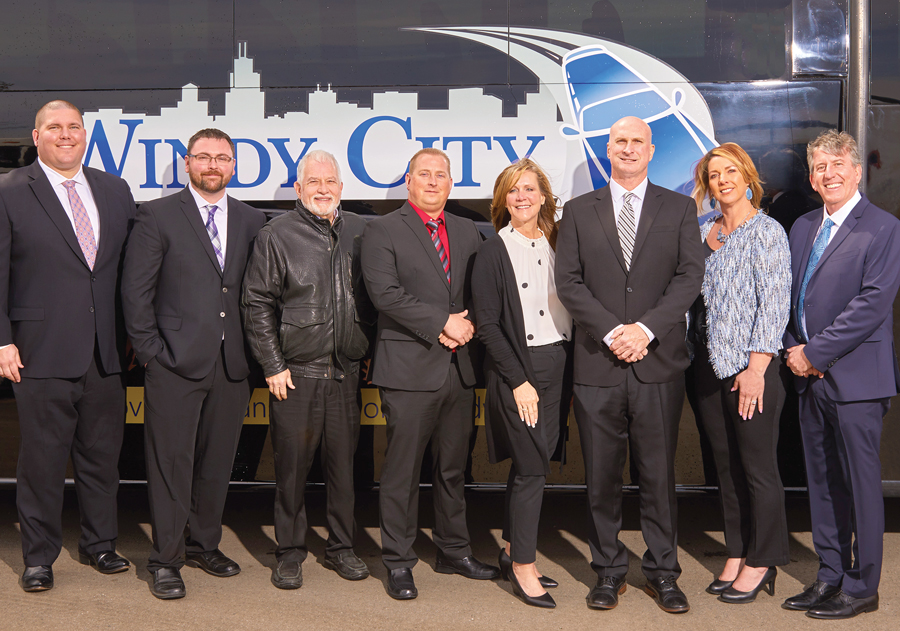 L to R: James Ryan, Bill Battisti, Windy City Limousine & Bus CEO George Jacobs, Adam Kiran, Windy City Limousine & Bus President Kathy Kahne, Chris Norlin, Windy City Limousine & Bus Executive Vice President Tracy Raimer, and John McKinney In addition to their phenomenal customer service, Jacobs is particularly impressed with the way that Midwest has continually supported the industry. The Midwest headquarters has been a frequent host for Illinois Limousine & Bus Association (ILLBA), and they're a regular sponsor of the association's annual meeting.

Since being promoted to manager of specialty and mobility markets, Kiran has ramped up Midwest's support of the industry. "We've been a longtime supporter of the ILLBA, but in the past year we've also teamed up and become affiliated with Wisconsin Limousine Association and the Minnesota Chauffeured Transportation Association. We've made some moves to get out there and support our market a bit more."

As Midwest Transit grows under its new leadership, McKinney and his team have their sights set on being more than just a bus supplier to the luxury ground transportation industry.

"At this point of my career, it's been a lot of fun to come into this side of the business. We have a lot of high-energy talent with ample ambition. This is a cool industry with a lot of interesting business models," says the President & CEO. "But we don't just want to sell our clients a product; we also want to provide solutions. We can be a resource for someone who is new to the business and looking to get into the market or understand the changes that are going on."   [CD0519]