By Matt Daus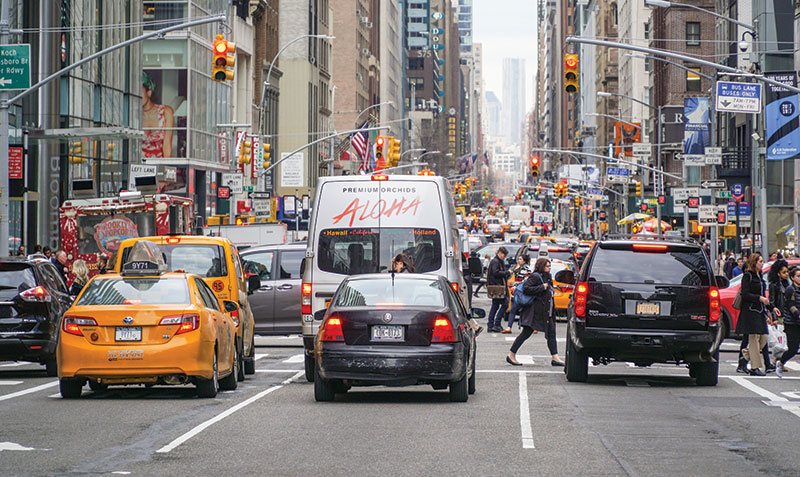 On April 1, 2019, New York state passed a first-inthe-nation congestion pricing law to reduce traffic gridlock in Manhattan's central business district (CBD), which is defined as the area of Manhattan south of 60th Street, excluding FDR Drive and the West Side Highway. The pricing was included in legislation passed as part of Governor Andrew Cuomo's budget bill for Fiscal Year 2020, while also hoping to raise $15B to fix New York City's subways and commuter rails
This latest law is really phase three of the Fix NYC program, which started when NYS passed a law last year to apply congestion surcharges to taxicabs and for-hire vehicles (FHV)—black cars, limousines, and liveries—starting January 1, 2019. In January 2018, Governor Cuomo's Fix NYC Advisory Panel issued its three-phase plan to reduce congestion and raise revenue to fix the city's ailing subway and commuter rail systems. Phase 1 called for increasing mobility by investing in public transportation improvements, heightened traffic enforcement in the CBD, addressing bus congestion, and overhauling the parking placard program. Next, in phase 2, the state would review revenue options to fund transit improvements and implement congestion surcharges on FHV and taxi trips below 96th St. Finally, in phase 3, there would be a congestion pricing zone established in the CBD.
"This latest law is really phase 3 ... NYS passed a law last year to apply congestion surcharges totaxicabs and for-hire vehicles (FHV)—black cars, limousines, and liveries— starting January 1, 2019."
Congestion Pricing vs. Congestion Surcharge
The future congestion toll is separate from the current congestion surcharge on taxi and FHV trips ($2.50 and $2.75, respectively). The surcharge in place now applies to trips anywhere in Manhattan south of 96th Street, which covers more ground than the toll zone. The surcharge is also limited to intrastate trips, while there is no similar requirement on the toll program.
While the legislation would limit private passenger vehicles registered in New York to one toll per day, this does not extend to taxis and other FHVs. Every trip into the CBD would be subject to the toll and the surcharge. A carve-out for FHV and taxi trips subject to the surcharge did not make it into the congestion toll legislation, which simply calls for the yet-to-be-appointed "traffic mobility review board" to recommend "a plan to address credits, discounts, and/or exemptions" for such trips. Passengers might get a break from paying the toll on top of the surcharge on trips into the CBD. However, because the law addresses trips and not vehicles, taxis and FHVs entering the congestion tolling zone without a passenger will likely have to pay the toll to access Manhattan when looking for fares.
The Congestion Pricing Plan
This bifurcated system will continue for vehicles licensed by the NYC Taxi & Limousine Commission (TLC) only until possibly January 1, 2021, when the congestion pricing scheme will apply to all other non-exempt vehicles. Most of the details, including the amount of the toll, are yet to be decided and will be left up to the Metropolitan Transportation Authority (MTA) and the traffic mobility review board, but this is what we know so far:
The toll will not go into effect sooner than December 31, 2020.
Motorists will be charged a fee to drive into CBD.
The amount of the toll will be variable.
Private passenger vehicles registered in New York will only be tolled once a day.
Emergency vehicles and vehicles carrying a disabled person will be exempt.
People who live in the congestion zone, and who earn less than $60,000 per year, will be eligible for a tax credit on their tolls.
"There are only two exemptionswritten into the legislation itself: emergency vehiclesand vehicles transporting a person with a disability."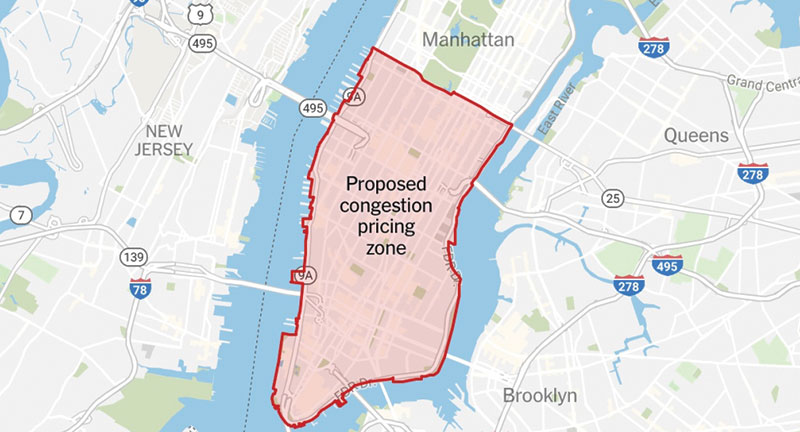 The review board will be appointed by the MTA, with the New York City mayor recommending one member. One member must live in the Metro North region and another must live in the Long Island Rail Road region. Long Island Rail Road and Metro North will each get 10 percent of toll revenue, and NYC Transit, which includes subways and buses, will get 80 percent of the toll revenue. The law gives the board wide discretion to recommend variable toll amounts based on factors like traffic speed, congestion levels, traffic demand, or other measurable parameters.
Congestion Pricing Exemptions
There are only two exemptions written into the legislation itself: emergency vehicles and vehicles transporting a person with a disability. The law leaves it to the MTA to decide the eligibility criteria for the disability exemption. The board could recommend other credits, discounts, and exemptions, and everyone from the freight hauling industry to motorcycle groups and off-duty cops are arguing that the toll should not apply to them. The impact on neighboring states, such as New Jersey residents who already pay a steep toll to enter Manhattan via a tunnel or bridge, has even prompted calls for retaliation from Jersey City's mayor in the form of tolls on New Yorkers to enter New Jersey. Every carve-out and exemption may make it more expensive for everyone else; too many exemptions and discounts would also undercut the goal of reducing congestion. It is possible that those motorists will get hit twice because each toll is intended to fund separate projects. Reducing one toll to pay for another might not make sense fiscally for the MTA, which is under a mandate to use the congestion tolls to come up with $15B in transit funding by 2024; a zero sum game that appears to be primarily revenue driven.
Surcharge Impact on NYC Yellow Cab Ridership
While the NYC TLC has not published taxi/FHV trip record data since the congestion charge went into effect, I have developed some projections of my own. The ridership trend in 2018 for yellow cabs shows an average rate of decline of 1.1 percent per month. Since the average fare is $13.61, the congestion surcharge of $2.50 is the equivalent of an 18.4 percent fare hike. Assuming a price elasticity of –0.2, an 18.4 percent fare hike will diminish demand by an additional 3.7 percent. As such, the rate of decline might exacerbate from 1.1 percent to 4.8 percent.
The Importance of Other Transit Improvements
Many areas of the outer boroughs lack viable public transportation options into Manhattan, which is why people rely on personal vehicles in the first place. Shortly after the law passed, Governor Cuomo and the MTA agreed to provide 20 percent commuter rail discounts to New York City residents not served by subways in northeast Queens as well as $3M toward enhancing express bus service from Queens to Midtown. According to Governor Cuomo's spokesperson, these projects will be funded, in part, by revenue from the FHV and taxi surcharge. The traffic mobility review board's recommendations are due between November 15, 2020, and December 31, 2020, so there is time to see how this may roll out. In the meantime, we'll be watching for the surcharge's impact on taxis and FHVs as the city's transportation system continues to evolve.   [CD0619]
---
Matt Daus is a partner with the law firm Windels Marx, president of IATR, and a leading authority on ridesharing apps. He can be reached at mdaus@windelsmarx.com.