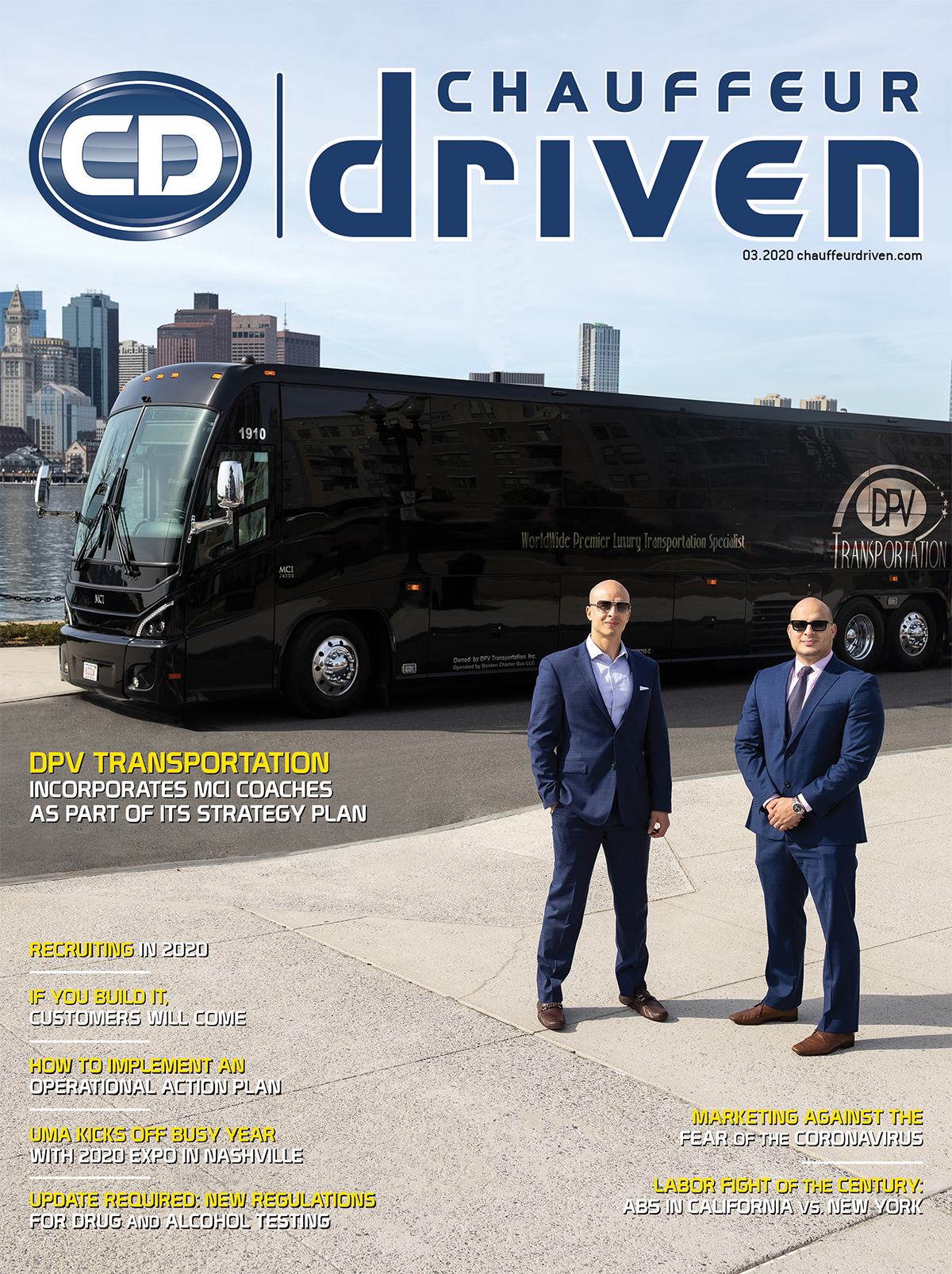 Cover Art: DPV Transportation President and CEO Daniel Perez (left) and COO Jose Perez display their J4500 MCI bus on the Charles River in Boston. Photography by NathanKlima.com. Editor's note: Much of the editorial in this issue was written before the COVID-19 outbreak impacted the U.S., including this article. While we did replace several pieces at the last minute, we felt it was important to publish this one. Wishing everyone a speedy recovery.

Like any entrepreneur, Daniel Perez enjoys spotting business opportunities. After all, the Colombian immigrant started his company, DPV Transportation, in 2006 while he was studying for a career in electrical engineering. After his professor mentioned the lack of reliable transportation for his college's athletic teams, Perez used his van to assist them to and from games—which led to referrals to other teams and colleges. It wasn't long before President and CEO Perez was adding minibuses and sedans to become a full-fledged transportation company in the greater Boston area—with an eye on offering white glove service to corporate clients.

Thanks to several contract wins from a casino, shuttle services, and plenty of diverse corporate work from all over the world, Perez's garage grew exponentially.

But he was thinking larger—as in larger metal. So in mid-2018, he set his sights on motorcoaches, and dove head first into learning everything he could about owning and operating those larger vehicles. Together with his brother and COO Jose Perez, they added their first motorcoaches to the lineup in 2019, bringing the fleet total to 85 vehicles—nine of which are coaches.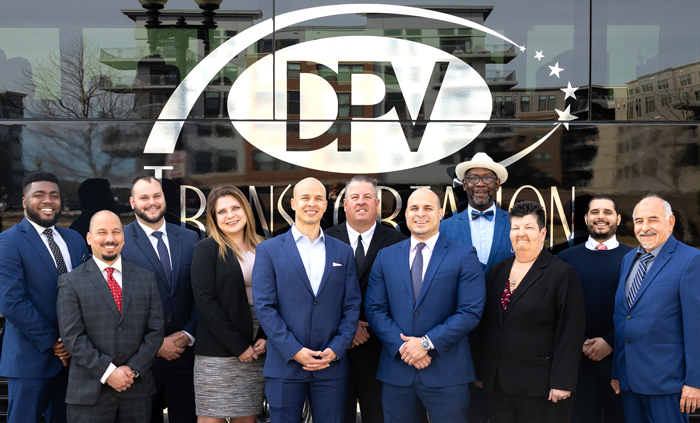 DPV Transportation President and CEO Daniel Perez (fifth from left) and COO Jose Perez (fifth from right) with their team and one of several MCI coaches they've added to their fleet Based on peer recommendations and a reputation for excellent and responsive customer service in both sales and maintenance, Perez explored his options with bus manufacturer MCI. Perez met with VP of Sales for the Northeast Region Patrick Laffan, who over the course of months helped the DPV team come to the conclusion that coaches were a move that the operation was ready to undertake.

Perez's concerns were par for the course for a first-time motorcoach owner, according to MCI's Brent Maitland, who in his role as VP of marketing and product planning understands the trepidations of industry operators transitioning into the bus world.

"We want to provide comfort in their decision to add a coach to their fleet, whether it's their first or tenth," says Maitland. "Building relationships is talked about a lot in business. Owning a coach is a long-term commitment, so we're focused on building those long-term relationships throughout all parts of our organization. For us, the after-sale support is as important as the purchase."

Although other larger companies such as Windy City Limousine & Bus and Wynne of Dallas had been using MCI products for years, this segment was among the newer growth segments for the builder. Maitland says that in the past four years, MCI (which was acquired in 2015 by the NFI Group) has invested significant time and energy in addressing the specific issues facing chauffeured ground transportation, from tailoring its training programs for drivers and maintenance teams to offering new specs specific to the needs of operators. Its newest livery spec is a black-on-black trim with "extra lighting options and all the bells and whistles that this industry wants," according to Maitland.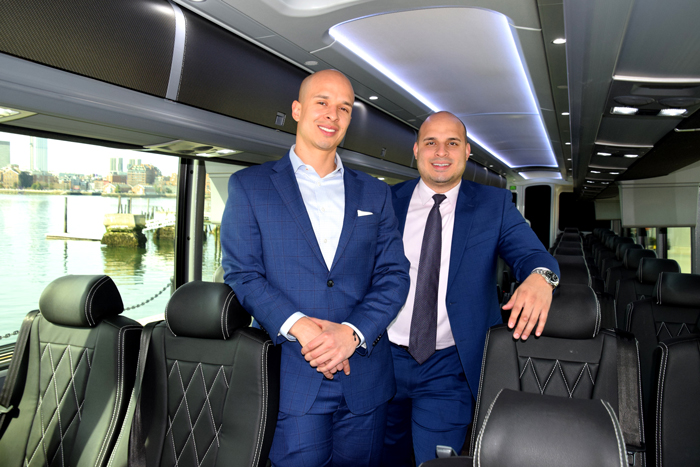 Perez (left) with his brother and COO Jose Perez inside an MCI coach "This segment is especially interested in the cost of ownership over the life of the vehicle," says Maitland. "We've structured our support systems to help operators onboard and prepare for their new vehicle—focusing on training, parts, maintenance, and driver orientation long before the vehicle is delivered. The maintenance aspect is really a critical element so that they are set up properly from the beginning, because not paying attention to preventive care is really setting them up for failure."

For DPV, that meant a new facility for housing its larger vehicles, but also a service bay that could handle regular bus maintenance. "We had to secure a new location, create a new foundation for our maintenance team, and ramp up properly before we could add motorcoaches," says Perez. "We began our research about a year before we bought anything because it was crucial to have the right tools, technology, infrastructure, training, and cash flow first. It's a major expense for a luxury transportation operator—one that we don't necessarily have to prepare for when buying a sedan."

Perez and his team took part in MCI Academy's online Learning Management System, and its ongoing certification platform that trains drivers and maintenance teams on MCI products—everything from the fundamentals for newer operators to advanced courses for seasoned professionals looking to improve skills and coach operational know-how. The Academy provides intensive and multilevel online and onsite instruction before and after acquisition of the coach to ensure that the facility is ready and its drivers are thoroughly schooled in safe operation.

"It's key for all operators to take advantage of the maintenance support that MCI offers. They helped us identify blind spots and correct deficiencies that we didn't see," says Perez.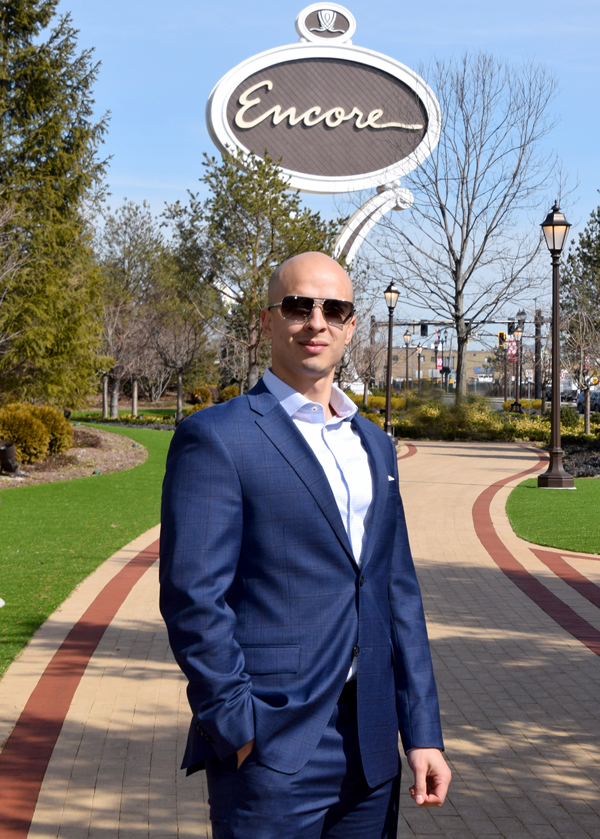 Perez uses his coaches for a shuttle service for Encore Boston Harbor's employees and guests For his first motorcoach purchase, Perez decided on the J4500, MCI's largest and best-selling coach. Having the capability to move up to 52 passengers in luxury and style helped Perez secure a three-year contract with Encore Boston Harbor for its shuttle service to the casino for its employees and customers. The J4500 can be configured for up to 60 passengers. MCI's D Series, featuring the D45 CRT LE with a low-step entry, is geared toward the public sector and employee shuttle market.

"MCI helped us to execute several shuttle contracts and meetings and events work because they were able to deliver buses that were nice, clean, luxurious, and exceeded our expectations," says Perez.

Maitland says that the J4500 and its smaller sibling, the J3500, have caught on in the industry due to several factors. For instance, when the J4500 was recently redesigned with the help of BMW Designworks Studios, a great deal of attention was paid to increasing interior space for greater passenger leg room as well as amping up its curb appeal.


"MCI's vehicles have been a key contributor to our success. They manufacture reliable equipment that helps us deliver our service on a daily basis." – Daniel Perez, President and CEO of DPV Transportation

"People are making long-term investments, so we take time to show them the frame and structural tubing of the coach. The design is different than a body-on-chassis—the vehicle's strength comes from the stainless steel structure itself, which is corrosion-resistant and offers a better ride quality," says Maitland.


DPV's Grech Motors (left) and MCI buses at Encore Boston Harbor A signature of the J Series is its curved entry stairs, which is not only a unique and attractive feature but a functional one. The lighted stairs and accompanying handrails allow two passengers to pass at the same time, easing the flow of entry and egress.

Maitland says that about a third of the failures that occur on the road are due to the electrical system, which is why MCI paid special attention to this trouble area. "We've taken a lot of care to reduce the number of connections and the amount of wiring. Many of our connectors are sealed, which keeps water and moisture out," he says.

The J Series also uses the latest-generation Cummins engines, which Maitland says has improved overall fuel economy. As an added perk: "Both the engine and our electric cooling package have better accessibility for maintenance, which is always well received," he says. Although available in a limited market for the time being, MCI is moving toward offering battery-electric power options on a broader scale in the future.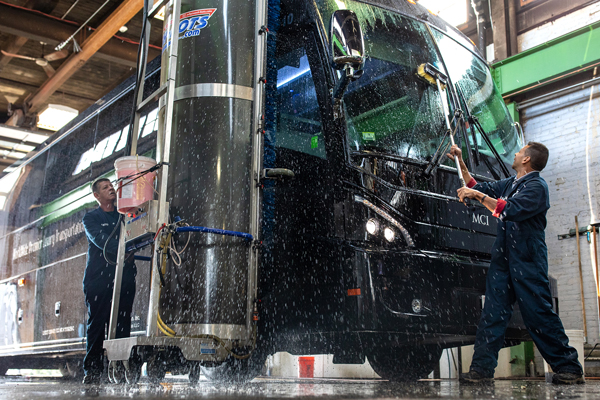 Perez upgraded his facility in order to service and detail his coaches onsite Bus safety is a perennial concern for operators and regulators alike, so MCI has integrated the Bendix Wingman Fusion System into its J Series, which has adaptive cruise control and collision mitigation functionality. The system can detect a stationary vehicle and reduce speed or completely stop the vehicle to avoid or reduce the severity of an accident.

"It's been impressive to see a newer, growth-oriented company expand with nine J4500 coaches. It's our hope that by making the investment along with them, especially during the onboarding and with the on-the-ground support team, to make DPV really successful and effective in running coaches over the long run," says Maitland.

In late 2019 DPV announced that it expanded services to a fourth location in New York City. Although the new office primarily houses a fleet of luxury Sprinters, operating motorcoaches in the Big Apple is not out of the question for the motivated owner.

"MCI's vehicles have been a key contributor to our success. They manufacture reliable equipment that helps us deliver our service on a daily basis." [CD0320]