By Rob Smentek

According to the members of the Going Global Partners peer group, there are three keys to success for an affiliate manager: communicate, communicate, and communicate. So when the group of 27 affiliate managers from around the world headed to the Hyatt Centric Midtown in Atlanta on August 28-29 for their summer meeting, it made sense that the group's focus was on effective communication, with a particular emphasis on listening.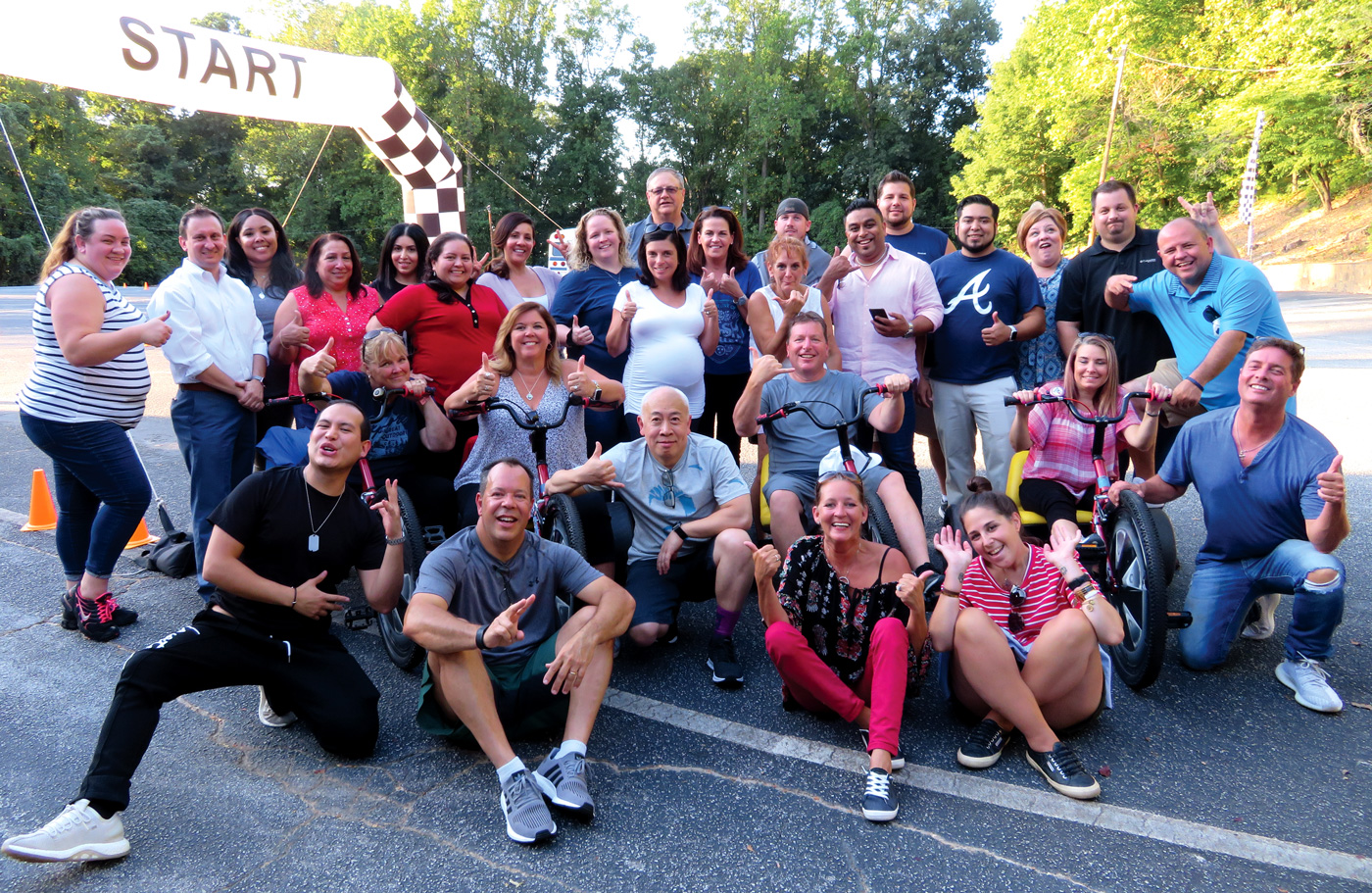 Going Global Partners affiliate manager group. Back row (L to R): Kelly Callahan of JAX Black Car Transportation, Blake Duke of Limo Livery, Natasha Anderson of Windy City Limousine & Bus, Leilani Grubbs of AWG Ambassador, Marine Gevorkian of Advance Global, Mary Santos of American Transportation, Rocio Sanchez of Hermes Worldwide, Kristie Carter of Aadvanced Limousines, Randy Allen of James Limousine, Dana Slaybe of Destination MCO, Deb Kosmicki of Gray Line Black Car Service, Jacob Palma of AZLimo.com, Kelley Callahan of Premier Transportation, Mo Aziz of Montclares International, John DeMarcello of Sterling Limousine, Esteban Carranza of Cooper Global, Ami Nichelson of Omni Limousine, James Haiskey of Town & Country Limousine, and Keith Soraci of A1A Airport Limousine. Center row (L to R): Mary Johnson of A Limo Connection/Alliance/Grossmann, Kathy Messina of Driving Results, TJ Kao of Asia Limo, Arthur Messina of Driving Results, Mary McMahan of JED Transportation, and Mark Thronson of Shark Limousine. Front row (L to R): Franz Garcia of Godandi Global Transportation, Val Caetano of UCS United Car Service, Tammy Carlisle of Action Limousine, and Meredith Pless of American Executive Transportation. "My dad had a great quote: 'You have two ears and one mouth. Do more listening than talking,'" says Driving Results Managing Director Arthur Messina. "During the past few meetings, through conversations with members and the educational partners we bring in, it became clear that there's a growing concern that people generally do not listen as well as they should."

As such, he and his wife Kathy saw the August meeting as a perfect opportunity for the members to discuss the importance of effective listening, and demonstrate methods to improve on the skill in productive and fun ways. The pair brought in guest speakers Terrie Lane and Gillian Doucette from DriveProfit, and together they devised a set of icebreaker exercises for the members to take part during the meeting.

"What we're seeing is that the affiliate managers fill more than one role in the company, and they have other jobs on their plate. People get a call, an email, or a text, and then they're pulled away before the information is logged. We found that most people don't retain what they're told. So, we tried to demonstrate this using a version of the old 'telephone game.'"

For the game, the Driving Results members were split into two lines, and a short phrase was given to the first person in each line. That phrase is then whispered to each person down the queue. Anyone familiar with this game knows that it is rare that the phrase heard by the last person in line is even remotely similar to what was originally shared. And this game was no different.

"The game was quite funny, but revealing. Neither team was even close to accurate," laughs Messina.

The group also played a variation of Follow the Leader, which involved the two teams trying to mimic a short dance move demonstrated by a teammate. With results similar to the telephone game, both teams' choreography was more Fred Flintstone than Fred Astaire. First-time Going Global Partners attendee John DeMarcello of Sterling Limousine found instant value by participating in the games.

"These exercises were eye-opening. Going in, I knew that individuals could interpret information differently, but I had not considered that this could also apply to physical movements," says DeMarcello.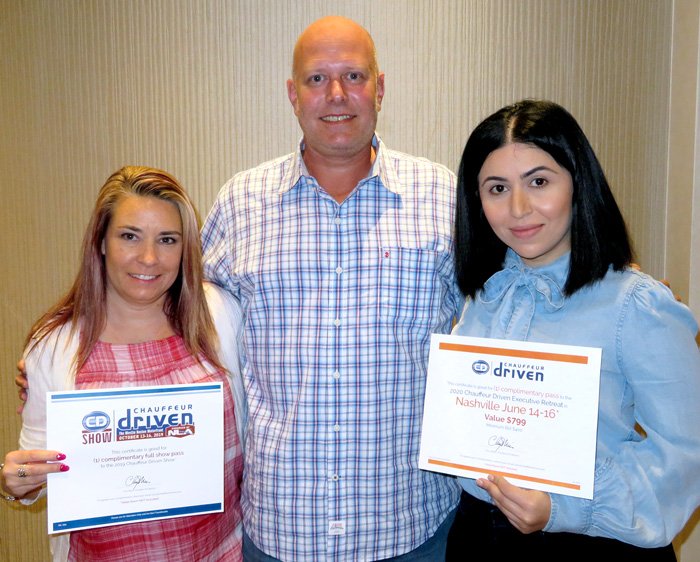 CD Publisher Chris Weiss with Show pass winners Mary McMahan of JED Transportation (left) and Marine Gevorkian of Advance Global But mistakes with reservations or bookings aren't just customer service issues or scheduling headaches. Messina points out that he's seen many in the industry frustrated by small errors that end up affecting the bottom line.

"We're hearing more and more that mistakes are happening," he says. "When deviations happen, most operators feel they have to comp a trip, so they're losing revenue repeatedly. We had a good discussion among the members about working to eliminate these types of mistakes."

"One-word differences or missed sentences can completely change the outcome of a situation," says returning member Kelly Callahan of JAX Black Car Transportation. "Listening is the most important thing we can take from every conversation when it comes to our businesses. Mistakes originate from a breakdown in clear and concise communication; if we can consciously listen and ask relevant questions to our clients and our affiliates, every job will be successful."

When it came to Monday afternoon's team-building activity, the Driving Results facilitators put a spin on things to keep the message of communication on track. The Messinas partnered with the Adult Big Wheel Club of Atlanta to set up a makeshift racetrack in a nearby lot. Each team was given a color and was instructed to take a lap on an adult-sized Big Wheel bike. During the loop, the driver had to blindly select an item from a bucket that corresponded with the team's color.

"Rather than a standard relay race, we made it a bit more complicated," says Messina. "It became about listening to your teammates when they'd describe the items they discarded in the bucket. For instance, if you were on the red team and you picked a blue rabbit on your first lap, you'd instruct your teammate to stay away from anything with long ears or fur. The first team to collect 10 items with a matching color was the winner."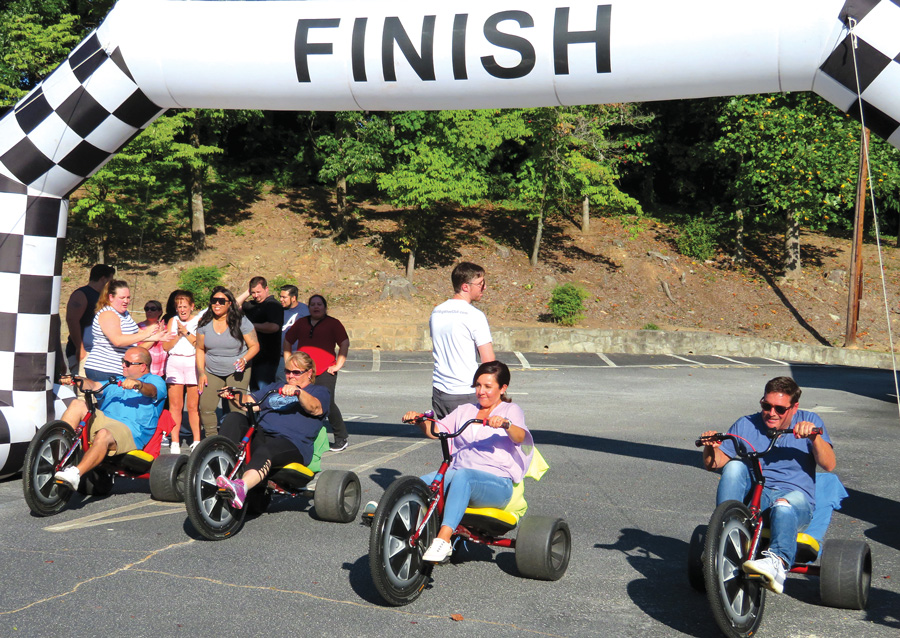 Going Global Partners are ready to roll, courtesy of the Adult Big Wheel Club of Atlanta Meredith Pless of American Executive Transportation is another new member who was impressed by the takeaway provided by the activities.

"There was an emphasis on listening stressed in the meeting, and also in our team-building activity where we rode the adult Big Wheels. This was not a game where you could win just by going fast. It required listening to your team members and remembering an item's description so that no one grabbed it again. Accuracy is so important in all aspects of life, especially in this industry."

In addition to focus on communication, the Going Global Partners meeting offered an informative session from Lane and Doucette who discussed code of conduct on social media. Messina says the goal was for the members was to analyze their social media footprint and represent themselves and their companies in the proper light.

"Our advice is that you wouldn't post anything you don't want your grandmother to see. We tried to strengthen their understanding of the permanence of their digital footprint."

Also present in Atlanta was Chauffeur Driven President & Publisher Chris Weiss, who discussed affiliate best practices and CD's new partnership with the NLA. After providing an overview of the CD Show in Boston, the CD/NLA Show in Las Vegas, and the 2020 Executive Retreat in Nashville, Weiss raffled off a pair of CD event passes to the members. Mary McMahan of JED Transportation was the winner of a pass to the Boston show, while Marine Gevorkian of Advance Global won a pass to the Nashville retreat.

The meeting concluded with two site visits to host operations Action Worldwide and Cooper Global Chauffeured Transportation, which gave the members a look at the inner workings of two widely recognized companies. [CD1019]