BY ROB SMENTEK
Cover Art: The holidays with the Chosen Payments crew in Malibu, California (L to R): Jeff Brodsly, Rick Brodsly, Sarah McKee, and Katie Martinez. Photography by Gib Sarmiento of Ghost Group.
If we're to believe the Hallmark Movie Channel, Christmas Spirit and holiday cheer can only be found in quaint New England towns where shapely Christmas trees grow in every yard under a perfect blanket of snow. Alas, it's evident that those producers have never been to Moorpark, Calif., during the holiday season because they'd find the seasonal vibes in abundance among the apricot trees and the town's rolling hills.

Chosen Payments Founder and CEO Jeff Brodsly is proud to call Moorpark home. Born and bred in the small Ventura County town, he has headquartered his credit card processing firm in the community, and most importantly to Brodsly, it's where he's chosen to raise his daughter, Faith. In fact, it was his six-year-old daughter who inspired his latest foray in helping his community.

"When the world was turned upside by COVID, like a lot of people, I got some firsthand experience with working from home and being a teacher to my daughter as a single father," says Brodsly. "Last year, she was in kindergarten, which is an important year, as it's the age you learn to read and write. Because of COVID, Faith essentially lost half her school year, which put her behind not only kindergarten, but at the start of first grade in this learning-from-home environment."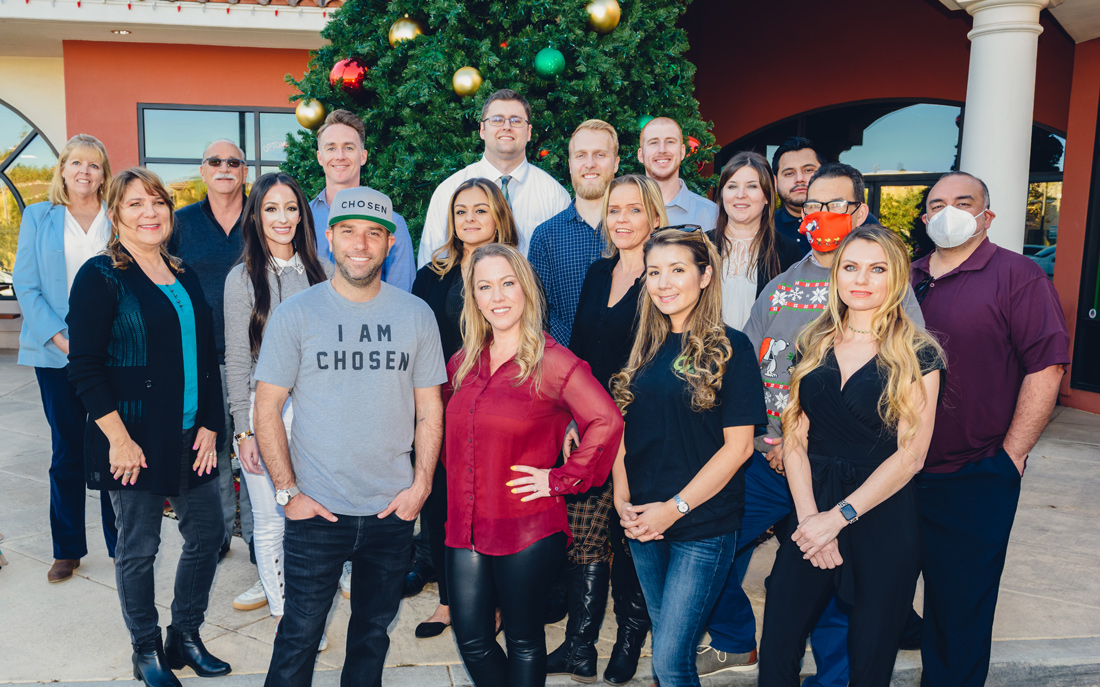 L to R (front row): Chosen Payments Founder and CEO Jeff Brodsly, Partner & Relationship Manager Sarah McKee, Senior Merchant Account Executive Katie Martinez, and Executive Assistant Kacy Waxman, with members of the Chosen Payments team. Photography by Gib Sarmiento, Ghost Group As the 2020-21 school year began, Brodsly says that the continued lack of in-person instruction, as well as the pressure of teaching a six-year-old how to be on Zoom meetings for several hours a day, led to stress in the household, for Brodsly who was trying to do his best as a dad, CEO, boss, and teacher, as well as for Faith who was not fully grasping the basics at a young age.

"Trust me, I realize that I am fortunate enough to be in a situation where I have both an assistant and a nanny, and because I'm the owner of a company, I have flexibility outside the normal 9-5 work hours. When this all started, I realized that if I'm struggling with home schooling, then there are people who have it way worse than I do; thus, I wanted to help."

Brodsly's realization came at a time where he was hoping to expand his community involvement. Always looking to give back to his community, he recently found himself taking a more active role in local politics and with the school board. Moreover, he had been looking for just the right outlet to offer support to the Moorpark United School District (MUSD).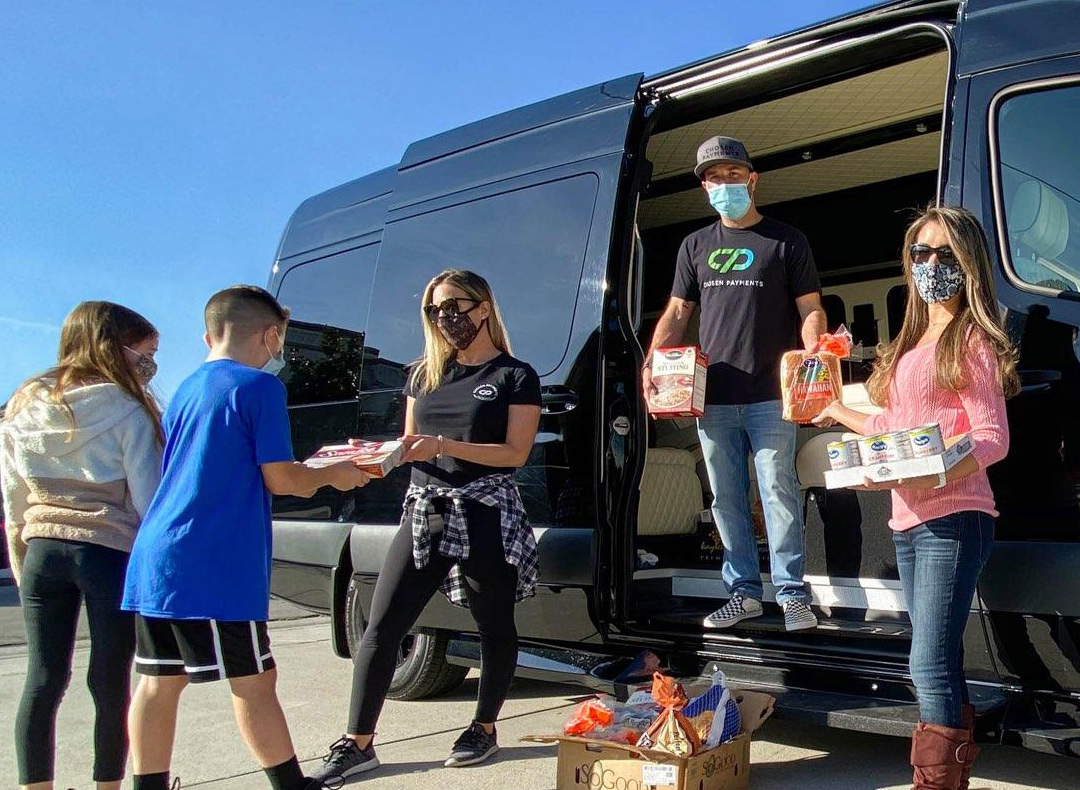 The Chosen team shown collecting and distributing Thanksgiving meals. Video by Tai Savetsila from Agents of LA "I was born and raised in the same community where I raise Faith, and own multiple businesses here. I had been thinking of ways I can help other struggling students and families that must need some additional support at these times. So, I reached out to two acquaintances on the school board and offered to help the school. They responded favorably and offered some ideas to help the students and families."

Immediately, Brodsly decided that he wanted to focus his assistance on the first-graders who were having trouble academically, due to the pandemic or other circumstances. He knew firsthand the struggle was real and wanted to help where he could feel the most positive impact. Brodsly reached out to the MUSD superintendent with his thoughts on how to help others that were in a similar situation but worse off in other ways given the lack of support. The school's superintendent was nothing short of ecstatic and extremely grateful.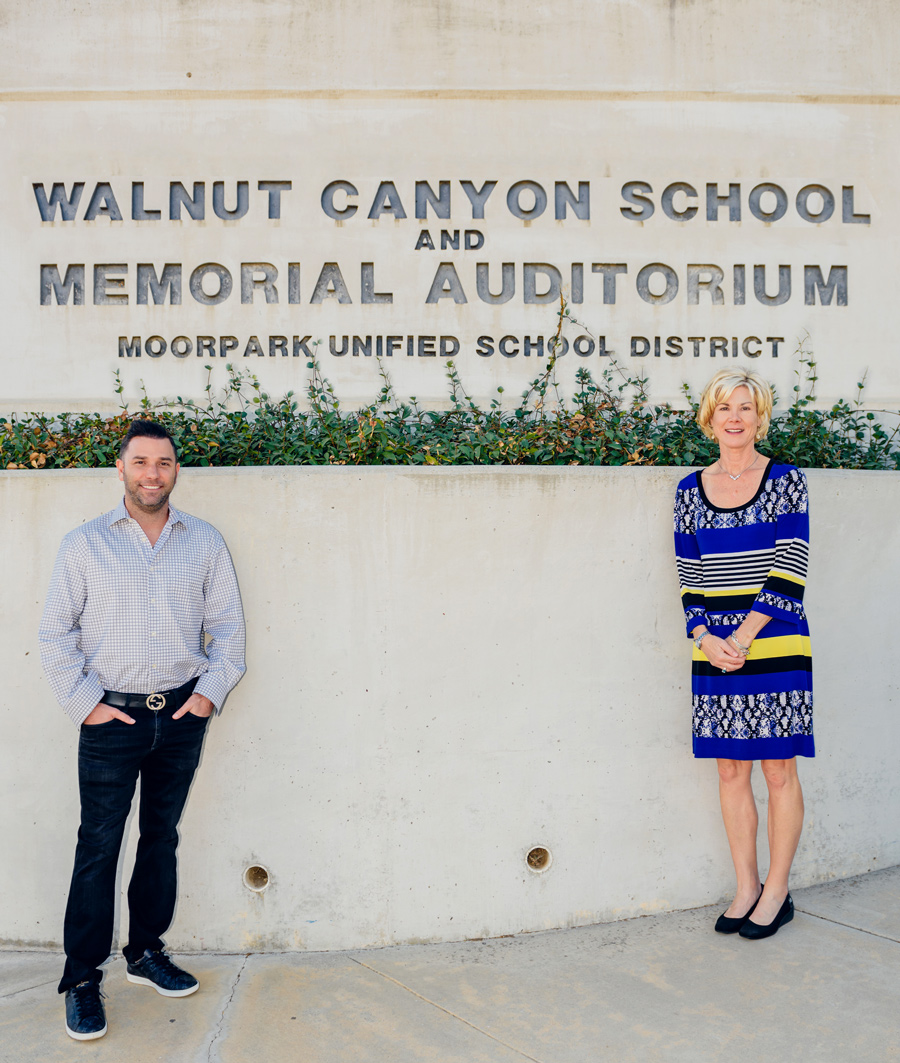 Brodsly and Moorpark Unified School District Superintendent Dr. Kelli Hays "I asked the school to find a way to identify the students who were struggling," says Brodsly. "The first-grade teachers provided assessments in various areas of studies and discovered 19 students who were behind. Ultimately, I provided funding for the kids to have school-vetted tutors from December 1 to the end of the school year. They get extra lessons for two hours every day after school, and they'll be re-assessed after a few months. My goal is to help change the lives of these kids and their families. If things continue to go well, this can be used as a case study to get more people and businesses to financially contribute to a cause of helping students and families alike—forever changing the course of their lives."

This school year has been tough on all families, but all this upheaval has been especially hard on parents who once relied on before- and after-school day care programs, or those who are expected to be available to their employers during school hours.

"It can be very difficult for parents who work from home. There was a local family with five children who couldn't go to school because it was logistically impossible. So, through MUSD we worked with the Boys & Girls Club of Moorpark to offer a before/after school day care program getting these children the education they need and allowing the parents to get back to work. The money granted to the MUSD also goes to help 11 families who chose to stay with home schooling to get supplies, such as white boards, markers, etc."


The Brodsly clan (L to R): Daughter Faith, mom Melinda, Jeff, and dad Rick at Lemmo's Pizzeria Brodsly and Chosen Payments have a well-known commitment to charity. The company is a frequent sponsor of the Charity Dinner and Auction at the CD/NLA Show, always one of the first to step up and support local associations and the industry at large. Chosen's Partner & Relationship Manager Sarah McKee regularly sits on CD's charity committee as a volunteer. As a mom of four, and a frequent foster parent, causes that involve children have a personal significance for McKee.

"When I first entered the credit card processing industry in 2005, I was a single mom, and frequently relied on others for help."

As such, McKee spearheads Chosen Payments' annual "adopt a family" program during the holiday season. Rather than focusing solely on the kids, and playing Santa with donated toys, McKee says they've taken a different approach. Donations go to the needs of the entire family, including food and clothes, and the "adopted" parents can put stuff under the tree for their own children. This year, McKee and Chosen Payments is looking to adopt 10 families in need.

The Chosen Payments team also got involved in another initiative to help Moorpark families. For Thanksgiving 2020, Brodsly again reached out to the MUSD, but this time he was looking to help any families who might be in need of a Thanksgiving meal.

"They gave us the names of 19 families—with a total of 120 people. Our staff at Chosen reached out to see what they needed for the holiday meal. We worked with the mom & pop supermarkets in our neighborhood that are all about giving back and willing to give discounts for our cause. We purchased food for the families and put them in boxes/baskets."

Brodsly and a group of Chosen Payments staff, including Senior Merchant Account Executive Katie Martinez, Executive Assistant Kacy Waxman, and Business Development Manager Rick Brodsly, hit the road in the company's Mercedes-Benz Sprinter to deliver meals to five families, and then set up in a central location within the town so the others could pick up their food. Every family was in need of full Thanksgiving meals, so that is what they delivered. Seeing a potential valuable teaching experience, Brodsly and Waxman both brought their children along so they could witness the importance of giving back. For Brodsly this was also a highlight of the experience, seeing his daughter learn the values of helping others in need.

"It was fun having the kids take part," says Martinez. "But my favorite thing was the fact that we provided groceries so the families could make their own Thanksgiving meal. We all have our own holiday traditions, so it was cool being able to help people carry on their own tradition." In addition to being an entrepreneur and philanthropist, 2020 was a year that Brodsly added another restaurant to his list of endeavors. In January, he entered into a partnership with the owner of an oft-frequented local restaurant to reopen his favorite local pizza place, which closed due to family illness.

"I'm not a restauranteur, but I like to have fun," says Brodsly. "My partner and I opened our doors after four months of gutting and remodeling the building. I actually personally designed the entire place; I kind of found a passion I didn't know I had. "

During Lemmo's Pizzeria opening night, the unanticipated support of the community led the new business to quickly run out of dough. Brodsly also found himself waiting tables and helping out customers in a situation not dissimilar to what industry operators have done during various stages of business.

"That was a fun experience even though it was hectic; we were so busy I was bringing out pizza and filling up beers. It was humbling and eye-opening, something I would not change for the world."

Brodsly is thankful that pizza is somewhat of a "recession-proof" business—the restaurant jump-started their delivery service in order to satiate quarantining families—but he realizes that our industry is still facing significant challenges. He's worked closely with operators to help them during the pandemic, whether it's temporarily waiving fees or payments, creating special chargeback assistance, or getting them cash quickly.

"The chauffeured transportation industry is just as much as my community as Moorpark. We are a partner that operators can count on; we have proven this over the past 8 years. Chosen is part of that industry, and the whole team is here for them in these unprecedented times as we are in this together."
[12.16.20]