BY SUSAN ROSE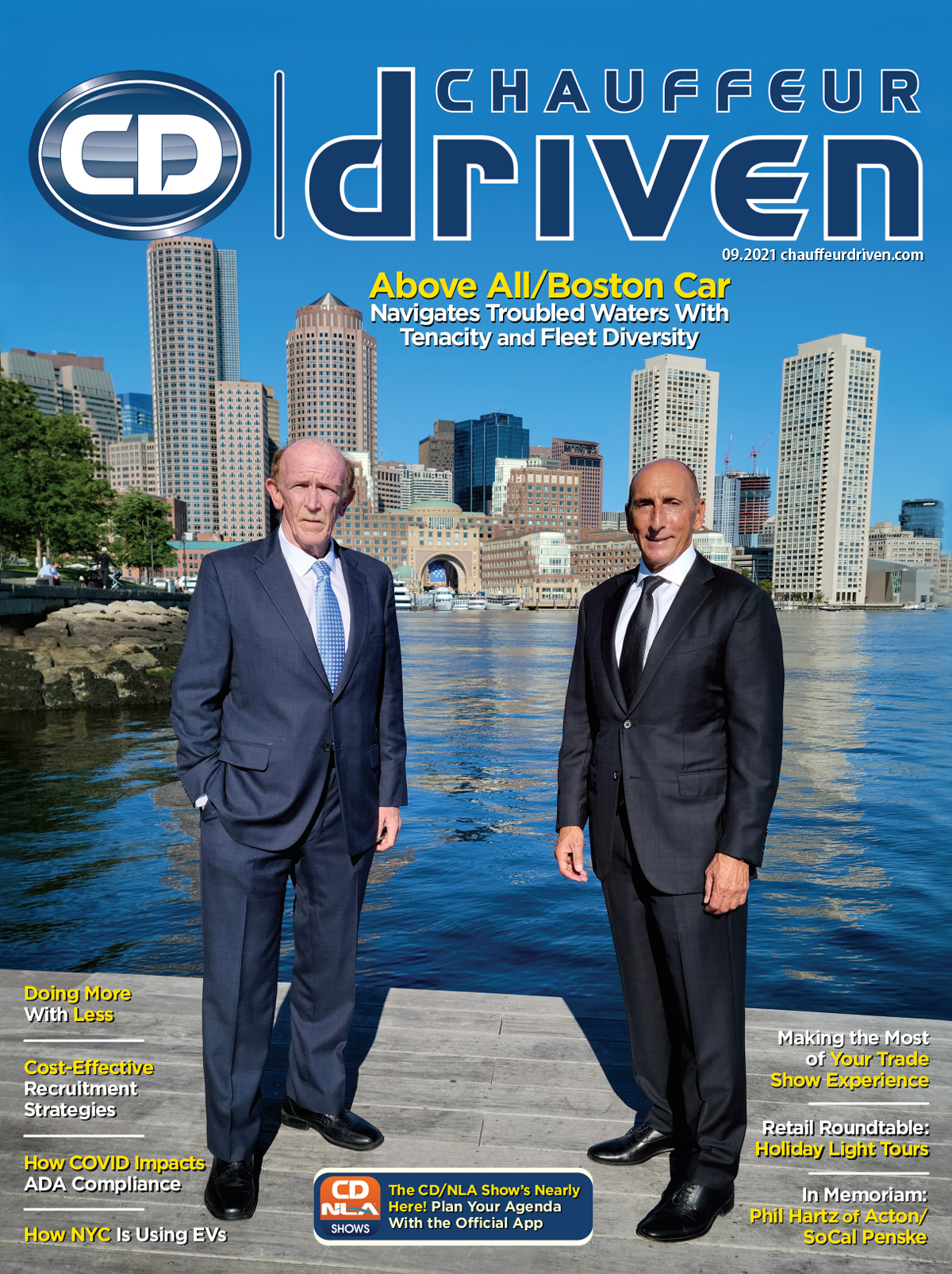 Cover Art: The men behind Above All Transportation/Boston Car Service: Kevin Cronin (left) and Brett Barenholtz on the Boston Waterfront. Photography by Chris Weiss.
Above All Transportation/Boston Car Service CEO Brett Barenholtz knew this novel virus in the news was going to be unlike anything we'd seen before and begun sounding the alarm with his fellow operators and with the industry associations he's actively involved in. On March 10, 2020, he delivered a session called Crisis Management in the Livery Industry during the last in-person meeting of the year of the New England Livery Association (NELA), where he serves on the board. He offered tips on working with lenders and insurance companies as well as some ideas for saving money and scaling down operations as the cancellations began to roll in.

"Brett called me and asked if he could have a few minutes to talk to the members about what they can do to help themselves during the coronavirus," NELA Executive Director Rick Szilagyi said at the time. "As the NLA Secretary, he's really our local conduit to what's happening nationally. He said that this isn't the first time we've been challenged, but it's really about managing these tough times."

Barely a week later, COVID was declared a national emergency.

Above All/Boston Car had a pretty great 2019. The company, a 2015 merger between Barenholtz's Boston Car and Kevin Cronin's Above All, was growing quickly and being recognized by the Boston Business Journal's Fast 50 list (they made the cut in 2018 as well). The second half of the year included acquisitions of ETS International—founded by brothers Johnny and Peter Greene—and Bristol Coach & Limousine. While 2020 definitely wasn't part of anyone's business plan, the previous solid years leading up to it, as well as the new clients the partners gained through the mergers, put them in a good position to batten down the hatches.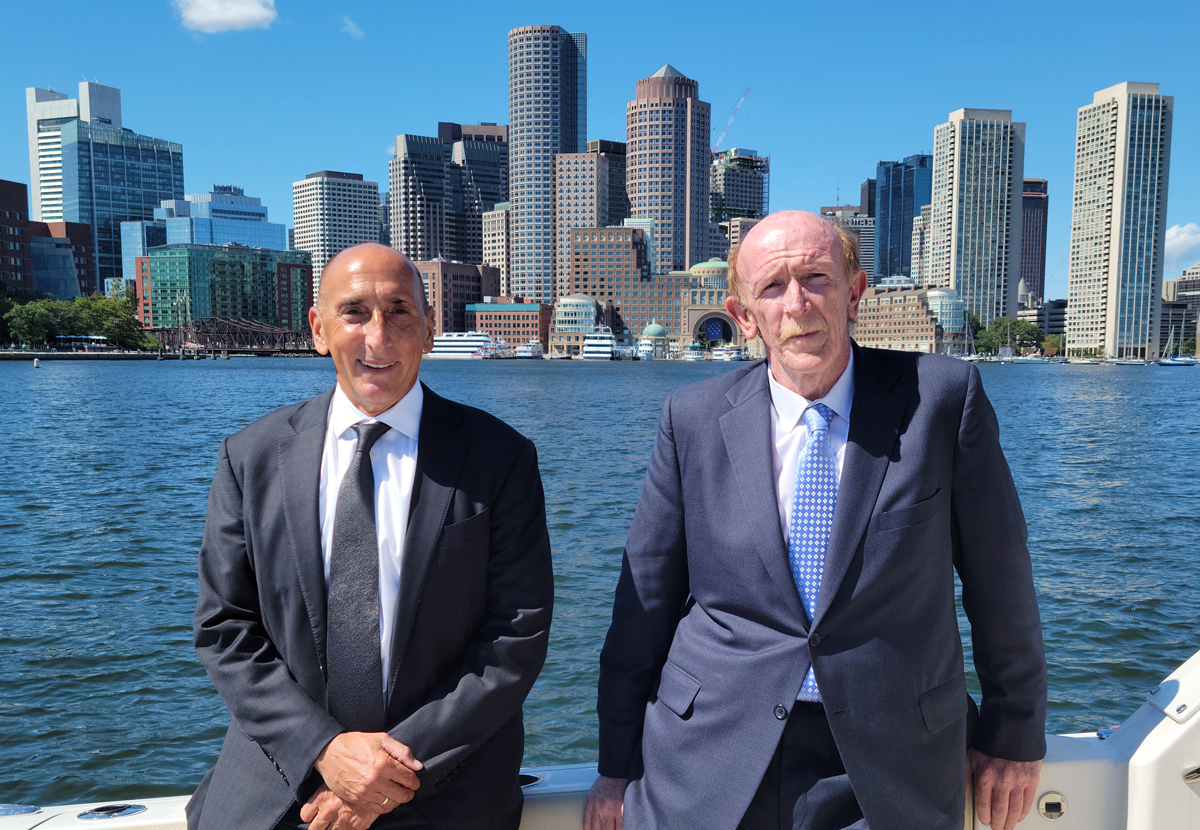 CEO Brett Barenholtz (left) and President Kevin Cronin on the Boston Waterfront "It seemed like Groundhog Day. And you just keep grinding. Kevin and I grind it out on a daily basis, with everything. It's hard work, and hopefully the hard work pays off."

Once it was obvious that the disruption in business was going to last a bit longer than a few weeks, Cronin and Barenholtz sold off older sedans that were due to retire and trimmed redundant positions—but they were careful not to cut so deeply that they wouldn't be able to scale up quickly once the demand returned.

"Brett and I made a deal to keep who we could keep as long as we could, no matter what the financial outcome of that was, so you could say we ran top-heavy through the pandemic," says Cronin, president. "Our team is very valuable to us, and some have been with us for an extremely long time. They chose to come to work, to help us get through this. And I was amazed by those who have stayed with us. Their jobs and hours may have changed a bit, but everyone realized that it was a team effort and because of them, we're now getting back to where we need to be."
"Brett and I made a deal to keep who we could keep as long as we could, no matter what the financial outcome of that was … everyone realized that it was a team effort and because of them, we're now getting back to where we need to be." – Kevin Cronin, President of Above All Transportation/Boston Car Service
Cronin, who excels at the back-office/operations side, scoured every area of the business for anything they didn't need, wouldn't use, and couldn't afford. Funds were diverted to safety measures. One of the first moves the partners made was to install safety shields and establish new cleaning protocols with a solution, delivered through an electrostatic sprayer, that was proven to kill the virus. They shared their procedures with clients and ensured that their affiliates were doing the same. Worried that supply chains could be impacted (spoiler: they most definitely were), they purchased pallets of it. Safety measures eventually included COVID tests once they were readily available.
Their Canton, Mass.-based office remained open 24/7, and the team regularly worked together throughout the pandemic. Whenever there was a COVID scare internally, they would quarantine as needed, but both Cronin and Barenholtz curtailed travel as much as possible.
"We minimized our travel, the amount of people we interacted with, and stayed close to home. It was priority one that neither of us ended up with COVID, because we interact so much with our staff," says Cronin.
Barenholtz, who gravitates more toward sales and marketing, kept up with clients and affiliates through email, phone calls, and online meetings, even if to just stay in touch and make sure everyone was safe. He says he was in contact with 10-15 operators almost daily.
While reservations were slowing down, association work was heating up—and needed more than ever. Both Cronin and Barenholtz have been longtime members and generous supporters of NELA and the National Limousine Association (NLA). Barenholtz is also the NLA Secretary and is co-chair of the Legislative Committee.
This past June, NLA President Robert Alexander of RMA Worldwide personally called out Barenholtz for his dedication in helping to sideline a proposed mandate in Congress' surface transportation bill that would have required a CDL for all drivers of vehicles over nine passengers. This move would have been devastating and costly for operators who are already hurting for chauffeurs.
But while there was serious work being done, Barenholtz also showed his lighter side during several NELA meetings that he hosted (with Executive Director Szilagyi producing the event behind the scenes) throughout 2020. Among the memorable evenings were NELA's Cabernet & COVID, where the wine flowed as much as the stories, and Cocktails & Tales (Tails), which featured the (mostly) four-legged family members of several industry guests.
"There was nothing great about COVID, but the thing that stands out to me most is that people are willing to pay for excellent service, period." – Brett Barenholtz, CEO of Above All Transportation/Boston Car Service
Before the merger, Above All was built on retail, and while Cronin eventually moved to a more corporate-centric model, his mix of limobuses, motorcoaches, and unique vehicles like trollies reflected that retail niche. In contrast, Boston Car Service was always positioned to be transportation for high-end corporate clientele with mostly sedans and SUVs, and it was through farm-out work that the business partners formed a close working relationship that eventually led to the merger.
So when retail business was the first to come back, especially this past April, they were well prepared for it. Having a diverse fleet to handle these trips has expanded their client base at a time when other companies had to turn customers away. Clients especially liked the larger vehicles—filling only to 25 or 50 percent capacity—to ensure social distancing, but they became a hot commodity when bookings began to surge again.
"We did see a big uptick in bus movements, especially with weddings. Because a lot of vendors haven't returned or returned quickly enough, we're hearing from everybody: clients, event planners, regular retail people, and affiliates. We saw a lot of requests on the affiliate side—do you have this, can you do that?—and between my partner, our staff, and myself, we helped so many affiliates while helping ourselves. It was a home run for us," says Cronin.
Hospitality and customer-service jobs have been among the hardest hit, and its impact has been felt throughout the economy—but it's also shining a light on those companies that are getting it right. As many businesses scramble to bolster their employee rosters, it's not at all uncommon to experience longer-than-usual wait times, reduced hours, a lack of available appointments, or empty shelves, so being able to immediately say yes to an inquiring client or affiliate has been a windfall for Above All/Boston Car.
"Customers still want those extra vehicles for the venues, and we're one of the few companies around running equipment like this. There aren't a lot of options out there for people," Cronin says. "We're getting calls from everybody because other companies have to say no but we're glad to help. It's gaining us a lot of new clients. A lot of our customers were actually surprised that our phones were always answered live."
"There was nothing great about COVID, but the thing that stands out to me most is that people are willing to pay for excellent service, period," says Barenholtz. "Even when things were really bad, I would tell Kevin that we are always going to be around and thrive because people will pay as long as we were the best at what we do. It's a premium rate for premium service, and if someone wants less than that they can always find it. But I'm really optimistic about the industry."
After scrapping the idea of food delivery early in 2020, the partners focused on building their non-emergency medical transportation (NEMT) services, which Barenholtz credits with keeping them moving when it was slow, as well as shuttle work and other verticals. Reservations for all types of transportation have been steadily increasing since April, although the return of corporate work has been ... complicated.
"We thought September was going to be the big time for the return of corporate, but it looks like everything's gotten pushed back to October and maybe even the New Year," says Barenholtz, in large part due to the Delta variant.
They're ready when it does return. They've maintained their sedan fleet, which is mostly late-model Lincoln Continentals, and recently added more Chevy Suburbans, Sprinters, and Ford Transits to their larger vehicle lineup. Barenholtz notes that buses are starting to roll again.
"The operators I talk to pared down anywhere from 60 to 90 percent of their fleet. Most people probably sold as many vehicles as they could. And it was a smart move because you don't want to have the added debt of something that isn't moving for a year and a half, but it leaves us in a position now where you just have fewer vehicles operating now than there were pre-pandemic doing the same stuff. And it's crazy, we're all in a position where we can't find drivers," says Barenholtz.
"I know things are going to improve, but there's going to be a consolidation of transportation companies and less on corporate side for a while. Even after the financial crisis in '08 corporate travelers were the last to return. The companies that do survive are going to be stronger, and—there's no polite way to put—there won't be a lot of hacks out there who give the industry a bad name," adds Cronin.
The industry already does look different: Several longtime operators and staff have moved on to other industries or retired, while mergers and acquisitions are happening regularly. Some businesses have remained partially or fully remote—a move many wouldn't have considered a feasible option at the beginning of 2020. Barenholtz feels that the next big industry shift is actually going to be on the fleet side.
During the NLA's Board Meeting this past January, Mark Leddy of Cadillac shared some big news about the OEM's future. With electric vehicles (EVs) gaining traction in the market, and President Joe Biden's initiative for EVs to be at least 50 percent of all auto sales by 2030, Cadillac and its sister brands have pledged to go fully electric by 2035. Ramping up the needed charging stations has been a major component of Congress' infrastructure bill.
"I think in the next few years we will quickly move toward EVs, and I see consolidation happening in the industry," says Barenholtz. "The only potential slowdown will be the build-out of infrastructure. Once the build-out is moving and the infrastructure is there, I'd say that this industry will be one of the first to change over."
The business partners are anxiously awaiting the pickup in corporate travel, but are optimistic about the coming months and the state of their operation right now.
"We learned that we don't need to do 350 rides a day to be a profitable company that still allows us to give excellent service. Coming out of COVID, we realized that we don't have to be the lowest, we have to be the best," says Cronin.
"We went from a company with a lot of growth to a leaner and smarter company with all hands on deck. We had the mentality that we had to do what we had to do. Our team worked through the whole thing, and it wasn't always an easy task, but every single one of them was great," says Barenholtz. "Before the pandemic, we weren't working as smart as we could. Where we were once looking to do a large volume of business, we're now looking to do a lot more profitable business."
[CD0921]