With travel fully underway again and transportation operators starting to see a lot less red in their ledgers, vehicle manufacturers—including bus and motorcoach—are looking to reconnect with customers and showcase their product lines.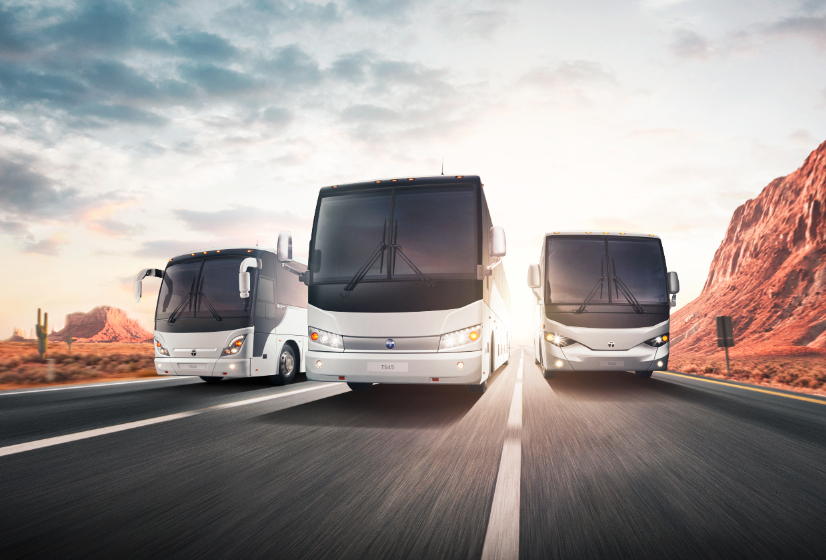 Among those bus manufacturers is Temsa, a Turkish-based company that has been building a presence in the United States (as well as 60+ other countries) for a decade. Now factory-direct in the US for more than three years with its North American headquarters in Orlando, Florida, Temsa's offerings are gaining a following within our industry as the company offers more and more customizable limousine-style interior options that appeal to the chauffeured transportation market.

After an excellent showing at last month's CD/NLA Show in Dallas, the Temsa team (which included Temsa North America Director Fatih Kozan and Temsa CEO Tolga Kaan Doğancıoğlu, who flew in from Turkey) is excited about the positive turn in the industry. Temsa displayed the newest model for this space, the fully refreshed TS30, which was met with a ton of interest from operators perusing the show floor. The 30-foot monocoque stainless steel bus seats up to 34 passengers—a sweet spot for operators who are looking to transport more than a Sprinter can handle but don't want or need a full-size coach. With 35 percent more luggage space over the previous generation, an upgrade to LED lighting, a tight 27.5' turning radius, and a price tag in the very palatable low $200s, it's easy to see why it's one of the company's latest in-demand models with a healthy interest. It might just give current favorite, the TS35, a run for its money.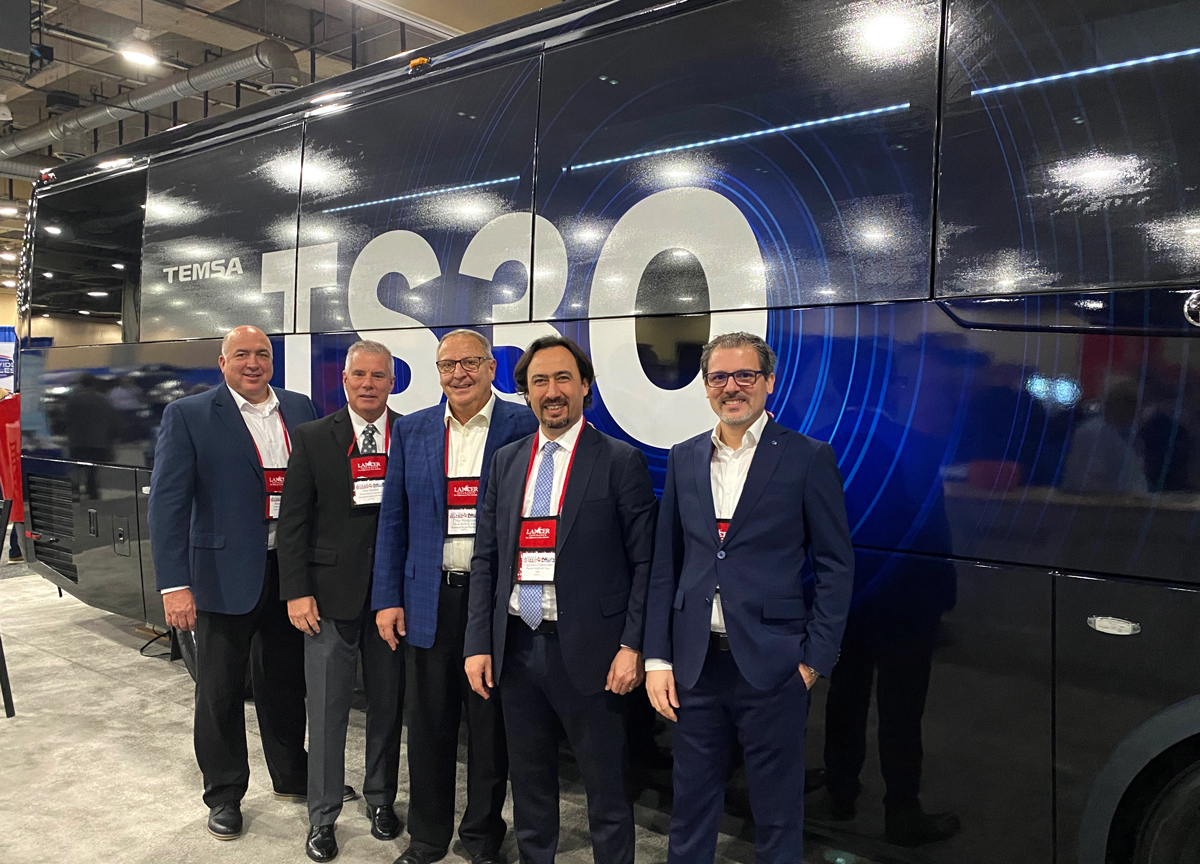 The Temsa crew at the 2021 CD/NLA Show (L to R): National Sales Manager Randy Angell, South East Region Manager Tim Guldin, North East Region Manager Tony Mongiovi, CEO Tolga Kaan Doğancıoğlu, and North America Director Fatih Kozan "Temsa is here and we have more offerings than any of our competitors in the US. We are the only manufacturer offering a true monocoque 30' coach," says National Sales Manager Randy Angell. "To be able to get a true motorcoach that seats 34 passengers for the price point was by far our hottest ticket item at the show."

The global slowdown was a productive time for the manufacturer—time that was used to ramp up their electric bus R&D (the electric TS45 will debut in 2022) and give their wide range of models a refresh with improved amenities.

"Temsa really invested in us during the pandemic," says Central Plains Region Sales Manager Ethan Sprengeler. "During this time, we took the opportunity to focus on key areas of our business and developed strategies to grow our products and after-sales service support. One example is our all-new TS45 facelift with technology improvements, which will be unveiled at the UMA Expo in 2022."

The entire line available in North America—the TS30, TS35, and TS45—is built with a stainless steel frameless body integrating modern and sleek styling that will appeal to both chauffeured transportation operators and passengers. Offered in an optional all-black exterior with chrome accents, an aerodynamic design, bright LED lighting, a plenty of standards such as wide aisles, adjustable footrests, and personal climate control, the line exudes an upscale experience at an affordable price.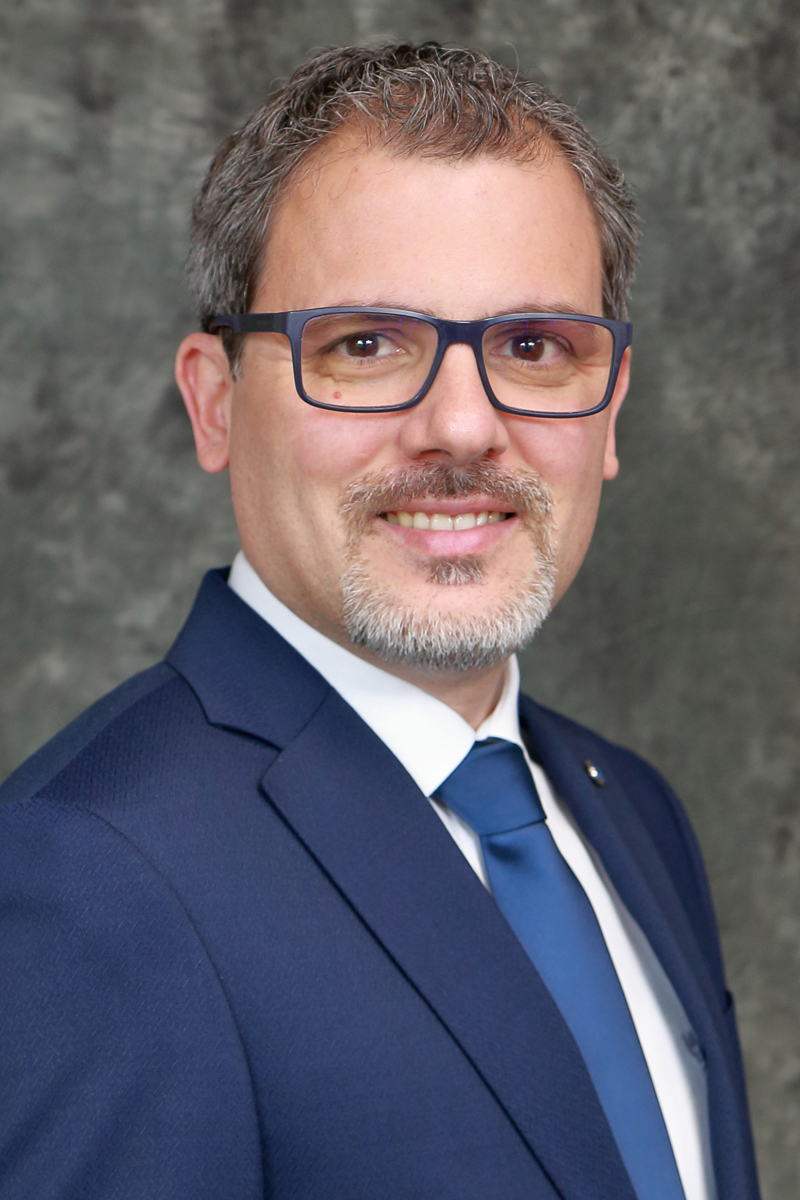 Fatih Kozan leads the North American operations of Temsa "Because of the monocoque body, operational life on these vehicles is 10+ years of reliable service with a good residual value and a lower total cost of ownership," says Sprengeler. "Operators put 250,000 or 300,000 miles on these vehicles and still have a life in them when they turn them over."

Like the TS30, the TS35 and TS45 have various interior designs that can accommodate up to 40 and 56 passengers, respectively. All have ample underneath luggage storage and a tight turning radius, while the interchangeability of parts creates great benefits when owning various Temsa models in the same fleet. All are powered by a Cummins engine with Allison transmissions that are tuned for maximum fuel efficiency.

Temsa buses are manufactured in Turkey and sold through the company's locations in Orlando, South Jersey, Northern California, and Georgia, which are also full service and parts centers.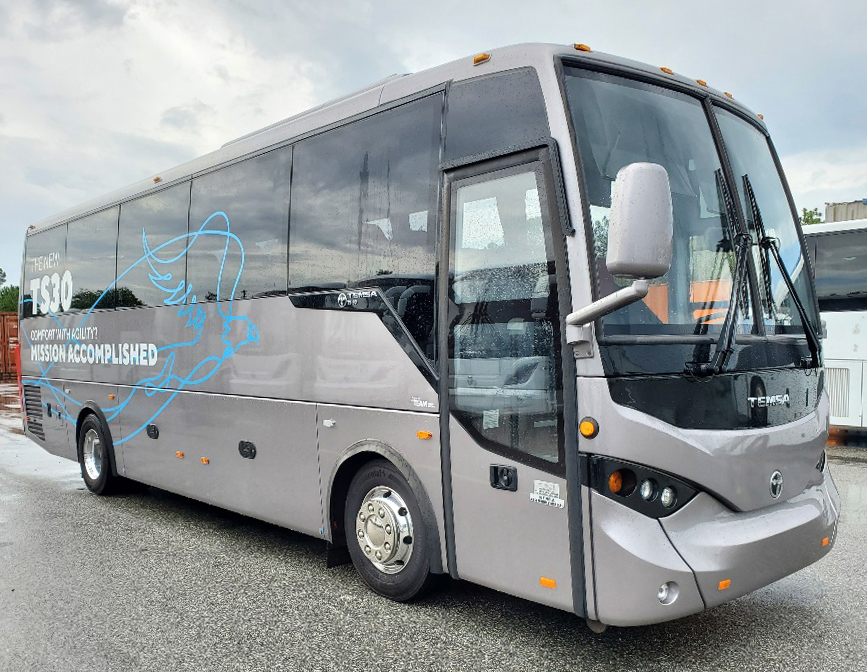 The TS30 is gaining a lot of interest for its attractive price point and seating capacity "Maybe one of the biggest positives is [operators] get all of their service, parts, warranty, and contact information from one company. On the traditional cutaway buses, the end user might have to contact 3-4 different companies for one bus for the chassis, the body, the motor, etc.," says Sprengeler, noting that the service process is streamlined.

All eyes are on alternatives to the combustion engine, and many manufacturers have announced their latest battery- and electric-powered coaches, or intentions to do so in the near future. As mentioned earlier, Temsa has been working on an electric version of the TS45 specifically for the North American market that will premiere commercially in early 2022. The electric TS45 currently has its strongest application with fixed shuttle routes. Investment in infrastructure, including charging stations, should accelerate the electric bus market in the US and make tomorrow's technology accessible today.

"Our buses are all 'Temsa Tech'—battery technology and software that has been designed and manufactured by Temsa. That's all controlled by Temsa so we don't have to outsource parts or work with a third party," says Angell.

For the time being, Angell says that a growing number of operators are open to Temsa's complete lineup, if the show is any indicator, and the uptick in travel (both leisure and corporate) is a welcome change—with plenty of optimism surging through the industry as we all hope to recover that much resilient.

"We have stood together, stood strong, and we look to recreate the new normal. Together with our strong ownership and management group, our team in North America will look to not only survive this pandemic, but grow and prosper," says Angell. [CD1121]