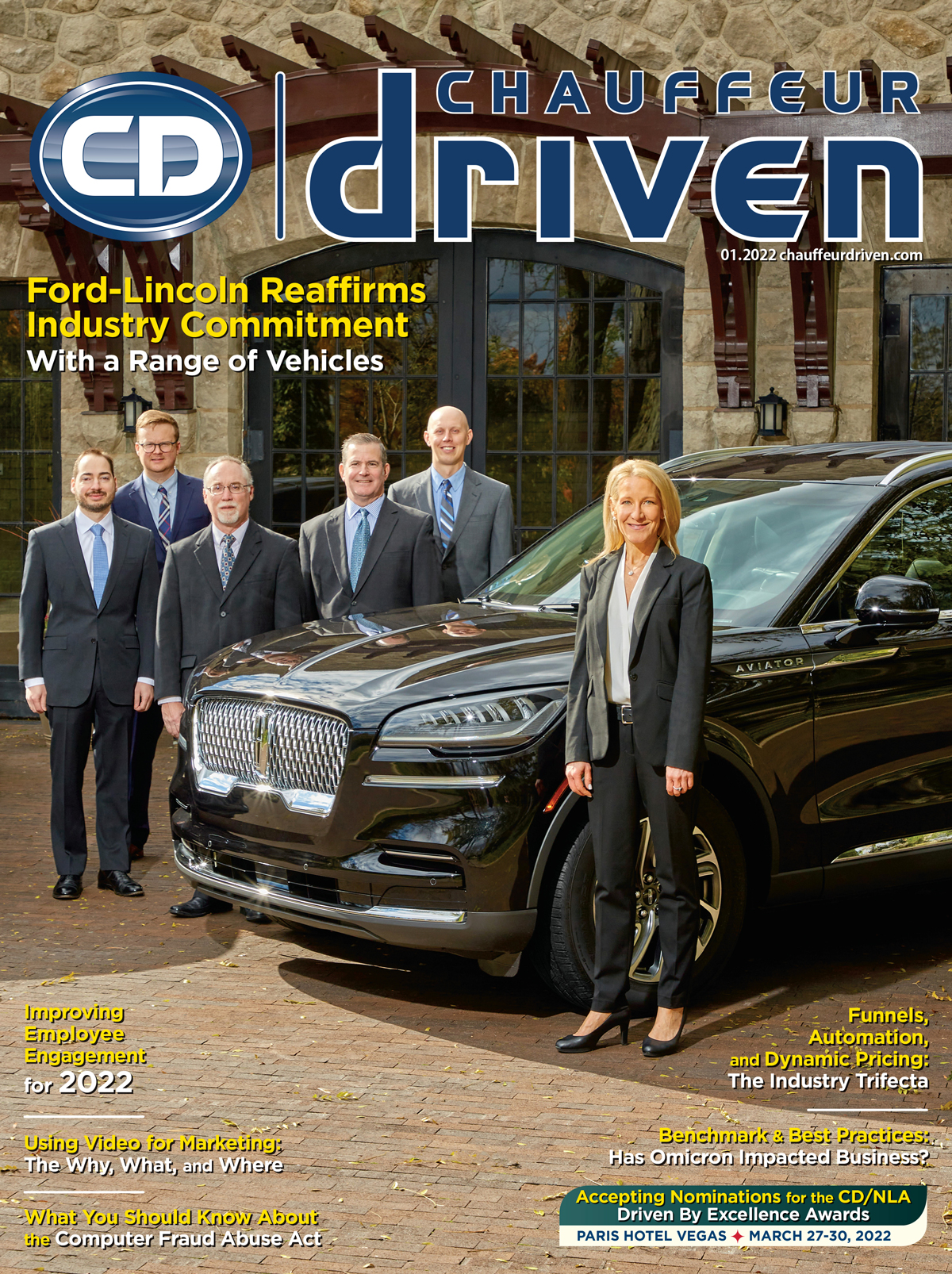 Cover Art: L to R: Lincoln Nautilus Marketing Manager Brian Auerbach, Commercial Van Brand Manager Drew Walker, Lincoln Aviator Vehicle Program Manager Jim Murray, Commercial Vehicles Engineering Jeff Metz, Modified Vehicle Specialist Matt Messina, and Livery Marketing Manager Kimberly Johnston with a 2022 Lincoln Aviator at Garage Courtyard at Fair Lane: Home of Clara & Henry Ford. Photography by Bryan Chris.
Luxury has never been about "one size fits all" for Ford-Lincoln, so if updating your fleet is on your 2022 to-do list, then the OEM has some great news to share. The Livery Program is expanding once again as the 22MY Lincoln Nautilus, an affordable premium two-row midsize SUV, has been named the newest addition to the lineup. The roster now comprises five vehicles for every budgetary consideration and practical application needed in the luxury transportation segment.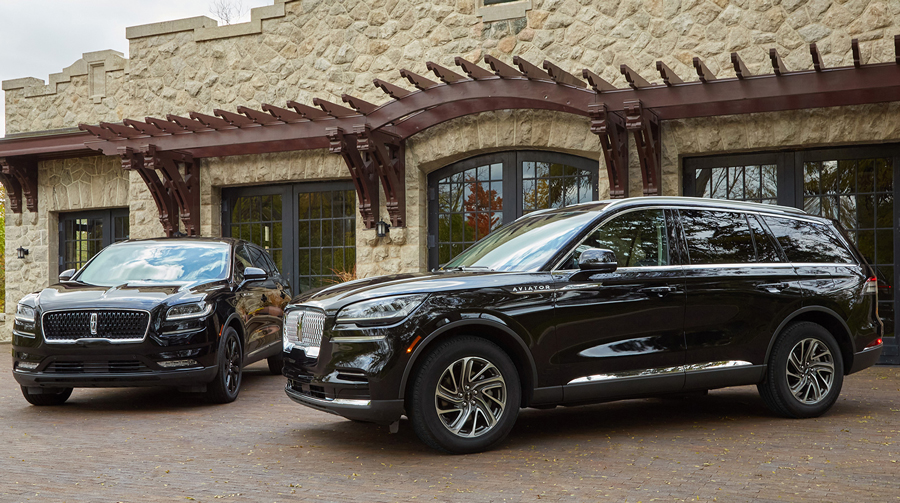 The Nautilus (left) and Aviator share good looks and many features (seen here at the Garage Courtyard at Fair Lane: Home of Clara & Henry Ford) Ford-Lincoln's enduring Livery Program features competitive fleet pricing, its PremiumCARE Extended Service Plan covering more than 1,000 components for four years or 150,000 miles, and built-in standard options that operators want and passengers desire across two brands. Last year, the three-row seven-seater Lincoln Aviator was the latest to debut with a Livery Package and is in good company in a lineup that includes the ever-popular Lincoln Navigator L and Ford Expedition MAX; Ford Transit, its versatile passenger van; and the Lincoln Nautilus.

The industry-supporting OEM has played a pivotal role for many decades in setting the standard for fleet vehicles through its dedicated Livery team, which is led by longtime Livery Marketing Manager Kimberly Johnston. She is joined by Lincoln Nautilus Marketing Manager Brian Auerbach; Lincoln Aviator Vehicle Program Manager Jim Murray, who has since retired, but was instrumental to the Livery Program and team for 17 years; Commercial Vehicles Engineering Jeff Metz; Commercial Van Brand Manager Drew Walker; and Modified Vehicle Specialist Matt Messina. Together they work with Ford/Lincoln dealers, operators, and customers to hone the best lineup and to perfect the list of the most relevant equipment choices for what the market needs—and utilizes most.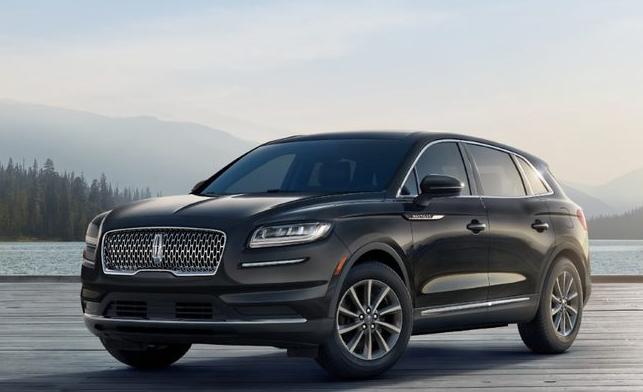 22MY Lincoln Nautilus, the newest in the lineup Ford-Lincoln has been a continuous presence and ardent sponsor of many industry events that include the CD/NLA Shows, as well as state and local associations across the country. Ford-Lincoln's lasting partnership, especially through the National Limousine Association, has resulted in hundreds of thousands of dollars in rebates and scholarships that support our industry. These critical relationships and unfettered accessibility between operators, dealers, and the team are among the most significant factors why their products continue to resonate with so many in our space year after year. Direct feedback from you has helped the Livery team to consistently deliver.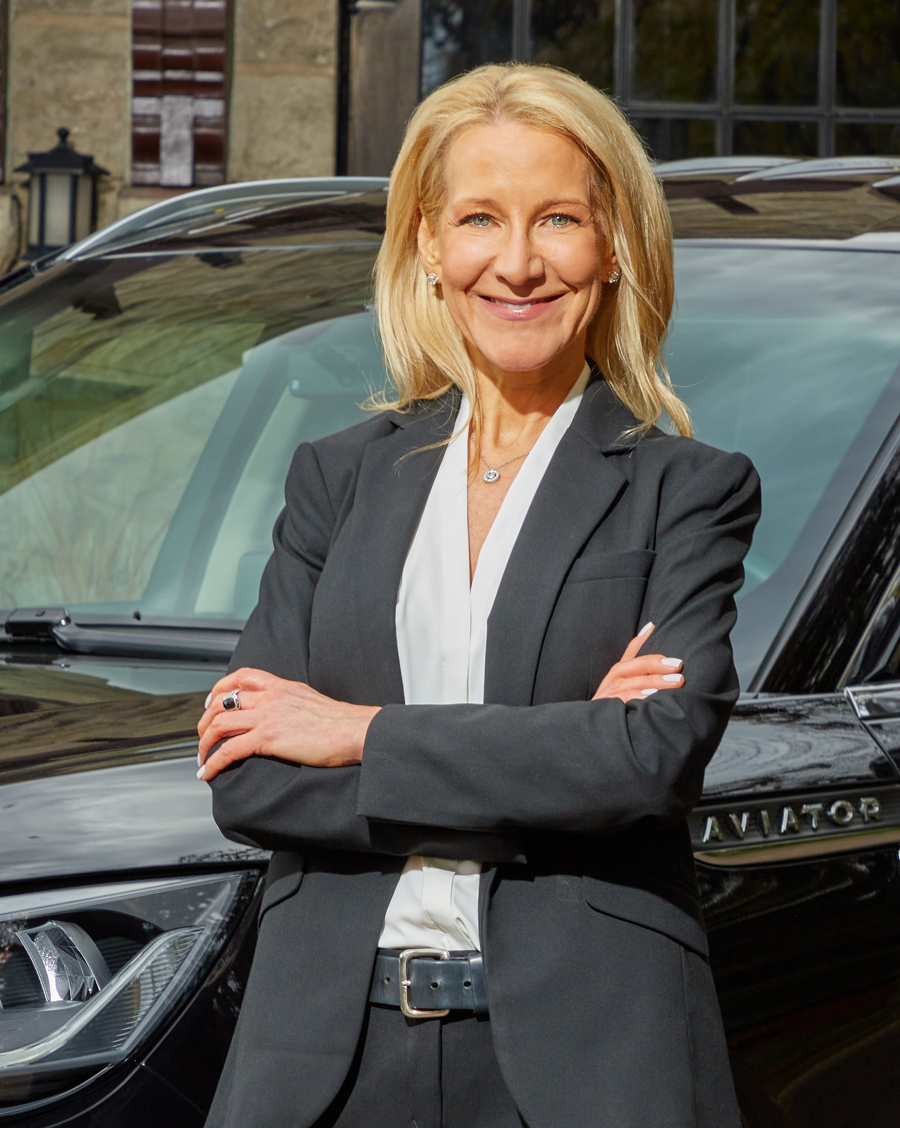 Johnston is a familiar face of the Livery Program Lincoln Products
Many operators are likely already familiar with the best-selling Navigator L and the Aviator, which was discussed extensively in the March 2021 issue of Chauffeur Driven. A longtime best-selling SUV, the Navigator L has been one of the industry's most popular vehicles, and the Aviator is quickly becoming a favorite as well. The Nautilus is the only two-row SUV and four-cylinder Turbo engine (with 100A package) in the Livery program but bears a striking resemblance to the slightly larger Aviator with all the luxury that cost-conscious operators could ask for.

"The refreshed 22MY Lincoln Nautilus sets the standard by providing a revitalizing retreat ride experience. With a practical package and attractive price, Nautilus helps manage fleet efficiency and provides an environmentally conscientious seating capacity for up to four passengers plus driver. Building on the comfortable ride and whisper-quiet cabin, 22MY brings a new, more modern interior design inspired by the Aviator that will make passengers feel pampered in luxury, yet responsible," says Lincoln Nautilus Marketing Manager Brian Auerbach.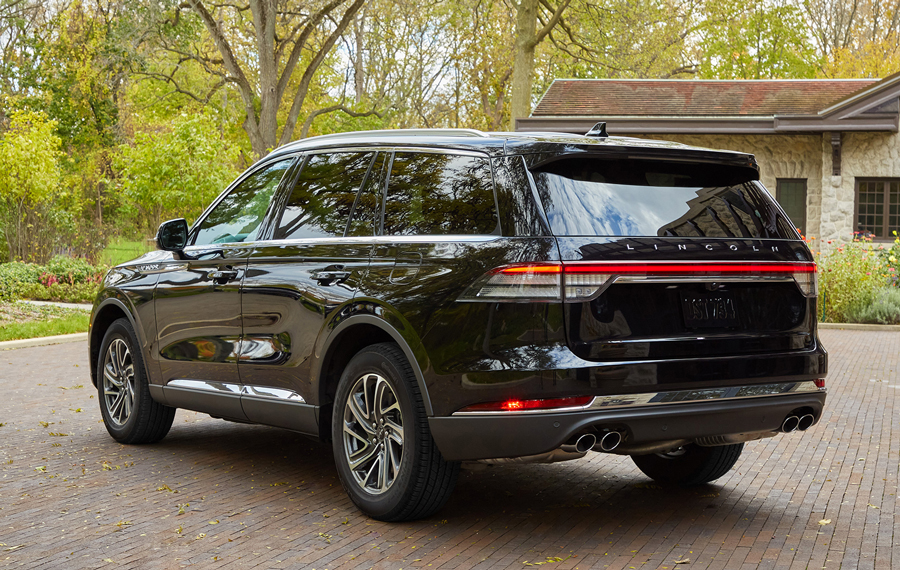 The Lincoln Aviator is quickly becoming an industry favorite Co-Pilot360, its leading safety technology standard in all its vehicles, is packed into the Lincoln products across the lineup (on the Ford side, Ford Co-Pilot mirrors the premium brand in the Expedition MAX and Transit). BLIS, Lincoln's Blind Spot Information System, is only the beginning of the features that include Cross-Traffic Alert, a Lane-Keeping Pre-Collision Assist with Automatic Emergency Braking and a rearview camera. For reference, the Aviator's Co-Pilot360 adds parking sensors while the top-of-the-line Navigator L has 360-degree cameras, Active Park Assist, and Evasive Steering Assist. All of the important functions are accessible via a brilliant LED console touchscreen.

Continuing Lincoln's focus on "quiet flight," the drive experience is centered on the passengers as much as the chauffeur. Lincoln Embrace welcomes passengers with a display of the brand's logo on the ground when the vehicle senses the key. Rear cabin seats are either Lincoln Soft Touch or Premium Leather (Navigator L), and the Aviator (with the 500A Package) throws in heated second-row seats and sunshades, while the Navigator L features heated/vented seats for the utmost comfort.

Cargo is a perpetual problem in chauffeured transportation, but Lincoln is among the best when it comes to stowing passenger's gear. Both Aviator and Navigator L have a healthy 18.3 and 36 cu. feet of space, respectively, but folding third rows increase the flexibility exponentially. Without a third row cutting into cargo space, the Nautilus has a whopping 37.2 cubic feet of storage, beating its larger counterparts. Bottom line, space is not going to be a problem.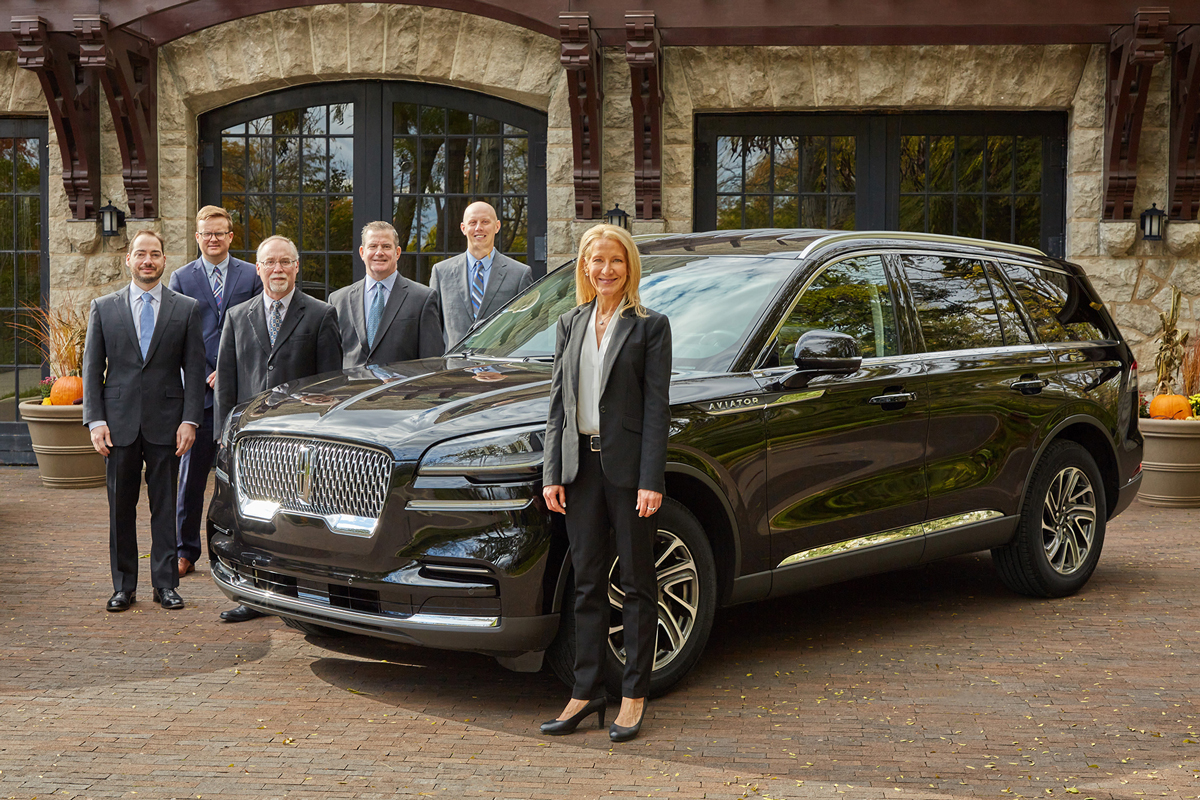 L to R: Lincoln Nautilus Marketing Manager Brian Auerbach, Commercial Van Brand Manager Drew Walker, Lincoln Aviator Vehicle Program Manager Jim Murray, Commercial Vehicles Engineering Jeff Metz, Modified Vehicle Specialist Matt Messina, and Livery Marketing Manager Kimberly Johnston with a 2022 Lincoln Aviator at Garage Courtyard at Fair Lane: Home of Clara & Henry Ford Ford Products
Nautilus may be the newest member of the team, but the Ford side is equally impressive and shouldn't be overlooked. The Expedition MAX also packs a punch for the money in the luxury department as a complement to the Navigator L. The Expedition MAX rivals Lincoln's Co-Pilot360 with BLIS, Rear Parking Sensors, and Automatic Emergency Braking as part of Ford's Co-Pilot Technology. Second-row seating is power-fold captain's chairs with armrests (or bench option) and a 60/40 split for the third row with ample head and leg room. USB ports and Tri-Zone Climate Control make every ride a comfortable one.

Transit, on the other hand, is perhaps the lineup's most flexible vehicle with limitless possibilities for customization and room for up to 15 passengers. For operators taking advantage of the purpose-built Livery Package, the Passenger Van is available in medium- or high-roof options, as well as long or extended lengths. All Transit Passenger Vans start with ebony leather seating and USB ports at every row. Upgraded wiring and dual-battery systems allow for the addition of various electronics such as monitors, and the power sliding door makes it easy for all passengers to enter and exit the vehicle.

Most importantly, the PremiumCARE Extended Service Plan (four years/150,000 miles) covers both the MAX and Transit as well.

As always, the full breadth of the lineup and service needs can be explored by talking with your local Ford/Lincoln Livery Dealer.   [CD0122]