By Stephanie Carnes
Just add it to the list of things caused by the pandemic: we are using a lot more video today than two years ago. While video conferencing was introduced back in the 1990s, it wasn't until the lockdowns of 2020 that it's been widely adopted by everyone from schoolchildren through retirees. And even now that society has opened back up, we're regularly using Zoom and Microsoft Teams to meet virtually.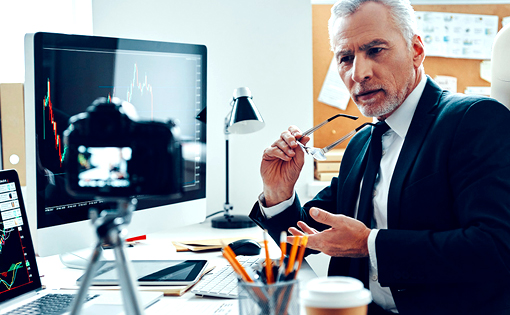 It's been more than 40 years since video killed the radio star, and video definitely deserves credit for changing the ways we communicate and consume information and entertainment. But the pandemic accelerated the upward trend of businesses using video. Not only that, but businesses' use of video has been more effective than before, with so many people at home with time to scroll. According to HubSpot's latest video marketing analysis, 87 percent of marketers saw positive ROI on video as compared to only 33 percent in 2015.

Increased use of video has affected consumer behavior and attitudes. Some polls have found that nearly 9 out of 10 people want to see more video from their favorite brands, which should increase the confidence in companies considering using video as part of the sales process. Video is a great way for businesses to show who they are behind the curtain and to break down walls between them and their customers. A solid 76 percent of consumers will buy from brands they feel connected to over their competitors, according to research from Sprout Social.

So that's the why of video: specifically, why video can be a great addition to your marketing efforts. Now let's talk about the what and the where, as in what kinds of videos would work well for your business and where you should use them. (In a future article, we'll cover the how.)

1. Introduction Videos
When we meet new people in person, we introduce ourselves. As such, when our customers are meeting our companies on our websites for the first time, it's much more effective to make a video introduction. Definitely make the video yourself or have someone on your team do it—it should feel authentic. This video is intended to build an emotional connection between you and the viewer, so be yourself and talk about what is important to you. Share your mission and values, talk about your tagline or slogan, and describe what you love about the work you do. Of course, that's after you've shared your name, the name of your company, your location, and a quick overview of the service you provide.

Where? Use this video on the homepage or About Us section of your website.

2. Explainer Videos
This video answers the question: what problem does your service solve? You want your audience to know how your company can make their lives better. How will your wedding transportation give your clients the best day of their lives? How do your corporate accounts keep travelers safe and save companies money?

These videos should not be long; people are watching them to get information quickly and simply.

Where? Use this video on your homepage, a Services website section, and on social media.

3. How-To Videos
Even people who don't love viewing videos on social media will often watch a how-to video on YouTube to, say, figure out how to install their new garbage disposal. Video really shines when it teaches something that's easier to learn through seeing than reading.

Your how-to videos can be practical, such as a screen recording with voiceover demonstrating how online booking works. They can also just be fun—the general public might enjoy seeing a chauffeur demonstrating how to back a shuttle bus into a parking space or prepping a limo for a wedding or prom.

Where? Practical instructional videos should be on your website, while fun ones are great for social media.

4. Testimonial Videos
Written testimonials are fantastic, but video testimonials can be even more powerful. If you have clients willing to let you record them, it might be worth offering a discounted trip to have a video of their testimonial at your disposal. A bonus is that video reviews are more authentic if they are not overly rehearsed or produced, so they generally aren't too challenging to film.

Where? These videos would be a great addition to the Testimonials section of your website, and they can also be used on social media.

5. Videos for Engagement
Again, videos are a great tool for building customer loyalty. Engaging videos make clients feel that they know you and they have a connection with you. When posted on social media, they can elicit engagement from followers as well. Here are a few ideas for engaging video topics:

• A day in the life of a chauffeur
• Q&A—you can make up questions you'd like to answer
• Employee spotlights
• Company events
• Charitable campaigns
• Expressing thanks to clients

Where? These videos are ideal for social media, but consider using them in your email marketing as well.

One last word about the "where": make 2022 the year you add video to your website. According to HubSpot, websites with video rank 53 times higher in search results, experience 300 percent more traffic, and keep visitors on the site 2.6 times longer than websites with no video. [CD0122]
---
Stephanie Carnes is the Spotlight Director for The LMC Groups. She can be reached at stephanie@lmcspotlight.com.