BY ROB SMENTEK
It's beginning to look a lot like Christmas ... whoa, wait a minute. We're still enjoying barbecuing on warm summer evenings and lounging by the pool! But as any retailer will tell you, now is the time to start organizing and marketing your seasonal services. Heck, even the big-box stores have already started to sneak in those obscenely large packages of shatterproof ornaments and blow-up Santas in between the summer clearance and Halloween candy. So if you're hoping to kick up your retail work this fall and winter, the experienced in the industry have some advice to make the end of 2021 merry and bright. Bonus: Some neighborhoods also go all out for Halloween and fall, so the possibilities are really limited to your imagination.

For additional tips and ideas on incorporating more retail work into your portfolio, you won't want to miss the Seizing Opportunities in the Retail Game session at the upcoming CD/NLA Show this October 10-13 at the Gaylord Texan in Dallas.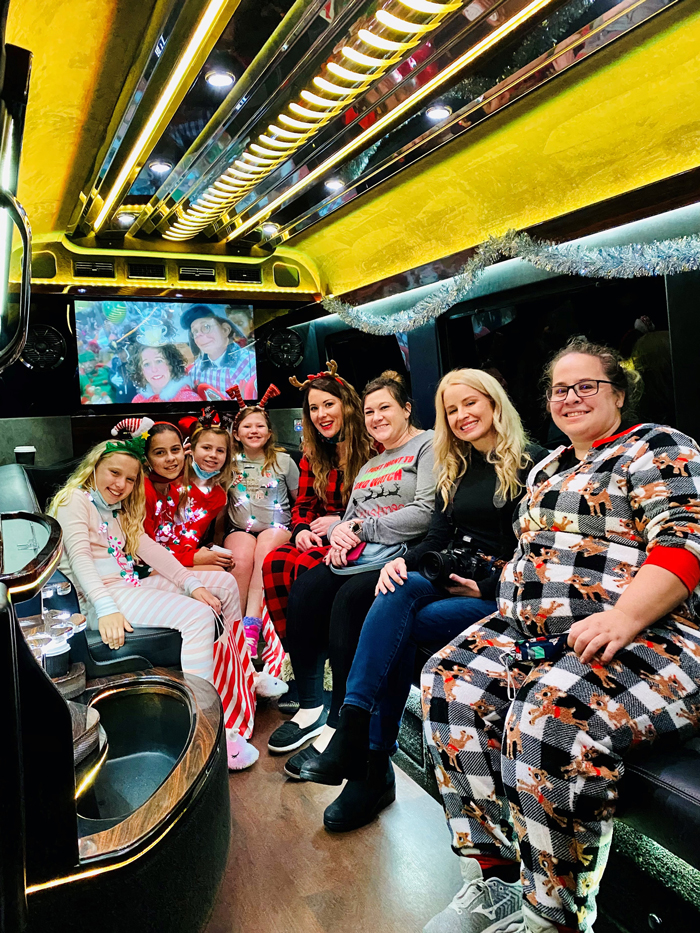 How did you get started doing light tours?
Kirk Bagger, Captains Car Service in Cleveland, Ohio: I got the idea through a Limo University LABx campaign. 

Heidi Beaudoin, Lifestyle Limousine Company in Raleigh, N.C.: We are always trying to think outside the box. I will tell you—it's not about the money, it's about seeing the kids' faces light up and creating those lasting memories. With COVID last year, so many people could not go out but this was one thing that they could do and stay safe. We had one little girl who had cancer and was fighting for her life, so we took her for a ride with her family and for a couple of hours she forgot about everything and got to be a kid. That is what it's all about!

Thomas Dunmore, Tommy's Private Car Service in West Chicago, Ill.: In December 2019, an affiliate had a request for one of their customers to do an hourly-as-directed and they had no driver for the job so they hired me to drive their Sprinter the Saturday before Christmas. When I arrived, the client had a list of 10 homes they wanted me to drive by to see the lights. So, I decided that next year I would try to offer Christmas light tours.

J.R. and Maria Garza, Diamond Limousine & Sedan in Boise, ­Idaho: We both went out to look at Christmas lights with our families when we were kids, then with our own kids. Naturally when we started the company, it seemed like a fun activity to offer to our clients. It has been an exceptionally positive and lucrative experience.


Karl Guenther, Statement Limousine in Cleveland, Ohio: We first started light tours as simply a way to supplement our winter business. We found, however, that there was quite a niche for this type of family/group outing. It was so well received our first year that we expanded the number of tours and vehicles in our second year, and it has continued to grow today. We sold out so many dates last year that our "tour season" will be expanded this year. We will start as soon as all the displays are up, lit, and ready to go.

Kimberly Hafenstiner, Rupp Limousine in Erie, Pa.: Last year was the first year that our local state park, Presque Isle, displayed lights around the peninsula. It was a free event sponsored by Presque Isle Partnership and Penelec. As soon as I saw the article advertising this, I created an event on Facebook. We also donated $5 from each ride to Presque Isle.

Shawn and Andrea McAdams, Lux Limo in Austin, Texas: Austin has always hosted many formal and informal holiday displays: the two most popular are the Zilker Park Trail of Lights and Circuit of America Peppermint Parkway. Of course, the entire area is full of displays put on by neighborhoods and a collaboration with the Hill Country Electric Co. out in Johnson City. Prior to the pandemic, these displays were walk-through events. Since then, we saw the opportunity to give our clients a more relaxed, fun, and safe way to enjoy the lights.

Nina Parson, Company Car & Limousine Services in Cleveland, Ohio: Six years ago, when I entered the ground travel industry, we received phone calls about light tours for families, but often the groups were smaller and didn't really need a big vehicle. So, I thought we could set up the tours to be like the popular casino tours. I partnered with two local bar/restaurants that had large parking lots and offered specials to our passengers for an added value for the admission. Each location was centrally located to ensure the route went smoothly and covered a large amount of lighting locations. The number of tours and partner starting/ending locations grew; this last year we offered 12 different tour types.

What do you do to market your holiday light tours? What's your biggest selling point?
KB: We market it mostly on Facebook both with paid ads as well as posts on local community Facebook pages with a Leadpages link for more info in addition to an email blast to both current and past customers from my compiled list. I also created a YouTube video showcasing 2020 Must-See Christmas Lights in the Cleveland area, which I also reference when clients would ask where they should go.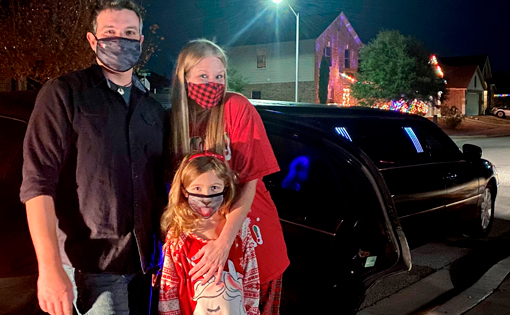 JMG: We do Facebook and Instagram ads to help promote the tours. Word of mouth and being seen at the best light locations has been its own marketing for us as well.

KG: We find that our clients' word-of-mouth advertising serves us well. We do advertise on social media as well, and the posts always get a lot of interest and traction. We also like to tie the light tour promotion to a charity drive. Last year I was an ambassador for the National Cancer Society's "Real Men Wear Pink" local chapter. Anyone who made a donation to "Real Men Wear Pink" received a raffle ticket to be eligible for a drawing for a free light tour for 10 guests. It worked out great, and raised quite a bit of funds for the group.

KH: We created an event on Facebook, which was shared thousands of times and seen by 100,000 people. We sold out within one week. My marketing was "pizza, pop, and Presque Isle." We worked with a pizza shop that was close to the entrance of the state park. My biggest selling point was promoting it as family time.

SAM: We believe the holidays should bring families and friends together. The pandemic really took a toll on everyone, so we chose to market first to our own community. We start by reaching out to neighborhood Facebook groups, local community newsletters, and schools. Our reputation in Austin brings returning clients to us, so we don't have to do much to book the bigger displays. We like to show our customers how renting a limousine can be fun, so we often update our own social media with exciting pictures and videos of our clients in the vehicles.

NP: Our tours are unique: We offer different tours that target various age groups and we've aligned with popular locations to offer passengers a special experience.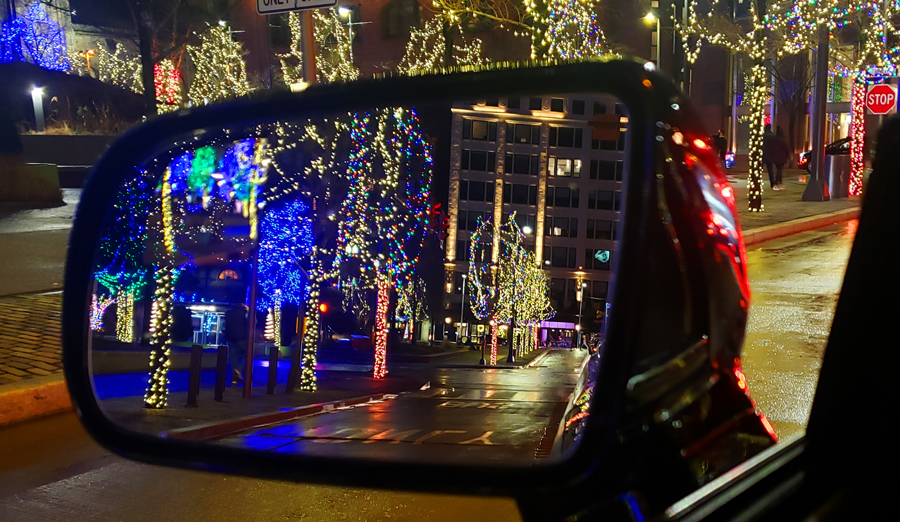 When do you start promoting these services?
KB: Last year was our first year and we didn't start advertising until November, which in hindsight I feel was too late. This year we plan on slowly advertising starting the last week of September.

HB: We leave holiday light tours up on our website year-round, then come November we start posting about them on social media.

TD: Last year, I started in mid-November, but this year we'll start in mid-October

JMG: We generally start our ads early November and run for three weeks.

KH: We started the promotion in mid-November as soon as Presque Isle announced the event.

SAM: We like to start at the beginning of November to keep it on the front of peoples' minds.

NP: We start our marketing in August.

Do you offer the tours for individuals/families, groups, or both? 
KB: We offer the tours to everyone, but I have found that adults enjoy it the most. Kids' attention spans don't last too long and then they tend to get fussy.

JMG: Our private tours are available for parties of any size—small intimate or up to 24. Tours are available every night of the week in December; two tours a night available for each vehicle we have to offer. We always sell out.

KG: We love to see the families make a special night of our tours, but we also see many business and social groups take advantage of them as well. Right now, we are working with one of our local senior citizens' groups. It's great to be able to offer something so well liked to such a wide variety of people/groups.

SAM: Our tours are offered to anyone, but we like to cater to families and office party groups.

NP: We offer tours to groups and individuals.

How do you determine your route, and does it change? Do you work with the homeowners or city/community groups? 
KB: We will recommend a certain route based on the available light displays near where we are picking up the group, but ultimately it's up to the client. The route is always changing based on the pickup location.

HB: This is the hardest part and most people have no idea what it takes for us to do this for them. We want to make sure that we go above and beyond for our clients. For about 10 days after Thanksgiving, we spend hours looking at lights every night, checking out neighborhoods, and calling event places that have big displays. We do a custom list for each client starting with the pickup location taking them on a ride to see the very best lights in the area in the timeframe they choose. We do three hours minimum during the week and four hours on weekends.

TD: I use a blog called KidsList that has a list of municipal displays as well as 60 or 70 private residences listed geographically around the entire Chicagoland area. Then my wife and I scout every single location on that list, and add any other houses worth stopping at to our list. When someone reserves a tour, I customize it for the town they live in and use Google Maps to route it out, double-checking the route efficiency with MapQuest Route Optimization tool. If they have done the tour late year I suggest one of my other proven routes, to get a fresh and magical experience their second time around. I also report new amazing displays to KidsList so others have the opportunity to see people's incredible displays.

JMG: We do have a predetermined route. We have entire subdivisions that go all out to decorate every year and some larger displays on individual homes, with a grand finale home that always gets the "oooohs and ahhhhs" going. We occasionally get calls from some new homeowners wanting us to drive by their homes with our tour groups and offer hot cocoa. Sometimes the guest has a particular home they want to see so we accommodate. Generally, we stick to the planned route to stay on schedule. We do however go out to scout for new homes through the light season across the valley to give us options when picking up and dropping off clients in their areas of the city.

KG: Our routes include the largest light show in our area at the Cuyahoga County Fair Grounds. Admission to this drive-thru event is always included in our fares. We also have many local town squares; resorts in Sandusky, Ohio; and of course, our own beloved Cleveland Public Square display.

KH: The first part of our route was going around the Peninsula, which is about 13 miles. Then each of our drivers created their own routes throughout our county. The drivers had so much fun on these tours. There was also a Facebook group that had listings of lights all over the county.

SAM: We work with the venues to drive a trial run during the day with staff members to ensure the entrances/exits are safe. For smaller neighborhood displays, we will wait until dusk and trial those to see where the best lights are. It's quite easy as many Austinites have been doing these for years! Being familiar with the area helps us to know which routes are the best.

NP: We review all previous year's lighting and then locate new lighting displays or activities from Facebook neighborhood groups and local influencers.

What vehicles do you use for the tours? 

KB: We have used sedans, SUVs, limousines, and Sprinters.
HB: We customize each tour for our clients so it's all about what they need based on group size. We ask: do they want to stay in local neighborhoods, get out and walk, or visit any of the big event places? After we gather all the information, we pair them with a limo. We have everything from Sprinter vans to limobus and stretch limousines. Some limos are too big for neighborhoods with all the traffic and some are too tall for the event places, so you really need to look at everything.

TD: An 8-passenger MKT stretch limo and a 14-passenger Ford Transit (high roof).

JMG: We use every vehicle in our fleet: smaller intimate parties in luxury sedans/SUVs and for medium to larger parties we use vans, limousines, minicoaches, and limobuses.

KG: We can accommodate up to 50 passengers, which is one way we customize our tours to our clients. If someone wants to do a date night...it's a Continental, MKT, or one of our luxury SUVs. If they want to take small group, they could use our 10-, 24-, 28-, or even our 50-passenger limobus. We will make sure they get the right size vehicle for their group.

KH: We used sedans, as well as 6-, 10-, 14-, 20-, and 26-passenger buses.

SAM: We like to use our Sprinter limousine and stretch limos most as they keep the group separated from the chauffeur and can enjoy privacy. The panoramic windows make the experience that much better!

NP: We use everything from vans to large buses; we avoid party buses because the seating is limited and they can be used by private groups. Plus, it's easier to view the lights.

What is included with your tour package(s)? How do you make it exciting or different?
KB: We offer a hot cocoa and marshmallows package. We also stream Christmas music inside the vehicles along with Christmas lights and video monitors with virtual fireplaces. This year we also plan on offering a limousine company ornament as a souvenir that will change year after year. 
HB: We hand out candy canes to the kids and put bottled water and ice in the bar. They can bring anything they want to drink. We also have a scavenger hunt that the kids can do along the way if they want.
JMG: A two-hour tour includes Christmas cookies, water, soda, Christmas tunes, and candy canes. We give a small gift in a foil box with beautiful ribbon in a decorative bag with candy and an ornament to the booking client, which is personalized with the year of tour and our company name on it.
TD: I offer free water, soda, candy canes, Andes Candies, Peppermint Patties, Little Debbie's Christmas Tree Cakes, Rice Krispies Treats, light-up necklaces, elf ear headbands, candy cane headbands, antler headbands, and Santa hats. I also have a Christmas song playlist on the sound system and tune it to the radio station when the house has synced lights with a local radio station.
SAM: We decorate the interior of our vehicles with garland, stringed lights, and fun props like stockings, Santa hats, light-up necklaces, etc. Christmas music is on and we have a roaring fireplace on the TV screen. For families with small children, we always have The Polar Express or The Grinch playing on our TVs to keep them entertained. Our chauffeurs even go the extra mile by playing the role of Santa's helper. On some occasions, we will offer hot chocolate, "Grinch punch," and Christmas snacks.   [CD0921]
---
Photos courtesy of Lux Limo, Lifestyle Limousine Company, and Captains Car Service.