Cover Art: Dav El/BostonCoach President & CEO Shariff McMichael. Photography by Lyle Okihara of Lyle Okihara Photography.
The accomplished, logically minded, demanding, fair, down-to-earth, and completely relatable CEO has been quietly ascending the ranks at one of the industry's largest and most respected transportation networks, yet the rising star has managed to keep a low profile and avoid the spotlight—by choice—for years. We had a chance to speak candidly with the newly minted leader of Dav El/BostonCoach about everything from his time in the trenches at various levels of the organization and how he's handled 2020 to his love of fishing and telling a good joke.

In June 2021, Shariff McMichael became the next president and CEO of Dav El/BostonCoach, one of the largest companies in the chauffeured transportation space. The announcement was made and published across the corporate travel media world, including in Chauffeur Driven, but things seemingly went ... right back to normal.

Truth be told, McMichael was already handling most of those duties (except sales) from his position as COO after former CEO, Scott Solombrino, retired from the industry in early 2019. The two had worked together since BostonCoach (previously owned by Fidelity Investments) and Solombrino's Dav El were acquired by David and Derek Marcou of the Marcou Transportation Group in 2013 and 2014 respectively. Together, they oversaw numerous acquisitions—Chicago's Metropolitan Transportation and California's Torrey Pines Transportation in 2015 and Boca Raton Transportation in 2017, for example—amassing a network that exceeded 25,000 vehicles nationwide.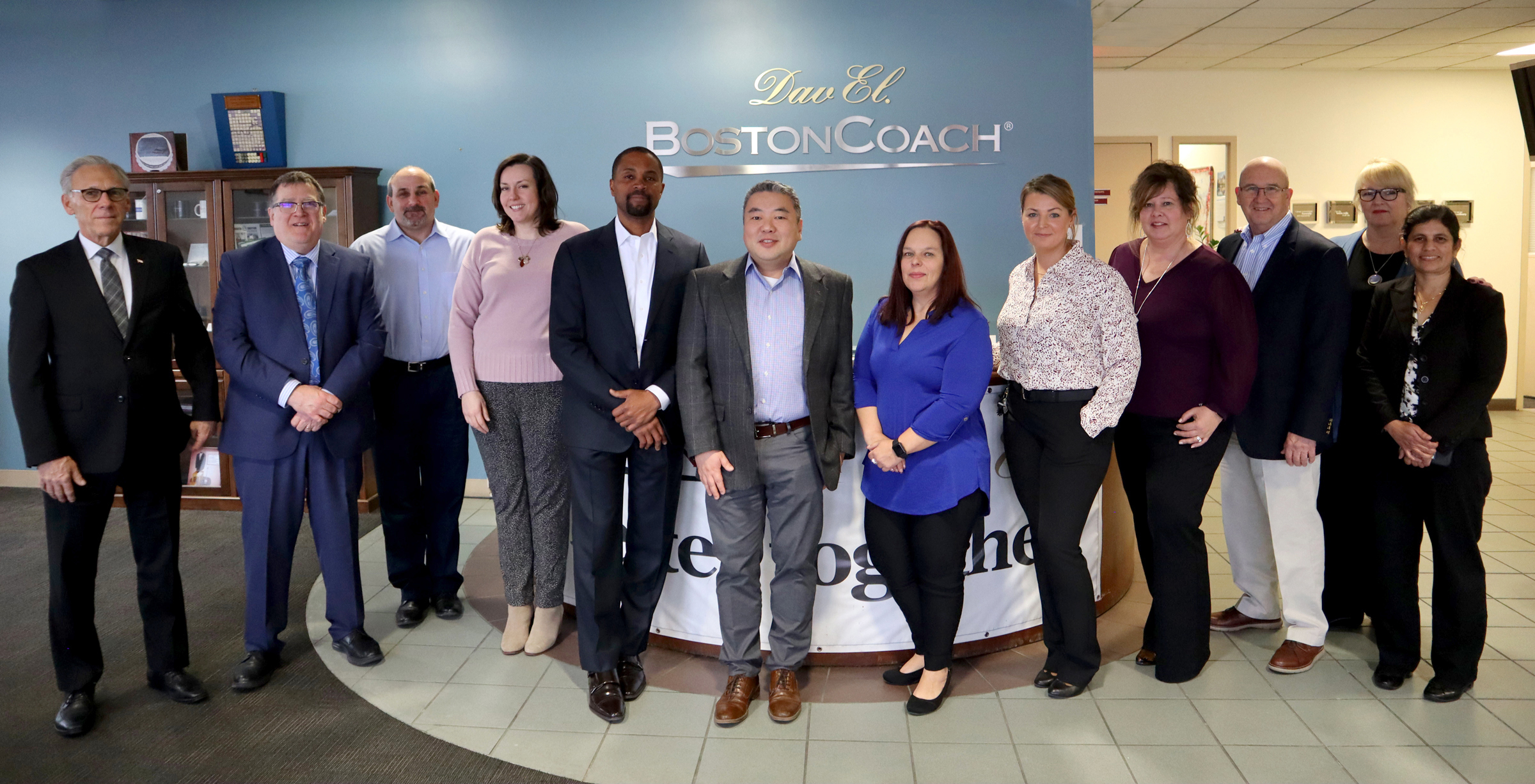 Part of the Dav El/BostonCoach team (L to R): VP of Operations Chris Bockus; SVP of Customer Experience and Affiliate Management James Mailhot; Fleet Manager Todd Bertolami; VP of Finance Sarah Studley; President & CEO Shariff McMichael; Chief Information, Security, and Infrastructure Officer Weilun Feng; Senior Events Manager Susan Eaton; General Manager, Headquarters Amira Kastrati; Director of HR Carrie Mongiori; VP of Sales Lou Carlucci; Call Center Manager Charlotte McFall-Gaitanakis; and Director of IT Architecture and Development Padma Gurusamy. Lowkey McMichael may not be as well-known as his more outspoken colleagues before him, but he has been thriving from behind the scenes, working his way up the ladder, and moving the company forward for more than 14 years, first as the general manager of the Philadelphia office, then as regional director for the Mid-Atlantic region before becoming the company's West Coast regional VP and VP of operations, and later earning the COO title in 2017. In an industry—and broadly, a culture—that celebrates bold, extroverted leaders, McMichael's comfort zone has been digging into operations and analytics, improving processes, matching the right people with the right job responsibilities, and earning the respect of both his principals and those he leads.

"I'm proud to say I can look into the faces of all our employees and know that they've never seen me speak or behave in a way that was less than professional or step on anyone to get to where I am. And I'm most proud that they're proud of me because I've had the most overwhelming support from my staff. We've been in the trenches together since the beginning of my tenure with the company and continue to support and help each other succeed. And you know, that makes me feel good," he says.

McMichael joined BostonCoach in 2007 when the company was being run by longtime executives like COO Mark Muñoz and President Jonathan Danforth, and later, CEO Larry Moulter. The structured and highly corporate culture was a good fit for McMichael, and he quickly formed a trusted circle of executives that included people like the late Marc Martine, who was the company's vice president of sales. The people around him saw and nurtured his talents, and combined with his natural curiosity, this helped him to move through the ranks all the way to the top. When many left after the merger, McMichael continued his friendships and business relationships with them—and he would meet with them regularly and sometimes call on them for advice, especially when 2020 hit.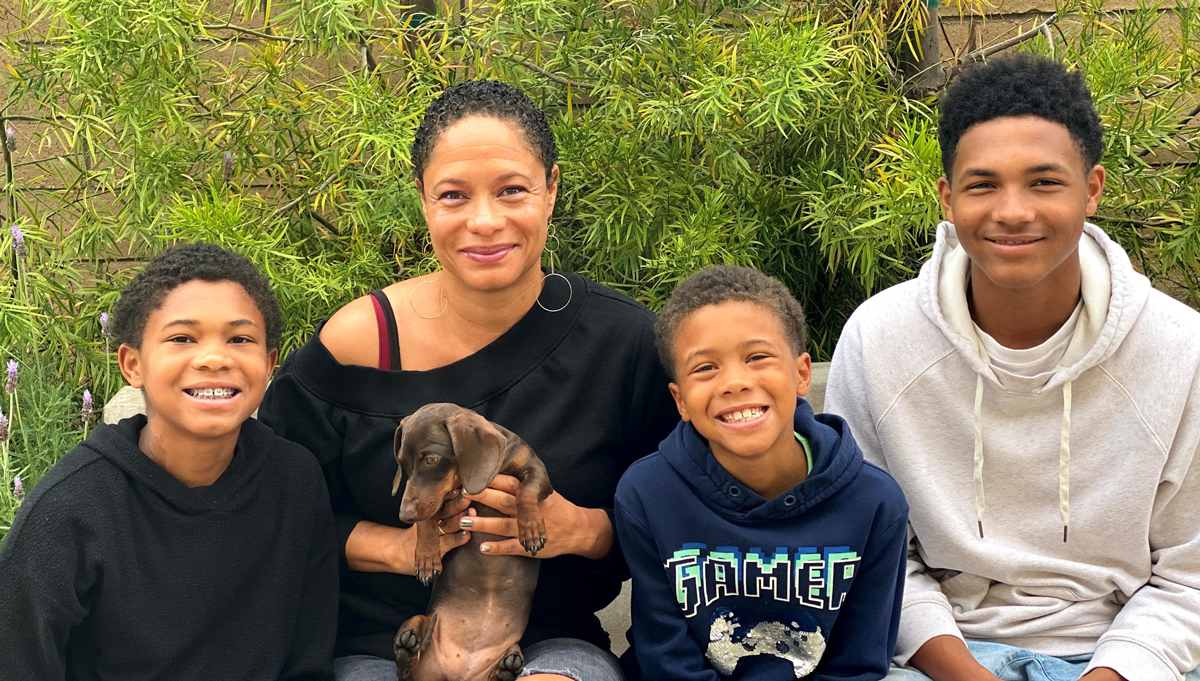 McMichael's wife January with their children (L to R) Moss, Asher, and Aidan, and dog Coco With a few months under his CEO belt, McMichael has been growing into the "visible" aspect of his position. While he frequently attends industry shows (he was at the recent CD/NLA Show in Dallas this past October) and was constantly on the road before COVID sidelined travel, he's stepping it up and making himself more accessible outside of the corporation. For example, he was a featured panelist during the New England Livery Association's Cabernet & COVID Stories late last summer where he had viewers laughing as he detailed the difficulties in helping his young kids with their "overcomplicated" schoolwork and his run-in with a coyote on his daily hike.

"Coming from behind the scenes, people [outside the company] knew of me, but they really didn't know me—they recognized my face and that I was with BostonCoach. I usually just keep my head down for work, and I'm not necessarily an extrovert. But if you get to know me, you'll realize I'm fun. I'm funny and really laid back. I figured it was time for the industry to get to know me a little bit better," he says.

McMichael now calls California home—it's where he lives with his wife January and his three younger kids, Aidan (15), Moss (11), and Asher (8), and dog Coco—but he's an East Coast native, born and raised in Philadelphia, the middle son of three boys. He also has three younger sisters and brother from his father's second marriage. Additionally, he has two older children, Alexander (28), who is an accomplished photographer and visual experience creator living in Brooklyn, and Monet (21), who is in her senior year at Rutgers University studying nursing and is a TikTok and Instagram influencer.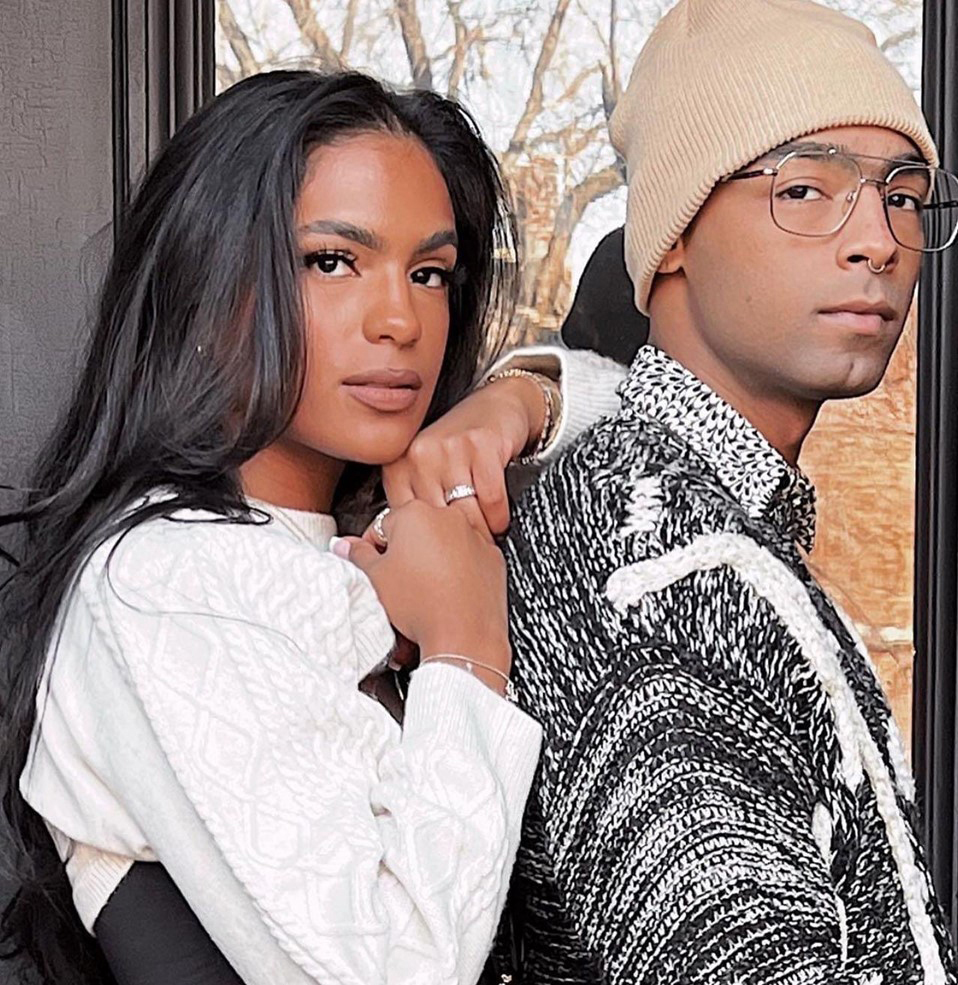 McMichael's older children Monet and Alexander Even as a young boy, his natural talents were evident as he was offered the opportunity to attend Girard College, a renowned preparatory boarding school in Philly for grades 1 through 12. The school, scholarship-based for low-income students from single-parent homes, is dedicated to offering a broad range of educational experiences through a rigorous curriculum of building peer groups, structure, and routine, as well as a strong sense of self-reliance and independence. But it also meant that he was away from his family five days a week.

"By the time you graduated, you had a good dose of discipline, education, and culture, so that when they sent you out into the world, they felt like they had given you a good balance. There are a lot of positives and negatives to it. By having a group of boys who basically spent their whole lives together, we became almost like brothers."

Although he looks fondly upon his education and time spent at Girard, he recognizes the fraught history of the institution. The school, founded in 1848, was a permanent endowment from the fortune of one of America's richest citizens, Stephen Girard, who earned his wealth through the trans-Atlantic merchant trade. Originally exclusively for "poor, white, male orphans," according to the founder's 19th century charter, the school faced protests from noted Black activists Cecil B. Moore and Martin Luther King Jr. after the Brown v. Board of Education desegregated schools and Girard failed to comply, only relenting in the late 1960s. Later, female students were also admitted.

Weekends were for family time, which usually meant spending it in his grandfather's barber shop, a beloved and well-known hangout in his community.

"My grandfather opened his barber shop/beauty salon in 1954, and all the greats came through. My older brother was actually the last one in our family to cut Muhammed Ali's hair in the '90s," he says. "We all learned to cut hair there, my mom cut hair there, and the skill helped me make a bunch of money when I went back to school during the week because their barber shop was awful."

From the Beginning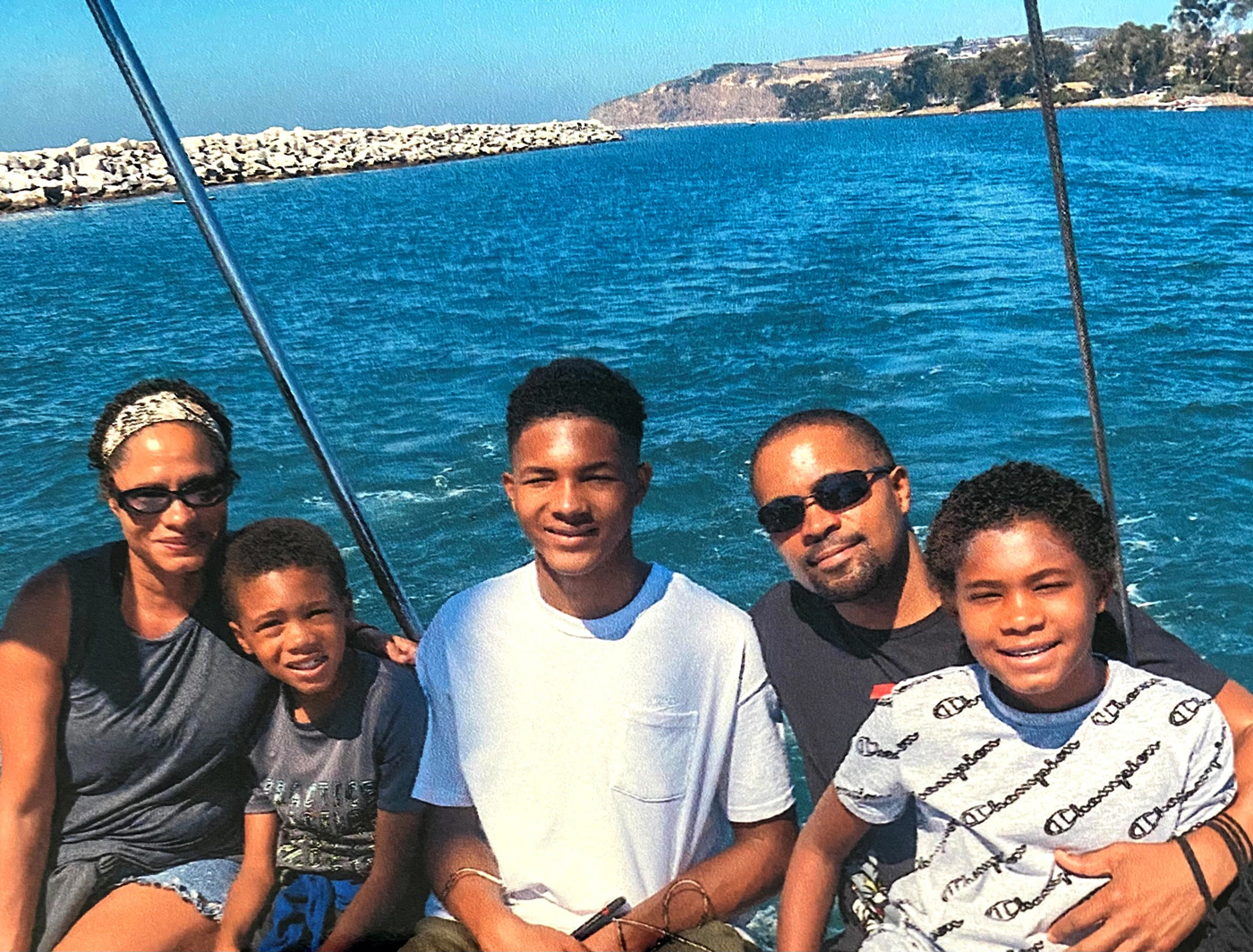 The McMichael family Like McMichael's school, however, his family's business wasn't immune to racial tensions in 1950s and 1960s Philadelphia, a time that made a significant impact on his grandfather who, in turn, instilled those lessons in his grandsons.

"You can only imagine the things my grandfather went through as a business owner," he says. "The shop was burned down. He rebuilt it, so he was all about hard work and earning."

The Boy Becomes a Man

McMichael graduated from Girard at 17 and confidently thought that he had his future figured out. He passed the exam to join the Philadelphia Police Department, but there was one little problem.

"My initial desire for a career, which is in my yearbook, was to be in law enforcement. I always wanted to wear the suit and be a detective, not necessarily a street cop, but either a detective or work for one of the alphabet agencies. I took the test and passed but at 17, but I wasn't old enough at the time. Looking to get some experience, I went into the Air Force instead. And boy, was that a wake-up call," he says.

He ended up serving two tours in Saudi Arabia during the Gulf War as a Munitions Systems Specialist, an experience that changed him forever. Not only did he learn what life was like for people outside the United States as well as the stark differences among classes, religions, and genders, but he quickly understood the importance of sweating the small stuff.

"My job in the military was explosives, so I dealt with bullets, nuclear weapons, missiles, and everything in between, to maintain, test, transport, and then store them. Over four years, I learned a lot. Obviously, you had to be disciplined, and I really got a sense of attention to detail. When you're working with explosives, there isn't a lot of room for error. The consequences of not doing your job correctly are catastrophic," he says.

Post-military, he worked for a moving company—a nightmare experience, he says, as the workers were unreliable and seasonal—and then left the Langley, Virginia, area for South Jersey, where he moved on to the corporate offices of Burlington (then Burlington Coat Factory), a department store chain across the US. Working with computers was a new challenge but ultimately became boring, he says, as he missed working with people and even the logistics involved in the moving company. But each job was a way to earn his stripes and build a well-rounded base of knowledge.

Joining the BostonCoach Family

After a yearlong stint with a waste management company—be sure to ask him for some hilarious stories when you see him—he got the call from human resources at BostonCoach to interview for general manager of the local Philadelphia office. He suited up once again and met with Marc Martine before flying to Boston to sit with Jonathan Danforth, Mark Muñoz, and VP of Operations Allen Bottomley.

On its face, working for a moving company or dealing with waste hauling might not seem like a translatable skill to chauffeured transportation, but it turned out to be a perfect segue into an industry focused on moving people.

"The waste hauling company I worked for prided itself on having clean uniforms and trucks, even though we were in that kind of business, and I was really tough on the guys to maintain those standards. When I got the job at BostonCoach, Mark Muñoz pulled me aside and asked, 'Do you know why we hired you?' He said, 'When you said that you could get those guys to pump crap with quality, I knew that you could handle this.'"

In comparison, McMichael says, dealing with reliable employees and high-end vehicles in the chauffeured transportation business was far easier than the logistics involved in moving people's goods or handling waste. If a car breaks down, you send another one, but if a moving truck breaks down, you're dealing with thousands of pounds of furniture and household items—and that's after you find another truck and driver to cover it.

"I was so grateful to have found an industry that was so professional," he recalls.

The GM role at the Philly office led to a regional operations position in the D.C. area, which involved some extensive reorganization and a hard look at the team. Nobody likes having to fire people who aren't effective in their jobs, but McMichael doesn't suffer fools, and he's interested in building up and investing in the dedicated people around him so they may become capable managers of their own—which is an integral part of the company culture at BostonCoach.

"The D.C. office had some challenges, but I loved going there because we put the right people in place to do the right things," he says. "At first, we hired a general manager who just didn't work out. Then I found a dispatcher/chauffeur supervisor who was raw but had potential. I thought, I could work with him and get him up to speed, just like others had done for me. People can have the opportunity if they have the right support, and he became a phenomenal general manager."

After conquering the East Coast, McMichael had the chance to move West to handle the California operations as the West Coast regional manager, which then led to vice president of operations, and onto the executive suite as COO, which he did (and continues to do) from the Golden State.

A lot happened all at once starting in 2013 between BostonCoach's acquisition by the Marcou Transportation Group as well as several other companies, including Harrison Global, Regal Limousine, and Dav El. Other acquisitions followed—including, GroundLink and Limo Anywhere in 2017—while the managers were still figuring out the operational details, and, of course, dealing with the impact of clashing company cultures.

"It took some time to work out," says McMichael. "We're completely past it now, but it was a multiyear process of people getting to know each other and coming to the realization that we all have the same goals despite having very different cultures. Since 2013 and after finalizing GroundLink, this is first time in a long time that we haven't been actively involved in integration of some acquisition."

Finally, Official Recognition

Although McMichael didn't get the official CEO nod until the second half of 2021, and well into the pandemic, he was effectively leading the company through one of the most devastating periods in its history. But, as it turns out, he was the right person at the right time to take BostonCoach out of the shutdown, having broad cross-organizational experience and the faith and trust of the owners.

But the layoffs in 2009 during the financial collapse and at the start of the 2020 pandemic were different for him. Being directly involved in the decision on who would lose their job was far more harrowing than just being the guy executing the orders from above like he had done in previous roles. He faced what every other transportation company faced: cutting a path of survival through an uncertain crisis with no end date in sight, and that came with painful decisions.

"You know, 2019 was a banner year for everybody, and going into 2020, every company was living high on the hog. But then you realize that these layoffs need to happen, and quickly. You're looking at a list of names, hundreds of names, and having to take the lead on this was ... heavy. We had to get rid of fleet. Then we hunkered down and luckily now we're on the upswing with all our major customers moving again. We didn't think we'd get back to positive numbers this quickly but thankfully, we are able to, and I think the realization of that resonated with the owners who gave me the opportunity to steer the ship moving forward as we put Humpty Dumpty back together again," he says.

Operating with half the fleet and fewer employees than last year, McMichael is still tasked with maintaining a network that includes more than 600 companies from coast to coast—and he's relying heavily on those partners as much as they are relying on him. With COVID adding new complications for many operators, dealing with the capacity challenges and staffing issues has been frustrating process for everyone involved ... but things are improving. In the Dav El/BostonCoach offices, many staff, especially on the customer service and call center side, have returned and revenues are much more stable than last year's drastic roller-coaster swings.

"The most important thing to me from a leadership standpoint was to stay connected to our affiliates during the pandemic," he says. "Nobody had any real answers to anything, and I found that just communicating with people on a regular basis and keeping their spirits up helped them to be more optimistic about the future. It's what I was focused on more than anything else because I couldn't control when customers came back or what was happening with the virus. I wanted them to know that I was doing everything I possibly could to make sure we survived together."

Embracing New Goals

With both the economy and the company in a better position, McMichael is leaning into his transition and slowly making his way into the spotlight. He's still commuting from California, but he and his wife, who grew up in the state, have been considering a move back East as most of their family are still there, possibly when their eldest son graduates from high school. But he's not going to lie—the weather is mighty tough to give up.

"I do miss living out there, especially in Virginia, because I had my own boat and would launch every Saturday to do some salt-water bottom fishing. I haven't had a chance to do it many years, though," he says. Life got busier with his career and family obligations, so he's finding new ways to find joy.

"I'm now starting to really enjoy going to my son's basketball games, which I think I enjoy more than he does," he jokes. "My older daughter is at Rutgers right now, but she played softball all throughout high school and was one stud of a catcher. There was nothing I loved more than those crisp Saturday mornings with my chair and Wawa hoagie at the field during all-day tournaments."

McMichael may have never had the chance to wear the police badge or return to his law enforcement dream, but he did work as an auxiliary deputy sheriff just out of the Air Force while living in Virginia. The position was real, the qualifications were tough, and the job was unpaid, but the bona fides were worth it.

"The one thing you learn coming from where I come from is that when you respect people, they respect you back. And just having the uniform doesn't give you the right to treat people differently or otherwise. Growing up in North Philadelphia, we didn't always stay out of trouble. And so, if you can learn to communicate with people where they're at, you don't usually have issues when you have to assume a position of power. If you treat people how you want to be treated, then they typically give you the same in return."   [CD0222]