By Kato Murray
After 2021, a year that brought us further advancements in AI and machine learning, autonomous vehicles, and 5G, not to mention the long-awaited flying car, 2022 has some big to shoes to fill. As we progress further into the new year, here are a few things that we can look forward to over the coming months—and even if these aren't on your radar today, it sure is fun to think about where we're heading.

The Internet of Things (IoT)
While we haven't quite perfected the technology behind autonomous vehicles, we are starting to see an increase in connected cars thanks to the Internet of Things. It's estimated that by 2023, there will be 5 billion connected devices in North America: approximately 13 devices per person, all communicating various datapoints. If you're wondering what devices this includes, you probably already use them now: smartwatches, fitness trackers, doorbell cams, medical devices, smart security alarms, virtual personal assistants (e.g., Alexa and Google Nest), and so much more.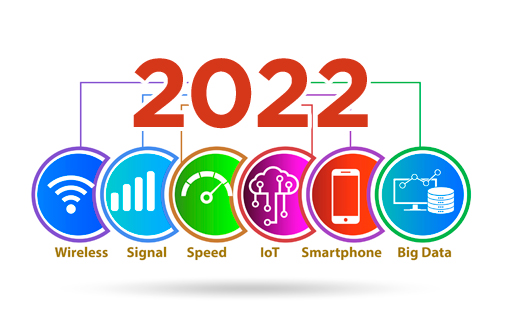 Newer cars on the market are becoming mobile IoT devices, which can communicate with data in three key categories: telematics, vehicle-to-everything communications (V2X), and in-car entertainment. Vehicle information systems can connect to our smartphones and mobile devices to perform a range of functions, with the aim of increasing the quality of the customer experience with features such as these:

• Accurate, real-time traffic alerts
• More responsive emergency roadside assistance
• Replacing manual driving in certain situations
• Offering personalized entertainment experiences based on vehicle occupants' preferences

5G
You probably heard recently about 5G when major airlines implored mobile carriers to postpone the launch due to fears that it would impact some sensitive equipment on planes. The deployment of 5G has taken a few years and was delayed several times before. The upside to 5G is the speed of download and stronger connectivity for wireless devices. Ericsson's November 2021 Mobility Report estimated that in 2022 there would be 660 million global 5G subscribers, up from an estimated 229 million at the start of 2021.

Increased 5G connectivity will enhance a number of vehicle safety features on the market, such as rear cross-traffic alerts, collision warnings, and automatic emergency braking. 2022 will also see the end to 3G on all major carrier networks, with AT&T's shutdown in Q1 2022 impacting certain models of Honda, Nissan, and Volvo. Manufacturers powered by Verizon, such as Toyota and Lexus, will have until the end of the year to prepare for the service's sunset.

Augmented Reality
BMW has recently partnered with Basemark to implement AR applications in their new iX models. Similar to IoT, AR is being used to improve overall driving experience, comfort, and safety. AR-powered in-car entertainment systems will help drivers be more aware of their surroundings; for example, upcoming turns or lane recommendations will be displayed to drivers in advance based on information collected by various datapoints.

The Metaverse
The metaverse is still very much in its infancy, but many companies are starting to incorporate it into their business strategy.

At CES 2022, Hyundai unveiled their "metamobility" concept, which introduces the concept of three worlds: the physical world, the physical world as experienced by personal robots, and the metaverse. These personal robots will be controlled by VR-headsets, which means you might be enjoying a cruise while you could have a robot cleaning your house.

WayRay's Holograktor concept car is billing itself as the "first metaverse on wheels" and would allow users to interact with a different reality on their commute to work. Utilizing advanced holographic technology, Holograktor will project content onto the windshield and windows for its vehicle occupants. In addition to a fold-away steering wheel for the driver, the vehicle is being designed with remote operation as a consideration. A qualified driver using the car's cameras, radar, mapping, and sensor suites will be able to control the vehicle without ever setting foot inside the cabin.

The Future of Safety
During the recent CES 2022 tradeshow, Sony unveiled the Vision-S 02 concept car. With a priority toward your well-being, the car will feature more than 40 sensors to continuously monitor safety issues outside the car as well as to assist the passenger self-driving situations. The vehicle will also introduce digital mirrors, combining cameras and displays. The concept car also looks to incorporate Sony's Time of Flight sensor to monitor facial expressions, gestures, and fatigue to provide sleep and break warnings to drivers, as well as regulate temperature control in the vehicle.

Magna International's occupant monitoring system is currently in development and scheduled to hit the market sometime in 2024. The advanced driver assistance system will monitor the driver's head, body, and eye movement to detect signs of distracted driving, drowsiness, or fatigue. The system also aims to create a safer in-cabin passenger interaction. The system would provide the driver and front passenger with an easy view of the second and third row seats broadcast on the head-up display screen.

Regardless of whether these trends are new to you or on your wish list, the next 12 months are going to be exciting for technology. [CD0322]
---
Kato Murray is the operations associate for the LMC Groups. He can be reached at kato@lmc.group.