By Rob Smentek
By all accounts, Reston Limousine's 30th anniversary should have been a celebratory year for the company—and it was shaping up to be. After three decades, Reston was among the most successful and in-demand luxury ground transportation businesses in the Washington, D.C., area, but the milestone had the unfortunate coincidence of happening in 2020, which put a damper on festivities. Things got very scary for the company when they should have been commemorative.

"We had to refund a million dollars in deposits," says Reston Limousine President & CEO Kristina Bouweiri. "Money was leaving our accounts quicker than it was coming in."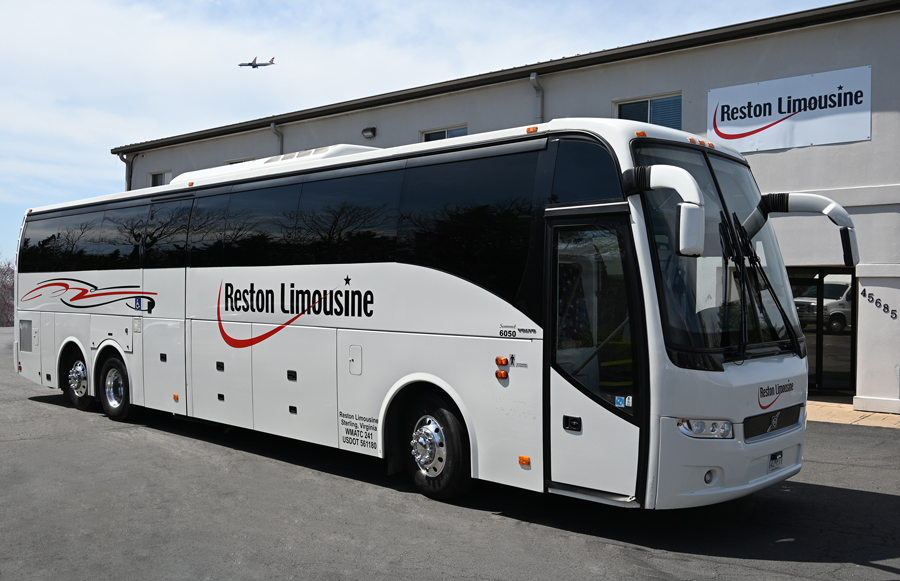 A branded motorcoach at Reston HQ Despite being forced to temporarily lay off two-thirds of Reston's 450-person team, Bouweiri was motivated to stay in business. And fortunately, the company's position as a major shuttle bus provider kept them afloat.

"While the industry was down 90 percent during the pandemic, we were only down 40 percent, and the reason for that was our shuttle bus contracts," says Bouweiri. "The majority of our contracts stayed in place the whole time. We were considered essential employees."

Shuttle buses have been a key part of Reston Limousine's success since the company was founded in 1990. In fact, the five vehicles in the company's inaugural fleet were two stretch limousines, a sedan, a van, and a minibus, which Bouweiri says brought customers knocking on the door—literally.

"One day, early on, a guy came to our office and asked, 'Do you want to bid on a shuttle bus contract?' An apartment building in the area was looking for a shuttle service to the D.C. Metro," she says about the surprise visit and unexpected opportunity. "So, we bid on it and we won. We ordered another bus to do contract work, and again, someone else knocked on our door at the office and asked, 'Do you want to bid on a government contract?'"


Reston's management team. Front row (L to R): Fleet Manager Dan Craig, Marketing Manager Robin Cunningham, HR Manager Nadia Sajid, Director of Sales Maureen Truxton, Kristina Bouweiri, and Relationship & Events Manager Margaret Day. Back row (L to R): IT Manager Joe Swetnam, Safety and Training Manager Rush Kamdar, CFO Hans Zeigler, Contract Administration Manager Lian Bernett, and Controller Melissa Beard A novice in the intricacies of government RFPs, Bouweiri discovered that their neighbors at the US Geological Survey in Reston, Va., were looking for a company to provide two vans to transport employees back and forth from the Department of the Interior all day long. Reston made their bid and won their first of what would become many government contracts.

"I won every contract I bid on for the next five years," says Bouweiri. "At the time, government contracts were not being executed well, so what we'd do is buy a brand-new vehicle, hire a great driver, and fill that bus with technology. That was really our differentiator. Of course, we also answered our phone 24/7; we'd transfer the phones to our houses and answer all night and weekend long. We were providing a service level our industry wasn't doing at the time [in the '90s]. Those few things launched who we are today. Shuttle bus contracts have always been 90 percent of what we do."

Whether it was transporting flight crews at private aviation fields or shuttling apartment residents to the Metro, those contracts were integral in not only helping Reston achieve more than three decades of success, but in keeping the company afloat during the height of the pandemic. In addition to offering a necessary service, buses also provided their customers with a level of comfort during an uncertain time.

"Some of our customers wanted to provide social distancing for our passengers," says Bouweiri. "So, whereas our biggest client who usually operated with 35 buses shut us down to zero, we had another client that increased their need from 12 buses to 50 so that they could provide social distancing on board the vehicle. While some clients were forced to leave us high and dry, others increased their service, and paid us to sanitize the vehicles daily. We bought electrostatic sprayers and had mobile wash crews sanitizing buses every day. It was a new revenue stream for us. We've always washed buses for free, but now we got to charge for it."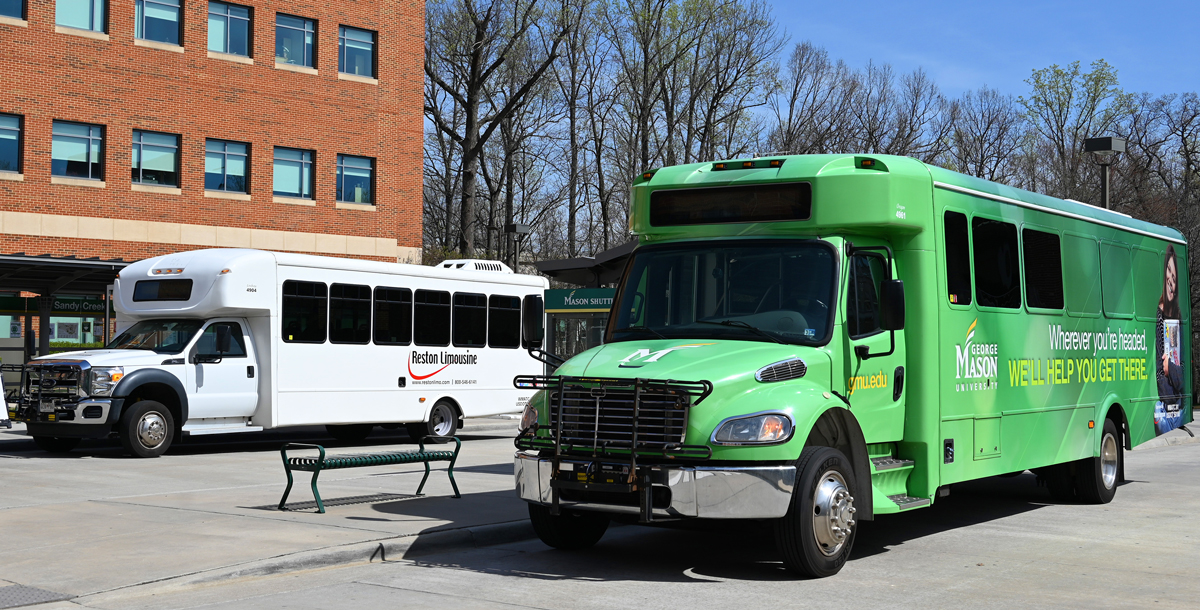 Shuttle buses are a major part of Reston's business including local colleges like George Mason University Cleaning and sanitizing weren't the only new surprise sources of revenue that Reston explored during the pandemic. Like many operators, they used their vehicles in novel ways to keep cash rolling in. Reston found a partner in Din Din, a food delivery startup that allowed out-of-work high-profile chefs to prep microwavable meals in "ghost kitchens." The company also pivoted into transporting something even more ... vital, namely organ transplant transportation work, which had peak demand during 2020 and 2021.

Reston's location also afforded them with money-making potential. Located in an industrial park in Sterling, Va., a short jaunt from nearby Dulles Airport, Reston's headquarters includes an office, parking for their vehicles, as well as a maintenance facility.

"We bought land and built our own facility, which was very important. We weren't going to be able to continue to grow if we didn't have space, and we needed our own maintenance facility. When you're in the bus business, buses break down. Especially with government contracts, you have to have 30 minutes to recover if there's a breakdown. You need to have backup vehicles sitting all over the area. It's critical to have your own maintenance facility because if you send your vehicle to a dealer, you're going to be waiting three weeks. In the majority of cases, if one of our buses breaks down today, we can fix it overnight and have it back on the road tomorrow."

But more than that, Reston has an on-site washing and dumping facility for buses and motorcoaches, which they open to other ground transportation companies that also need those services for their larger peoplemovers.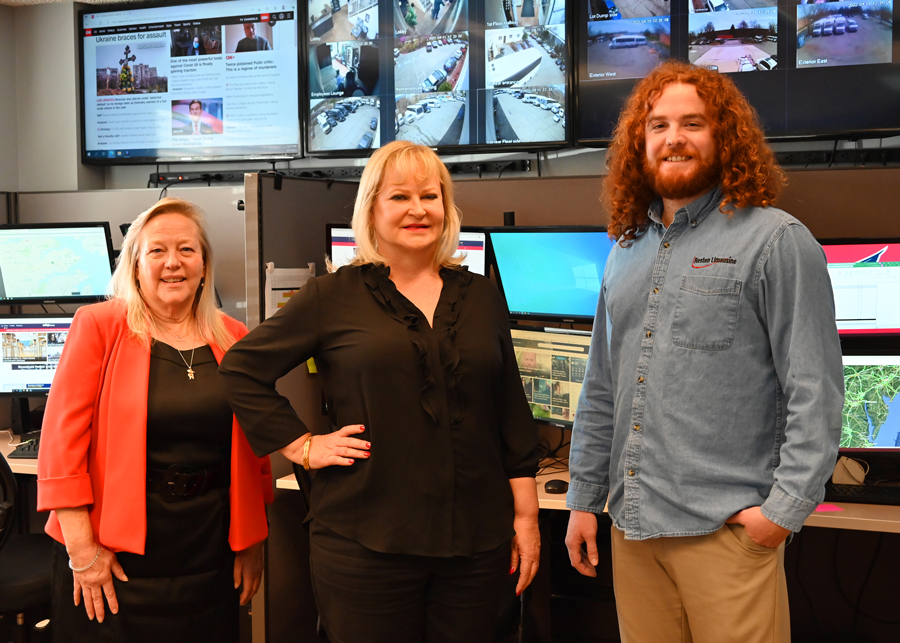 Reston's dispatch office (L to R): Relationship & Events Manager Margaret Day, President & CEO Kristina Bouweiri, and Dispatcher Liam Marshall-Brown "Who knew there was money in poop," laughs Bouweiri.

As Reston Limousine—and the industry—bounce back from the economic disruption caused by the global outbreak, Bouweiri has had to deal with a new reality, and adopt new ways of running her business. And this time she's armed with the lessons and new skills she's learned during the tumultuous two years.

"We're back to 2019 revenue this spring; but what's changed—and I learned this at the CD/NLA Show in Dallas—is that many companies in our industry went out of business, and the ones that survived likely reduced their fleets. So, our supply industrywide is a challenge when demand is back to 100 percent. Before COVID, we had a motto of never saying no, so when we were sold out, we'd just over-book and rely on affiliates. Now, because there's a limit to availability with farm-outs, we can't do that anymore. We have blackout dates on the calendar, and since February we've been sold out five days a week. We have to be more careful with our bookings and who we send work to. It's very difficult to say no to clients. We have customers call us on Friday and ask for a bus on Saturday. When we tell them we're sold out, they offer us crazy money. Our rates have gone up significantly and customers don't seem to care."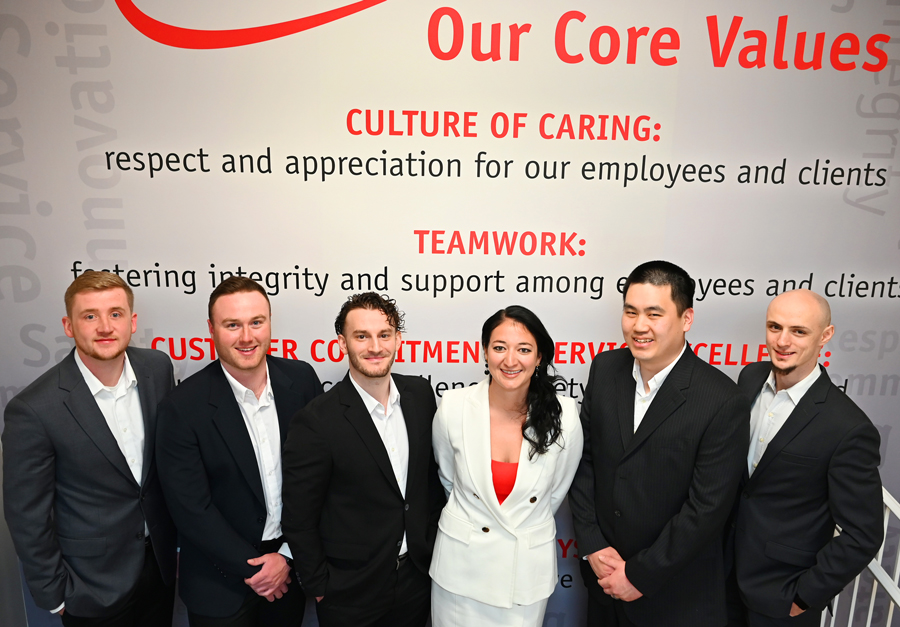 Reston's sales team (L to R): Account Manager Sam Griffith, Sales Representative Kevin Schultz, Contract Sales Manager Bill Bouweiri, Director of Sales Maureen Truxton, Sales Operations Manager Dan Oh, and Sales Representative Phillip Spampinato But Bouweiri says the company has come out of the pandemic "leaner, meaner, more profitable, and more efficient" than ever before. She and her management staff used that downtime to re-evaluate all their policies and procedures and streamline them. The company also held a technology summit, finding ways to reduce and improve their in-house systems.

Another significant change was the ability for the team to work remotely, a policy they have continued. Office staff now work from home three days a week, only coming to HQ on Tuesdays and Thursdays. Bouweiri was pleasantly surprised by the benefits that came from making that shift.

"I noticed that we didn't skip a beat. My employees can work from home and still do a great job. In fact, we ran out of space in the office anyway. We had three people sharing offices and it was very crowded. We restructured so that accounting exclusively works from home, and other personnel—even sales—can work at home three days a week. It's less stress on the office, and they're happier. I'm proud of the fact that our employee satisfaction is higher here than most companies. We treat everyone like family, and our employees agree. People want to work at a place where they feel respected and appreciated, and that's what we do well."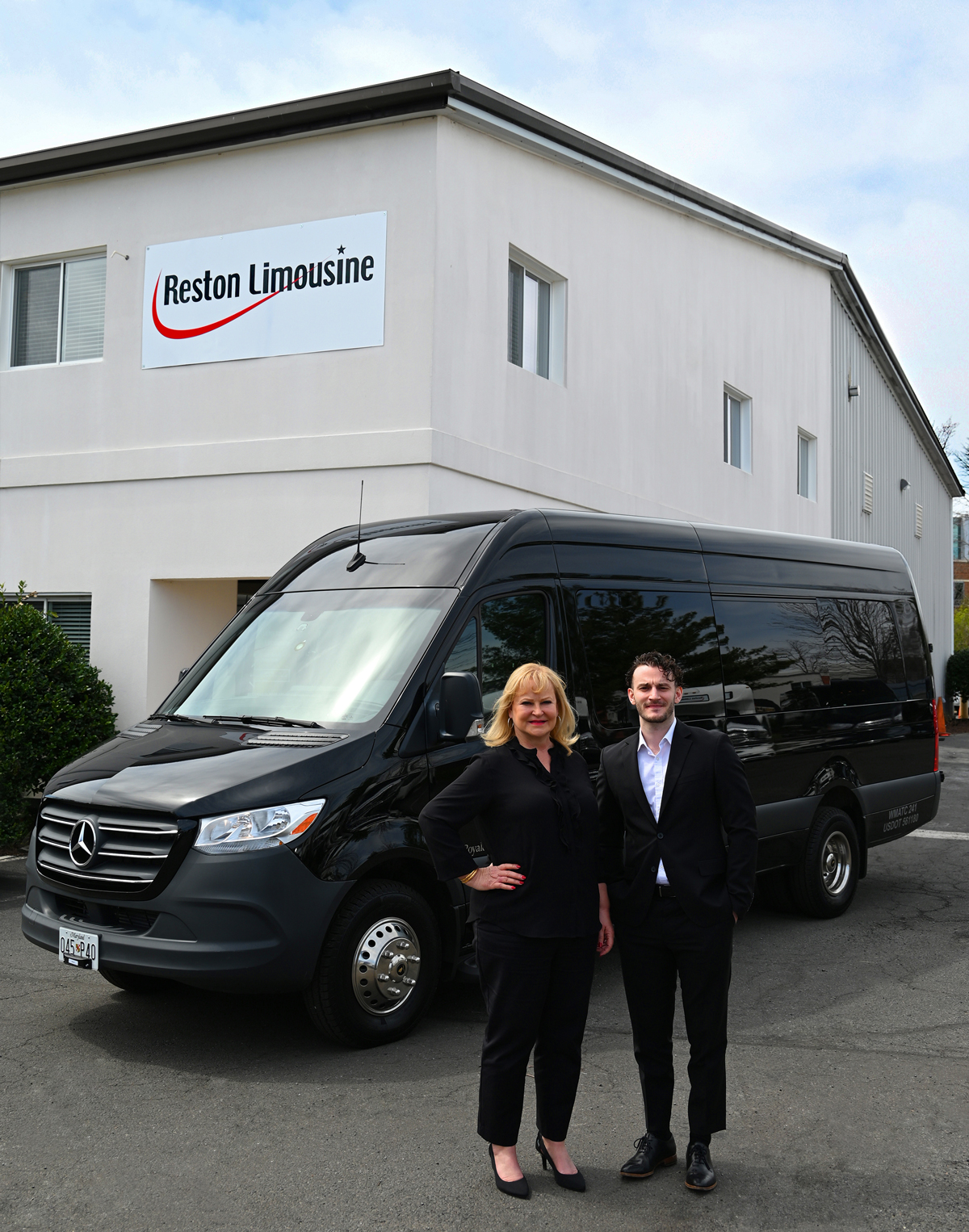 Reston Limousine President Kristina Bouweiri with Contract Sales Manager Bill Bouweiri at the Reston Limousine headquarters in Sterling, Va. Family is more than a metaphor when it comes to Bouwieri's workforce. In fact, all four of her children work for the company in some capacity. Daughters Katherine, Robin, and Darby work part-time, tackling social media, graphic design, and marketing, respectively, while son Bill serves as Reston's contract sales manager.

"None of the three girls really wanted to go into the business, but my son Bill has really stepped up. During the middle of the pandemic, my director of sales quit on me. Bill, who was a sales rep at the time, stepped up and took her job for two years. He's done very well taking over the pipeline. He continues to rise above and impress me every day."

Bouweiri sites one particular event early in Bill's tenure with the company as an example of his drive and ambition.

"In 2018, we did an alternative Spring Break for a local University. The client wanted 12 buses for a week to take kids across the country for community service projects. We have six coach buses of our own, so in order to do that job, we had to farm-out six buses to affiliates. Bill came to me and said, 'I really want to close this deal.' I was confident that he'd figure it out."

And, sure enough, he did. By promising the client that Reston's fleet manager will check every bus, and the safety manager will train each driver, he was able to secure the contract.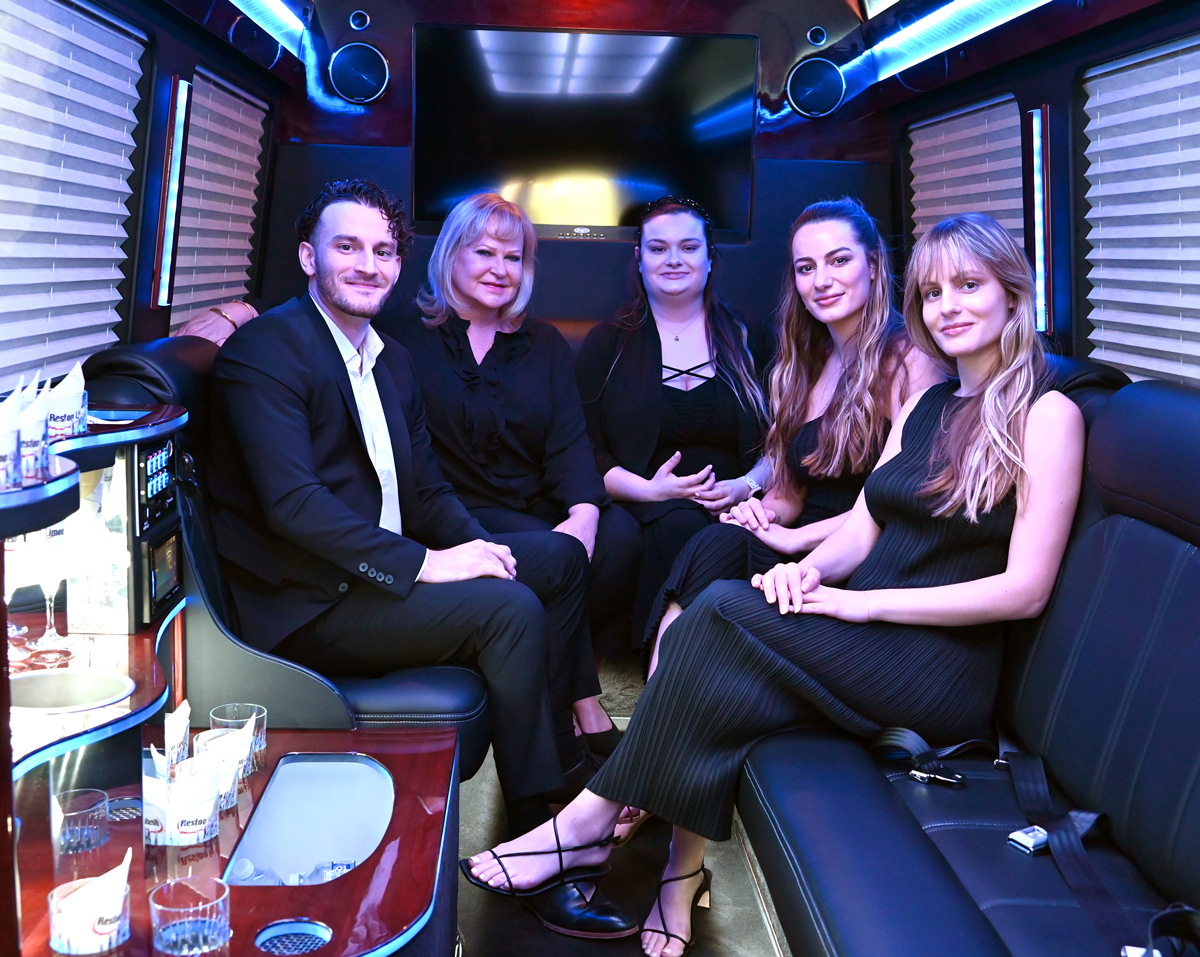 The Bouweiri family (L to R): Bill, Kristina, Darby, Robin, and Katherine "He has raw talent and he's very smart. When I look back at myself in my 20s, I believe I was very good in the business. It was because I was ambitious and had a fire in my belly. Now when I see my son, I feel he could run circles around me. He's taking it to whole other levels."

With a nationwide shortage of chauffeurs and CDL drivers plaguing the industry, Reston is being proactive in attracting new team members. Bouweiri says they have increased both their sign-on and referral bonuses, and recently held an in-person job fair at their HQ that offered on-the-spot hiring with the right qualifications.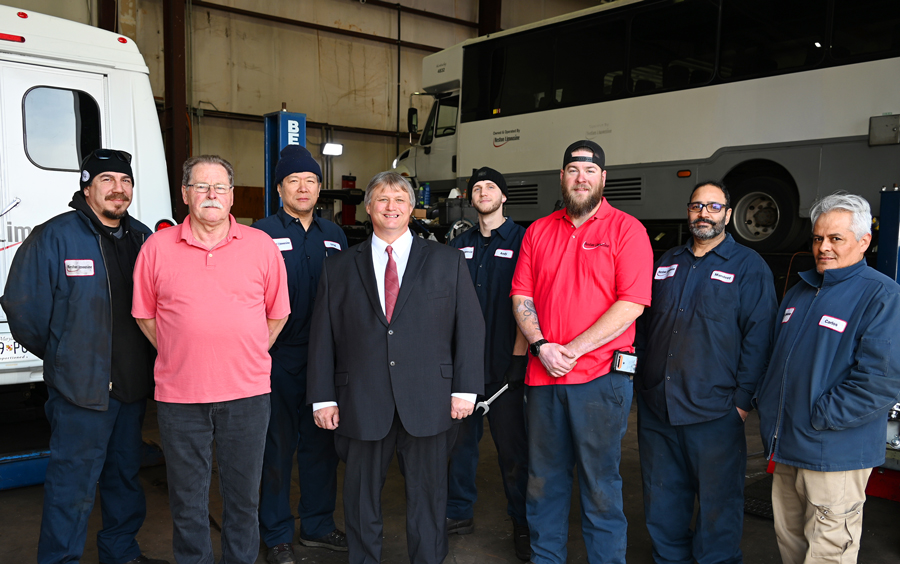 Fleet service team (L to R): Technician Carlos Vargas, Training Manager Jimmy Grey, Technician Ung Kim, Fleet Manager Dan Craig, Technician Andy Levesque, Assistant Manager Andrew Wagner, Technician Mandeep Singh, and Detailer Carlos Visetti "During the pandemic, we held our job fairs via Zoom and we didn't get a very good response. But, today, at our in-house fair, we had six new drivers show up. That was promising."

Despite the industrywide challenges operators currently face, Bouweiri is extremely optimistic about the future of Reston and luxury ground transportation. With a smaller amount of competition and less price sensitivity, she believes that the industry is on the crest of a wave of growth—which will refill the coffers and replenish emergency funds that were likely used during the slower times.

"I've been in business for 32 years and I've never seen it this good. We're all struggling to find staff, but I think the industry is going to have the best two years we've ever seen due to supply and demand. I'm excited. It's not only my buses, but my sedans and SUVs are booked every day at top dollar. Customers are booking them for 10 or 12 hours, too. It's not just airport transfers. There's so much pent-up demand for luxury ground transportation. Everyone in our industry who I talk to says the same thing, and if we keep prices high and service levels excellent, we're going to experience a couple of years of real strong business and revenue."   [CD0522]