BY KATO MURRAY
When the creator of email—Ray Tomlinson—was asked for his reaction to how modern email was being used, he was quoted as saying, "I see email being used, by and large, exactly the way I envisioned. In particular, it's not strictly a work tool or strictly a personal thing. Everybody uses it in different ways, but they use it in a way they find works for them."

According to 2022 figures from Campaign Monitor, the average office worker sends and receives approximately 120 business emails a day. The McKinsey Global Institute also found that the average full-time worker spends 28 percent of the workday reading or responding to emails.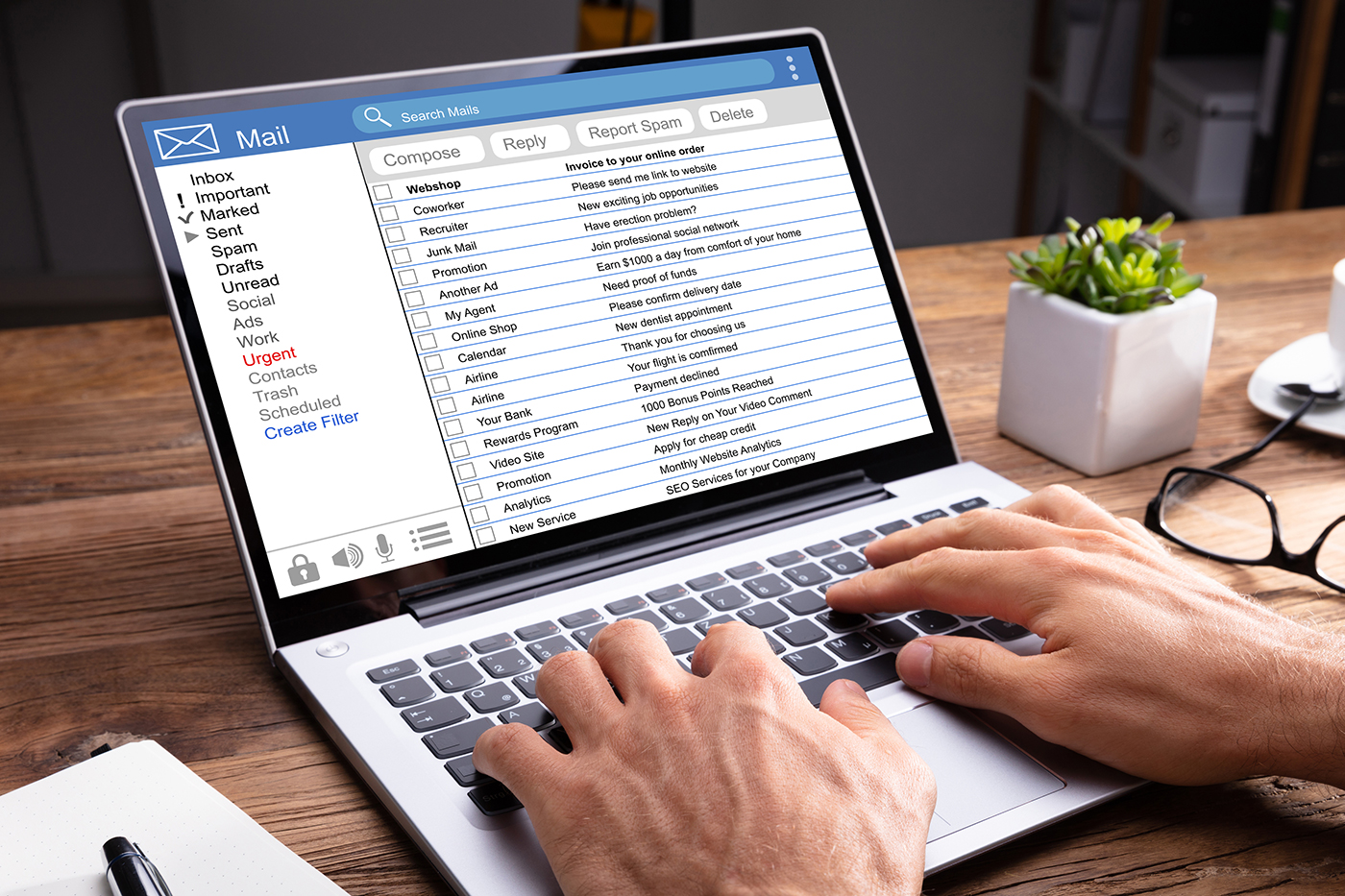 Given that most people spend more than two hours of their day interacting with their email, it's essential to find ways that you can make your email client work for you instead of you needing to work hard for it to function effectively and efficiently.

Practice Good Email Habits
❱ Revisiting Inbox Zero
"Inbox Zero" is a productivity strategy coined by Merlin Mann that focuses on taking appropriate action on the items in your inbox so that you can focus on the most important items. The goal isn't necessarily to have an empty inbox, but rather an organized inbox. Emails in your inbox should be categorized as one of the following: Do, Delegate, Defer, or Delete.

❱ Resist the Shiny Object
Despite its whimsical name, Shiny Object Syndrome is a real problem in the workplace. Thankfully, your email client has several ways you can help limit the number of disruptions that can draw your attention away.

For example, Outlook comes with a Focused Inbox feature which sorts your email in a way that allows you to turn your attention to the most important emails in your inbox. You'll also find a similar option with Gmail's Priority Inbox. Are you easily distracted by message notifications? Turn them off. Whether that means turning off the accompanying noises, desktop alerts, or the envelope icon, there are options available based on your exact needs. If you're worried about missing important emails, you can learn more about options available under Inbox Rules.

Organization, Organization, Organization
❱ Create Folders
There's no one right way to use folders in your email client, but following are a few suggestions depending on your goals and preferences:

To help you achieve Inbox Zero:
a. Action/action required
b. Waiting/awaiting response
c. Delegated
d. Archived


If you're deadline/project driven:
a. FYI/reference/info
b. This month/this quarter
c. This week
d. Today
e. Done


A place for everything, and everything in its place:
Depending on the volume of emails you get or how your company is structured, you might find it beneficial to create folders by topic, project, division, person, etc. For example, I have a folder for every single member on my team. In the case of former team members, their emails live within an "inactive" folder so that I can always refer to previous conversations.
❱ Use Categories
Adding categories to your email, calendar, or contacts helps organize your available information. Where items can only exist in one folder, they can be assigned more than one category that allows for enhanced filtering, searching, and viewing.
Use the Tools Available in Your Email Client
❱ Inbox Rules
By setting up inbox rules, you can reduce the amount of clutter in your inbox and help prioritize the time spent reading the emails in your inbox. Once you set up a rule, the rule will apply to any new messages that match rule criteria.
By setting up certain rules, you can review lower priority emails during times you've set aside to review new messages or whenever is most convenient for you. Setting up rules that automatically move certain emails to specific folders also allows you to keep your inbox clear of noncritical items and tasks.
❱ Clean Up Folders or Conversations
For Outlook users, Microsoft's Conversation Clean Up helps automatically delete duplicate or redundant emails. Conversation Clean Up evaluates the contents of each message in the conversation. If a message is completely contained within one of the replies, then all messages except the one that contains a copy of all previous messages are deleted.
❱ Work Offline
For some, "working offline" might be as simple as closing your email client, but what if you need to have regular access to the information in your inbox and you want to avoid inviting additional distractions? In that case, you can choose to work offline. Working offline will still allow you access to the various email windows, folders, and compose emails—but new messages won't be delivered while you are focused on a particular task. While Outlook and Gmail both offer offline functionality, you might also look into additional ways you can be more productive by discovering what other programs you use on a daily basis that might also allow you to work offline.
❱ Templates
As previously mentioned, the average employee sends and receives more than 100 emails each day, but studies indicate that most employees can only manage about 50 emails per day. Utilizing email templates helps simplify the response process. Email templates shorten the time it takes to send emails and with an outline in place, employees don't have to enter images and HTML coding. When you create email templates, you can ensure that the message sent will be consistent without requiring extra effort from your employees to generate their own responses.
❱ Schedule Emails
Scheduling emails to send later can help you reduce the number of back-and-forth emails during your workday. For example, if you set up all your emails to go out later in the day, you can expect responses the following day and reply to everything at a time that is most convenient for you.
By sending your emails later, you can help protect not only your productivity, but also the productivity of your organization. By composing internal emails during a scheduled time and scheduling them to send later, you can ensure the delivery of certain information at appropriate times so that everyone can focus accordingly on more critical communication.
Staying on top of your email and remaining productive are challenges that we all face, but there are solutions available to help you regain some control over your inbox. While not all the solutions presented above are going to be a one size fits all, using a combination should help maximize your productivity as well as the functionality of your email client.
[CD1222]
---
Kato Murray is the operations associate for the LMC Groups. He can be reached at kato@lmc.group.