BY AMY COOLEY
As we enter a new year, it's important for small business owners and operators to take a moment to reflect on the past 12 months and make plans for the year ahead. This is especially true for your human resource function, which plays a crucial role in ensuring the success and well-being of your employees.

To help you get started, here's a checklist of key HR tasks to consider to kick off 2023 on a high note: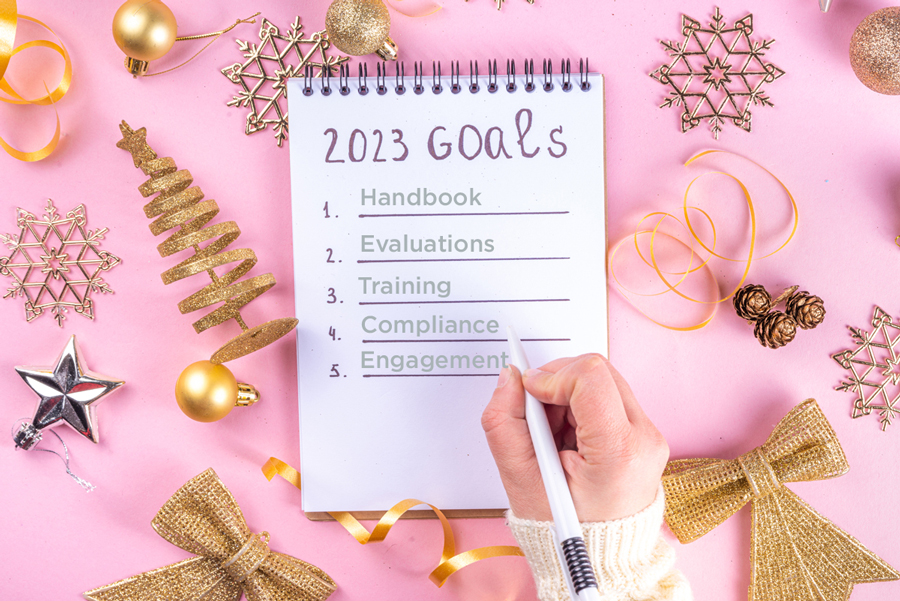 Review and update your employee handbook:
It's a good idea to annually review your employee handbook to ensure that it accurately reflects current policies and procedures. This is especially important if you've made any changes to your business in the past year, such as implementing new technologies, expanding your team, or setting new policies in place like remote work.

Pay attention to ongoing changes in employment laws at both the federal and state levels and check to make sure your policies are compliant and up to date.

Don't forget to review the updated handbook with your team and collect a signed acknowledgement from every employee.


Conduct performance evaluations:
Performance evaluations are a key tool for helping employees understand their strengths and areas for improvement, and they allow you to set goals for the coming year. Be sure to schedule time for evaluations with all of your employees. If you've been reading this column for a while now, you'll now that we recommend ongoing and productive feedback and coaching. However, the annual performance evaluation can be a great tool for reviewing the past year, particularly if you engage in annual salary increases.


Review and update your training and employee development programs:
Training is essential for helping employees stay up to date on the latest skills and knowledge in their field. Take a look at your current training programs and consider whether they are meeting the needs of your employees. Are there any areas where additional training would be beneficial? Have there been any process changes/improvements that could stand to be reinforced? Are there skills, policies, or procedures that might require a regular refresher? Keep those skills sharp!


File audit and compliance/employment posters:
Start the new year with a clean slate by doing a compliance audit of your employee files. Purge (shred or burn) old materials that are past their retention date. But be cautious! You cannot purge documents just because an employee has been terminated or left the company. Different types of documents have different filing and retention requirements. It's also a good time to make sure your employment labor law posters are up to date and if new ones need to be ordered.


Invest in employee engagement:
You cannot afford to take this lightly. Your employees are the lifeblood of your operation, and the quality of their work depends on their engagement, happiness, and well-being. Rather than take it by chance, make a thoughtful and multi-tiered plan for engagement throughout the year. Keep in view Daniel Pink's pillars of motivation: autonomy, mastery, and purpose. And take another look at our August 2022 HR Coach for more thoughts on building your engagement strategy.
By making the time to address these key HR items, you can start the new year off on the right foot and set your business up for prosperity. While you're strategizing, consider partnering with an HR professional to support your success for a very happy 2023!
  [CD0123]
---
Amy Cooley is HR Administrator for The LMC Groups. She can be reached at amy@lmcpeople.com.