BY SUSAN ROSE
Today's fleet buzzword continues to be "options": Operators want and need flexibility with their fleet, demanding not only a fair price point for their metal, but also one that has a great ROI as they are running vehicles a little longer and using them for a wider cross-section of clients.

Competition within the full-size premium SUV segment is heating up with the return of the Wagoneer and Wagoneer L, a completely reimagined, three-row SUV that is equal parts luxury and utility for seating up to seven clients (including the front passenger seat), a to-die-for cargo area, and a starting MSRP that might surprise you. More on that later.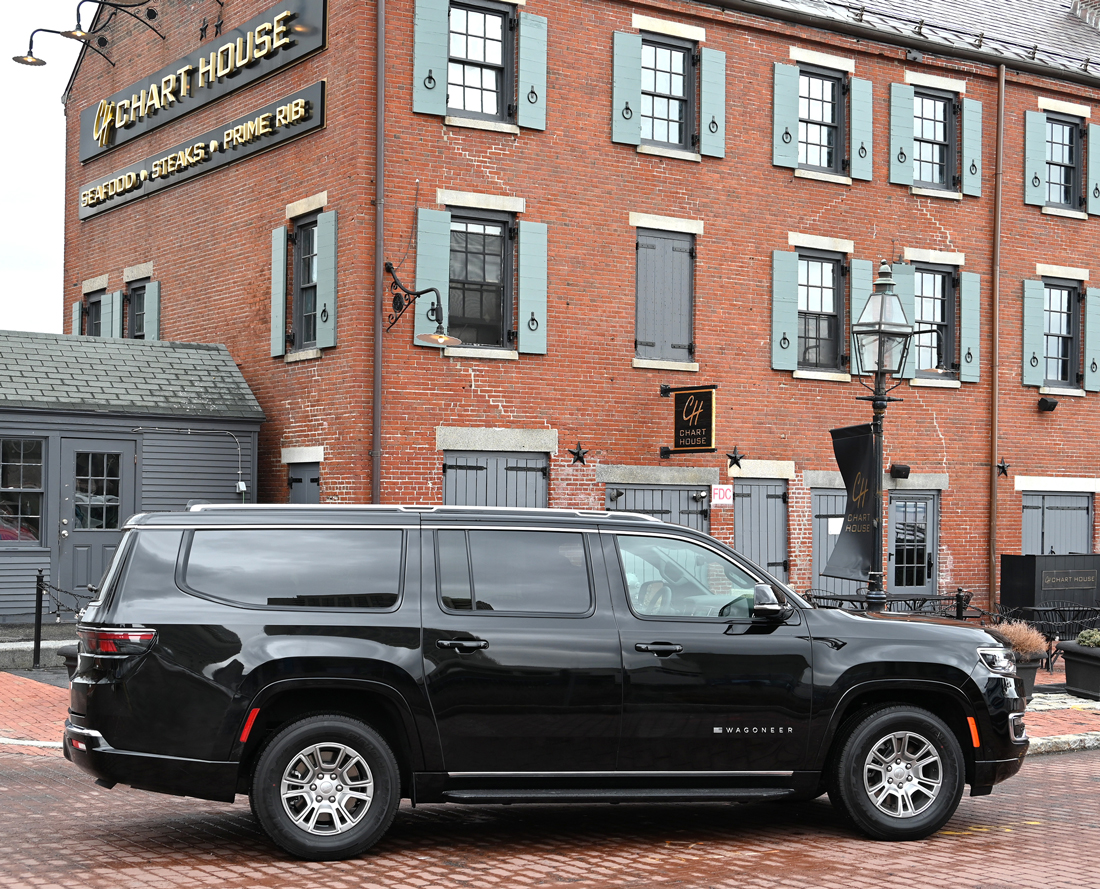 The 2023 Wagoneer L at Boston's Chart House restaurant Acton SoCal Penske was the first industry dealer to debut the Wagoneer L (for long wheelbase) as VP/GM Bill Cunningham was an early champion of the vehicle as a livery offering, which he recounted in the September 2022 issue of CD.

"We think the Wagoneer is unbelievable," Cunningham said in the article. "Not only is it a good-looking vehicle, but the first time I sat in it, I said: 'Man, this drives like an Escalade.' We think there's a lot of opportunity for this vehicle."

Working with Northeast Commercial Area Manager Ted Leppzer for Stellantis—a conglomerate of 14 automotive brands offering luxury and premium to mainstream trucks, SUVs, and commercial vehicles—they moved forward after testing with operators and receiving vastly positive feedback. Since then, they have been showcasing the vehicle at industry events, first at meetings of the New England Livery Association and then at the two most recent CD/NLA Shows, including last month's at the MGM Grand in Vegas.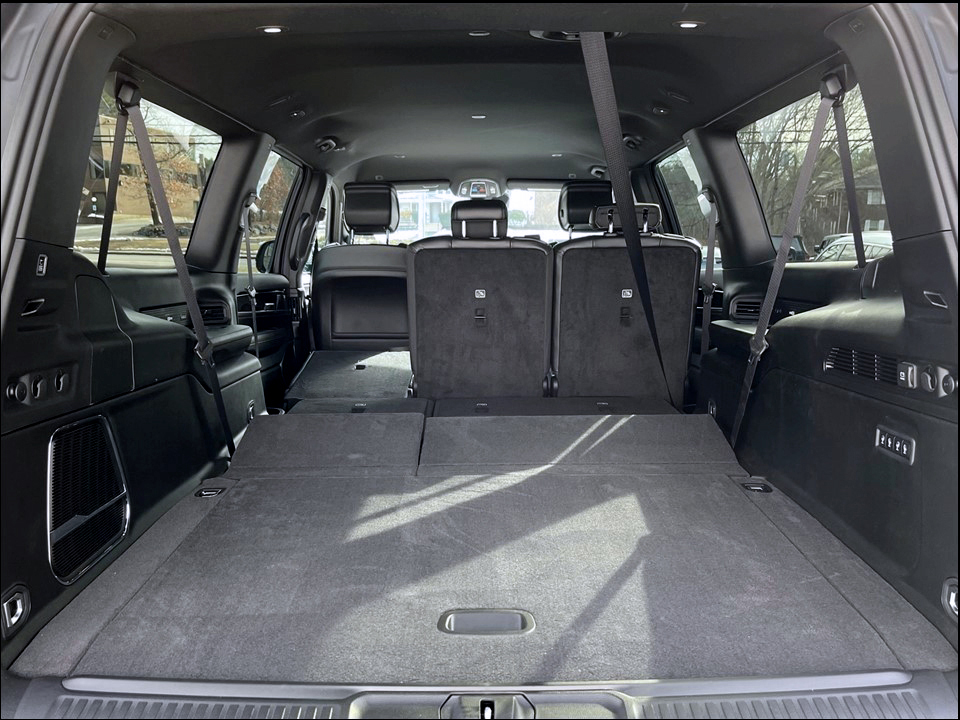 The Wagoneer L boasts 42.1 cu. ft. of cargo space The 2023 Wagoneer and Grand Wagoneer come in both standard and long wheelbase "L" versions, as well as numerous trim levels. After extensive dealer and operator feedback, Stellantis determined that the Wagoneer L (Model WSMJ76) is the optimum trim and price point for most livery operators, although the standard size Wagoneer (Model WSMJ75) is also a great option for those who don't need the additional cargo space.

The Wagoneer L has been cited for most overall passenger volume in its class as well as best-in-class volume behind the third row seats, according to Stellantis. The L version offers an additional foot of length (226.7 inches overall with a 130-inch wheelbase), which tremendously benefits the second row passenger as well as rear cargo space. Even with a fully functioning third row, there is 42.1 cu. ft. to haul just about anything your customers are bringing with them. Use the one-touch button to fold the third row for even more room.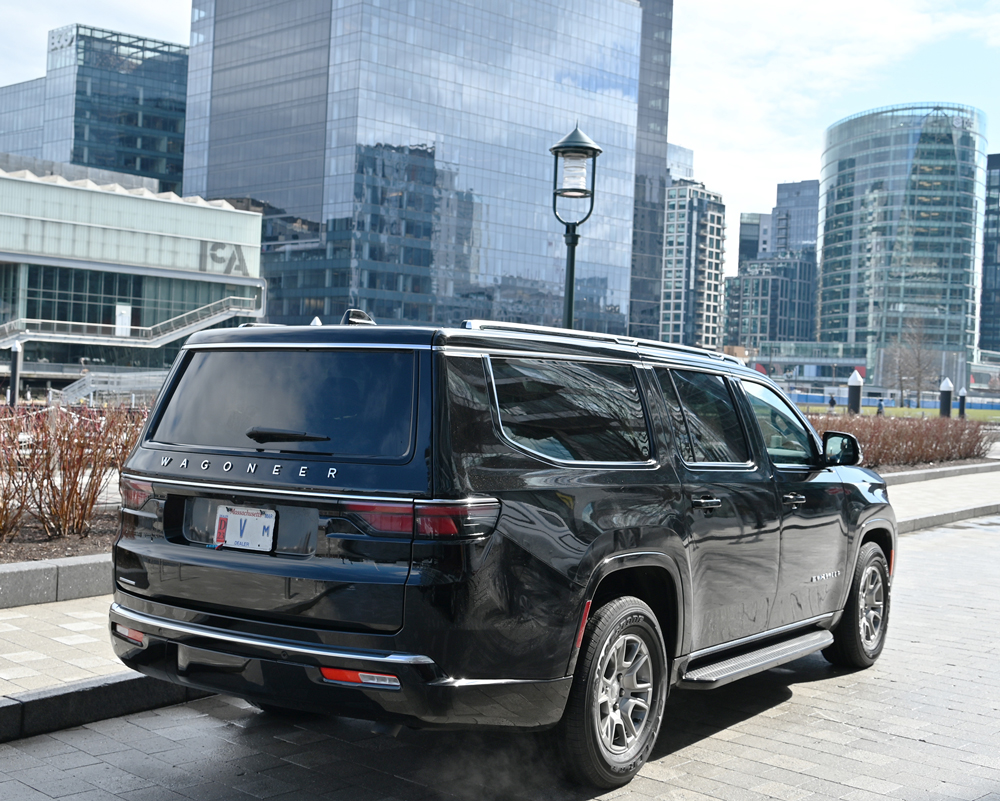 The Wagoneer L is on par with or beats its competitors when it comes to passenger room in both the second and third rows. The second row—standard as a bench or with optional bucket seats—has a comfortable 42.7 inches of legroom and 40 inches of headroom, while still offering a spacious third row with 36.6 inches of legroom and 39.1 inches of headroom. Both rows also boast leather reclining seats so passengers can adjust to their preference for a relaxed ride. Plus, the Wagoneer L is more than 83 inches wide, so there's plenty of space to spread out.

As for power, the Wagoneer L comes with a standard 3.0L inline 6 (twin turbocharged) that delivers 420 horsepower and replaces the former V-8 that was available in the 2022 MY—with improved fuel economy without sacrificing performance. You're looking at a fuel economy rating of 16/22 (city/highway) for the 4x4 and 17/22 for 4x2.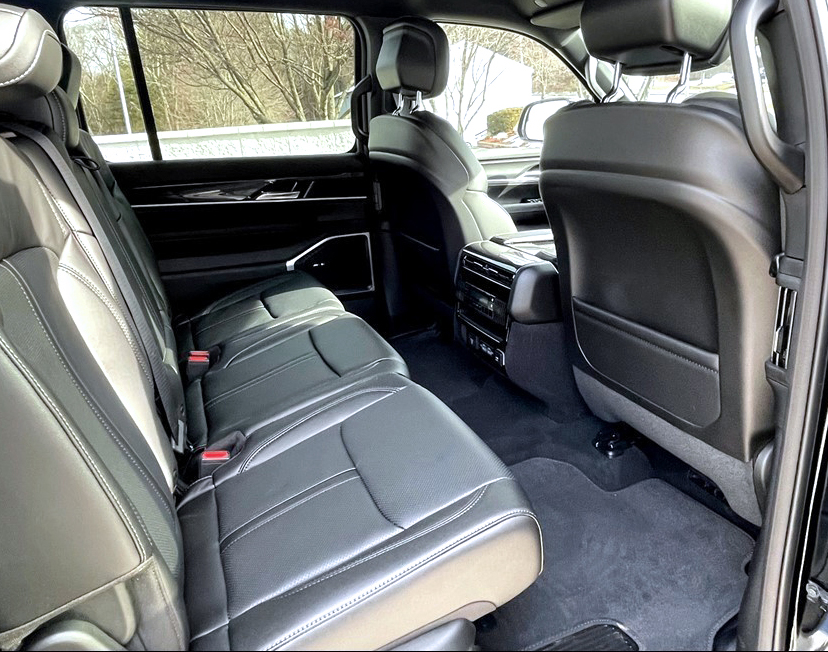 A highlight of the three-row SUV is its spacious interior "The ride quality of this vehicle is simply outstanding," says Leppzer. "When we debuted the vehicle with our dealers, that was consistently one of the things they said about the Wagoneer. It's nimble, it's easy to maneuver, and there's power when I need it." For the record, the turning radius is 19 feet, and we had no issues when driving it through the narrow streets of Boston for our photo shoot.
"The interior cabin is lavish and refined to give clients the experience that they are truly traveling in luxury." – Ted Leppzer, Northeast Commercial Area Manager for Stellantis
Leppzer says the experience of working two national trade shows was very telling. "The feedback from visitors at both shows was overwhelmingly positive. Many would stop at the booth and ask, 'What is this?' After sitting in it, the most common response was simply 'wow!' The interior cabin is lavish and refined to give clients the experience that they are truly traveling in luxury. When visitors would inquire about pricing, I would always ask them what they thought it was, and everyone would guess around $80,000. They were genuinely surprised when I told them you could get into one for less than $68,000," says Leppzer.
While Stellantis is still putting the final touches on its livery program, Leppzer knows that the price point for such a massive and refined luxury SUV is going to continue turning heads. The standard warranty is 3-year/36K bumper to bumper and 5-year/100K powertrain. The same applies to the standard Wagoneer wheelbase.
Leppzer has been in commercial vehicle sales for years, but he's new to the livery industry and says that he's enjoyed getting to know and connect with operators, as he's starting to see some familiar faces and be recognized in return.
"Collaboration with Matt Dinsmore of Stellantis as well as my long-term relationship with both Bill [Cunningham] and [Acton SoCal Penske President] Coleman [Hoyt] led to the idea of introducing the Wagoneer L to the industry. With more than 30 years of experience selling livery vehicles, they have been instrumental in providing insight into the industry and have helped tremendously in shaping our new livery program," says Leppzer.
[CD0423]