Q&A With Barry Trabb of Complete Fleet Livery Sales
An industry veteran of close to 30 years, Complete Fleet Livery Sales President Barry Trabb prides himself on making the vehicle buying process "seamless." We spoke to Trabb about what 2023 holds for Complete Fleet and the current marketplace as the chip shortage continues to affect the industry.

Chauffeur Driven: What's new in 2023 from Complete Fleet?
Barry Trabb: We're starting to see a steady stream of inventory again from our partners at Ford-Lincoln and Volvo, which is great for our industry. We're also thrilled to have a new Complete Fleet team member on board, Deserie Petrillo. Deserie brings with her a wealth of customer service experience originating from her previous positions in professional services. She's now the Volvo sales ambassador at our sister location, Smythe Volvo, in Summit, N.J. Deserie came onboard in January, and it's worked out phenomenal. She's extremely efficient and very outgoing. She's also detail oriented and professional, and knows how to get the paperwork done quickly, which is critical when purchasing a vehicle. We are thrilled to have her on the Complete Fleet team.

CD: Are you still dealing with supply chain and delivery issues?
BT: While we've been fortunate to be able to deliver vehicles, our clients still need to be prepared to order in advance. Communicating and anticipating inventory needs is very helpful so that purchases can be plotted out. Luckily, we're not seeing issues on all our products, but in some cases, we're looking at lead times up to five months from when the order is placed to when the vehicle comes in. Demand is outstripping production for certain vehicles, like the Ford Transit, and inventory is trickling in. Therefore, the more time our clients have to plan specialty orders, the better off they're going to be. Unfortunately, we've had clients waiting over a year for Transit vans. On a positive note — we also sell commercial vans, and we're starting to see those come in after zero movement in 2022.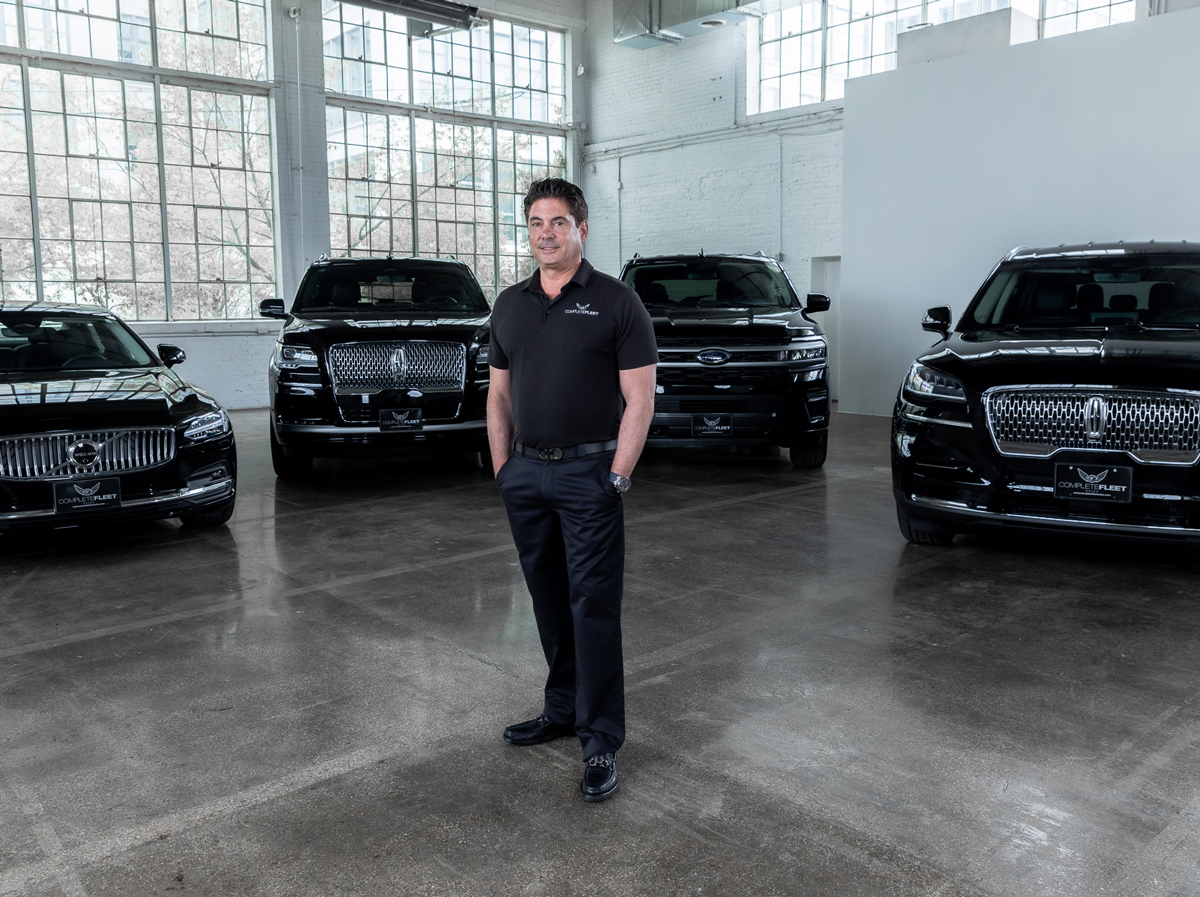 Complete Fleet Livery Sales President Barry Trabb CD: What's the reception of the electric Ford Mustang Mach E in the industry?
BT: We expect to see a gradual shift, but a number of forces are encouraging livery operators to think green. We have many clients who absolutely love the Mach E. It was a good step for the industry. Operators who've purchased the vehicle have reported that their customers enjoy its quiet, spacious ride. We've found that corporate customers, particularly those whose organizations are driving sustainable practices, are especially happy with use of the Mach E. Moreover, Ford continues to find ways to improve the value of the Mach E by bringing feature advancements such as increased battery range and shorter charging times.

CD: You've been with Ford Pro for decades. What are they like as a partner?
BT: I've been selling Ford-Lincoln-Mercury products for 24 years, and I've been a part of Maplecrest Ford Lincoln in Union, N.J., for 13 years. They've been a great partner with Complete Fleet and we're happy to be part of their dealership. Ford Pro Livery Marketing Manager Kim Johnston, who I've worked with since the beginning of my career, is an industry expert. She is a champion for both the customer (end user) and the dealer. Kim has been instrumental in bringing the very popular Lincoln Aviator to the fleet livery program, including securing special pricing and an extended livery warranty. In addition to the Aviator, Kim was able to have the Ford Expedition and Ford Transit added as well. We speak regularly to discuss clients' needs, inventory management, new products, and most importantly, service-related issues.

CD: Tell us about your relationship with Volvo.
BT: We began working with Volvo just before the pandemic. They have been a terrific partner and are extremely attentive to our clients, and they are dedicated to effectively working through any sales and/or services issues we might have. They understand luxury ground transportation and have been effective at meeting the demands of our industry and its customers.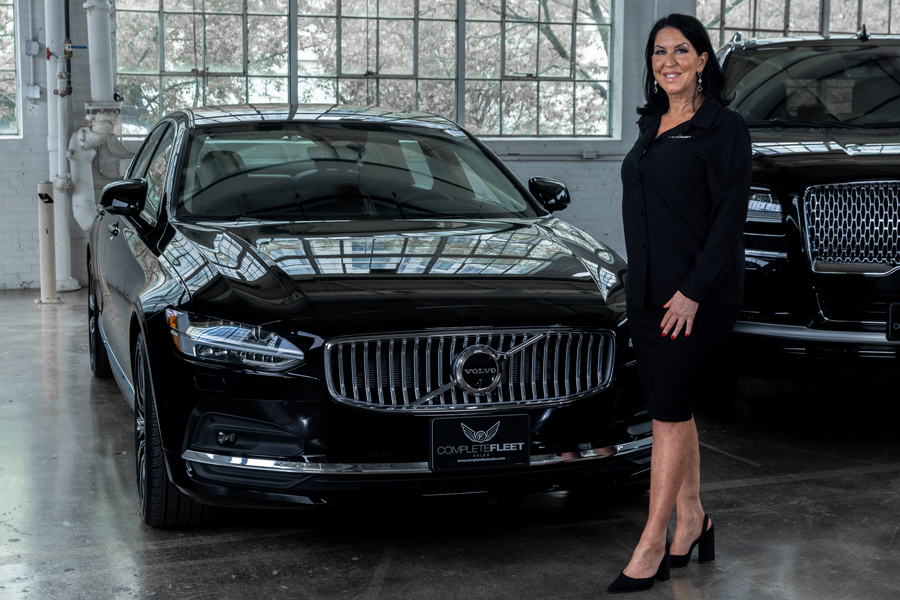 Complete Fleet Livery Sales Volvo Sales Ambassador Deserie Petrillo The Volvo S90 has been very well received by our clients. It has tremendous curb appeal, rear seat luxury, and is the only true livery sedan in the marketplace. It's competitively priced and comes with a great warranty: 3-year, 100,000-mile bumper-to-bumper and 150,000-mile powertrain coverage as well as factory scheduled maintenance up to 30,000 miles. In addition, the vehicle offers numerous safety features and has been a leader in automotive safety for decades.

I was just riding in the Volvo S90 the other night, coming back from the NLA Day on the Hill as a representative of the Limousine Association of New Jersey (LANJ). The ride was tremendous—super comfortable with great interior design details and tons of legroom. You're truly riding in a luxury sedan at an aggressive $50K price point. Fortunately, we've been able to secure more units than last year and we're looking to get more inventory for the summer—so we feel good about the ability to start meeting our client demands. However, this is also a product you need to plan for in advance.

CD: Despite being in the Northeast, are you able to deliver vehicles all over the United States?
BT: We are delivering vehicles across the continental US more now than ever as we are working closely with several trucking companies. Through the pandemic, I was able to help new clients in California, Arizona, and Texas secure vehicles when they couldn't get them locally.

According to my client, Jennifer Buffo of Pure Luxury Transportation in Northern California: "We have worked with Barry Trabb for a couple of years now. Buying multiple vehicles from him has been incredibly easy, even though he is out of state. Barry always makes sure we get exactly what we need, and everything is taken care of. The truck arrives in California from across the US, and it goes flawlessly. I would highly recommend Barry and his team for any vehicle purchasing."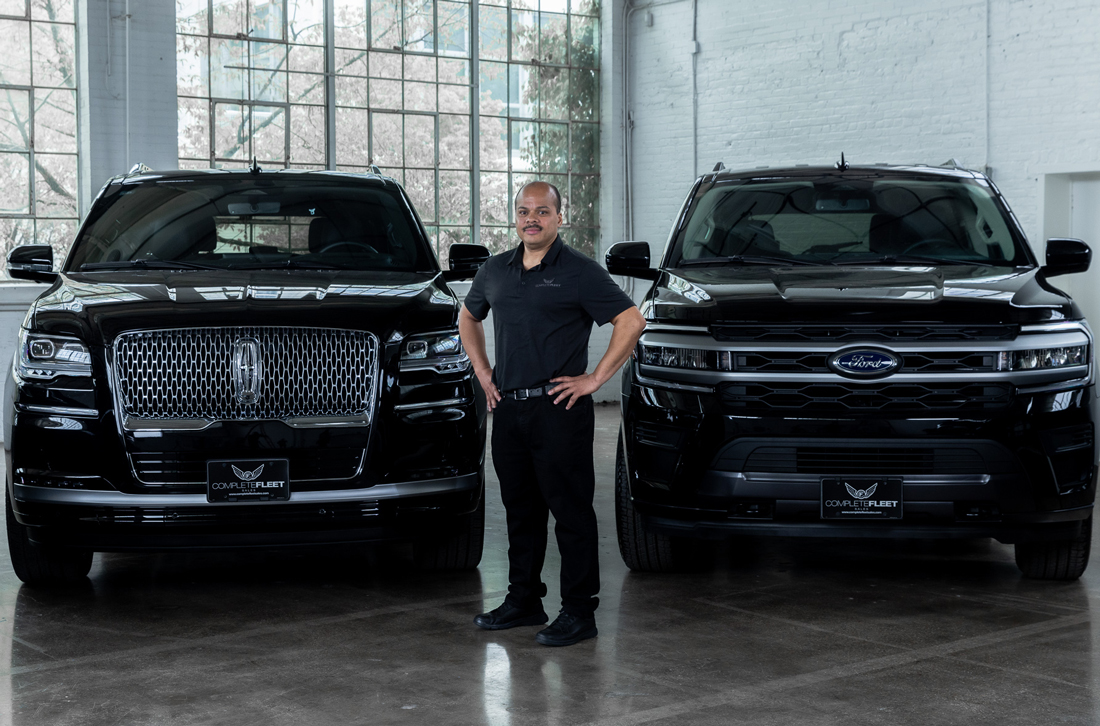 Complete Fleet Livery Sales Finance Specialist Dino Olivares We appreciate Jennifer and our loyal clients who see the balance between cost, quality, service, and reliability.

CD: How does Complete Fleet define service?
BT: Everything is about creating a seamless client experience at every point in the process. Whether you're a one-car operator or have a fleet of 100 cars, buying fleet can sometimes be stressful. We understand our clients' needs and we strive to make the process simple. Moreover, we pride ourselves on trust and integrity and meeting client demands for convenience—whether they shoot me a text message, DM me on Facebook, or send me an email with their vehicle request. Some of my clients no longer call me to place an order—they just send me a text, and we make it happen.

In addition to that, the paperwork process is extremely important. One of the positive effects of COVID is that it drove increased use of digital contracts over paper. Obviously, electronic agreements make the contracting process much, much faster for both the client and the dealership. Finance Specialist Dino Olivares is an incredible asset to our operation. He works closely with the banks to secure the best rate and terms for our clients—which sometimes requires having our lenders rework approvals to better suit the client's needs. He is always three steps ahead when it comes to financing and the paperwork process. In addition to his financing role, Dino is an expert on the Division of Motor Vehicles (DMV) side. He's extremely thorough and is always looking through a client lens. Dino's an integral part of Complete Fleet—he's been with Complete Fleet for 17 years, but his livery experience dates back to 1996.

CD: Can you tell us about your involvement with industry associations?
BT: If we don't support our national, state, and local associations as a vendor, then we're not supporting the interest of our clients and the industry. Our participation is imperative in order to give back to the industry and the clients that support us. It's been a gratifying experience for me to be involved with LANJ. I've been on the executive board as treasurer for 7 years. Our board members are dedicated to discussing the issues and concerns facing our industry, which includes lobbying our local politicians so our voices can be heard. It's also important to have strength in numbers so we are always looking to create new relationships and recruit new members.

CD: What do you like about being part of the chauffeured transportation industry?
BT: I've been in the industry since I was 17 years old, and it is deeply ingrained in me. I wake up every day ready to tackle our clients' needs. I love listening to and talking with my clients and helping them boost their business growth. I'm so grateful for the relationships that have blossomed in my business. Many of my clients have become close friends, which makes my job even more rewarding. Ultimately, it doesn't matter how many cars we sell—it's about establishing strong relationships, meeting changing demands, listening to their needs, and building trust. Trust is a strong bond and relationships will grow when you're willing to go the extra mile. I have many clients who I've worked with for more than 20 years. More recently, I have new operators approaching me saying "so-and-so recommended that I do business with you." Nothing beats a positive recommendation. Having their support and encouragement is what makes it all worthwhile. [CD0523]