BY ROB SMENTEK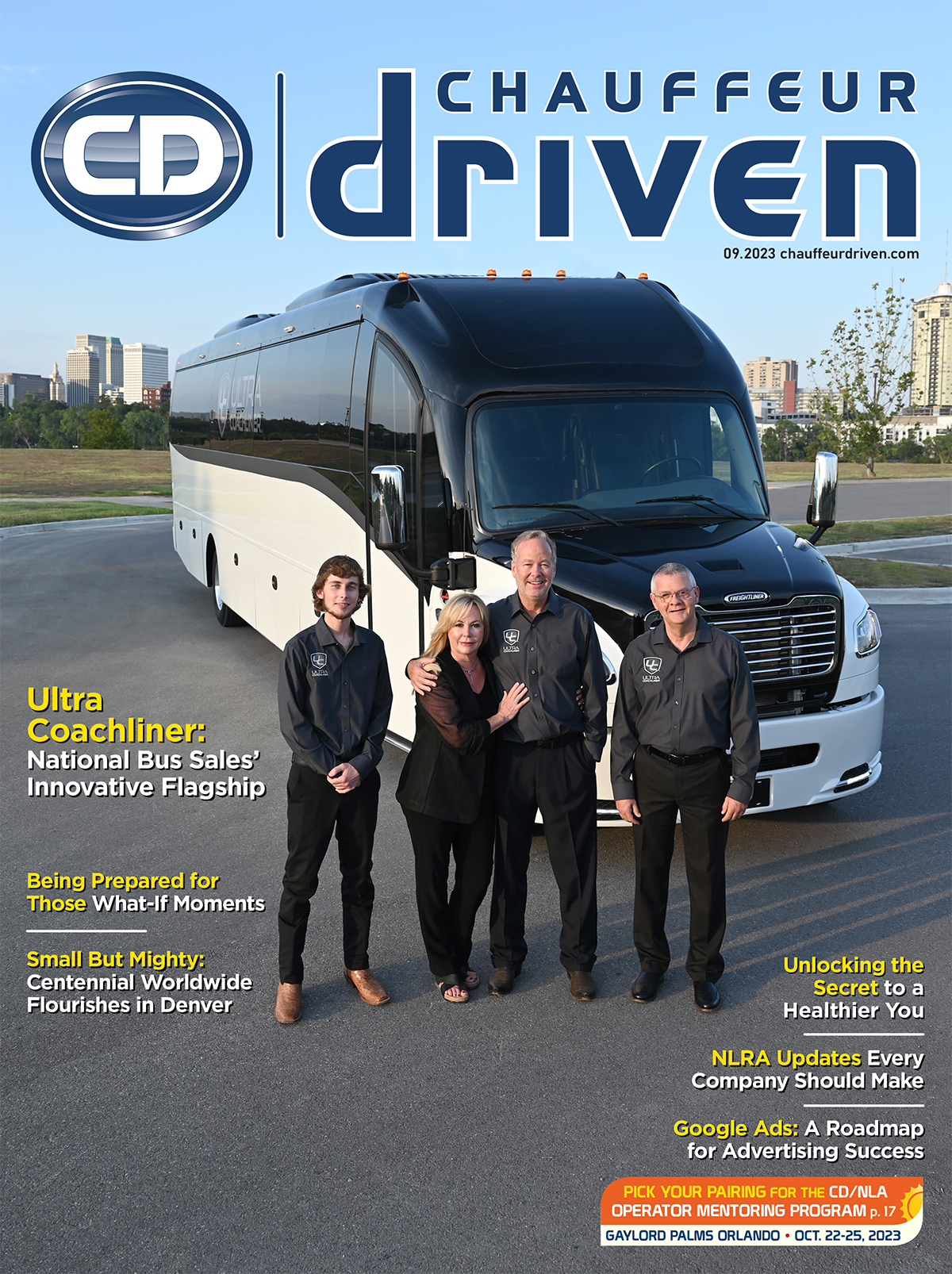 Cover Art: L to R: National Bus Sales Vice President Ben Henshaw, CEO Shannon Henshaw, President Steve Henshaw, and General Manager Mike Curtis with their flagship Ultra Coachliner DXL. Photography by Chris Weiss. When it comes to the Ultra Coachliner, the flagship commercial bus from National Bus Sales, there are a lot of words that can be used to describe the vehicle: unique, luxurious, spacious, even affordable. But just don't call it a cutaway.

"We refer to it as a front-engine motorcoach," says National Bus Sales President Steve Henshaw.

While, technically, the vehicle falls into the category of a body-on-chassis bus, Henshaw says that the Ultra Coachliner provides operators and passengers with a motorcoach experience while eliminating some of the challenges of owning and maintaining a motorcoach. For many, that begins with costs.

"The biggest advantage of the Ultra Coachliner is the fact that thousands of service facilities around the country are capable of doing service on this bus expeditiously," says Henshaw. "Not only is the operational expense of the vehicle half of what a motorcoach would run, but acquisition cost is significantly less than a motorcoach. Mechanical maintenance—oil changes, tires, brakes, batteries—is less expensive as well, and parts are widely available."

National Bus Sales has several different models of their pioneering Ultra Coachliner. First, they offer the SE 102, which is 102" wide and seats up to 51 plus driver. Then, there's their top-tier model, the DXL, a 56-passenger model that Henshaw says is particularly popular with motorcoach operators. Both have undercarriage storage of up to 556 cubic feet and are available with restroom and lift options.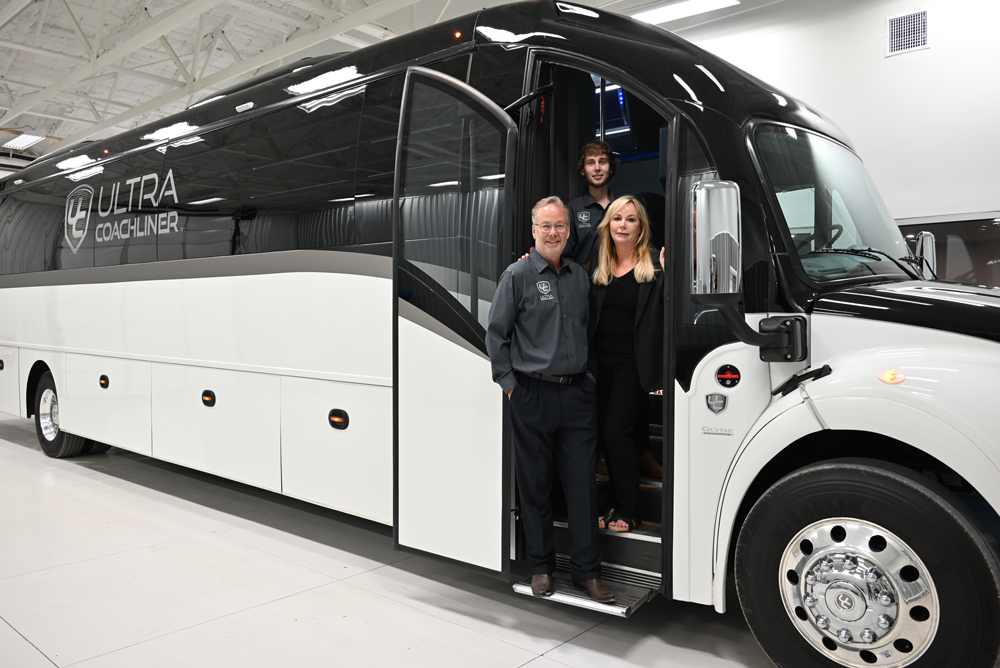 L to R: National Bus Sales President Steve Henshaw, Vice President Ben Henshaw, and CEO Shannon Henshaw Built by Executive Coach Builders exclusively for National Bus Sales, the Ultra Coachliner DXL is constructed on the builder's popular Supercoach XL model, and then heavily modified to meet the demands of motorcoach operators.

Equipped with a Cummins 9L diesel engine and Allison transmission, which are commonly used on motorcoaches, standard modifications include sound-deadening insulation, high-strength steel, as well as a new front and rear suspension system with ride control. "This is the only Freightliner bus on the market that we're aware of that modifies the suspension specifically for passenger transportation," says General Manager Mike Curtis, who spearheads the Ultra Coachliner line for National Bus Sales. "That means passengers will get a much smoother ride."

The vehicle also includes a modified air conditioning unit with an industrial commercial grade compressor.

"Because we're in the reconditioning business, we've found it's very common to rebuild or replace floors in motorcoaches or shuttle buses. Many shuttles and motorcoaches have plywood underneath the vinyl flooring. Once moisture gets under there it can't escape, and what you get is a floor that begins to rot or grow mold. Also, plywood becomes a food source for ants, and once they get in, they're difficult to get out. So, when we designed the Ultra Coachliner, we eliminated all the plywood. We use a composite called Duraguard+ flooring that is very strong and fire retardant. You'll never have to worry about rot, mold, or insects."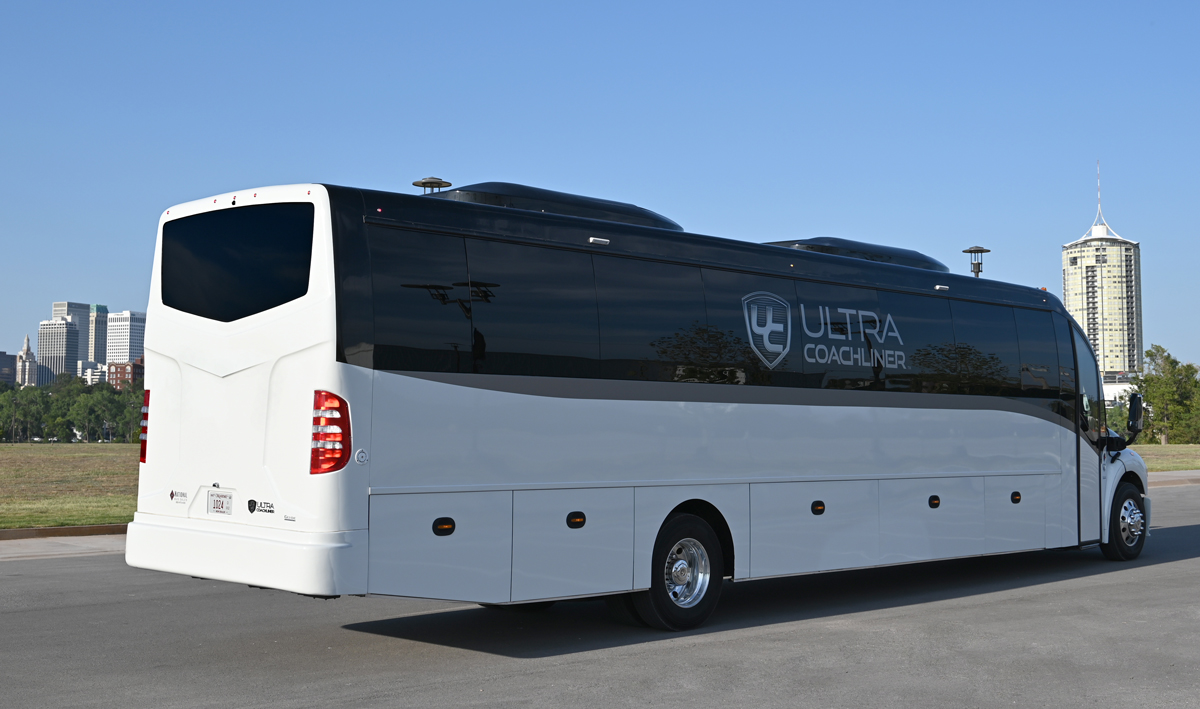 The Ultra Coachliner DXL rear profile With luxury motorcoach operators in mind, National Bus Sales upgraded the interior using variations of fabric, and fitted the vehicle with high-comfort seating that's not only ergonomically more comfortable for long rides, but also includes USB/110V outlets—a staple for many riders. Further, the bus has a high-end air ride motorcoach driver's seat that's been designed to give the driver more space and increases their comfort especially for those longer hauls.

"The interior is every bit as luxurious as what you'd find in a motorcoach. And we continue to try to improve the product," says Henshaw.

However, with any equipment designed for passenger travel, safety's the name of the game.

"We come from the school bus industry where safety is a big concern. So, we've added high-strength steel in critical areas to improve the durability of the bus," says Henshaw. "The steel used in this bus is significantly heavier than anything you'd find in a shuttle bus, and several times heavier than a school bus. The Ultra Coachliner has been engineered to pass simulated FMVSS 227, for high-speed rollover."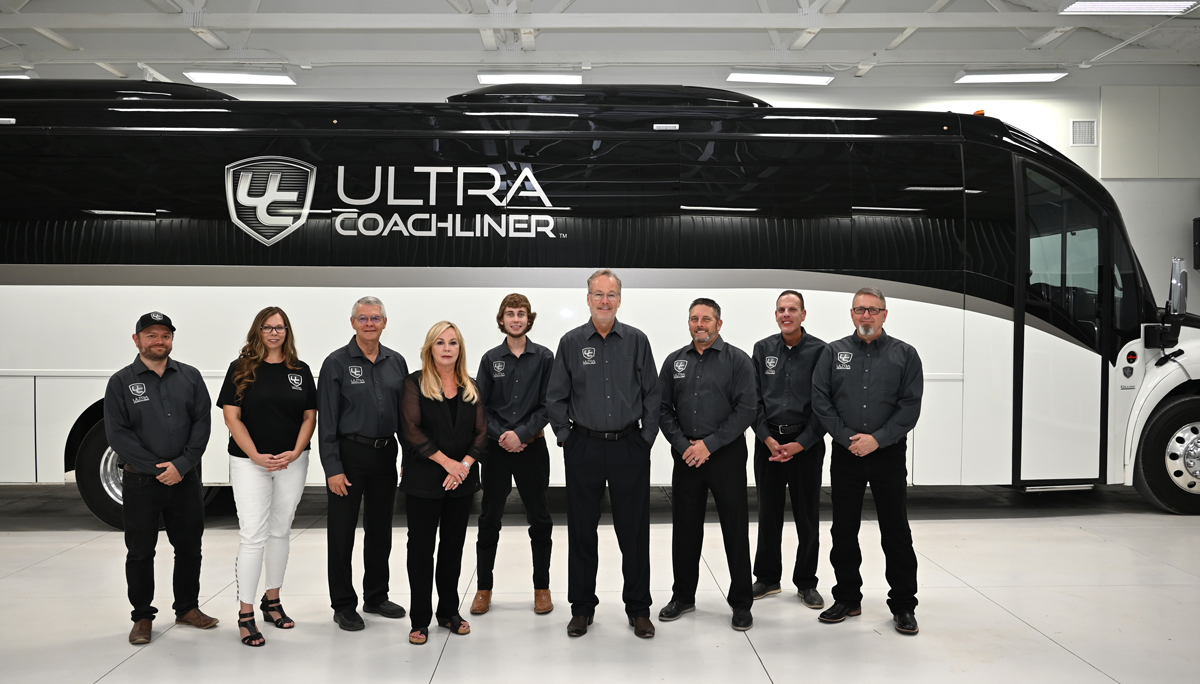 L to R: Parts Director Clint Jackson, Marketing Director Rachel Garrison, General Manager Mike Curtis, CEO Shannon Henshaw, Vice President Ben Henshaw, President Steve Henshaw, Regional Sales Manager Jason Brown, Warranty Manager Frank Ferlazzo, and Service Director Eric Anderson "This is not a typical shuttle bus or cutaway. It has just as much power as a motorcoach," adds Curtis. "Many people have a preconceived notion of what a body-on-chassis vehicle is like—and that is not what this is. The Ultra Coachliner is a substantial vehicle designed for 15-20 years of commercial use. Moreover, the total cost of operation is significantly less than a motorcoach. It's easier for an operator to make money with it."

This bus falls into the category of a medium-duty truck, parts are easily accessible and affordable, and regarding the vehicle's efficient fuel economy, Curtis cites the Ultra Coachliner's aerodynamic design, relatively lighter weight, and smaller engine. What's more, because the bus has only two axles, tolls are cheaper on the nation's highways, bridges, and throughways.

"The goal was to build something that is easy to maintain and inexpensive to repair and operate," says Henshaw.

Although he has a background in cars—he once owned an auto body shop where he worked on high-end brands like Mercedes-Benz, BMW, and Porsche—Henshaw got into the bus industry in an unforeseen way.

"I moved out here to go to Bible School," says Henshaw. "When I relocated, I moved in a school bus. I stumbled upon a used bus for sale and loaded all my stuff in it to come here. When I got to Tulsa, I sold it—which is what got me into the bus business."

Using his expertise in bodywork, Henshaw initially started selling rebuilt school buses, which involved refreshing everything from mechanical to aesthetics so that he was giving a sound, quality vehicle a second life.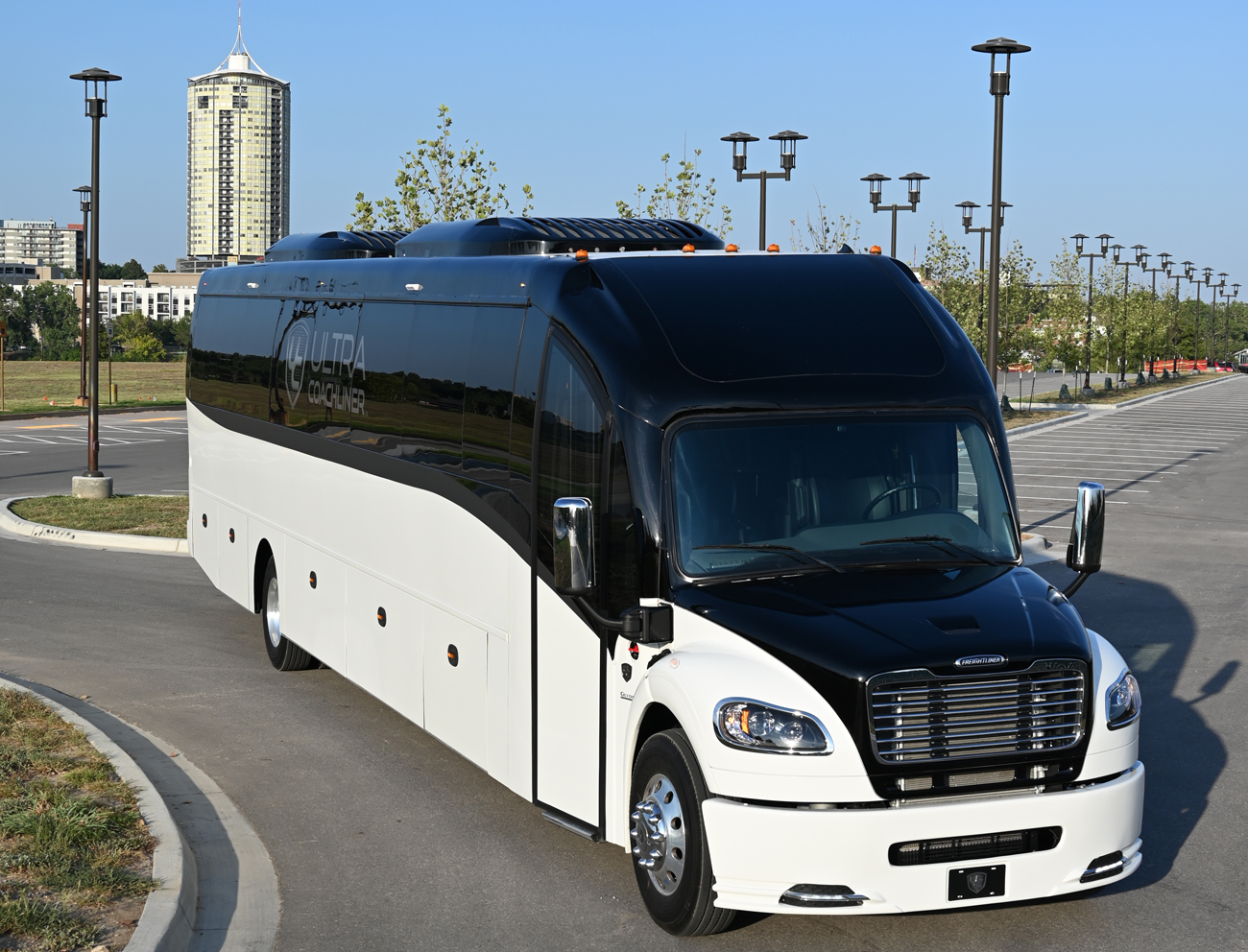 The 56-passenger Ultra Coachliner DXL "In fact, we coined the phrase 'reconditioned school buses' back in the early '90s," he says. "Since my background was mechanical, and I never liked selling anyone junk, I would fix the buses up and make them look as close as I could to new. I put warranties on them, which was unusual for the time. We developed a nationwide market for those buses. At a certain point after that, we started to sell commercial buses—starting with shuttles and moving up to motorcoaches. We used the same knowledge we had in reconditioning school buses and applied that to shuttles and motorcoaches. Ultimately, we became one of the premier reconditioned motorcoach companies in the country. We did a complete refurbishment; we'd take old buses and refit them with new front and back caps, floors, interiors, and drivetrains. We'd make it look like a brand-new model, even if they were 8-10 years old. That became a big part of our business."

While the company is now 75 percent commercial buses over 25 percent school buses, it was the educational marketplace that led to the development of the Ultra Coachliner.

"The idea of the Ultra Coachliner came as a result of the fact that we were selling a lot of buses to schools and colleges for their activity and sports departments," says Curtis. "At the time, there were two choices: a school bus and a motorcoach. In many cases, they wanted upgrades from the school bus, so they were buying motorcoaches instead. However, the schools weren't experienced in maintaining the coaches, which, in some cases, became a money pit for them. We wanted to develop something with the benefits of a motorcoach and the maintenance of a school bus."
"The Ultra Coachliner is a substantial vehicle designed for 15-20 years of commercial use.

Moreover, the total cost of operation is significantly less than a motorcoach.

It's easier for an operator to make money with it."

– Mike Curtis, GM Ultra Coachliner for National Bus Sales
While Henshaw demonstrates a great deal of satisfaction in the vehicles he offers to clients, he is especially proud of the fact that National Bus Sales has remained a family-run company for more than three decades.
"My wife Shannon and I started the company from scratch 34 years ago. She currently serves as CEO and oversees accounting for the company. My oldest son Ben has been on board for approximately nine years, and he serves as vice president," says Henshaw.
While being able to provide an affordable and first-in-its-class vehicle is important to National Bus Sales, Henshaw believes that delivering excellent customer service is more essential. The company offers what they call the White Glove Service Program with the Ultra Coachliner.
"We've brought in some top people from the auto industry, including some from Mercedes Benz, to help us run our customer service department," says Henshaw. "Our goal is to provide a level of service that coach operators have not experienced before. We are customer-service centric. We don't want to just provide a great product; we want to provide amazing service behind it. We call this our White Glove Service Program. When a customer calls us with an issue with a vehicle, we have a team that reacts right away to the customer's needs. If necessary, we will have a part to you in 24 hours. We have a team that will work with your local mechanic or service provider to troubleshoot and expedite repairs. We also have mobile service vehicles that will travel when needed. Because we're a nationwide company, we've developed a great network of partners who help us maintain the buses we sell, rent, and lease. It's our goal, with the Ultra Coachliner, to give a Cadillac or Rolls-Royce experience when they buy this bus."
  [CD0923]