BY PAT CHARLA AND JENNIFER WONG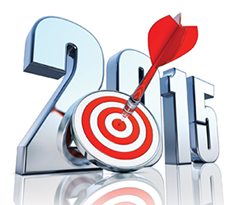 The marketing arena is going crazy with loads of trends that come and rapidly grow, and others that come and rapidly go. We checked out numerous reports, assessments, and predictions for marketing trends that were aimed to reign over the next year and hand-picked 13 that are relevant to our industry. We kept an eye on the various types of marketing, giving inbound, outbound, traditional, and social a slice of the action. After all, it's never a wise bet to put all your marketing eggs in a single basket. The most effective plan can be a comprehensive one where different forms of marketing work together for an even bigger impact. Not surprisingly, that's one of the trends we spotted. But we won't keep you in suspense any longer. We'll let you see for yourself what's in store for the wild and crazy marketing scene in 2015.

1. Simplicity outweighs hullabaloo.
Consumers are becoming fed up with the digital uproar that gets louder, faster, and more intense by the millisecond. CMO.com, a resource for marketing officers, says they're perched to rebel against the ongoing escalation of over-stimulation, and instead embrace marketing that is simpler and easier on the mind. Since the trend of hyper-connectivity couldn't really get any higher unless it were to result in something like a brain explosion, there is nowhere to go but back to the quieter, simpler things in life. This trend toward simplicity will reign not only on the marketing scene but also in the consumers' desire for services that don't complicate their lives.

2. Go mobile or get left behind.
Everyone agrees that the popularity of mobile devices will continue to grow in 2015, driven by smartphones, tablets, and even beacon and wearable technology. A study from the market analyst company Strategy Analytics reveals that there will be approximately 2.5 billion smartphone users in 2015, up from 1.5 billion in 2013 (for comparison: About 7 billion cell phones are in use across the planet, so smartphone usage represents about 36 percent of this).

The numbers are staggering. Responsive web design is no longer optional and is not necessarily enough to capture the attention of your viewers. Busy professionals spend more time on their smartphones than desktops, and more than half of all email is read on a phone. How does your website look and function on a smaller phone screen? Is your blog post or video short enough to view while waiting in line at the bank? Mobile compatibility is paramount in 2015.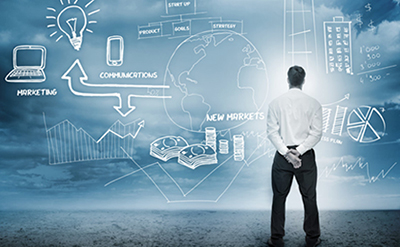 3. Marketing gets (even) more personal—and sometimes even emotional.
Since marketers will find they can no longer draw an audience through over-the-top antics and outlandish campaigns, they'll need a new way into consumers' hearts. That means getting more emotional and personal. Consumers already have high expectations of the kind of interaction and engagement a company should provide, and those expectations are going to become more fine-tuned.

They—consumers—want your business to know who they are, what they do, what they like, and then tailor your marketing and communications exactly to their needs. This trend has already been in place, but marketers are expected to focus on it even more deeply and add an emotional element that tugs at consumers' heartstrings. This is a prime place to create and launch things like personalized loyalty programs, surveys, or other face-to-face interactions that can show consumers you're aiming for the personal touch.

4. Metrics move up the scale.
Metrics are already a part of the modern marketing scheme, but you can expect them to get even more detailed and complex to give you a better idea of your marketing's effectiveness. All that measuring and calculating will indeed come with new tools to help you perform them, and even those that further optimize your efforts to maximize results.

The metrics move ties into a related trend of using automation and other marketing technologies to streamline processes, keep tabs on customer behaviors, and enhance your overall marketing plan. This is expected to especially count in the world of outbound email marketing, where platforms and systems continue to evolve to meet specific and often complicated email marketing needs.

5. Content marketing continues to explode.
Content marketing isn't going anywhere. If anything, it will be in even greater demand as inbound marketing continues its strong foothold on the scene. You may see a shift, with fewer promotional items and more problem-solving, newsy content, as well as content so useful to consumers that they may actually be willing to pay for it. For real.

People don't want to know about your product or service, per se. They want to know what your service can do for them or how it relates to the world as a whole. This movement will also result in a stronger emphasis on the brand and its place in the world. So you might want to get busy on some charity work or host a few feel-good events in your community, which is of particular importance to your younger corporate passengers.

6. Local becomes where it's at.
The local focus will be a hot one, perhaps as another form of consumer rebellion against the worldwide, often anonymous reach of the web. Fast, local service and events can boost your power in this arena, as can the use of GPS technology. You can pinpoint exactly where consumers are and then identify exact solutions they may need at the moment. Imagine the marketing success you could have if you were able to dispatch a sedan to a customer or prospect who you knew was waiting at a local bus stop in the rain. The technology is in place for you to do just that in 2015—and it's not just companies like Uber that can do it.

7. Radio gets the attention it deserves.
While radio, print, and TV ads continue to serve as effective forms of marketing, they're getting largely shoved to the side in the digital arena. Radio is expected to take care of that by actually overtaking its competitors in local ad spending. BIA/Kelsey Senior Vice President and Chief Economist Mark Fratrik points out that radio has already started to deliver other digital services that draw a crowd, and local radio stations are primed to prosper. They can reach an audience sector that your competitors may have been ignoring, providing you with fresh leads and potential business. Plus, a catchy jingle can get caught in your head.

8. Integration of traditional and digital becomes more prominent.
Other traditional forms of marketing will be making firm friends with digital forms, particularly when it comes to the bond between traditional and social marketing. One can be used to boost the other, with mentions of print ads and TV spots on social channels along with the mention of Facebook, Twitter, and social channels in traditional marketing media.

Other ideas noted by Exact Target include holding an online contest where the winner appears in your next print ad, or starting a story with traditional means that continues the tale on your website or social channels.

9. Multi-channel programs become a way of life.
Just as no single form of marketing is best to reach the widest range of potential customers, neither is one single channel. Unless your business is reaching out across various channels, you're missing tons of opportunities to keep your brand in the forefront of consumers' minds. Different channels include online and off-line avenues, such as email, social, virtual and physical events, webinars, pay-per-click ads, and anywhere else you know your potential customers are likely to hang out. Bus stop shelter in the rain, anyone?

And guess what? You again have high-tech tools that keep track of how much interaction you may be having with people in your database to make sure you don't end up saturating them with your brand. For instance, Marketo uses a marketing automation tool that sets a communication limit, preventing it from sending anyone an email more than two times in a single week.

10. Real-time marketing keeps kicking.
Also called agile marketing, real-time marketing lets you change and adapt your in-progress marketing efforts to match the needs of the consumer. It's working, and working well, with a handful of predictions all mentioning the concept and hailing it far into the future. It again gives you a personal touch by letting you track consumer behaviors and correlate your efforts accordingly. And yes, there are plenty of high-tech tools you can use to help with your real-time marketing efforts.

11. Content becomes more visual—and "snackable."
Another shift in content marketing involves the type of content that's expected to be en vogue. Consumer attention spans continue to shrink, which means shorter and more easily digested content is the way to go. Attention-grabbing photos and micro-videos are one way to go about it. Vine-sized videos are expected to surge to the top as one of the hottest new ways consumers and companies alike will choose to communicate.

12. SEO becomes less of a stand-alone strategy.
SEO was once considered a "mysterious" form of marketing. You really didn't know what your SEO company did to get your site to appear in search results, nor did you care. In 2015, SEO will be less about exploiting search engine loopholes (that's the "mystery" part) and more about ensuring technical compliance with search engines. This means building a website with clean code, relevant content, and a good user experience. Google has advanced methods for evaluating these attributes, and will reward sites that do it the best.

13. Employees and fans become spokespeople and brand ambassadors.
You already have a strong and wide-reaching marketing team in place, perhaps without even realizing it. The team consists of your happy employees and satisfied fans. Companies are expected to hop on this concept by empowering employees and fans to tell your brand's story online.

Two keys to making this happen include giving them easy online tools with which to do it and letting them do so of their own free will. Simple online tools are available to help you make it easy for people to share their stories and connections with your company. Just remember: You can encourage them to voluntarily share their experiences but never make them do it. Otherwise, they'll feel used and cheapened instead of happy and satisfied.

While you're not expected to follow every single trend coming down the marketing pipe, it's good to keep all of them in mind when planning your next transportation marketing move. Chances are, it will be a successful move if you review the current consumer mindset and marketing landscape.

Success may also be boosted by keeping your content short and sweet, integrating your traditional and digital marketing efforts, using a range of available channels, and beefing up your efforts with simple and easy-to-use automated tools. Keep it simple, make it personal, maybe think about a radio ad while you're at it, and you may be even more successful still. Whatever you do, don't be afraid to be creative and to experiment until you land on a lineup of techniques that best suits your and your customers' needs. Regardless of the specific trend, the biggest marketing challenge facing companies in 2015 is the ability to stand out from the rest. Put simply, it's become a very crowded and very competitive space. Winning today is less about being the most digitally and technologically savvy and more about understanding your customers' journey the best. [CD0115]