BY SUSAN ROSE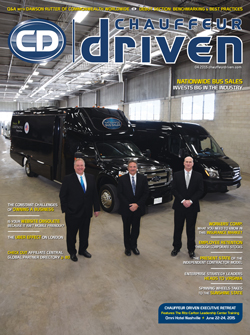 Cover Art: Nationwide Bus Sales' Dealer Principals Barry Huebner (left) and Jim Bridgewater (center) and National Sales Manager Chris Norlin. Photography by Chris Weiss. Almost four years ago, Midwest Transit—which has been selling buses for nearly 40 years—debuted its new luxury division, Nationwide Bus Sales, at a bus show in Chicago. Midwest's Dealer Principals Barry Huebner and Jim Bridgewater had been regular exhibitors at many of the bus and specialty shows, selling thousands of buses every year, including school buses (which put the company on the map), paratransit vehicles, church and activity buses, and commercial buses. Their vision for rebranding their commercial division as Nationwide Bus Sales was to make their products available to anyone—through many of the most respected bus and specialty vehicle manufacturers—all with the same care, attention, and aftermarket support that their current customers had received.

To oversee the development of Nationwide through the limo and luxury tour/charter space, Huebner and Bridgewater recruited Chris Norlin, a seasoned veteran who had a strong background in automotive sales management and marketing. With a focus on customer service, he jumped right in and tackled the challenge head on, although he says that the company's great infrastructure and reputation coupled with Huebner and Bridgewater's vision for Nationwide gave him a solid foundation on which to build.

"Every tool was available to me to make Nationwide a success," says Norlin, national sales manager. Although the company serves many specialty markets, Norlin's focus is on luxury transportation.

The timing was also close to perfect. Buses of all sizes, options, seating capacity, and makes have really become a staple in chauffeured transportation more or less over the past decade, blurring the lines between the once separate charter and limousine industries, so the need for a wide variety has never been more important. Limobuses, shuttles, and Sprinters (and vehicles like it) have continued to be the fastest-growing segment of our industry.

"As I've gotten to know the industry through my customers, I find that they often can't wait for the bus to be ordered and delivered in a few weeks or months. They need it by Friday," says Norlin. "Our goal was to have inventory on the ground ready to go. Barry and Jim have made a huge commitment to me and our customers by stocking the largest selection of products our industry has to offer. It was our top priority, only surpassed by the level of service we offer to our customers."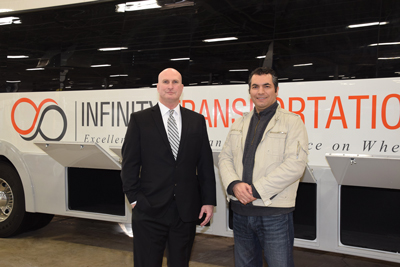 Chris Norlin (left) with Api Dogan of Infinity Transportation Management and his 52-passenger custom bus
Norlin says that it's their customers who help them decide what to stock. "You have to really understand the market to hold the inventory that we do. My team and I are continually looking to see what we need to have in stock next, and making sure that what operators want is available on the ground so that they can have it quickly. Each year it changes a bit, so we're always adapting to what our industry wants and delivering it." He says it's understanding that they need to keep buses in both black and white, shuttle and limo styles, multiple chassis options, and with models to meet everyone's price point.

Being a major volume dealer has created great relationships between Nationwide and three of its biggest manufacturers: Battisti Customs, Newport Coachworks, and Starcraft (it sells buses from Krystal and Federal as well). When you're ordering as many buses as Nationwide is, manufacturers clearly notice what is most frequently requested. The symbiotic relationship that Norlin has with his customers also extends to Nationwide's manufacturing partners. Accommodating a customer's request is what drives Nationwide to stay ahead of the trends and to always be a market leader. These types of special requests are what led Norlin to work with Newport Coachworks CEO Carter Read on a few recent projects that have created some very advantageous products for luxury ground transportation operators.


Chris Norlin (left) with George Jacobs (third from the right) and some of his Windy City Limousine team
Tom Janociak, CEO of Ideal Charter in Chicago, was looking for a dealer who would help him with a new design, but he wasn't having any luck. "We talked to several dealers who didn't seem receptive to the idea at all until we met Chris. He helped us design the bus and we've had great success with it," says Janociak. "I believe it's part of the reason we've been able to grow the fleet so fast because no one else has a bus in that capacity. Nationwide is just so easy to work with and open to ideas." Norlin says that Newport was eager to commit significant resources and time to the engineering and R&D required, and several months later the bus was delivered. Last year, Janociak and Api Dogan of Infinity Transportation Management both came to Norlin with a new wish: a 52-passenger bus with underbelly storage. There was nothing like it on the market, and the only thing close was a 55-passenger motorcoach. Norlin again tapped Newport Coachworks who took on the project, and the bus was soon ready to roll.

Newport Coachworks differs from other builders in its manufacturing process of using sculptured fiberglass bodies with resin-infused side panels and roofs, which Newport's Carter Read says makes the bus stronger, lighter, and more durable. It also uses a honeycomb fiberglass floor instead of plywood. Most recently Nationwide, in conjunction with Newport, developed and is marketing the industry's largest seating capacity F-550 called the Executive XXL, which carries 32 passengers plus full oversized rear luggage—a total of four seats more than any other luxury F-550 Executive Series bus on the market, according to Norlin.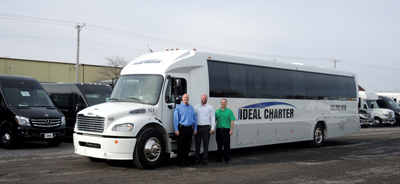 L to R: Chris Norlin, Tom Janociak of Ideal Charter, and Adam Kiran, Ordering Manager for Nationwide
George Jacobs, CEO of Windy City Limousine and industry icon, was one of the most recent customers to purchase the Newports from Nationwide. Jacobs, one of the largest operators in Chicago, has a fleet of more than 200 vehicles, which includes a healthy number of minibuses, limobuses, executive shuttles, and a few motorcoaches. Due to consistent growth, he needed to augment his fleet to handle customers' demands.

"Dealing with the folks at Nationwide Bus Sales has been a refreshing experience," says Jacobs. "While there are lots of great bus companies out there, Chris Norlin and the others at Nationwide have worked very hard to get our business. As a general rule, salespeople can be too aggressive or make empty promises, but Nationwide has done what they said. This is a pretty good sized purchase and we wanted to get it right. We have seen their products with other companies and those companies were quite happy. However, I am just the one who writes the check. They had to convince the Windy City team that this was the best direction for us to proceed, which was made by many people here who are affected daily by the quality of the vehicles from servicing and selling them to driving and scheduling them. The Windy City team was unanimous in this selection."

Customers are often attracted to Starcraft vehicles, which is not only Nationwide's best-selling brand, but is North America's largest shuttle bus manufacturer. At any given time, Nationwide stocks more than 20 different models of Starcraft buses in various seating capacities and configurations (limobus or shuttle), available in black or white. New for this spring is the Executive Series Starcraft bus built on an F-550, which Norlin says is available in a 28-passenger with rear luggage or 32-passenger with flipseats, with all of the amenities of higher-priced buses. Norlin says there's a good reason why this latest offering is its fastest-selling bus: because "it's a real workhorse—totally dependable at a very affordable price." Starcraft is one of the divisions of Forest River, which is a Berkshire Hathaway company.


As I've gotten to know the industry through my ­customers, I find that they often can't wait for the bus to be ordered and delivered in a few weeks or months. They need it by Friday. – Chris Norlin, National Sales Manager for Nationwide Bus Sales

On the smaller end of passenger capacity, it's hard to deny the effect that Mercedes-Benz (and Freightliner) Sprinters have had on chauffeured transportation. Often the ideal size for an executive shuttle with an understated, streamlined exterior and an affordable price point, Sprinters have dominated the market. Its popularity has led to a rise in other vans as well, including the Dodge Ram ProMaster and Ford Transit. Battisti Customs got its start in modifying Sprinter interiors (it's also a Preferred Upfitter through Mercedes-Benz) and now has expanded to include the ProMaster and Transit as well.

At an industry show earlier this year, Battisti Customs unveiled its 15-passenger Sprinter cutaway with fiberglass body and frameless windows, which is the largest capacity Sprinter available. It was met with a strong response and Norlin thinks it could be one of Battisti's biggest sellers.

Buying in volume can have its advantages. "Part of the way we've kept the cost down is through volume buying, so we can stock buses with the highest-quality components, high quality seats, bonded windows, the best A/C system, etc.," says Norlin. "We want to provide our customers with competitive pricing, quality products, and great service." He says Nationwide has very aggressive financing and leasing options and many times can offer customers no payments for the first 90 days, based on approved credit.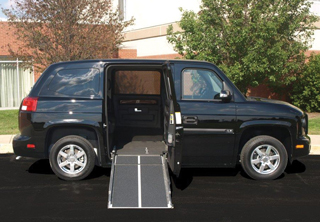 Nationwide is also an MV-1 dealer
Nationwide also stocks more than $5 million in parts, using a cutting-edge inventory management system that is often only seen in massive automotive parts plants. Having parts on the ready means immediate delivery in case of a breakdown or if warranty work is needed—translating to a less costly downtime every day the vehicle is off the road. The key, however, lies in the ordering process long before a part even has time to wear out. Because Nationwide works with so many manufacturers, it has streamlined its parts inventory by ordering buses with redundant components across the builders. It reduces the need to carry a multitude of parts for each bus maker and model. For example, Norlin says that they felt so strongly about the rooftop A/C system that was used in Newport Coachworks' products that they are now using them in their Executive Series Starcraft buses as well.

Beyond having the right inventory in stock (the company recently became an MV-1 dealer as well), Norlin says that the single biggest contributor to their success is the amazing team who all share the same vision of excellence. "Having a team of 300+ people all with a common goal, led by Jim and Barry, who are in the trenches with us every day, is rewarding," says Norlin. "I've worked for some very large companies and have never seen two owners more dedicated."

It's also the aftermarket support that helps Nationwide thrive. After a sale, it's on to Paula Grob, national document and delivery manager, who works directly with the customer to ensure that the delivery date is on track and coordinates transportation for the customer. If you need special lease plans or conventional financing, it's Director of Financing Chris Lounsbury who is ready to assist with that. If it's a service issue, Nationwide has recently expanded its warranty and service with a "state-of-the-art customer service tracking system." A new addition to the team is Adam Kiran, who will serve as a liaison between the manufacturers and vendors, as well as manage stock. Kiran has actually been with the company for 10 years in the school bus division, and Norlin says that he will bring a variety of new ideas to the industry thanks to what he's seeing trending in school bus transportation.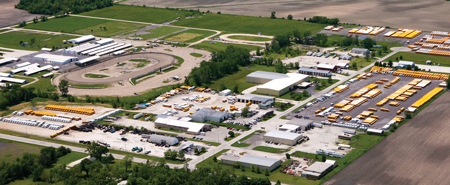 Company headquarters in Kankakee, Ill.
Including the headquarters in Kankakee, Ill., just south of Chicago, Nationwide has seven locations in four states: South Holland, Swansea (outside of St. Louis), and Des Plaines, Ill.; Whitestown, Ind. (near Indianapolis); Marshall, Mich.; and Nixa, Mo. (near Springfield). Each location handles service issues, although there is a centralized department that assists with warranty issues and claims no matter where the vehicle is being serviced.

"We have a full team dedicated to assisting customers with warranty issues and working directly with manufacturers to make sure that it is handled properly and the customer is back on the road quickly," says Norlin. "If the customer wants to use a qualified local shop that they're comfortable with, we'll work with them or we can help recommend one from a network of trusted service centers across the country. We'll do whatever we can to get them back in operation."

Norlin, like his bosses, continues to connect with his customers at the industry shows (you'll see them in Miami Beach this October at the Chauffeur Driven Show) and events, including associations like the Illinois Limousine Association (ILA). Together with Battisti Customs, Nationwide has sponsored many of the recent ILA meetings. As an added perk to his Illinois customers who purchase a bus, Nationwide and Battisti cover the cost of a one-year membership to the association, a program Norlin hopes to continue with other associations throughout the country. If he's not visiting face to face with a customer, he's on the phone asking for advice or simply catching up to make sure the bus is working well for the company.

In fact, it was at that very first show where Nationwide made its debut that Norlin met Api Dogan of Infinity Transportation Management in Chicago—who became his very first customer and has since purchased nearly 20 buses from Norlin. Dogan and his wife Karla Garza-Dogan, managing partners, were shopping dealers who could help them build their first bus; after being burned by another dealer who swapped out parts and replaced them with those that were of lower quality, Dogan ran into Nationwide at a local bus show.

"It's where I met Jim Bridgewater and told him what happened. He assured me that they would deliver on their promise, and it made me feel good that he would give me his word," says Dogan. "So I made an initial purchase and everything turned out exactly as we agreed—actually, the service was beyond my expectations. Then one bus led to another and another." His idea was to add flipseats to a 35-passenger vehicle, which could be used either to increase passenger capacity to 44 or have the flexibility of the extra luggage space—a versatile two-in-one bus. "Without them, I wouldn't have been able to grow this quickly. I also have something that other people in Chicago don't have. They say that behind every successful man is a smart woman; I like to say that behind every successful company is a great dealer." [CD0415]