BY LIZ HUNTER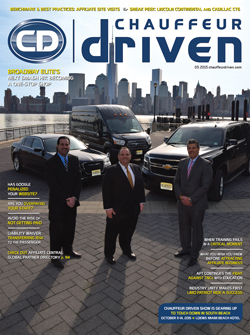 Cover Art: Broadway Elite owners (L to R): Vice President Gary Wecksler, COO Jason Sharenow, and President Brian Wecksler with the new 1 World Trade Center and lower Manhattan skyline behind them. Photography by Chris Weiss. Eight years after the merger of two the New Jersey-based companies, the union has never been stronger–and is becoming a true one-stop shop for all transportation needs with the addition of its latest acquisition, a motorcoach company.

In the world of business mergers, Broadway Elite Chauffeured Services Worldwide is a true success story. Eight years ago, its two namesake companies, Broadway Limousine and Elite Limousine, were separate entities, both serving predominantly corporate clientele in the high-stakes market of northern New Jersey and the New York metro area. Seeing an opportunity, Elite's owners, Brian and Gary Wecksler, and Broadway's owner Jason Sharenow joined forces to brace themselves for the economic storm that took many companies with it in 2008.

The merger put Broadway Elite in a good position by strengthening finances, improving customer service, and alleviating time constraints on the owners. With new shared responsibilities, a larger fleet, and a dedicated staff, Broadway Elite quickly moved up the ranks and became a major player in the market, as well as the industry.

Today, Broadway Elite runs a fleet of more than 90 vehicles, employs approximately 90 chauffeurs, and boasts an affiliate network spanning 550 cities across 80 countries. It's safe to say this merger was one of the best business decisions these owners ever made. Each owner has his own set of responsibilities. President Brian Wecksler handles the company's financials and maintains relationships with many of Broadway Elite's largest accounts. Vice President Gary Wecksler runs the operations, managing the office and staff, and COO Jason Sharenow oversees the company's technology and its ever-growing affiliate network.

Together, they have made carefully planned business decisions that have contributed to Broadway Elite's success. "A big motto in our office is 'Failing to prepare is preparing to fail,'" says Brian. "We have instilled in our staff the mentality to prepare for anything."

When the Town Car was retired, Broadway Elite made some careful considerations of all the options available, eventually settling on the Chrysler 300, of which there are more than 50 in the fleet. Broadway Elite's 12 SUVs are Chevy Suburbans, while its vans are a mix of Van Terras and the Ford Transit. The van and minibus segment of the company has grown tremendously from client demand, according to Sharenow.

"We are happy with our decision to go with the 300," says Sharenow. "The car has proved to be reliable and comfortable, and it has been well received by our clients. Until another automaker can bring to market a real successor to the Town Car, the 300 will be our sedan of choice."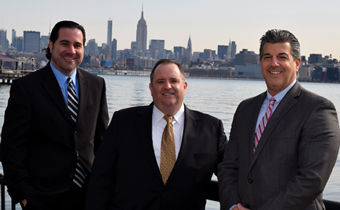 Broadway Elite owners (L to R): Vice President Gary Wecksler, COO Jason Sharenow, and President Brian Wecksler
Sharenow says another strategic decision made recently was the December 2014 purchase of Passaic Valley Coach Lines, a 48-year-old motorcoach company. "This was the ideal next step for us, as motorcoach work has been a growing segment of our business," he says. "They were our motorcoach affiliate for many years." Sharenow, who helps manage this new division, says that Passaic Valley Coach Lines is being run as a standalone business but gives Broadway Elite the use of eight Prevost motorcoaches, the company's experienced staff, and its mechanic. The business has already shown growth and they are looking to add new motorcoaches soon.

When the companies merged, Sharenow spearheaded the expansion of their affiliate network, something he had been doing in his own company since 2001. Along with industry veteran Affiliate Manager Fred Johnson, Sharenow has grown this division of the company dramatically. He says inbound affiliate work makes up about 8 percent of Broadway Elite's revenue, but outbound is nearly 30 percent.

"Our affiliates are carefully selected and vetted," says Sharenow. "I'll make site visits personally, which is something we do on an ongoing basis even with established affiliates. We also will ghost ride them to make sure they are delivering the same level of service that we do locally."

For affiliates sending work into Broadway Elite's market, Sharenow highlights several factors, including the company's ability to offer dedicated project managers for group moves, and technology such as email confirmations, automated reservations, and custom signage on iPads.

One might say technology is something Sharenow is passionate about. "We'd rather be at the forefront of new technology than behind it," he says. "We've always been interested in what's cutting edge if it will deliver better systems to the staff and our customers."

Broadway Elite has invested a quarter of a million dollars in vehicle technology. A DVR-based camera system has been installed in every vehicle, as well as Mobileye, a vision-based driver assistance program that warns against lane departures or potential collisions. "Our goal has always been to put out the safest product we can. When we meet clients, this is first and foremost in terms of selling, and it has paid off in spades."

Chauffeurs who were at first resistant to the idea of cameras in vehicles have come around. "It has gone from what they viewed as punitive to vindication," Sharenow says.

Clients also have the added convenience of WiFi in all vehicles, and chauffeurs are equipped with iPads. Sharenow says that they made a significant investment this past March with Cradlepoint to upgrade their mobile routers to the IBR1100 coupled with T-Mobile LTE service. Using the GroundWidgets app, chauffeurs can update their status and view every element of a reservation that was previously unavailable on a Nextel or flip phone, he says. IPads are used for mapping and signage.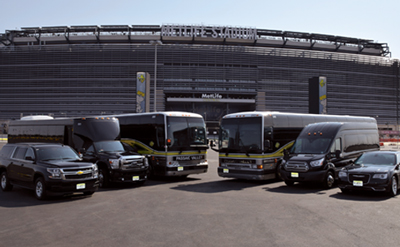 A lineup of Broadway Elite vehicles at MetLife Stadium in East Rutherford, N.J., home of the New York Giants and Jets
Broadway Elite also has a fully integrated iPhone app. "Clients have responded so well to this technology. The more automation we can put in place, the happier they are," Sharenow says.

Staying at the forefront of technology helps Broadway Elite remain competitive in its market. "The market is incredibly competitive on both sides of the [Hudson] river," says Sharenow. "Business is strong and we have not seen any pullback from our clients. The challenge has been managing the growth of the company without sacrificing quality."

The North Jersey-New York metro market is widely recognized as the epicenter of the chauffeured transportation industry. High-powered executives from the financial, pharmaceutical, publishing, and media industries are likely to have homes in North Jersey and work in New York City. Broadway Elite is primed to serve them at its headquarters in East Hanover, less than 30 miles outside of Manhattan.

Trends that begin in this market often trickle into the rest of the country, especially when it comes to fighting regulatory battles. This is where the power in numbers of the operators really comes into play. Sharenow is the first vice president of the Limousine Association of New Jersey (LANJ), one of the largest and most active in the industry with more than 110 member companies. "I've been on the board for more than 10 years and we have a dynamic group working together to increase industry best practices and foster education," Sharenow says. He is also the co-chair of Chauffeur Driven's Show Education Committee and a member of our ­ Advisory Board.

That couldn't be more important than with the advent of Uber and other TNCs, which Sharenow says is a real hotbed issue in his market. "Uber is gaining traction. It does not seem like corporate America is embracing them, yet it still remains a concern of our company and the industry," he says. "We are trying to educate our customers about it because we have fielded calls from clients who want to know what they are and if they should be concerned."

Sharenow says, "These companies are not able to demonstrate proper licensing, insurance, and safe employment." He recently testified in the New Jersey Assembly regarding the proposed TNC bill A3765, which LANJ opposes. In his testimony, Sharenow highlighted where the bill is lacking, namely in that it "continues to exempt TNCs from having to fully comply with the same insurance, MVC, and other requirements that limousine and transportation companies comply with." It's an issue that Sharenow and Broadway Elite will continue to stay on top of until the playing field is leveled.

While Sharenow is able to focus his energy on matters that will affect the entire industry, it's due in part to the dedicated staff that he and the Weckslers have surrounded themselves with. Director of Operations Jim Brown has been in the industry for four years, coming from a background in the security and transportation industries. Sales Manager Andy Yanow has 20 years of experience and manages client relations, as well as Broadway Elite's hotel and catering facility accounts.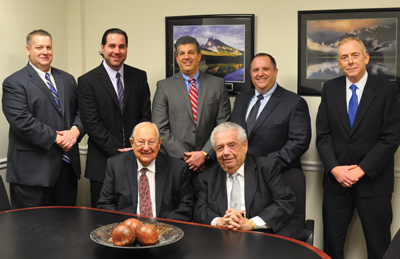 Standing (L to R): Jim Brown, Gary Wecksler, Brian Wecksler, Jason Sharenow, and Andy Yanow. Seated (L to R): Seymour Wecksler and CFO Joel Sharenow
Affiliate Manager Fred Johnson has 25 years in the industry and six years with Broadway Elite. Reservations Manager Beverly Lazo has been with the company two years, but joined with 16 years of experience. Dispatch Managers David Bronfman and Isaac Miranda have been in the industry for nearly 40 years combined. Sharenow calls Fleet Manager Edson Armstrong invaluable, adding that Armstrong's technical expertise and skill enable Broadway to keep a well-maintained fleet on the road.

"A key factor in building our business and keeping our employees motivated has been our direct relationship with each of them," says Gary. "We have taken an approach of empowering our employees, hearing their thoughts and ideas, and incorporating them into our business. We feel that by giving them ownership of their responsibilities, it is more personal to them, and provides a more positive and effective atmosphere in our office."

Both the Weckslers and Sharenow have grown immensely in their knowledge of the business since merging. Sharenow says that his father and his Uncle Joel, who is Broadway Elite's CFO, have helped guide them in making business decisions. "Uncle Joel has been such an important part of our success and growth," says Sharenow. "We went from running the business out of check book-style accounting to running it off financial statements. He guided us in planning for the retirement of legacy debt. Our plan is to turn sedans every three years, SUVs and vans every five, and buses every seven. He helped us get on that track."

Gary also highlights his father, Seymour, as a mentor. "He owned his own business for 40 years, and he and my mother instilled in me a strong work ethic and dedication to do the best I can. I use what they have taught me every day."

The owners of Broadway Elite also realize how fortunate they are in life, and they make sure to support their community through charity work and community service. The company participates in local fundraisers for temples, churches, and schools in the area, and on a national scale, donates to charities supporting cancer and ALS research, two diseases that have affected them all personally.

Sharenow mentions his friend and mentor Tom Mazza, who passed from ALS a few years ago. "Tommy helped create a culture of success within our organization," he says. "He meant the world to me both personally and professionally."

Outside of work, Sharenow also volunteers his time as a civil servant. He has been an EMT for almost 30 years and a member of the Livingston Police Department for 23 years. "Giving back to the community is just as important as running a company and I feel fortunate that I'm able to do this," Sharenow says.

Another sign of a successful merger, the division of responsibilities at Broadway Elite allows the owners to spend more time with their families and actually take a break from the daily grind. Sharenow got married in November 2013 to Arielle, a marriage and family therapist, and they welcomed their first child, Benjamin, in October 2014. Sharenow says he loves being a father. "It adds another element to the balancing act of time, but having a child has helped me prioritize things differently. Staying up to watch Jimmy Fallon is no longer a reality," he says. To unwind, Sharenow's family goes to Florida, which he calls their home away from home.

Brian is married to Susan, and has two children, Erica, 25, and Max, 22. "I have enjoyed watching them grow in life and start careers," he says. In his free time, Brian enjoys working out, driving sports cars, target shooting, and traveling.

Gary is a newlywed. His wife Alla and daughter Flora, 3, keep him busy. "I also like to stay active with my friends, playing softball, basketball, and football whenever possible," Gary says.

Even as Broadway Elite continues to grow, making strides in technology, affiliate development, and vehicle investments, Sharenow and the Weckslers say they'll never lose sight of what's most important: the customer. "We will always put the customer first," says Brian. "We have thrived on the attention to detail we give our clients, and the culture of quality customer service we instill in the staff shows through." [CD0515]