BY SUSAN ROSE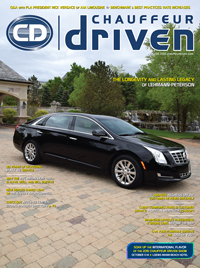 Lehman-Peterson's flagship sedan, the Cadillac XTS-L, featuring 7" of additional leg room. Photography by Chris Weiss. The history of coachbuilding and the major companies that have composed it are inextricably linked to our industry. Fleets' of course' have expanded over time to include sedans' vans' SUVs' and buses of all sizes' but there is still something so alluring about the rise of the vehicle—the stretch limousine—that gave the industry its name.

Lehmann-Peterson (LP) is a brand that holds a rich legacy within our industry. Having spent more than five decades building limousines and modifying sedans' the company also is producing innovative and practical vehicles for the funeral and livery industries as well as private and celebrity clients. It's one of the oldest coachbuilders still in existence.

LP is currently focused on its Cadillac XTS-L and Platinum Edition XTS (available in a 5 or 6 door)' but it was the storied Lincoln Continental that built its reputation. Founded in 1962 by two racing enthusiasts—George Lehmann and Robert Peterson—Earle F. Moloney of Moloney Coachbuilders purchased the company in 1969 (both founders also worked for the company). LP has produced limousines for six U.S. presidents (armored' of course)' one pope' countless celebrities' and numerous dignitaries and heads of state. The company is' in fact' recognized as manufacturing the first non-OEM stretch limousine' which it unveiled at the 1962 International Auto Show in New York. LP has been featured on the History Channel and its vehicles have appeared in more than a dozen Hollywood movies' from epic flicks like "Godfather Part III" and "Thunderball" (the 1965 James Bond movie) to modern-day hits like "Walk the Line" and "Frost/Nixon." Fans of the brand keep its history alive online with countless photos and anecdotes of its iconic creations.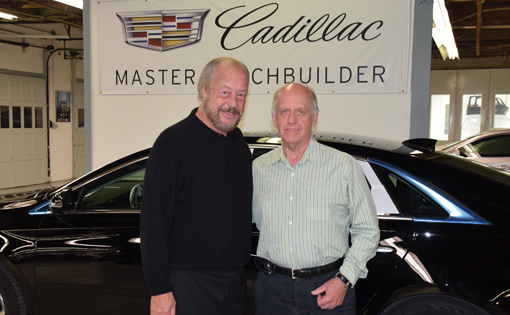 Lehmann-Peterson Owner and Chairman Earle Moloney (left) and Vice President of Sales Bill Kennedy at the Lehmann-Peterson facility The Moloney name is well known throughout Chicagoland' where LP is based' for manufacturing. His uncle' R.T. Moloney' founded Bally Manufacturing Corporation' which produced pinball machines and' later' gaming devices like popular slot machines. His father' Earle Moloney Sr.' founded Conor Electric' whose relay components were part of the Apollo Space Mission. Moloney himself created Moloney Coachbuilders (which he sold in 1986) and Moloney Armoring. More than 45 years after purchasing LP' he still comes to the office six or seven days a week to ensure that the vehicles his company is producing are worthy of the name.

The vehicles may have changed over time but Moloney's emphasis on safety has never wavered in the 46 years he has been at the helm. He had always been partial to the Cadillac brand' so he expanded the LP lineup to include it. In the late '70s' Moloney was so adamant about proving how seriously he took the safety of his conversions that he arranged what is believed to be the first crash test of a limousine. The test occurred in California' at his own expense' and involved a Cadillac corporate limousine' which he slammed into a barrier at 31 mph. The vehicle scored 100 percent. Moloney says that the results exceeded the safety standards of the time—which even surprised Cadillac engineers.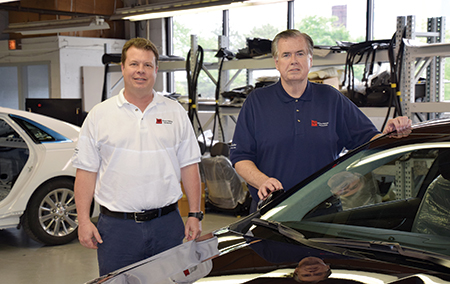 General Manager Michael Moloney (left) and Sales Manager Matt Baines at LP's facility"When a person gets into a business that he really has his heart and soul in' he wants to make it right. Earle has always been a very safety-conscious individual. It's either he's going to build it the right way or he's not going to build it at all. He's insisted on an all-steel construction because it was the safest way to go'" says Vice President of Sales Bill Kennedy' who has been with LP for more than 35 years.

The company headquarters are in Arlington Heights' Ill.' and its 80'000-square-foot manufacturing facility is just minutes away in Rolling Meadows. LP offers factory-direct sales to customers' which are handled by its long-time sales team that includes Kennedy' General Manager Michael Moloney' and Sales Manager Matt Baines. They frequently attend industry shows and plan to be at the upcoming Chauffeur Driven Show in Miami this October as well as the National Funeral Directors Association International Convention & Expo in Indianapolis.

"It's a beautiful facility and it's all vertically integrated'" says Kennedy. As a Cadillac Master Coachbuilder (CMC)' a status LP achieved in 2008' its facility is inspected annually to ensure that it meets the rigorous standards that Cadillac requires. Its production line was developed to mirror that of the OEM' and all of its vehicle interior work (like upholstery) is done in-house by professionals who have been with LP for many years. "The people who work here are true craftsmen. There are no shortcuts. It's top-quality craftsmanship through and through."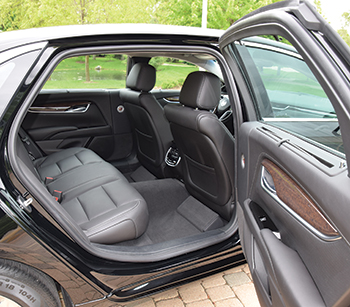 Interior of an XTS-L, showing the additional 7" of leg roomMoloney was never interested in the super-stretch limousines that became popular in the '80s and '90s because he felt that their safety integrity was compromised above a certain point' so LP's stretches have consistently been modest in comparison. Cadillac and Lincoln have both developed their own programs for structural integrity that range up to 130 inches' but Moloney has erred on the conservative side.

The Platinum Edition XTS—a 70-inch stretch—is the company's latest offering. It was designed for the funeral and livery industries and is available in two different configurations: 5 or 6 door. Like other LP vehicles' the all-steel construction means it isn't built with plastics or composites. The chassis' roof' and doors are all steel' and nothing is pieced together during the conversion. The 6 door is marketed toward the funeral industry and has standard forward-facing seating. Both are available with an optional raised roof and quarter window privacy glass. Doors are larger—7 inches—to allow for easier exit and entry. To accommodate the additional weight of the stretch and the passengers' the Platinum Edition is built with heavy-duty steering components' cooling system' and brakes.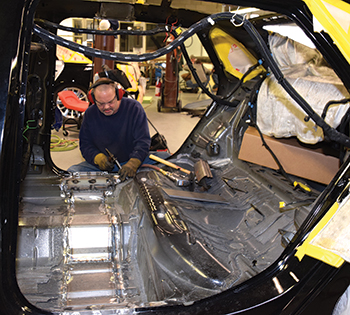 Rack operations featuring an XTS-L Its flagship sedan' the XTS-L' is a CMC-approved XTS with 7 additional inches of ­leg room. Those 7 inches may not seem like much until you consider that former Chicago Bears' defensive tackle' Hall of Famer' and LP customer Dan "Danimal" Hampton—at 6'5"—was easily and comfortably seated in the back seat. As Kennedy says' it was designed "to create a more spacious interior to allow the customer to stretch his legs'" and it certainly lives up to it with 47 inches of leg room. To achieve the added room while still maintaining the OEM look of the XTS' LP uses an extra-long door instead on an extension panel between the front and rear doors. The rear compartment also features foot rests' vanity mirrors' and reading lamps. And because the XTS-L is sold through Cadillac dealerships' it is accessible to those outside of chauffeured transportation who want or need a little extra space in the back seat. The wide-opening long door also makes getting in and out of the vehicle easier.

Both the XTS-L and Platinum Edition are protected by Cadillac's extended livery warranty of 3 years/150'000 miles.

The Lehmann-Peterson name is one that has bridged the generations of chauffeured transportation operators' which is no small accomplishment in an industry where the vehicle purchases are dominated by limobuses' Sprinters' and SUVs. Some of its classic vehicles are still on the road today' carefully maintained by their loving owners. In 2016' Lincoln revives the legendary Continental for the first time in 14 years. Who knows' maybe we'll see it in the LP lineup in the near future. [CD]