BY SUSAN ROSE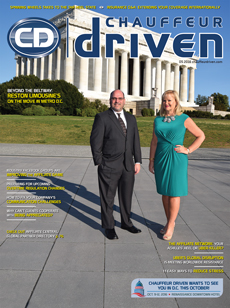 Cover Art: Reston's Tony Simon and Kristina Bouweiri at one of the most iconic monuments in Washington, D.C., the Lincoln Memorial. Photography by Chris Weiss. Each month, Reston Limousine President and CEO Kristina Bouweiri hosts a client appreciation luncheon for her clients—but not just any clients. She focuses on those who are actually booking transportation, namely administrative assistants and travel managers, the ones who are often overlooked and underappreciated. It's purely a way to thank those who use Reston Limousine for their dedication to the company, and it's where Bouweiri shines.

The clever idea came to Bouweiri at the end of last decade when economic challenges were impacting Reston's otherwise strong growth. At a time when every dollar was critical and when most companies were slashing their marketing spend, Bouweiri took a risk by reinvesting in her clients with the help of other local companies who co-sponsored the event. Despite having a diverse portfolio in a variety of sectors—from corporate and retail to universities, government contracts, shuttle routes, and charter work—the downturn was global and no transportation segment was untouched. Bouweiri did what she does best: Working with the company's pre-existing relationships, and the results were impressive. She not only continued to strengthen those bonds with long-time clients, but also increased sales almost immediately (for sponsors as well)—when many other companies were struggling in the weak economy.

From the start, the consummate networker, celebrated CEO, and international business leader built her 26-year-old company on relationships, not only with clients but also with her team and the Virginia/Metro D.C. community that Reston calls home. She serves on 10 boards, including two local business publications, a hospital board, and her local chamber of commerce. In addition, she also hosts monthly lunches with Sterling Women, a women's business networking organization that she founded.


L to R: Contract Operations Manager Frank Gibbs, Relationship Manager Margaret Day, President and CEO Kristina Bouweiri, COO Tony Simon, Director of Sales Carolyn Callahan, and Director of Business Relations Barry Gross at the Reston Limousine headquarters in Virginia Being part of such prestigious boards has introduced her to many respected business and political leaders. The high-level networking keeps her busy most weekdays, nights, and weekends, whether it's a fundraiser for the Inova Loudoun Hospital Foundation; a speaking engagement with an international business organization; fighting for Fairfax County to be the host of the World Police and Fire Games, an international sporting event (a bid they won in 2015); or a dinner meeting with the governor.

"When I mentor other entrepreneurs, I always advise them to get involved in three things: their local chamber of commerce, an industry association, and a charity," says Bouweiri. "Volunteering my time and efforts to raise money for local organizations comes back threefold. It really raises the exposure that Reston has in the community—people see our name everywhere and in different markets."

Ten years ago, Bouweiri hired COO Tony Simon, a likeminded entrepreneurial executive who both complemented and shared her vision for Reston's continued growth. With the addition of Simon, Bouweiri was able to change her role and no longer had to juggle the day-to-day minutia of the thriving transportation company with her marketing efforts.

Simon has a lot on his plate with Reston's 400 employees, including chauffeurs and drivers, and $25 million in revenue—and growing—to manage. Its fleet of 240 vehicles include sedans and SUVs to minibuses, Van Terras, and full-size coaches. Every day, Reston operates vehicles in three areas (D.C., Virginia, and Maryland), each with different rules and regulations. The diversity of its client base—everything from fixed-route shuttles to corporate VIPs and retail work—can be its own challenge. Bouweiri says he tackles it beautifully.


When I mentor other entrepreneurs, I always advise them to get involved in three things: their local chamber of commerce, an industry association, and a charity.." – Kristina Bouweiri, President and CEO of Reston Limousine

"When I hired Tony, it was the first time that my customers were happy talking to a staff member and didn't insist on talking to me," she says. "His strengths are in managing people, leading teams, and looking ahead to the future and planning for growth. He's fantastic at dealing with vendors and negotiating for us. I just found that it was time to transition a lot of those operational duties to someone else and free up my time to find and bring in the big accounts."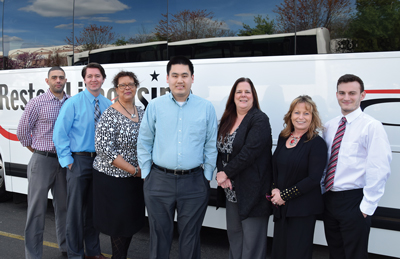 L to R: Sales Representatives Thierry Pradier, Michael Hum, and Patti Shepard; Senior Sales Supervisor Daniel Oh; and Sales Representatives Debra Lawlor, Rosalie Hart, and Bill Bouweiri Jr. Adds Simon: "I'm like a conductor: At any given moment, I have to make sure that all of the instruments are playing perfectly. I'm bouncing around a lot. My main goal is that we don't drop anything—ever."

Diversification is something that Bouweiri has focused on since the beginning; her approach was—and remains—that everyone is a potential customer. Founded as a corporate transportation company in 1990, she branched out nearly immediately to include retail work like weddings and proms, and later, government contract work helped propel Reston from a $200,000 company with five cars to a $5 million company within a decade. They soon began doing work for hospitals, universities (George Mason University is its largest contract), and large group events, not to mention other retail work like shopping trips to cities like New York and winery tours to the numerous vineyards in the nearby Virginia countryside. Local university graduations alone are group moves of tens of thousands of people, sometimes over several days.

Washington, D.C., is the southern terminus of the Northeast Corridor, made popular by the Amtrak route that runs north through Baltimore, Philadelphia, New York, and Boston—which is also mirrored by famed Interstate 95. The 61-square-mile patch of land is bordered by the Potomac River, which divides Maryland and Virginia, and is home to all three branches of government. As our nation's capital, it goes without saying that it's a quintessential tourist destination, whether it's a class trip to the Smithsonian Institution's numerous museums, a stop at one of dozens of monuments or federal buildings, or the annual influx of visitors during the warmer spring months when the iconic cherry blossom trees are in full bloom.

"Operating in the D.C. area is very expensive, it's complicated, and it can be a pain with the various rules and regulations. But the benefits of being in the nation's capital are so numerous because there's so much activity happening here all year round, whether it's political or international or tourism. The benefits outweigh the negatives," says Bouweiri.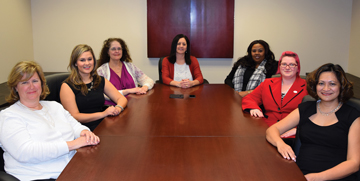 L to R: Contract Specialist Erin McMahon, Assistant Marketing Manager Christine Edeline, Technical Analyst Bonnie Custer, Human Resources Manager Karen Ballard, Event/Program Manager Kimberly Newman, Safety Administrative Assistant Beth Cline, and Marketing Manager Therese Howe The federal government clearly drives much of the District's economy, but the metro area is also a vibrant research community, including dozens of colleges and universities, three medical schools, and numerous biomedical and tech facilities. The D.C. population—about 681,000—is still one of the highest educated and wealthiest in the nation, which bleeds into the surrounding states. With so much happening in the area, Reston's headquarters in Sterling, Va., is an ideal one to take advantage of the true four-season destination.

"We never say no," she says. "The shuttle bus business is our bread and butter, it's what we're best at—but we are in 13 market segments."

"Let me give you an example of how we never say no: Today, we have 25 coaches on the road. Three are ours, and 22 belong to affiliates. That's a typical situation for us," Simon adds. "The charter side is the fastest growing segment for us—we've put a lot of effort in that area, including adding specialty vehicles. When 2008 hit, the stability of our numerous contracts helped us to weather the storm. We have also made a major push toward farm-in and farm-out work with affiliates."

Reston first added motorcoaches to its fleet back in 2007 and recently replaced all three with brand-new coaches at the beginning of this year—and just took delivery of an additional three. Because this type of work has been such a boon for the company, Bouweiri and Simon have an ambitious goal of purchasing three new coaches or more every year.

"Just by adding the three new motorcoaches this month, we find that clients are coming out of the woodwork. They are happy that the work is being done in-house. Our affiliates are great and we're thankful for all of them, but nothing beats doing it yourself," says Simon. Bouweiri has attracted a team of professionals who fiercely protect the reputation she has built. Each department, led by a department head, plays a crucial role in achieving those high standards on a daily basis. Many are familiar faces within the industry.

"I've worked at other companies before and to find a place where employees have the freedom to act entrepreneurially–by that I mean that they can share ideas and be as creative as they can—is rare," says Simon. "It creates a thriving and a positive—that's a word we use a lot—place to work. It really drives the passion within our organization. Our culture is about being very open and honest, to be able to speak your mind. Our employees feel like they are at home. It makes for a very comfortable, positive environment."

One of the newest members of the Reston team is Director of Business Relations Barry Gross, who joined the company two years ago and has managed the creation of new departments and their SOPs. He was originally recruited to expand Reston's affiliate network but Simon says that it became obvious that Gross' talents were in quality control, operations, and training.

"We try to find people who fall into the right philosophy and culture, and he fell right into that," says Simon about Gross. "He has tons of passion."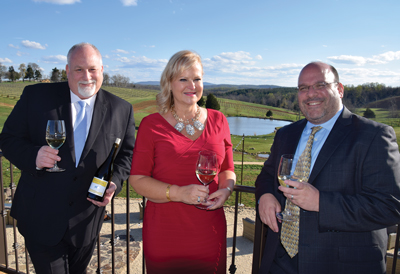 Gross, Bouweiri, and Simon at Stone Tower Winery in Leesburg, Va. "We have a dream owner in Kristina Bouweiri because she goes out and carries the banner for the company," says Gross. "She networks at an incredibly high level; politically and economically; she's on a dozen boards; and she presents an incredible brand. She then allows her operations people to do their jobs, which is not always the case in other companies. This gives Tony carte blanche to run operations—she's obviously tapped in to what's happening but trusts her team. I was hired to consolidate some of those operations and set forth goals and SOPs for how to execute the plan. One of the things that was very attractive to me was the collaborative culture that exists at Reston. There is a can-do attitude in everyone."

Simon says that while that attitude is pervasive throughout the organization, two team members in particular embody and put it into practice: Relationship Manager Margaret Day and Human Resources Manager Karen Ballard.

Day began her career at Reston 13 years ago as a dispatcher, a tough role even on a good day, and was quickly promoted to dispatch manager. Recognizing her ability to foster relationships within and outside the company, her newest role was created specifically for her, which includes building rapport and trust with affiliates.

Ballard has been with Reston for 10 years; she joined as an administrative assistant to Bouweiri. Before long she was managing the entire HR department, where she focuses on employee recruitment and retention. Reston has consistently offered benefits and paid time off to its workforce.

"Margaret is literally the nicest, happiest, most giving person I've ever met. She helps define the culture by living and breathing it," says Simon. "Karen is also incredibly caring and a true advocate for everyone in the company. Together, they really build on our company culture."

Gross works closely with Safety & Training Manager Keith Johnson, who oversees Reston's DOT, DOD, and state and local compliance—no small feat for a company that operates over 200 vehicles at three locations in two states (Virginia and Maryland) and employs 300 full- and part-time chauffeurs and drivers. Johnson is well-known in the industry for his BASICS program, a DOT compliance course that he developed and teaches to operators across the country. Both he and Gross have joined forces to build the company's motorcoach market segment through networking and presentations at industry events. Gross currently serves on the Virginia Motorcoach Association Board of Directors and on the American Bus Association's Education Committee, and he and Johnson are members of the Bus Industry Council.


I'm like a conductor: At any given moment, I have to make sure that all of the instruments are playing perfectly. I'm bouncing around a lot. My main goal is that we don't drop anything–ever. – Tony Simon, COO of Reston Limousine." – Tony Simon, COO of Reston Limousine

"When I hired Tony, it was the first time that my customers were happy talking to a staff member and didn't insist on talking to me," she says. "His strengths are in managing people, leading teams, and looking ahead to the future and planning for growth. He's fantastic at dealing with vendors and negotiating for us. I just found that it was time to transition a lot of those operational duties to someone else and free up my time to find and bring in the big accounts."

Because shuttle contracts are such a large portion of Reston's business, they brought Frank Gibbs on board as contract operations manager to work with Gross and Johnson. Simon says that Gibbs initially applied for a different role—a lower supervisory position—but that he saw something in Gibbs during the interview process that made him reconsider.

"He had that personality that commands respect, but his style was just very warm and positive, which was perfect for our culture. He was given the contracts manager position—which represented more than 50 percent of the company's business—and he immediately produced. He even has his own catchphrase: 'Teamwork makes the dream work.' It's become contagious," says Simon.

In 2009, Marketing Manager Therese Howe joined the company to spearhead its digital efforts. Bouweiri is a marketing star in her own right on social media with more than 6,000 followers on Twitter, for example, but she can't be everywhere; and with so many different sectors to manage, marketing has become key to customer engagement. A regular newsletter highlighting interesting area events, happenings, and exclusive engagements lands in the inboxes of 60,000 Reston customers each week. Company blog posts–often with special offers and giveaways—appear frequently on Reston's website.

Howe's role expands well beyond digital marketing, says Simon. "She has so much energy, she just goes all in. It's more than just online and press releases: She's created sponsorships and vendor partnerships, implemented our brew tours to complement our popular wine tours, and she embraces every aspect of our company and gets the message out in very creative ways."

Managing a team as large as Reston's requires a certain amount of discipline. Each day starts with a brief 9 a.m. call with all department heads, followed by a weekly meeting with the team. News spreads through the organization via an internal weekly newsletter and, of course, lots of email.

Clients aren't the only ones who are appreciated. In the earlier years, Bouweiri staged scavenger hunts as team-building exercises, which would require employees to visit well-known locales in the city to retrieve a token or trinket. Twice a year, the company throws companywide events: its holiday party in January and its summer barbeque.

"The beauty of what we've created here is that when Tony and I are out of the office, the company still runs just fine; that was the goal. We've put together a good system and have great managers to accomplish that," she says.

Simon does a fair amount of travel himself. He is a member of the best-practices organization Enterprise Strategy Group, which is led and facilitated by Andi Gray, founder and president of Strategy Leaders. The group met last year in Virginia—which included a tour of Reston's facility—but is hosted in a different locale each meeting. Simon, who is also a member of CD's Advisory Board and Show Education Committee (Gross is a member of the CD Show Committee), has expanded his reach with a group that focuses specifically on tours and charter work. Like many members of the team, he's a frequent presence at most industry trade shows and association events.

Technology has also helped bridge the communication divide and make things a bit easier when dealing with clients. Reston recently adopted Salesforce to handle its CRM efforts and to ensure that client information was in one location, in addition to Zipwhip, a texting platform that they customized to allow group messaging with their shuttle contracts. On a larger scale, Reston has integrated all of its vehicles with GPS and WiFi, and is in the process of adding cameras to many of its big vehicles. They've introduced route prediction software for shuttle clients that allows them to see when the next bus will arrive and a map with its current location. Simon says that they hired a technology analyst to help them tie all of it together.

Growth has not been purely external; Bouweiri has created a culture where all Reston employees are free to voice their ideas on creating new streams of revenue or improving customer service. And despite its size, the company at its core is still a family-based organization.

"I think it will always have a bit of a family vibe because it was started as a family business and it's woven into our culture," says Bouweiri. "We also have a pretty big footprint when it comes to philanthropy and serving our community. Employees are very proud to work here because we believe strongly in giving back to the community. It makes them feel good."

Kristina isn't the only Bouweiri to work for Reston: Her 20-year-old son Bill recently joined the sales department—a role that she once held—while taking a break from college. Her three daughters have worked for the company on occasion, but none have taken an interest in pursuing it full time.

"I encouraged Bill to work at Reston to give him something to do while he was deciding on his future plans, and he has since fallen in love with the sales side of the company," she says.

Reston has become much more than just a transportation company. The emphasis of late has been on building vertical market segments from within—that is, expanding its own departments to become independent profit centers.

One of the most lucrative divisions has been its DOT training, which is led by Johnson. More and more companies are adopting larger vehicles that fall under the auspices of the DOT, and its rigorous paperwork and record-keeping have presented a steep learning curve for many operators. Johnson has been involved in vehicle compliance for nearly three decades and has successfully led Reston through numerous DOT and DOD audits. A cross between Smith System, United Motorcoach Association programs, and the knowledge he's gleaned from years of experience, Johnson's program has helped to train operators nationwide.

Bouweiri sees opportunities for other divisions as well. For example, its service department keeps the Reston fleet in top shape, but Bouweiri has encouraged Fleet Manager Dan Craig to take on the work of other companies that need their vehicles maintained—the same goes for vehicle prep and washing. Reston has spent years learning how to navigate the tricky RFPs required for government work, so it lends its expertise to other companies interested in getting involved in similar work by training them how to write proposals, walking them through the process start to finish, and collecting a fee for their efforts.

Reston is getting ready to launch its comprehensive and proprietary training software, an ongoing project that was championed by Gross and Johnson—and a potential source of revenue to market to other transportation companies if all goes well. The online program, which will include videos, tests, and specific modules of specialized training and lessons, has been a labor of love for the company. Its current training program consists of three days of classroom instruction followed by two days in the field—although it certainly doesn't end after the five-day initiation.

"For a company our size, training is a challenge, not to mention our geographic challenges," says Gross. "It's hard to get everyone together for centralized training, so one of the things that we did was look into how we can standardize everything as much as possible. The new training program will allow for all the functionality that we felt we didn't have with our former platform. It will be everything from how a chauffeur should look, dress, and act (with video) to the on-the-ground movement to the individual training on electronic components in a vehicle. It can be continual, adjustable training."

Due to the numerous types of highly specialized work that Reston handles, chauffeurs are cross-trained often to the specific demands of those clients. For example, government contracts often require more accountability and additional documentation, not to mention security clearance in some cases. Driver pay is also handled differently from other contracts. By having the training online, driving staff can complete the modules on the go 24 hours a day at their convenience.

"What makes a professional? It's someone who is always trying to improve themselves," says Simon. "If you look at a lawyer, he's constantly learning—we take the term 'continuing education' to heart. We are managing ongoing training, and we think that's the approach that will reach the standards that we've set forth."

"Ultimately, we are accountable to our clients, so what became clear is that we can't hold our team responsible for things that we did not readily prepare them to handle or train them to do. That was the genesis of this platform," adds Gross. "The more we train, the greater comfort our team has in delivering that level of service. It becomes second nature to them where they focus more on the customer service aspect rather than the technical. That's how we deliver the Reston service that we've become known for. My first inclination is to measure success based on the numbers. The truth is, our numbers have increased because we've focused on training and the delivery of service."

Whatever the award-winning company is doing is working well: Since 2010, the company has increased sales by $10 million, no doubt in part due to its excellent reputation and consistent delivery. Client engagement is at an all-time high, and the Reston team is stronger than ever.

As a contentious and exhausting presidential primary season comes to a close this summer (we hope!), all eyes will turn to D.C. when voters select our 45th president and potentially change the complexion of the Republican-controlled House where all 435 members are facing re-election.

Back in 2009, when President Barack Obama was first sworn in as Commander in Chief, the historic, weeklong festivities brought millions of people to Washington, D.C., and easily became one of Reston's best and most profitable events. That second Tuesday of November is a pivotal one for the nation. This year's race has broken all the rules and is likely one for the books, but one thing is certain: Reston will be ready to keep the nation's capital moving. [CD0516]