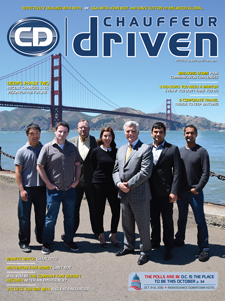 Cover Art: Deem's management team (L to R): Steven Lee, senior software engineer; Yuri Goldfeld, staff software engineer; Mike Daly, VP, sales; Jackie Miehls, senior manager, marketing and ops; John Rizzo, president and COO; Ram Trichur, VP of product strategy and co-founder of Whisk; and Vivek Chandran, staff software engineer and former CTO of Whisk. Photography by Chris Weiss. Technology slows down for no one, and things can pass you by if you're not paying attention. That has certainly been true for mobile and cloud technology provider Deem. In the past year, Deem has announced a series of changes that saw the departure of its longtime CEO and founder; a tightening in its scope that includes a hyper-focus on the management of travel, expense, and car service technology; the acquisition of Whisk; and, most importantly, a fresh infusion of capital ($36 million at press time, and likely more coming) from PointGuard Ventures, Hony Capital, and others. We sat down with four members of the Deem team—Whisk Co-founder and VP of Product Strategy at Deem Ram Trichur; VP of Sales, Travel, and Car Service Mike Daly; Senior Director of Engineering, Car Service Jay Goswami; and CTO of Whisk and Car Service Staff Engineer Vivek Chandran—to discuss the newest events happening at the San Francisco-based company.

Why was the acquisition of Whisk important to Deem?
RAM TRICHUR: We started Whisk three years ago when we saw an opportunity for on-demand corporate transportation. We built an infrastructure that would tie into the back office. We realized that the on-demand experience was only as strong as the weakest link. We pivoted a bit; in addition to providing the global on-demand service for corporations, we also started providing the reservation and dispatch infrastructure. These reasons made us a natural fit with Deem's overall newly focused strategy in travel and expense management.

What is the vision right now for Deem?
MIKE DALY: We're a technology company with a concentration on the corporate travel industry. One thing that has set us apart from the beginning is that we're focused on the end-user experience, and we work our way back into the needs of travel management companies (TMCs) and corporate travel managers (CTMs). Our philosophy is that when a corporate traveler uses an app, they're comparing it with consumer apps. So if you're talking about booking a ride, then you know that you have to be on par with or better than Uber and Lyft. At the end of the day, people use technology because they want to or they see its value, not because they are told to use it. Deem's vision is to unite the travel and car service industries and provide the best and easiest experience for travelers, while also enabling ease of use by TMCs and helping corporations manage travel policies and costs. Our vision is to provide the platform that makes operators on-demand-ready and to be the de-facto network for the industry. It's incredibly important that we move operators into the modern era so that all can be unified and offer corporate car services on a broader level to one-up the consumer players that have taken a bite out of the market.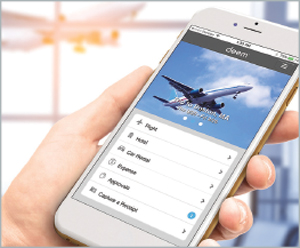 Can you give us an update on the changes at Deem?
MIKE: The changes are making us more nimble in the marketplace, and our focus on car service, travel, and expense management will allow us to unite both sides of the business. Deem has been in the travel industry since 2005, and then we acquired Global Ground Automation in 2008—which was our entry into the car service industry—but we've never really fully leveraged those disparate businesses. What's good for us is that we have expansive corporate travel customer and corporate car service customer databases, and there's a lot of benefit to bringing those two communities together. We haven't yet created a bridge between our high-volume travel transaction business to provide incremental rides for our car service partners: Imagine the growth possibilities that this could open up for all of us.

Can you tell us more about the team?
JAY GOSWAMI: With the acquisition of Whisk, we have a diverse team with various technology backgrounds. We feel that the team is one of the best because of the experience they have acquired from working with other leading tech companies and startups.

MIKE: What this industry is going through in terms of disruption is very similar to what happened to corporate travel in the late '90s. You used to book travel with a live agent but then companies like Expedia, Priceline, and Travelocity entered the space. Many on our team went through this already, so we've done this before in corporate travel and we know we can do it again in corporate car service.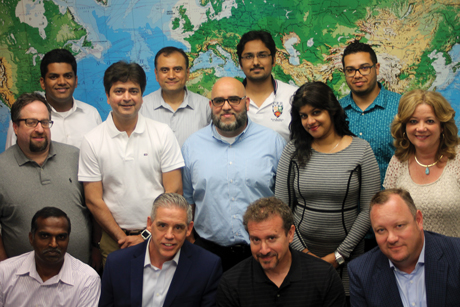 The Secaucus, N.J.-based Deem team Do you think it's possible to unite operators under one app?
JAY: Yes, the technology exists so it's a matter of operators understanding the business values resulting from it, such as scalability and being able to compete effectively. The airline industry was once very fragmented. Right now, airline reservations are unified after those businesses put in tremendous work, and we want to do something similar with car services. We want them to be able to operate their business from anywhere at any time without having to buy servers and have IT people on staff, leaving all of the complexities on our end. Car service is lagging behind when it comes to technology.

RAM: I've talked to operators who have spent hundreds of thousands of dollars on IT, servers, SQL licenses—it's insane. Even banks are using the cloud. That is one of the reasons why operators are limited in what they can offer. Our platform can be configured and deployed for a 10-car operator or scaled for a 2,000-car operator because the core functionality is the same. We also have a product called Affiliate Connect that connects the back offices of affiliates together, bringing cloud technology economics and speed to anyone in the network. We are starting to make strides.

VIVEK CHANDRAN: I think it's important because the companies competing with this industry (TNCs) are setting the user-experience expectations. By bringing this technology to market, you will reduce barriers for all of the players and allow them to be profitable on a unified platform.

How do you define Deem's role in the marketplace?
MIKE: We have built and are building a set of tools and tech platforms that will allow an operator to compete on a level playing field. We are building solutions for corporate customers as well, that will allow CTMs to sleep at night. You hear a lot about duty of care—TNCs don't carry the levels of insurance that established providers have or background checks—so CTMs are worried about allowing their travelers to use TNCs. We provide that instant gratification, but we'll deliver it with our partner-operator who has that duty of care handled and who mitigates that risk. Operators need technology to compete, and on the flip side, corporations have employees who want to use these solutions, and they'd much rather do it with a legitimate transportation company.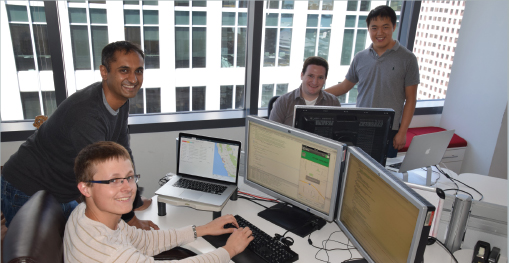 Software Engineers (L to R) Garrett Dewald (seated), Vivek Chandran (also co-founder of Whisk), Yuri Goldfeld, and Steven Lee JAY: We are a technology company, and our goal is to create technology that allows operators to service their customers in a modern and cost-effective way. We are creating a platform for operators to compete effectively and focus on growing their business and taking care of their customers. We take care of the technology. I think TNCs are a bigger risk to larger operators because smaller companies can more easily adapt while larger operators have invested quite a bit in their way of doing business. For example, Barnes & Noble and Borders didn't worry about Amazon until it was too late. Larger operators have more to lose, and this has been a wakeup call for many.

VIVEK: I think the Amazon model is a good analogy for what we are trying to do, to bring all operators together to help them compete on one platform against TNCs.

MIKE: Another thing that has made TNCs very successful is capacity. They have so many cars in any given market, and operators alone can't compete on that level, especially during peak times. Products like Affiliate Connect are able to display the complete range of available cars and operators that can compete for that on-demand experience. TNCs always had an eye on advanced reservations, and now we've seen them publicly state their intent to come into the corporate space. We all know there's leakage already and it's going to continue.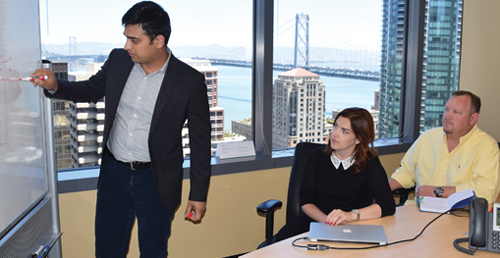 L to R: Ram Trichur, VP of product strategy and co-founder of Whisk; Jackie Miehls, senior manager, marketing and ops; and Mike Daly, VP, sales at Deem's San Francisco headquarters RAM: TNCs will continue to steal market share from corporates even if they don't have advanced reservations, but operators also need to change their mindset. Often operators only staff enough drivers for the number of rides they have that day, which makes an on-demand system difficult. It's comfortable not to change, so when looking for technology, they should also be open-minded about changing their business processes and allowing the technology to take them there. How much change is enough? Too many operators aren't changing fast enough.

Are operators who sign up limited to just using Deem?
RAM: We are an open platform, so people use us because they like the product and see the benefits. We also have open APIs, so if operators want to use that to go through other channels and get rides into their system, we will work with that.

MIKE: We've also integrated with a number of operators' proprietary systems, so it's up to the customer. If they want to book through a certain interface, that's fine. We're about providing the inventory, that switch, and that business process that allows those reservations to take place in an automated fashion with as little error as possible.

Where do you expect Deem to be in five years?
RAM: For the products that we've chosen to focus on, we want to be among the top one or two market leaders. We want to be the ubiquitous platform on which people make reservations across car services.

JAY: From a technology perspective, we would like to move in the direction to help operators dispatch driverless cars because we believe that TNCs are moving in that way as well.

RAM: One of the benefits to working with a technology company is when new technology emerges, the business can support it. I won't make predictions on driverless cars, but when that happens what the operator needs to be asking is if their technology can provide the tools to adapt to the trends coming their way; whatever those changes are, we want to be at the forefront. [CD0716]