BY LIZ HUNTER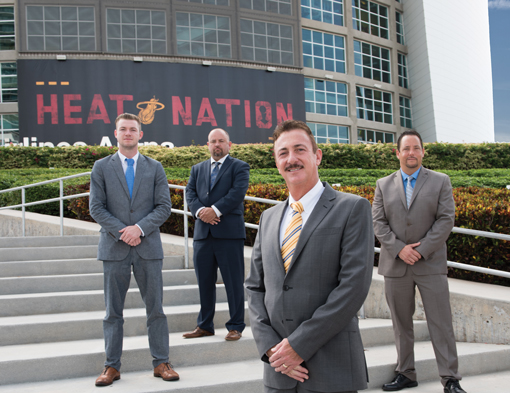 A1A President and CEO Rick Versace (center) on the steps of the American Airlines Arena in Miami with (L to R) Director of Business Development (and son) Rick Versace Jr., Affiliate Manager Keith Soraci, and Regional General Manager James Parkes Twenty years ago, Rick Versace sold his first chauffeured transportation company in New York City and moved to Florida to get out of the rat race. "It was hard to do transportation in a city where nothing moves," Versace says. "We wanted to make a change." Initially, that change didn't include returning to the industry, but it was what he knew—and he knew he was good at it. Before long, Versace bought one, then two, then three limousine companies, merging them together and rebranding as A1A Airport & Limousine Service.

Versace's foray into this industry was a bit of happenstance. His roots are in Wall Street, and he holds a degree in finance and investment. Wanting to make some money on the side, Versace took a job as a driver for a company in Brooklyn—but he never actually drove. When a dispatcher didn't show, the owner begged Versace to fill in. Even though he had no clue what he was doing, one day turned into another, and Versace never went back to Wall Street. Within a year, he bought out all of the partners in the company, ultimately growing the fleet to numbers well beyond its original two, with multiple offices across the city.

Florida had long been a favorite vacation spot for Versace and his family, and in some ways, it might still be considered a vacation compared to the competitiveness he found in The Big Apple. Versace admits it was a change of pace in terms of business. "People in the Northeast are always a little bit more anxious to get things done, and when we first settled in Boca [Raton], the locals didn't really have that mentality," he says. "But bringing that big-city mentality to South Florida paid off because a lot of companies were so casual about their business; therefore, when we showed up, clients were surprised. Our location is perfect since we have three major airports right near us: Miami, Fort Lauderdale, and Palm Beach." Versace built A1A on respect, both for his clients and the industry. "We respect what we do and we value the customers. We want to give them a memorable experience, from the way they are treated on the phone to their interaction with chauffeurs," he says. "Most of our business comes from customer recommendations, and we're grateful. We want to create raving fans. In this business, every detail matters, and you've got to be devoted to doing this full time. You've also got to be a little crazy."

Through the years, A1A has built a fleet of approximately 50 company-owned vehicles and access to almost 40 additional vehicles. Cadillac sedans are the vehicle of choice in the fleet, along with some Mercedes-Benz sedans, vans, a 38-passenger minicoach, two party buses, and, yes, even stretch limousines.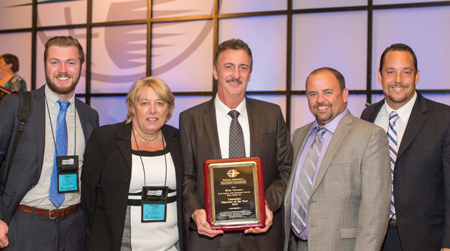 Versace (center) accepts his award from the Taxicab, Limousine & Paratransit Association as 2015 Limousine Operator of the Year, with (L to R) son Rick Jr., wife Peggy, Keith Soraci, and James Parkes "Our goal is to take care of our clients' every need. For instance, you might have a business traveler whose daughter has an event. Who will they use? They know you, they know the chauffeur—who else but us to take them? There's still nothing like a stretch limo that turns an ordinary occasion into something extraordinary," Versace says.

The Sunshine State
Palm Beach County is among the five wealthiest counties in Florida, and home to cities like West Palm Beach, Delray Beach, Boynton Beach, and Boca Raton, where A1A has its headquarters alongside the likes of Office Depot and ADT.

Florida Atlantic University is the city's top employer, and attracts new talent to the area through its education programs as well as the Research Park at Florida Atlantic University, in cooperation with health care software company Modernizing Medicine. The Research Park supports high-tech, high-wage companies and organizations, including the Technology Business Incubator.

Boca is not without its cultural amenities, though. The Mediterranean and Spanish Colonial Revival architecture is prevalent, and homes feature the unmistakable pale stucco exteriors and terra cotta roofs. Some houses are on the National Register of Historic Places, including the Aiken House, designed by architect Addison Mizner, a visionary of architecture who helped popularize the style. There is even a city park named in his honor that encompasses the Boca Raton Museum of Art and the Count de Hoernele Amphitheater.

But beaches remain the obvious draw for the area, inviting especially those from colder climates to unwind, which makes the hotel and resort industry integral, and in turn, the chauffeured ground transportation industry.

"A lot of companies from up North are looking to have conferences down here," Versace says. "Groups, conventions, road shows—200 to 500 people who need to get from the airport to their resort. Fortunately, we have a groups department dedicated to this part of the business."

James Parks is in charge of the groups department, and has helped build relationships with event coordinators in the area. "It's a very specialized type of work. There are a lot of specifics and a lot to coordinate. But when you're dealing with us, we're experienced and we pay attention to the details," says Versace.

A1A's reputation for masterfully executing these group moves goes beyond Florida. "We do such a good job that even if the group isn't coming to Florida for the next trip, they will still ask us to handle their conference wherever they are going," says Versace. "It's a great way for us to give our affiliates business."

A1A also has satellite offices inside some of the area's hotels with A1A staff. "It's hard to run a satellite location remotely, so we make sure we have our own people there. And our staff really function as a part of the hotel—attending meetings with the GM and other managers—so we know who's coming in and it gives us lead time to reach out so they know we can transport them once they arrive," Versace says.

A1A is in-house at the Hilton West Palm Beach, which Versace says is the only on-site convention center hotel in South Florida.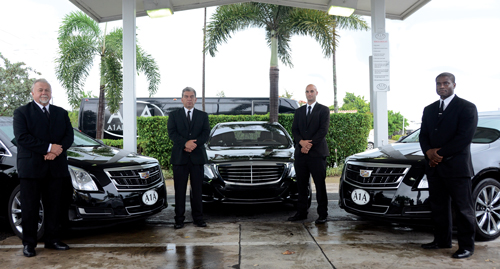 L to R: Chauffeurs William Underdown, Avi Grossfish, TJ Fazio Jr., and Euloge Koudou at the A1A office Whether serving groups or individuals, A1A's focus is on providing high-quality service to discriminating clients. "We're here to service people who want better quality and aren't afraid to pay for it," Versace says. "We're not looking to compete with taxis or Uber. We're not offering bargains. Our corporate clients don't have time for mistakes or being late. They want a discreet chauffeur who will allow them to get work done in the back of the car to and from the airport."

Versace is so confident in his chauffeurs and staff that he offers a 200 percent on-time guarantee. "If we're more than 15 minutes late, your ride to and from the airport is free. I don't know any other company offering that, and we offer it to every client," he says. "We will make sure more than anything else that we are on time. Traveling is stressful enough as it is and a late chauffeur is something our clients should not have to deal with."

Leading the Way
Versace is motivated by results, and many of A1A's initiatives have been delivering.

One area where Versace doesn't slack is in the realm of marketing—particularly in the digital market. "Our digital marketing department is amazing," he says. "We do SEO and pay-per-click, email marketing, and social media. We really pay a lot of attention to that. We have a high-profile online presence. I think we have almost 30,000 likes on Facebook, which is more than most independent limousine companies in the country."

A1A's advertising is also seen all over Fort Lauderdale-Hollywood International Airport. "We rolled out a unique program with ads in the terminals: If someone taps their smartphone on the ad, it automatically downloads our app onto their phone," Versace says. "Twenty-five million people come through that airport annually, and it's valuable real estate to have our app on their phone. Once it's downloaded, they can use us all over the country for their transportation."

Technology is a big piece of A1A and Versace doesn't shy away from it. "It's a technology-driven world and we need to adapt," he says. "When you combine superior service and technology, it's a home run."

He says the industry can learn a great deal from TNCs. "They are brilliant. We should copy what they do well. The connected vehicle is here, and we should have capitalized on it three or five years ago. We need a mechanism that will unite all the apps in the industry: That is the Holy Grail."

A1A developed technology similar to what Uber uses, and customers have responded positively to it. Clients receive a text about an hour before their pickup time, indicating the chauffeur's name along with a picture. It's also connected to the FAA computer, and as soon as their flight touches down, they receive a text with their chauffeur's location at baggage claim.


Most of our business comes from customer recommendations, and we're grateful. We want to create raving fans. –Rick Versace, President and CEO of A1A

"This helps our customers be more in touch directly with the chauffeur rather than through dispatch," Versace says. "A1A just signed onto the Whisk Dispatch Platform by Deem, which will dramatically improve our efficiency."

Vehicles are also equipped with Wi-Fi and iDrive, which Versace says has helped the company monitor how professionally its more-than-100 chauffeurs are performing. "Safety is important to us, and the video recordings have helped in the event of an accident," he says. "We do have meetings with chauffeurs monthly to review videos and information provided to us from our insurance company. We've seen a drastic reduction on incidents and claims."

While Versace may have provided the vision for these successes, he realizes that the results are due in large part to the people he has working in the company.

"I don't like to micro-manage," he says. "I put a project or task out there with a timeline for when I want to see it accomplished. I might do some minor checking along the way to ensure it's going in the right direction, but I have found that empowering people is very effective; I'd rather grow sunflowers than manage mushrooms."

Versace's wife Peggy has been by his side for 35 years. "She oversees everything in the office. She has this innate sense of who is going to work out and who is good at this or that," he says. "It makes a big difference when you can read the character of a person."

In the affiliate division, Keith Soraci, who is Versace's nephew, is a well known face to many. "Keith is a fixture at trade shows and industry events. He travels the country meeting affiliates and making sure we keep those relationships warm, or he finds out if anything needs to be changed. He's been instrumental in growing the company through affiliate work," says Versace.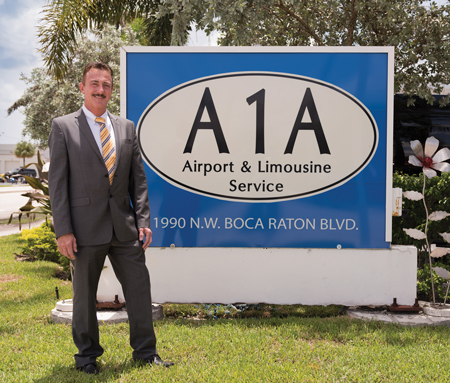 Versace in front of his headquarters in Boca Raton A1A's affiliate network is relatively new compared to others in the industry. "We always operated on the concept of getting four reservations instead of two—capturing those two additional reservations in the outbound market," he says. "We had that affiliate mentality, and we gradually built that book of business. We actually do more business outside of Florida than we do here. When we service affiliate clients here, we're sure to represent them to the highest degree. We take very seriously the fact that we're representing another company."

Versace's 26-year-old son Rick Jr. is also in the company. He left a job at Goldman Sachs two years ago and now works in business development for A1A. "He goes after big national accounts across the country," Versace says. And Rick Jr.'s age actually puts him at an advantage.

"A lot of buyers at companies are Millennials. He talks their language, and it's working out very well. Many of the programs he's put in place have increased business," Versace says.

A cornerstone of A1A is its team-appreciation initiatives. Chauffeurs and office staff are equally incentivized and recognized for their performance. "We do share feedback from clients and we award a chauffeur of the month with a certificate and $100 gift card. In addition to that, when a client gives us a positive review on Yelp or Google and mentions a chauffeur's name, that chauffeur earns a $50 gift card," says Versace. "It's all about providing customer service and making sure people talk about it and tell their friends. We want to provide good service and sell it over and over again."

Office staff are also motivated with some friendly competition. The reservations manager keeps track of their hours and number of reservations closed, whoever is highest at the end of the period earns a bonus. "It's all about closing. Anyone can give the price, but you've got to be able to build a relationship. Be friendly, personal, and professional," he says.

"It's all about creating a positive and healthy working environment, and we want the staff to feel that it's fun to come to work," Versace says. "We make it competitive and rewarding."

Throughout the year Versace will do other little things, such as bringing in food for certain holidays, throwing a tailgate party for the Jets v. Dolphins game, and giving out tickets to shows.

"This is a business but we treat everyone like family, and people respect being treated the same way—from the guy in charge to the guy washing the cars. We're fortunate that most of our employees have been with us a long time."

Uniting Florida's Industry
Versace's leadership role expands beyond A1A. As president of the Florida Limousine Association (FLA), he's forged a union of the formerly disjointed state and local associations.

"When I was in New York, I was always involved in associations. I was a co-founder of the Livery Owners Coalition of New York. When I came to Florida, I looked up the association immediately and joined," he says. "At that time, it was run by Carla [Boroday] and I was on the board. When she passed away, there was a huge void and I was reluctant to step up. But I saw the association going out of existence, so I volunteered to be president."

Versace worked to make the FLA a true state association as Boroday had attempted in her final years. "We approached each of the local Florida associations and all of those local members are now automatically members of the FLA, with part of their dues coming to the state association," he says. "Together we can focus on the big-picture stuff, like lobbying in Tallahassee, but in return, the local chapters will have us behind them when they have local issues as well."

Unifying couldn't have come at a better time, considering the challenges facing the industry across the state. Florida is a known hotbed for TNCs and the FLA hired lobbyists to help them fight the issue in Tallahassee, and secured a public relations firm to combat the issue in the court of public opinion.

Versace says the local media were constantly portraying Uber as revolutionary, until FLA's PR firm got involved and started to show the lack of background checks and insurance. Now Versace sees a much different opinion of the TNCs a year later and people are voicing their skepticism.

The FLA was able to work with commissioners in several counties to regulate the TNCs. "The regulations passed and the TNCs are now legal to operate in most areas. In Palm Beach County, we got them to agree to cut fees in half if operators, including TNCs, submit their drivers to a fingerprint background check. Other counties offer the option to self-regulate the way TNCs do in an effort to even things out," Versace says.

Locally, reciprocity remains an ongoing battle. "In South Florida, the three counties have different ordinances, and they are strict on the number of limousine companies they license," he says. "It makes it hard for companies to grow, and our cars have seven to 10 different permit stickers on the windows, one for each county, and for each airport. I believe if you are fully licensed in one county you should be able to operate freely between counties—that's how Uber does it. The way we have to do it, if we send the wrong car without a sticker to Miami-Dade for a pickup, you could be charged a $2,000 fine. Several operators in South Florida are reorganizing as TNCs to take advantage of that preferential treatment."

Leveling the playing field will continue to be a top priority for Versace and the FLA.

Looking Ahead
When Versace is asked about the future of A1A, one word sums it up: franchise. "We have 35 years of processes and systems developed as well as a great reputation. Franchising will allow us to unify businesses under a common brand without having the headaches of being an owner," Versace says. "Having offices in other places is hard to manage, and no one works like an owner does, so franchising just makes more sense."

He says that franchising can help unite our fragmented industry. "We're looking to build A1A into a national brand that will be recognized all across the country. We are targeting current operators that want to take it to the next level. If they are currently operating as, let's say, Signature Limousine, they would rebrand as A1A-Signature. We want to do for the limo industry what Century 21 did for the real estate industry," Versace says.

One of the top benefits franchises will receive is in sales and marketing. "A unified brand name will add value to the franchisees. Smaller companies can't afford the right advertising or a marketing and sales department. We are creating a national cooperative advertising program to promote our franchisees. It is the kind of marketing and promotion that smaller operators need in order to compete in this new world dominated by the TNCs, who are expert marketers," he says.

The plan is to start in South Florida and then work up the East Coast. "We have already sold a number of franchises. We've got a lot of interest and this is the first time we're announcing it," Versace says. "The people we've talked to say it's a great idea. We don't have a national brand in this industry—we have a few big players but no consolidated brand. Yet everything in America—7-Eleven, Papa John's, Dunkin Donuts, etc.—seems to be a franchise, and the success is proven."

He's also involved in another venture with his son, Versace Investment Group, which invests in real estate around central and southern Florida. Business and family go hand-in-hand for Versace, from his wife and son to his nephew Soraci, who Versace connects with like a son. "We're all family, even people from the office, and whenever we go out, it's a big entourage with my kids and their friends. Everyone is welcome, and everyone is family," he says.

Versace and his wife have five kids and three grandchildren. A musician and songwriter, Versace wrote each of his three daughters a song for their weddings instead of a toast. "Each song was unique to them and their personalities. I'm not a singer, but there wasn't a dry eye in the house because it came from my heart," he says.

Traveling is a passion and the Versaces try to make it a priority. "It's a personal goal to take one vacation a month," he says. "I'm never going to stop; I'm not the type to retire. I love the action. But once a month, we get away for a week or a long weekend. You have to enjoy life now, because tomorrow is never promised, and we have good people keeping the wheels going while we're gone." [CD0816]

Photography provided by Andrew Schneps of Back Bay Photography