First impression: Our testers had a lot of fun driving this big sedan with a heart of a sports car. The car feels solid on the road in any weather, thanks to all-wheel drive, and is quiet overall during acceleration and against road noise. It's comfortable for the passenger and the driver alike.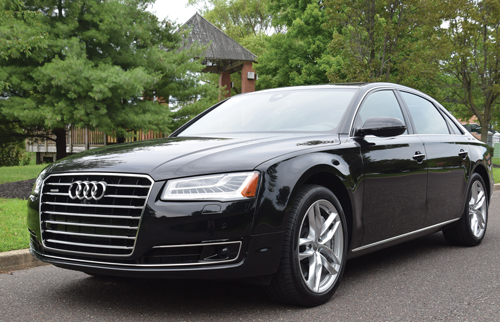 It's a really fortunate time for our industry when it comes to high-end luxury sedans, especially from the German automakers. As chauffeured transportation operators continue to compete for corporate business, for C-level executives, the vehicle is becoming as increasingly important as the quality of service and duty of care. Each model year raises the bar on what is offered inside and out.

Audi is the newest OEM to join our show floor (not to mention sign on as a Title Sponsor) to court chauffeured transportation operators with its lineup of beautiful vehicles, so we were thrilled to be able to get our hands on the A8, its amenity-rich, full-size premium sedan. If you are considering replacing or adding a VIP sedan to your fleet, here are all the details from our test drive.

For those who aren't familiar with the brand, Audi is one of the oldest auto manufacturers in Germany and is represented by the distinctive four-ring logo. It's a brand that is well known for its resistance to rust thanks to a galvanized body—which is particularly advantageous for those who live in areas where sand and winter salt are an issue (it comes with a 12-year limited warranty for corrosion). Its version of full-time all-wheel drive is branded as quattro. This vehicle is available with a 4.0T V-8 or a 3.0T V-6 (which will be seen at the CD show). If you've looked into purchasing an Audi in the past, note that the automaker has done away with the short wheelbase option for this model.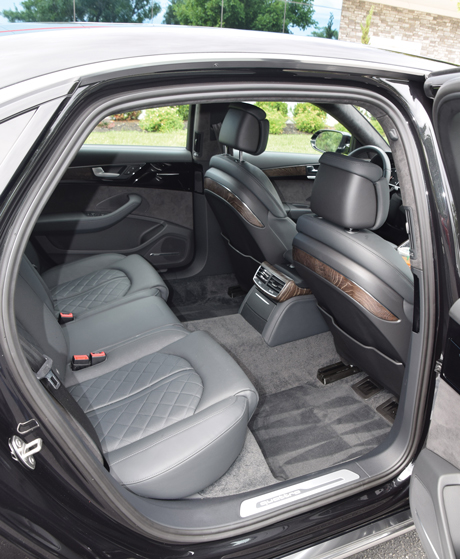 At first glance, the A8 is a striking vehicle with all the clean lines one would expect from the brand. The front end is the most visually interesting with its strong grille (with the four rings as its focal point) and unique LED headlights. The all-glass panoramic roof is darkened, which gives the illusion of a single piece of glass flowing from the windshield to the rear window. VIPs will not be disappointed with its looks.

There were definitely no complaints with performance and highway acceleration; the 333 hp engine glided seamlessly and effortlessly into regular traffic, which is no doubt true for the 450 hp 4.0T version. There was absolutely no jarring with the 8-speed Tiptronic transmission. Its fuel economy isn't bad either: An estimated 19 mpg for city driving and 29 mpg on the highway (3.0T) was in line with what we tracked. As with any performance car, you'll have to feed it premium gas for best results. Many of the features—parking assist, backup and parking assist cameras, stability and traction controls, and a heated driver's seat—are all standard.

The rear cabin is on point with other manufacturers regarding head and leg room; all of our testers were comfortable with both dimensions (the longer wheelbase helps with leg room). The vehicle comes standard with power side and rear sunshades that are easily controlled by a switch on the passenger's door. Soft-closing doors on all four entry points is an appreciated touch. There are also ceiling-mounted vanity mirrors with lights on both sides of the passenger cabin.


The passenger can also control his own climate with controls on the fold-down armrest, so there's no hunching forward to reach buttons on the back of the front console. There's no USB, but there is a 12-volt outlet for electronics charging. The model we tested was equipped with the Rear Seat Comfort package, which included power lumbar support and variable massage to target all of those sore spots. For additional comfort, the passenger can power-adjust the recline of the seat. One tester took issue with the placement of the controls on the side of the rear armrest, but otherwise was a well-liked feature for travel-weary backs. Who wouldn't love a massage?

The trunk is slightly smaller than its competitors' at 14.2 cubic feet, but rest assured that we had no difficulty fitting four full-size suitcases with space for side storage in the cargo area. To ensure consistency across the many different makes and models that we test, we use the same pieces of fully loaded luggage as a comparison, and this was no exception. It also comes with a power-close trunk with the push of a button.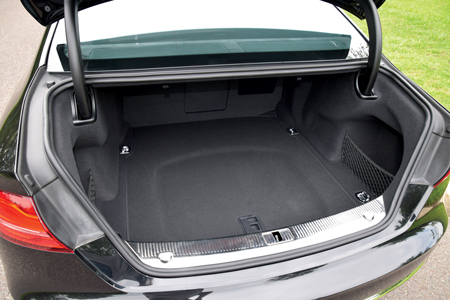 Last but not least, the driver's seat is also 22-way power-adjustable with massage and memory settings for two individuals. While the majority of our testers had no issues with comfort, one of our shorter drivers mentioned some difficulties finding a good seat position because of the need to sit closer to the dash in order to reach the pedals, though the telescoping steering column (adjustable up and down as well as out) and Audi's lane assist ultimately solved that.

Audi prides itself on its integration of style and technology, so it was no surprise that our testers universally used the word "intuitive" to describe many of the A8's best features. From the well-appointed center console design where the shifter, push start, and the majority of radio and climate controls reside to the sleek and attractive instrument cluster with navigation (Audi's MMI system), vehicle settings, and entertainment, it was only a brief learning curve to become acquainted with everything this vehicle can do. We also really liked some of the optional equipment that was available with the Driver Assistance package, including the high-beam assistant (automatically switches between high and low beam to avoid blinding oncoming traffic or vehicles in front of you) and the active lane assist (warning the driver of any vehicles while changing lanes).

2016 Audi A8L Specifications
TRIMS Available (both all-wheel drive)
3.0T quattro V-6, 4.0T quattro V-8
MPG (city/hwy.): 19/29 (3.0T); 18/29 (4.0T)
Rear Leg Room: 42.9"
Rear Head Room: 39.1"

Audi has been aggressively pursuing the American luxury market—surpassing all benchmarks it set for itself in the past six years—and now has 289 dealers in the U.S. alone. Audi is also offering incentives specifically for our industry, which will be announced at the Chauffeur Driven Show in Washington, D.C., this October 9-12. [CD0916]