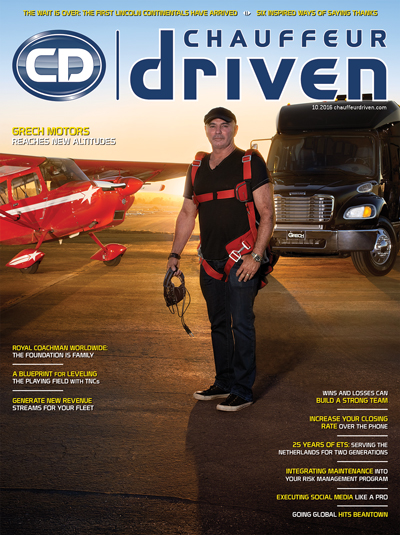 Cover Art: Ed Grech, founder of Grech Motors, combines his love of flying and building some of the industry's leading vehicles. Photographed at Riverside Municipal Airport in Riverside, Calif. Photography by Lyle Okihara of Lyle Okihara Photography
The California-based bus builder soars as it releases new products, adds staff, and ups its production and showroom space
The view from a few thousand feet above land can change one's perspective. Flying high above the landscape and bustle of daily life, the endless horizons offer a glimpse of a bigger picture and, in the case of Grech Motors founder Ed Grech, a view into the future.

A licensed pilot with 10 years of flying experience, Grech began flying as a hobby but quickly developed a passion for it, soon dedicating himself to becoming an expert in the pursuit.

His aerial credentials include a single engine rating, twin engine rating, IFR (instrument flight rules) rating, light jet rating, and taildragger and acrobatic endorsements. The latter means that Grech can maneuver his plane through daredevil stunts like spins, loops, rolls, and dives; his IFR rating means he can fly even when his visual field is obstructed by darkness, clouds, or weather.

The skills Grech has mastered in the air translate well to the ground. Just as flying is a combination of art and science, so is business: dividing one's attention among wildly varying elements, making bold but calculated decisions with precision, staying calm and steady under pressure, and minimizing risks are characteristics shared by great pilots and entrepreneurs alike. Grech has been passionate about creating innovative, trend-setting vehicles for more than three decades, and his time in the cockpit has further honed his vision and abilities.

Being a pilot has also given him the flexibility and freedom to meet with industry leaders and clients around the country, producing new insights and strengthening relationships. This personal touch is a signature of the Grech Motors brand, as evidenced by the fact that Grech vehicles have become fleet standards for countless loyal operators who have passed their affection for the builder to the next generation of leadership within their own companies. Along with his team, Grech is taking his company and clients to new heights.

The past 12 months have been exceptionally strong for the California bus-builder. In the first quarter of 2016, Grech Motors introduced its newest midsize bus, the GM28, which is built on the Ford E-450 chassis and is available with a limo or shuttle interior for up to 23 passengers with luggage or 25 without. The bus, a complement to the company's robust product line, was inspired by demand from customers.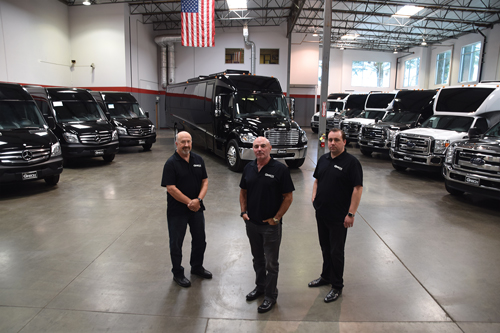 L to R: VP of Operations John Beck, Founder and CEO Ed Grech, and VP of Sales & Marketing AJ Thurber in the bus builder's new showroom at their Riverside, Calif., headquarters "A lot of our clients were looking for a smaller bus, and the GM28 works for those who have smaller groups. It's the Grech quality with significantly more standard features for an attractive price," says VP of Sales and Marketing AJ Thurber.

Demand has been growing for the entire product line according to Thurber, and he reports that sales continue to exceed expectations. The company recently expanded its production facility to 130,000 square feet to handle the new GM28 and an increase in orders, but also added space to its indoor showroom so customers can preview every model that the builder produces before buying. They sell buses from coast to coast and now in Canada, where all of its models are approved by Transport Canada on the Pre-Clearance and RIV programs.

While there is certainly a market for the smaller, more intimate buses, Thurber says that demand for Grech Motors' largest buses remains high. The lineup includes the GM36, GM40, and GM45, built on the heavy-duty Freightliner M2 chassis with seating for anywhere from 32 to 52 passengers with or without luggage (the smaller GM33 is built on the F-550 and seats between 28 and 32 passengers). The Freightliner line also received an upgrade with underbelly luggage compartments. When a federal law goes into effect requiring three-point seat belts on all vehicles with a GVWR of 26,000 and up (for all new buses manufactured after November 2016), all Grech Motors' bigger buses will be equipped with them.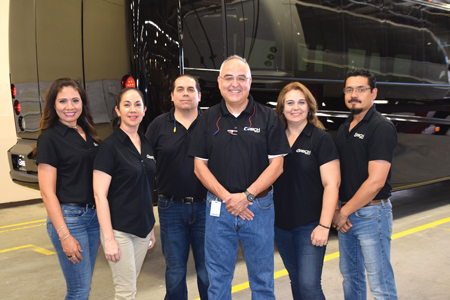 Comprising the Grech Motors production team are (L to R) Marina Burgara, Irma Aguirre, Jesus Duran, Ernesto Valencia, Cristina Oros, and Marcos Melendrez Regional salesmen (and familiar industry faces) Scott Duffy and Carl Restivo recently joined the sales team that includes Kaye Marseilles, John MacKinney, Rene Martinez, Larry Olivarez, Tina Clark, and Michael Campos, in addition to Sales Manager Marty Vitelli, VP of Operations John Beck, and Thurber. Grech himself is also very active in client meetings, building on the longstanding relationships he's had with many industry stalwarts for years.

Scott Solombrino, CEO of Dav El/BostonCoach, says he's worked with Grech since they were both up and coming in the industry, back in the days when stretch limousines were the hottest vehicles around. "I've been using Grech vehicles for decades. They always had the best-looking vehicles, built the best quality products, and most importantly, they stood behind what they build. There was never an issue they weren't willing and able to resolve. I've worked with Ed and John Beck for years, and beyond the fact that they build a phenomenal bus, they are exceptional people, which is hard to find. Ed has always been supportive of the NLA, and he's always willing to invest money on behalf of this industry."

Grech offers active NLA members a per-vehicle rebate of $500 back to the association, because it's the builder's philosophy that supporting the industry is for the greater good and fosters growth of all operators and vendors alike. In addition to being a Diamond Level Sponsor for the NLA, Grech Motors is also a Title Sponsor for the Chauffeur Driven Show.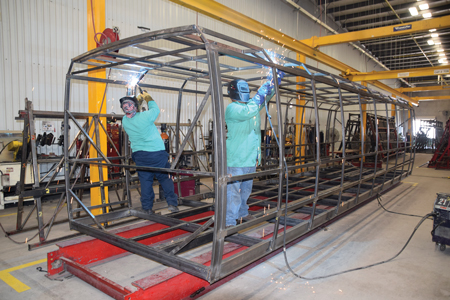 A steel tube cage being placed on a chassis "We recommend Grech Motors very heavily to our affiliate network," says Solombrino. "We want all of our affiliates using their buses because we get so many compliments from our biggest customers. They love the movable wall in the rear for luggage, which adds of a couple of feet in the back, and who doesn't love that large viewing window in the front of the bus, which is perfect for groups doing tours through the city. The Grech team is very clever in their designs and always makes them look fresh."

Their most recent redesigns were made to Mercedes-Benz Sprinter interiors, with five different available floor plans for mobile office, limousine, and shuttle applications. Maximizing space, comfort, and utility, these layouts can accommodate up to 13 passengers with a shuttle interior or up to 14 passengers with a limo interior. The unveiling of these designs came on the heels of another achievement in 2016: its Master Upfitter certification through the OEM.

The builder has also tackled projects that are outside of the current lineup, like the recent build for Robert Vaughan of Best-VIP Chauffeured Worldwide. The eight-vehicle special order involved working with two new chassis, the Dodge Ram 4500 and 5500.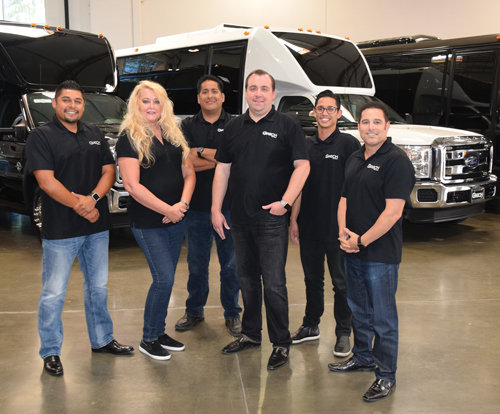 The Grech Motors sales team (L to R): Rene Martinez, Kaye Marseilles, Larry Olivarez, AJ Thurber, Michael Campos, and Marty Vitelli "We are continually improving on all of our products as we go along, and each new generation of buses is better and specifically tailored for the changing industry needs," says Thurber. "We listen to the feedback from our customers, but also have a lot of original ideas from the team."

Gary Buffo, president of Pure Luxury Transportation and NLA president, has become one of the company's largest volume customers. "We bought our first bus in 1997, and have never looked back," says Buffo. "We know firsthand that the bus business is in a class of its own—especially with service and maintenance issues, to say the least. Now that we're operating over a hundred buses, we had to look for a solid luxury bus builder that could represent the image of our brand, while at the same time, one that would stand behind their product."

Buffo says that Grech personally flew in and met his team at Pure Luxury's headquarters, where they discussed his concerns and Buffo offered suggestions on what a bus platform should look, feel, and ride like. "He asked us for our business that day, and now we're the largest bus buyer in the market. They absolutely stand behind their product, and we know firsthand that their team works each and every day to improve upon everything they do. Grech Motors has just become an amazing company to do business with, both professionally and personally. Not to mention, Grech Motors is one of the largest financial supporters of the NLA."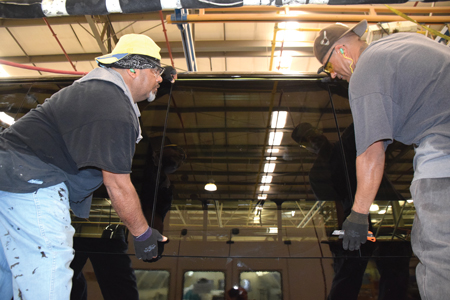 Grech uses frameless windows for a sleeker look and better views from inside The camaraderie extends beyond just the Grech team and their customers: Operators have sent each other affiliate business simply because they have Grech buses in their fleet, according to Thurber. Many have raved about their buses on social media, posting pictures and videos of the numerous creative ways their buses are being used. This prompted the team to start their very own private Facebook group for owners of Grech products, where Thurber says they can exchange ideas, answer questions, and farm out business.

"Our clients have really become our number-one brand advocates and, frankly, our best salespeople. The Grech brand itself has a certain mystique about it in the industry so our clients love to post pictures of how they are using their products. Their clients enjoy the quality and the curb appeal. That's why we created our own Facebook group so that operators could interact with each other. At the end of the day, people want to send their work to those affiliates that have the latest, nicest, newest vehicles out there, and having a Grech Motors' product within your fleet essentially defines the level of the operator." [CD1016]
---
To view Grech's smooth maneuvers in the air, as well as videos of Grech products, visit grechmotors.com/videos

Watch a steel tube cage being placed on a chassis. Please click here.