BY ROB SMENTEK
A Premiere #1 brewery tour visits Bube's Brewery in Mt. Joy, Pennsylvania If necessity is the mother of invention, then creativity must be the kindly aunt. Experienced operators know that there are times when entrepreneurial spirit and financial wherewithal just aren't enough to keep your business vital and alive. As your company grows and your fleet size increases, you have to be particularly mindful of keeping your metal moving during those dreaded slow periods. Sometimes, owners and operators can't always rely on steady corporate work or even weekend retail runs to keep things afloat. That's when a little creativity and ingenuity needs to creep in to build new revenue streams to attract new customers.

"If you've got a car sitting, then you have to be creative sometimes. Don't be afraid to think outside the box," offers Douglas Rydbom, CEO of Premiere #1 Limousine Service in Harrisburg, Pa.

Rydbom purchased Premier #1 in 2009, and quickly expanded the small, five-car business into a 50-vehicle fleet. He attributes a large part of that growth to the company's special events and tours, pointing out that 25 percent of his weekend rentals are devoted to their tour packages.

"In Central Pennsylvania, we steered this area toward the wine tours," says Rydbom. "We took off with it, and ran strong, but our demographics were showing that while women were doing the wine tours, a lot of guys were like 'what's in it for us?' So we started looking at the brew tours and putting packages together. It was immediately successful, and now women are stepping away from the wine tours and joining the brew tours."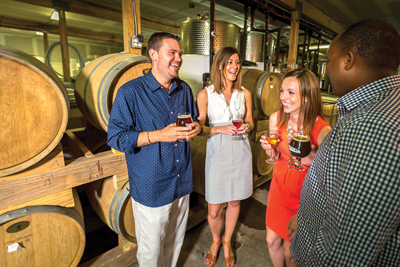 In the past few years, craft beer has exploded in popularity. In 2015, the Brewer's Association reported 4,269 breweries in America, with a whopping 98 percent of those businesses being classified as "craft breweries." Across the country, small microbreweries that produce small batches of beer on premises are popping up like dandelions. Central Pennsylvania is no different. While large craft breweries like Troeg's and Yuengling have made a name for themselves locally and nationally, the intimate atmosphere and one-of-a-kind beers that people experience at these independent brewpubs have made them sought-out destinations for "beer snobs" and casual drinkers alike.

"We created partnerships with a number of the local breweries," says Rydbom. "Our drivers not only provide transportation for our clients, but they will take them into the breweries and introduce them to the staff. As part of the package, we also see that all your tasting fees are paid for, and sometimes we'll even give out cozies with our logo."

To handle Premiere #1's events, Rydbom has an employee solely devoted to booking and handling their travel packages and tours. Since their craft brewery tours have exploded in popularity in the past nine months, the company has worked hard to make each tour a truly special event.

"It's all about keeping our vehicles moving," explains Rydbom. "We have a large fleet of luxury vehicles—not only sedans, but we still have a lot of limousines in our fleet. So we try to fill that void to make sure things are active. The economy is frequently changing, and as limousine rentals tend to fluctuate as far as weddings and things go, we had to spin off and make sure we stayed successful."

Rydbom believes that dealing with Premiere #1 is more than renting a limousine, it's about the experience and the packaging of the trip. In addition to the wine and beer tours, the firm also works to put together other weekend getaways and experiences in tandem with local businesses.

"We're trying to partner with everyone in our area," says Rydbom. "One thing we're currently doing is organizing paintball packages with pizzas and overnight stays in hotels. We're seeing a lot of repeat customers for our tours. Sometimes I wonder what we would do without our special events—they're such a big part of what we do here."

When exploring new ways to move your fleet, it's worth considering that business opportunities can come from unlikely inspirations. Keeping abreast of what's happening in pop culture can actually be beneficial to you.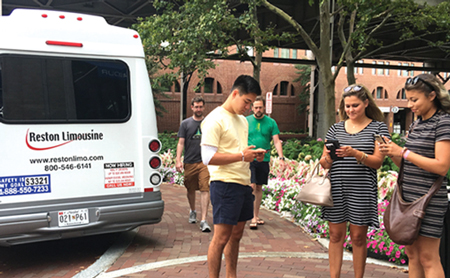 When the Pokémon GO app was released this summer, it quickly became a gaming and social phenomenon around the world. In the weeks following its July launch, it was already one of the most used mobile apps in 2016, and, to date, it's been downloaded more than 500 million times worldwide.

The app, which incorporates "augmented reality," uses your mobile device's GPS capability to locate, capture, battle, and train animated creatures, called Pokémon, who appear on the screen as if they were in the real world.

All over the country, gamers have become virtually addicted to the game (no pun intended). It's not uncommon to see kids, teens, and young professionals with their heads down and eyes glued to their phone screens as they walk through cities, parks, and even landmarks. Before long, the media picked up on dozens of stories of people being hurt, and even killed, while playing the game. Several players have wandered into traffic and some have even been caught playing while driving. In fact, a recent study published in the Journal of the American Medical Association reported up to 10,000 instances of distracted driving per day due to PokémonGO.

It was one of these news stories that inspired Therese Howe, the marketing manager of Reston Limousine in Sterling, Va., to start a new promotion.


When I got to my office, my assistant and I both looked at each other and screamed 'Pokébus!'
Theresa Howe, Marketing Manager of Reston Limousine, Sterling, Va."

"As more media outlets started covering Pokémon's popularity, I heard a host on the radio say, in response to people getting hurt while playing the game, that someone should do tours," says Howe. "When I got to my office, my assistant and I both looked at each other and screamed 'Pokébus!' She had heard the same program."

Since pop culture trends have a notoriously unpredictable and often ­limited shelf life, the marketing team at Reston quickly went to work hashing out a plan for their Pokémon-related tour.

"Before we started a campaign, we knew we had to get experience with it," says Howe. "That way we would know what we could even expect to offer."

Howe and members of Reston's marketing team immediately downloaded the app and played it themselves. At the time, the department had two interns, one of whom was already an avid Pokémon player (Howe jokingly calls him their "very own Pokémon master"). The group ventured into the area not only to find the best places to hunt the virtual creatures, but to also determine the best way to handle the tour.

"When looking at downtown Washington, D.C., and the concentration of museums and attractions where a lot of the Pokémon are located, it just made sense to offer some sort of D.C. bus tour," says Howe.

Immediately after Reston announced the Pokémon tours, the response was electric and gained traction in the both trade and local media. Howe was shocked to find that the tour even was covered on the Buzzfeed news site, which she calls "the Huffington Post for millennials."

Currently, Reston's Pokébus can be booked for private tours that can offer a set itinerary of cites or a client-guided trip. Howe envisions that parents will use the tours for "rolling birthday parties."

Howe is thrilled with the success of the Pokébus, but has advice for operators looking to diversify their services by hopping on a craze.

"Before leaping into anything, experience the trend firsthand. Know the pitfalls and be able to offer the best experience to your clients."

As we know, the heart of the chauffeured ground transportation industry beats strong in the small business owner, but sometimes finding your toe hold requires a bit of ingenuity, particularly if you're entering blind.

Colorado resident Erich Roeseler has spent his whole career in the travel industry, which has moved him all over the country. At one point, he made a living selling tours on the world-famous Bourbon Street in New Orleans, and prior to that he sold trips on board an Alaskan cruise ship. His wandering spirit eventually brought him to Denver in April 2014, three months after the state passed its controversial law that legalized recreational marijuana use.

After relocating, Roeseler and his partners started 420 Airport Pickup, a five-SUV service that provides transportation to clients who want to experience Colorado's local pot scene. While there are many "420 friendly" tours in the Denver area (420, in case you didn't know, is a common code for marijuana), most follow the craft brewery model of bringing people to a number of growing facilities or dispensaries to sample the product. Frequently these tours are done in party buses that are often boldly decorated in tie-dye or Rastafarian patterns. Hardly subtle.

"We provide the 'anti-tour,'" explains Roeseler. "Our main service is picking up clients at the airport, taking them to a dispensary, and then dropping them off at their hotel. It's very simple."

While most people, particularly those in states where marijuana use is a crime, have the perception that services like 420 Airport Pickup are rolling parties. Roeseler says that it's largely the opposite.

"While we allow passengers to smoke in the vehicle, many choose not to. Our clients are respectful and not flashy about it at all. They're very low-key."

As you might assume, 420 Airport Pickup is a more laid-back affair than our industry is accustomed to. While the vehicles are new, the drivers dress casually and do not wear a suit or tie. Roeseler believes that's part of the appeal.

"We don't wear a suit, but the vehicles are well-maintained. Because marijuana is still illegal in most of the country, our clients tend to bond with the drivers. They're used to being secretive about smoking so they always want the same driver."

Like Roeseler, his staff (including drivers) is new to the industry. Getting the correct permits and background checks took a great deal of time and patience, not to mention the expense of getting commercial insurance on five vehicles. Roeseler feels that getting through Colorado's red tape would be overwhelming for most people looking to start a similar business.

The future looks green for 420 Airport Pickup. In addition to their airport services, they also offer transportation to area ski resorts as well as tailgating packages for concerts at the famous Red Rocks Amphitheater outside of Denver. Roeseler is also looking at the possibility of expanding to Seattle and Portland.

When it comes to finding new revenue streams for your vehicles, it pays to be a little creative. Look for travel, tourism, and recreation trends and see if you can cater to that market. Or check around and see what your affiliates are doing that might work in your area. [CD1016]