Details

Category: Industry News
Optimistic signs of return and tangible recovery in the business travel sector could be seen over the past month, according to the latest poll from the Global Business Travel Association (GBTA). More than half (52 percent) of industry respondents reported more optimism compared to the association's September poll. October also saw an increase to 66 percent of those polled who said their companies are allowing non-essential domestic business travel and, in a high for the year, 42 percent international travel, while more than half of suppliers (55 percent) say their bookings from corporate customers increased from last month.
Three in four (74 percent) indicated support for the opening of US borders, slated for November 8, with the required protocols, with seven in 10 expecting an increase in international business travel over the next six months as a result. GBTA members and stakeholders strongly agree that reduced infection rates and increased vaccinations will accelerate business travel at their company, with 59 percent indicating increased vaccination rates around the world would be a top driver.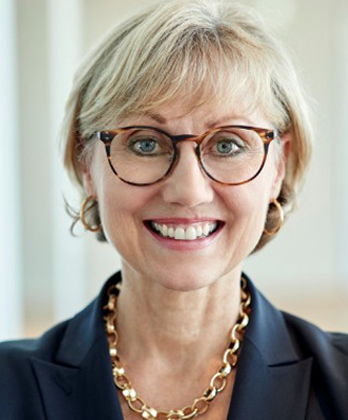 GBTA CEO Suzanne Neufang
"There's still a road ahead for recovery but we're delighted to see the opening up of borders and a return to non-essential business travel. While we have seen ever-increasing domestic and short-haul travel, a more accelerated recovery has been hindered by the lack of international trans-Atlantic travel. The opening of the much-anticipated Europe and UK to US travel corridors, as well as the opening of land borders to Canada and Mexico, will give a much-needed boost to the business travel ecosystem and global economy," said GBTA CEO Suzanne Neufang. "Safety and duty of care continue to be of upmost importance to our members, who overwhelmingly support vaccine programs as well as smart travel policies to ensure a safe return to business travel, meetings and events."
Poll highlights:
SUPPORT AND EXPECTATIONS FOR US BORDER OPENINGS. Support is strong for the US policy to open borders with new requirements for international visitors to enter the US, including proof of vaccinations status, and proof of a negative COVID test result within three days of travel departure. Three in four US-based GBTA members and stakeholders strongly support (50 percent) or support (24 percent) the policy and one in five (17 percent) are neutral of the policy. Seven in 10 (73 percent) respondents believe the US policy will greatly or moderately increase international business travel to the US in the next six months. One in four (26 percent) believe the policy will only slightly increase international business travel to the US.
OPTIMISM COMING BACK. More than half of supplier and travel management company staff (52 percent) report they feel more optimistic compared to a month ago (22 percent in the September poll) for the industry's path to recovery. Only one in ten (10 percent) say they feel more pessimistic compared to a month ago (27 percent).
GREENLIGHTING BUSINESS TRAVEL. The October poll saw an increase to 66 percent reporting their companies usually or sometimes allow non-essential domestic business travel, up from 61 percent in September. Non-essential international business travel followed a similar trend, up to 42 percent (from 34 percent in September).
ROAD WARRIORS ARE READY. Among those who stated they have traveled less or much less for business than they did pre-pandemic, seven in ten (70 percent) say they miss traveling for business and are eager to travel for business more in the future. One in five (21 percent) do not miss traveling for business and wouldn't mind traveling less in the future and 10 percent are unsure. Respondents based in Europe (31 percent) are more likely to not miss business travel compared to those in North America (19 percent).
VACCINES? Respondents based in Europe (73 percent) are more likely than respondents based in North America (58 percent) to say they do not require vaccinations to travel for business and/or meet clients or customers face to face. Likewise, respondents based in Europe (85 percent) are more likely than those based in North America (59 percent) to say they do not require vaccinations to travel to return to the office and work from the office.
SOME OFFICES OPEN, FLEXIBLE WORKING THE NORM. Two-thirds of respondents (67 percent) still have significant flexibility to work from home. This includes those who say their company's offices largely have not re-opened (31 percent) or have permanently closed (2 percent), and those who say their offices have re-opened but employees can choose to work from the office or from home (34 percent).
The October poll is the 24th in a series tracking the pulse of GBTA's membership of global travel buyers, suppliers, and other stakeholders on how the business travel industry overall is navigating the return to travel, post pandemic. You can view more details and additional key highlights as well as previous poll results here.
[10.26.21]
Details

Category: Industry News
The results are in! The National Limousine Association (NLA) has released its slate of candidates who are vying for a seat on the association's board across the country and globally. According to the NLA, eligible voting members will receive their unique voting credentials via email in early November.
The candidates are (click on the candidate's name for more information):
At-Large (one open seat)
 Central (one open seat)
 Northeast (one open seat)
 West (one open seat)
 Canada (one open seat)
 International (one open seat)
The association is also holding a Debate Day livestream for members to get to know the candidates and their platforms on October 27, hosted by Bill Faeth of Limo U. The hourly debates will be segmented by region, and members are invited to submit questions to bill@limogrowth.com or during the livestream (click here to join the event or become a member of the Limo Growth Facebook group).
Debate Day Schedule:
Northeast: 11am ET
Central: 12pm ET
West: 1pm ET
At-Large: 2pm ET
Canada and International: 3pm ET
Visit limo.org or facebook.com/nla1985 for more information.
[10.26.21]
Details

Category: Industry News
The United Motorcoach Association (UMA) will hold elections for seven operator seats on the board of directors that will open up in 2022. Members can vote online from December 2-17.
Campaigning began in early October, after the slate of candidates was announced during UMA's online Town Hall.
"There has never been a more important UMA board election than the one we face right now, said Gladys Gillis, of the Starline Collection, Immediate UMA Past Chair and Chair of the UMA Nominations/Bylaws Committee.
"The new board of directors will immediately face the tasks of helping our members grow out of near ruin, properly supporting a brand new president and CEO from outside our industry, and defining the future teaming role with other national, state and regional organizations. Remember, only paid members can vote for our board members," she said, adding, "Please pay your dues. Please get to know these candidates and how they feel about these issues. Please vote."
Earlier this month, UMA also announced that Scott Michael was named as its new president and CEO.
Board winners will be announced in early January and new board members will be introduced to UMA members at the Motorcoach EXPO in Long Beach, California, from Feb. 23-27, 2022.
Candidates by UMA Region
In Region 1, three candidates are seeking two open seats. Candidates are:
Lisa Allen of Amador Stage Lines, Reno, Nevada
Tom Giddens of Pacific Coachways, Garden Grove, California 
John Grzywacz of CIT Signature Transportation, Ames, Iowa
UMA's Region 1 covers the western part of the country, including Alaska, Arizona, Arkansas, California, Colorado, Hawaii, Iowa, Idaho, Kansas, Louisiana, Michigan, Minnesota, Montana, North Dakota, Nebraska, New Mexico, Nevada, Oklahoma, Oregon, South Dakota, Texas, Utah, Washington, Wisconsin, and Wyoming.
Region 2 has eight candidates running for two open seats:
Paige Balsinger of All Around Charter & Tours, Nokomis, Florida
James M. Brown Sr. of Magic Carpet Tour Bus Service, Richmond, Virginia
Clarence Cox III of Georgia Coach Lines, Fayetteville, Georgia
Jacqueline Grice of Agape Travel & Tours, Chesapeake, Virginia
Yvette Harris of Horizon Motor Coach, Harlem, Georgia
Lee Helms of Sunway Charters, Charlotte, North Carolina
Jack Kaufman of Timi's Tours Transportation, Moweaqua, Illinois
Jason Quick of Quick's Bus Service, Staunton, Virginia
States within Region 2 are Alabama, Florida, Georgia, Illinois, Kentucky, Mississippi, North Carolina, South Carolina, Tennessee, and Virginia. The region also includes the District of Columbia.
In Region 3, the race is uncontested with two candidates running for two open seats:
Glenn R. Every of Tonche Transit, Mount Temper, New York
Tim Stout of Stout's Transportation, Ewing, New Jersey
Region 3 includes Connecticut, Delaware, Massachusetts, Maryland, Maine, New Hampshire, New Jersey, Ohio, Pennsylvania, Rhode Island, Vermont, and West Virginia. 
Region 4 is an uncontested race with John Wilson of The Wilson's Group of Companies, Victoria, British Columbia, seeking the one open seat to represent Canadian operators.
Voting begins on December 2 and ends on the 17th.
For more information, visit uma.org.
[10.25.21]