Details

Category: Industry News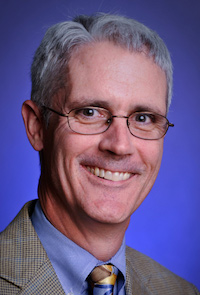 TLPA President Terry O'Toole of Kansas City Transportation Rockville, Md. — Registration is now open for the Taxicab, Limousine & Paratransit Association's (TLPA's) 2019 Spring Conference & Expo, to be held April 24-26 at the Hilton Riverside in New Orleans.

TLPA's spring event provides a chance to showcase innovative ideas and explore networking opportunities for hundreds of transportation operators and vendors. It also offers a more intimate setting than TLPA's large annual gathering later in the year.

"This is where a smaller crowd can really favor both the operators and the vendors, and where rubbing elbows with decision-makers happens at every turn," said TLPA President Terry O'Toole of Kansas City Transportation. "It's a place where conversations on the Expo floor, or in the hallway after a General Session, can turn into a business deal, or into a group social event where long-term partnerships can be solidified."

Attendees will be welcomed with an opening cocktail reception when the Expo opens on April 24, followed by two General Sessions and additional Expo hours on April 25. The event, during which TLPA's leadership committees and board will meet to finalize the association's agenda for the rest of the year, concludes on April 26.



"This will be one of our most exciting Spring Conferences in recent years," said TLPA CEO Alfred LaGasse. "There will indeed be some very big ideas discussed there involving the future of this industry and the new strategic direction of our 101-year-old trade association. And since our event wraps up on a Friday, we're already hearing people say they'll extend their stay for the weekend to experience all that New Orleans has to offer."

Located on the banks of the mighty Mississippi River, the Hilton New Orleans Riverside offers a prime location from which to explore the city's cultural, historical, and culinary offerings, or to simply enjoy a leisurely walk to some of the best music venues in the country—and with temperatures in the upper 70s, there is no need to pack a jacket.

Member registration, as well as information about sponsorship and exhibition tables, is now available at tlpa.org/Spring-Conference. Rooms are available at the Hilton New Orleans Riverside for $199 per night (plus taxes and occupancy fee) until March 13 or whenever TLPA's block sells out.

Visit tlpa.org for more information.

[CD0219]
Details

Category: Industry News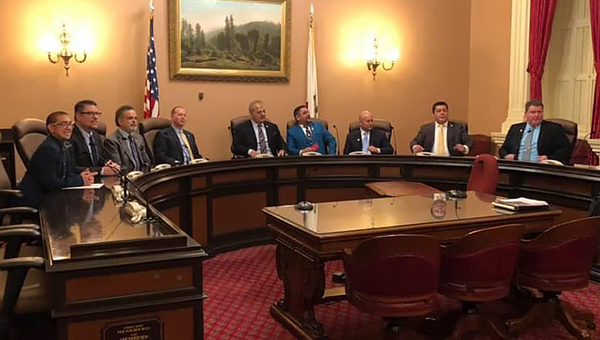 GCLA members at the Capitol in Sacramento Sacramento — The Greater California Livery Association (GCLA) held its annual Day on the Hill February 13, when 21 association members took to Sacramento to lobby on behalf of the state's luxury ground transportation industry.

The yearly event is typically spearheaded by GCLA lobbyist Gregg Cook of Government Affairs Consulting and the GCLA's own legislative committee led by David Kinney of API Global Transportation Group and Mark Stewart of CLI Worldwide Transportation. It presents an opportunity for the association to speak with state legislators and their representatives about the most-pressing issues facing California operators, as well as hear from a few assembly members, too.

A great deal of preparation goes into the event just to ensure that all Day on the Hill attendees are attuned to one another: February 7 saw an in-person training day so that members could be briefed on how get the most from their time in the capital city, while a February 12 dinner allowed participants a last-minute chance to hone their collective message—and with a three-pronged directive, it was especially important to make sure everyone was on the same page.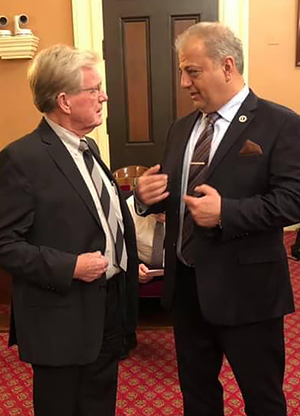 GCLA lobbyist Gregg Cook of Government Affairs Consulting (left) and GCLA Mo Garkani of The COTS Group This year's three correlating key issues were:

--Drug testing for TNC drivers: An especially important topic as legalized marijuana becomes a broader conversation, two possible bills are also looking at this issue from a regulatory standpoint, in terms of mandating both TNC drivers' and traditional livery passengers' usage;

--Wages and labor: In an effort to find a more level playing field between more traditional livery options and TNCs, the classification of workers is emerging as a critical conversation. An Assembly Bill (AB-5) aims to "creates a presumption that a worker who performs services for a hirer is an employee," effectively putting the kibosh on TNCs' tendency to eke by with less expensive labor by calling their drivers what they are by deferring to legal definitions: employees, not independent contractors;

--CPUC Enforcement: The California Public Utilities Commission (CPUC), which regulates the state's commercial transportation industries, has nearly $50M in accrued payments from the operators who've been paying quarterly fees to the PUC's Transportation Reimbursement Fund for years—and the GCLA is urging legislators to release some of those funds to hire additional officers to cut down on the illegally operating outfits that muddy the waters of the state's transportation options by skirting the licensing and oversights that allow them to provide less expensive—though obviously far riskier—rides.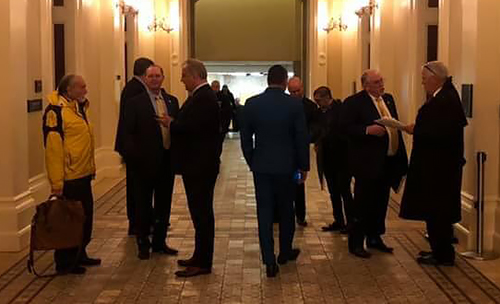 Some of the 21 GCLA members who walked the halls on behalf of their state's livery industry Then on February 13, everyone hit the ground running. The morning was filled with the likes of internal meetings where Cook briefed the group and presentations with key lawmakers before the afternoon's meetings with local legislators began. All told, GCLA representatives advocated their cause to 24 Senate and Assembly offices, and spoke to fewer staff members and more decision-makers than in years past.

The evening recap meeting reflected the generally positive reception GCLA members felt they received, with many reporting that they felt their voices and concerns were actually heard.

Check back with our March issue of Chauffeur Driven magazine for in-depth coverage of this event.

Visit gcla.org for more information.

[CD0219]
Details

Category: Industry News

The Atlantic Limousine & Transportation team takes the delivery of its six newest Temsa buses Atlanta — Atlantic Limousine & Transportation welcomed the addition of six new Temsa buses to its fleet right before this year's Super Bowl LIII touched down in its hometown of Atlanta.

The company's founder/President Robert Oskouie says that his company got into the big-rig game back in 2007 and hasn't looked back.

"When we started working with bus companies, they didn't have the chauffeur mentality that we were looking for," Oskouie said. "So we bought our first bus, put our chauffeurs with their suits and ties in the driver's seat, and they helped passengers get in and out of the vehicle and handled their luggage—and everyone loved it."

Today, the company has 21 coaches and 13 minicoaches—which includes the four 56-passenger coach buses and two 40-passenger executive-style buses it just purchased.

While Atlantic is not only Department of Transportation-approved but also Department of Defense-certified—meaning it's cleared to do work for the likes of the army and the National Guard—the company has contracts with various local organizations, and is an in-demand provider for both corporate and special-occasion groups, too.

But having the Super Bowl in their backyard encouraged both Oskouie and his brother/business partner Hoss to beef up their fleet before the biggest professional sporting event of the year.

"We had some big contracts secured for the Super Bowl, so we thought 'Why not?'," Oskouie said. "We figured that if we're going to purchase more vehicles anyway, we might as well get them before the Super Bowl so we can use them for that and get some extra money from them."

As buses become geared more and more toward the luxury ground transportation industry and group work rises in popularity, Oskouie believes it will only become more critical than ever for traditionally limousine- and sedan-based companies to offer bus and motorcoach options to their clients.

"They've helped us tremendously to grow, and part of why that is is because we offer brand-new equipment," he explained. "People love the fact that they're clean, the have satellites for long trips, the latest equipment, and outlets for their phones and tablets. We took the limousine mentality and transferred it over to buses—and that's what everybody's doing in this industry. Any limousine company that's growing their bus side so those passengers feel like they're being treated at the high level they expect. We're moving away from buses being just people movers to being seen as luxury transportation."

Visit atlanticlimo-ga.com for more information.

[CD0219]