Details

Category: Industry News
It's the strongest third quarter for sales of motorcoaches in the United States and Canada since 2019, according to a new report from the American Bus Association Foundation (ABAF).
The Third Quarter 2023 Motorcoach Builders Survey, which is based on surveys of the major motorcoach manufacturers that sell vehicles in North America, found that 338 new and 104 pre-owned coaches were sold during Q3 this year, marking a continued recovery for the motorcoach industry. According to the report, the increase in sales was led by the private sector buying 33 percent more new vehicles than a year ago, while public sector sales fell more than 75 percent for new vehicle sales quarter-over-quarter.
"It is positive to see the private motorcoach industry continue along the road to recovery. There continues to be challenges the industry needs to overcome before we can say we are in full recovery; one being hiring enough drivers to meet the travel demand," said ABA Foundation President Peter Pantuso in a press release from the organization.
The full report is available here.
Visit buses.org for more information.
[11.21.23]
Details

Category: Industry News

On Monday, November 13, representatives of the New England Livery Association (NELA) met with Logan Airport management to address issues at the busy airport. According to NELA Executive Director Rick Szilagyi of Lexian Management, Logan Assistant Director of Ground Transportation continues to be an advocate for the luxury ground transportation industry and its clients. Items discussed included planning ahead for next summer's tunnel closures, increasing the number of EV charging stations and levels at the Logan Livery Pool, spreading NELA communications through the pool to chauffeurs, and most importantly, the proposed improvement to livery positioning at the all-important Terminal C.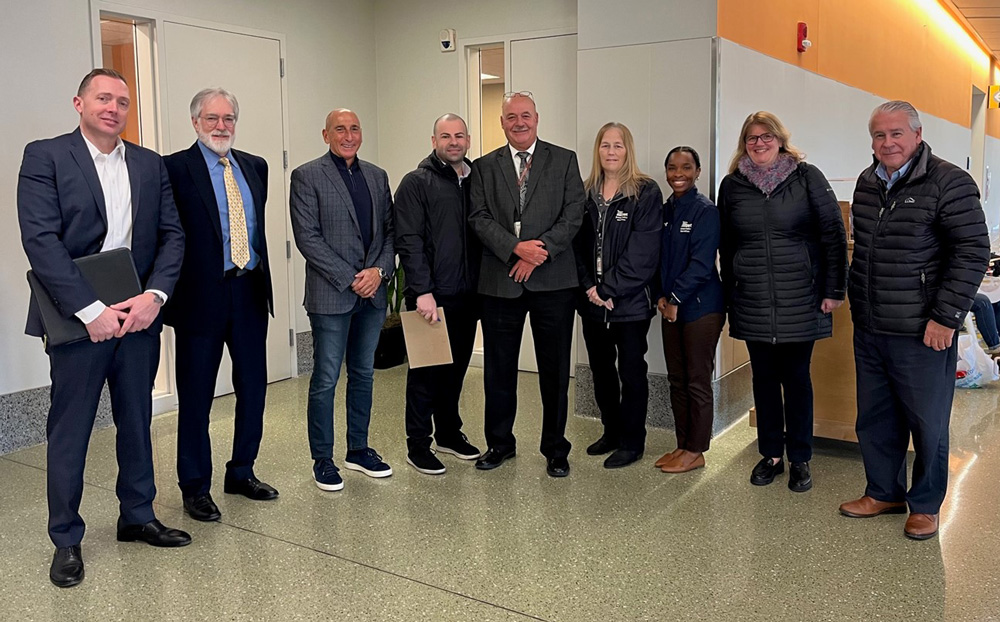 L to R: NELA Treasurer Terry Murtaugh of United Private Car, NELA Executive Director Rick Szilagyi of Lexian Management, NELA President Brett Barenholtz of Above All Transportation/Boston Car/ETS/Maine Limousine Service, Logan Airport Transportation Contract Administrator Dominic Marcella, Asst. Director of Ground Transportation Michael Hadley, Transportation Operations Manager Valerie Travers, Transportation Business Manager Jamila Richardson, NELA Director Alicia Hayes of American Classic Limousine, and NELA Director Larry White of Boston Chauffeur.
NELA President Brett Barenholtz of Above All/Boston Car/ETS/Maine Limousine Service and Szilagyi also brought attention to the fact that LAX has TNCs located offsite and how there are discussions about charging the public for curb access. The potential improvements for operators at Terminal C would be huge if they are approved. Over recent years, Logan has managed a half dozen reconstruction projects all at the same time.
In addition to the sit-down meeting on November 13, Logan management also drove the NELA representatives around the airport to demonstrate the newly opened ramps and several about to be opened. At 30,000 feet, these ramps will improve chauffeurs' ability to move from one terminal to another and keep traffic exiting one terminal from intruding on that of another. Once all the improvements are open, the flow of traffic throughout Logan should improve greatly.
"We appreciate the continued open-door relationship we have with ground transportation management at Logan Airport," says Szilagyi. "While our numbers are of course smaller than those of TNCs for example, there is recognition that our clients are paying us and the airlines for a premium service."
Visit nelivery.org for more information.
[11.20.23]
Details

Category: Industry News
On Tuesday, November 14, the Illinois Limousine and Bus Association (ILLBA) hosted the latest edition of their Coffee With the ILLBA midmorning webinar series. Free and open to operators around the country, these sessions offer exclusive educational opportunities and content. This month's webinar, featuring guest speaker Maren Graham of MJGraham Visual Solutions, welcomed more than 30 attendees spanning the country for a discussion about digital marketing trends in 2024.
ILLBA President Tracy Raimer of Windy City Limousine & Bus kicked off the Zoom event by welcoming the operators, vendors, and guests in attendance, making note of several new faces who were taking part. Next the ILLBA Board of Directors was introduced, followed by an introduction of the guest presenter. With more than 20 years of working with transportation operators, Graham pulled from her experience to deliver a timely and useful session entitled Are You Ready to Leap? 2024 Marketing Trends That Your Business Cannot Ignore. The chief items covered included data collection and using AI to expand your marketing reach.
According to Graham, the more data you collect—whether it comes from your website, surveys, email, or other places—the more accurate a picture you have of your customer base. And when you collect that information, it's integral that you make the data work for you using a CDP (customer data platform), which collects and unifies this information. The CDP will allow you to hyper-personalize your targeted marketing and will provide a "fuel source" for AI.
With AI now easily available to small business owners, Graham said that AI will enable operators to understand their audience, boost customer satisfaction, increase productivity, and improve ROI. Examples of emails from major retailers were presented, including targeted advertising from companies like Amazon. Furthermore, samples of how AI is also revolutionizing customer support in our industry were also shared, particularly by way of chatbots and 24/7 quote inquiries. Graham also pointed out how AI can be used for content creation, namely SEO, blogs, email, and social media. Regarding social media, she made a point of recommending that business owners and social media managers "pause before they post," particularly in the face of a contentious election year when consumer sensitivity is highest.
Following Graham's engaging web presentation—which will be made available to ILLBA members—questions were fielded by Raimer and ILLBA Executive Director Paula DiBiasi of Chicago Coachworks. Topics discussed included the importance of backing up your digital data and recommendations for CDP tools. The meeting closed with a brief discussion of Chicagoland news, especially the situation at O'Hare and Midway Airports. While stings are currently underway to curb illegal operators at both airports, DiBiasi encouraged ILLBA members to report all "hustlers" via the appropriate channels and not engage them on site.
A recording of this month's Coffee With ILLBA will be made available on the ILLBA YouTube channel, along with past webinars, which can be accessed by clicking here. The next webinar is scheduled to be held on December 19, and all operators are invited to take part.
Visit illba.org for more information.
[11.14.23]