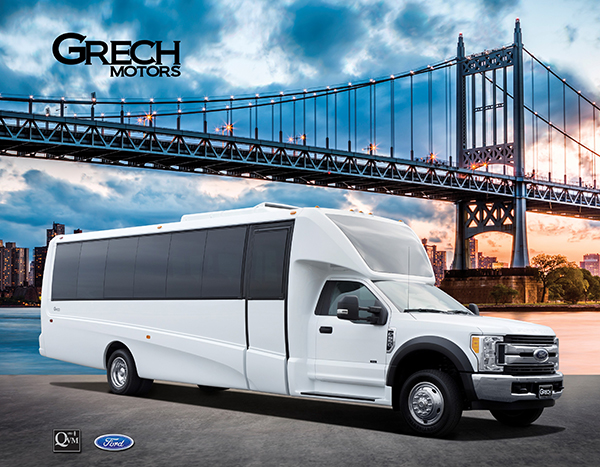 Grech Motors 2017 Ford F-550 Luxury Bus Riverside, Calif. — Grech Motors has announced the introduction of the first 2017 Ford F-550 luxury bus to market with its new GM33 model. Equipped with either a powerful 6.7-liter V8 turbo diesel engine or 6.8-liter V-10 gasoline engine, the new 2017 F-550 GM33 minicoach can seat up to 27 passengers as a shuttle with rear luggage.

The new GM33's modern design is complemented by the 2017 F-550's new front cab, which features a sleek, aerodynamic profile and redesigned grill. Furthermore, Ford's new 2017 F-550 chassis features an all-new, fully boxed under-cab and C-channel aft-of-cab frame made of 95 percent high-strength steel with up to 10 crossmembers (8 through-welded). Torsional rigidity is eight times greater than the previous design.

Connected to this new frame is a high-strength, military-grade, aluminum alloy body, which is lighter than the steel previously used yet is immensely strong. It's also more dent and ding-resistant and not subject to red rust corrosion. This supplements Grech Motors' riveted, aircraft-grade aluminum skin.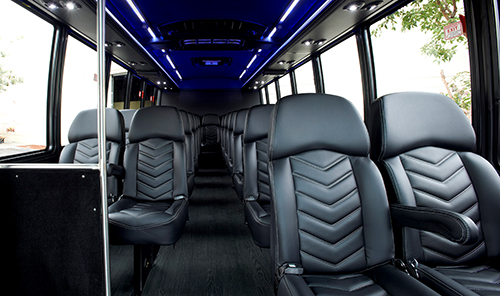 Grech Motors 2017 Ford F-550 Interior In addition to its stronger body and frame, the 2017 Ford F-550 chassis also features a suspension, brakes, driveline, transfer case, and axles that are larger and heftier for greater strength and capability. The components of the four-wheel anti-lock brakes feature the largest rotors in class, which increases longevity and maximizes stopping power.

Visit grechmotors.com for more information.

[CD0117]