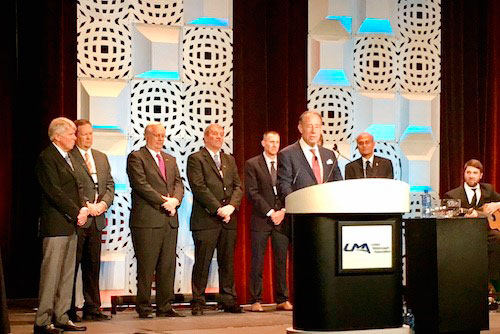 UMA President & CEO Vic Parra is recognized by UMA's past chairmen during the Leadership Awards Ceremony St. Louis — From February 26 to March 2, nearly 2,000 motorcoach operators, vendors, and even their families flocked to The Gateway of the West for a few days of the education, networking, and show floor that the United Motorcoach Association (UMA) Motorcoach Expo has become known for. Representing Chauffeur Driven at the annual event were Director of Events Jess Pavlow and Business Development Manager Rickie Roberts.

With many returning favorites punctuating the multi-day conference, the 2017 Expo kept its roster off offerings fresh with brand-new and back-by-popular-demand events. This debut International Driver Competition brought together 26 drivers from 16 operators—boasting a combined 150 years of crash-free driving—with Stephen Davis of AT&T Charters being named 2017 Grand Champion.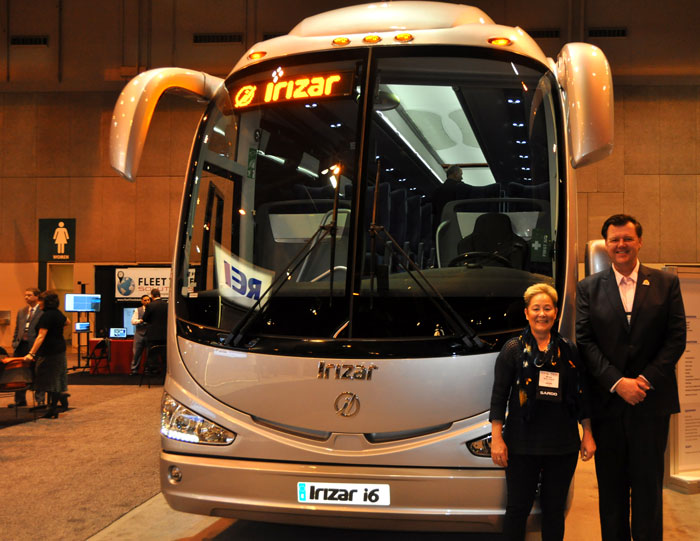 CD Business Development Manager Rickie Roberts and Chad Dickson of Irizar The yearly Solution Sessions, which provide answers to motorcoach operators' real-life questions, saw the return of its popular Small Fleet Operator track, as well as the introduction of a Technology track that rounded out its Marketing, Finance, and Operation concentrations. And the sold-out Expo floor had 160,000 square feet of vehicles, services, and equipment to best serve the needs of the industry and the demands of its passengers.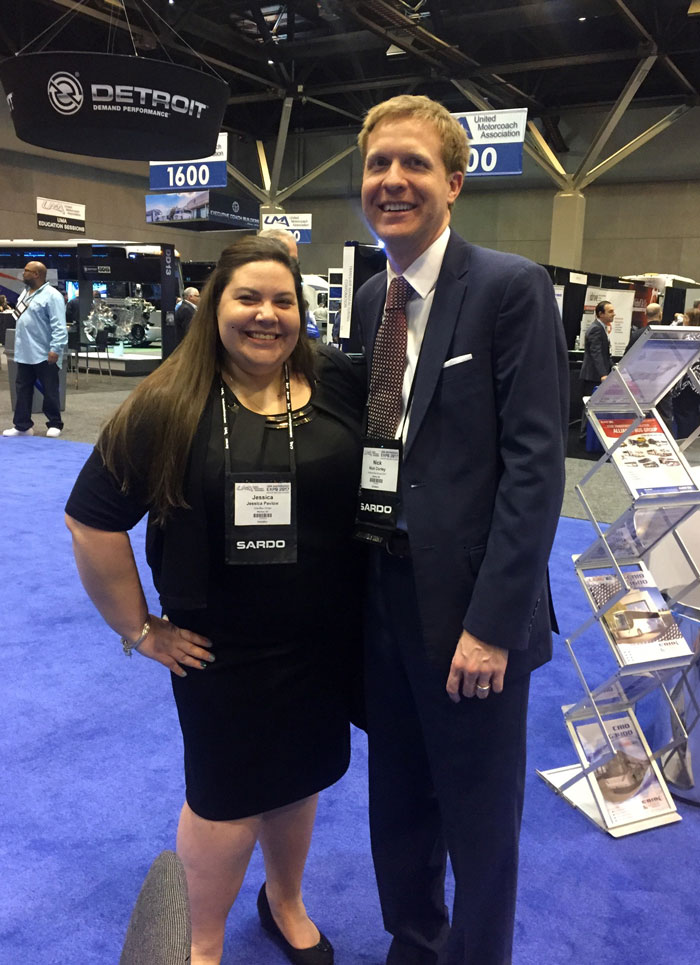 Director of Events Jess Pavlow and Nick Corley of Alliance Bus Group The 2017 Motorcoach Expo was a particularly poignant one, as it marked the final conference under UMA President & CEO Vic Parra. After almost 20 years of heading the association, Parra will retire March 31. The longtime association leader was honored throughout the Expo—including with a life-size cardboard cutout with which attendees could pose for photo ops—with the Tuesday night UMA Leadership Awards Ceremony being the capstone celebration of Parra's dedication to UMA, complete with a video, speeches, high emotions, and a thundering ovation.

"It take a special person to run an association of 900-plus members, all incredible people with a wide variety of personalities," UMA Board Chairman Dale Krapf said. "Well done, my friend."

The 2018 UMA Motorcoach Expo will be January 6-10 in San Antonio.

For more information about the annual conference and the UMA itself, visit motorcoachexpo.com and uma.org, respectively.

Check out the April 2017 issue of Chauffeur Driven for expanded coverage and a gallery of photos.

[CD0317]