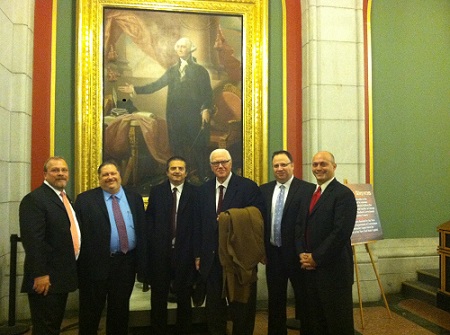 Albany, N.Y.—Limousine Bus, Taxi Operators of Upstate New York (LBTOUNY) and Black Car Assistance Corporation (BCAC) have made significant progress in repealing N.Y.'s five percent tax on operators.
Just days after Former Gov. George Pataki and former Comptroller Carl McCall of Gov. Cuomo's Tax Reform and Fairness Commission supported ending "nuisance taxes"—which was understood to include the five percent tax—BCAC and LBTOUNY representatives met with N.Y. Deputy Budget Director Mary Louise Mallick in Albany.
"They listened to everything," says LBTOUNY Member Bastian, "because the issues that are going on downstate are different from how the tax affects the operators upstate."
Bastian encourages N.Y. operators to contact their representatives—particularly those operators downstate where there are more representatives. Operators can also sign an online petition here (link: http://chn.ge/JkJwhn).
BCAC has also won a battle of its own in New York, successfully halting a vote by the Taxi and Limousine Commission (TLC) on December 19 to cut New York's E-Hail pilot program short and fully implement it into the city's taxi industry. The E-Hail app would enable smartphone users to arrange for cab pickups.
TLC Commissioner David Yassky welcomed testimony on the program at the meeting, but announced that there wouldn't be any vote after several commissioners requested that the pilot run its full course. The BCAC, along with having a sit-down with the Livery Round Table, received cooperation from taxicab representatives in the New York Taxi Workers Alliance (NYTWA) and the Metropolitan Taxicab Board of Trade (MTBOT), who sent the letter requesting the vote's cancellation to the commissioners.
As BCAC COO Ira Goldstein of the Black Car Fund points out, the E-Hail pilot program was approved by the TLC to be a one-year pilot program and insists that it endure the entire year so as to reveal the full effect it will have on New York's industry. Goldstein also expresses concerns with the accuracy of the data the program has generated, which he included in a formal letter to Yassky.
"Everyone knows yellow cabs are street hails—you put your hands in the air—and the liveries and black cars are pre-arrangement," says Goldstein. "We're just trying to preserve that."
Visit nybcac.org for more information.
1/14