Princeton, N.J.— The Limousine Association of New Jersey (LANJ) met for a luncheon this past January 15, where Uber, the chauffeur certification program, and changes to the association's leadership were the top discussions.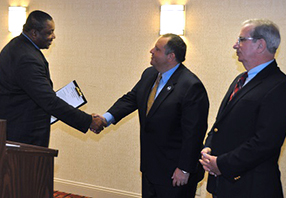 Secretary Jason Sharenow (center) and President Jim Moseley (right) are sworn in by Assemblyman Charles Mainor
Leading the meeting was an update on the joint effort with Burlington County College for an online chauffeur certification and driver safety courses to educate chauffeurs. LANJ is expecting to acquire a $200,000 grant from the DOL to foster this curriculum, which will encourage returning military personnel to become involved in the livery industry. If all goes according to plan, these courses should be available starting with the spring 2014 semester.
An ardent discussion of Uber, UberX, and Lyft and the PASS Act (HR2596) to speed up criminal background checks rounded out the afternoon's discussions. The PASS is being submitted to amend title 28, United States Code, to authorize the Attorney General to share information with agencies of state and local governments that conduct criminal background checks when issuing licenses to taxi drivers, chauffeurs, and other public passenger vehicle operators. This bill is significant to the industry because states such as New Jersey only permit access to background checks for the state and not nationally through the N.J. State Police.
LANJ Executive Director Barry Lefkowitz announced the current LANJ president, Tim Rose of Flyte Tyme Worldwide Transportation, was stepping down. Rose has served the association with distinction for 13 years and "leaves very big shoes to fill," Lefkowitz said. Jim Mosley of TripTracker was sworn in as the new president, in addition to Vice President Jeff Shanker of A-1 Limousine (not at the meeting) and Secretary Jason Sharenow of Broadway Elite Chauffeured Services Worldwide. Barbara Chirico of Gem Limousine Worldwide will remain in her current position as treasurer.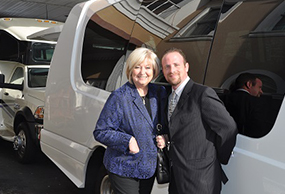 Treasurer Barbara Chirico of Gem Limousine Worldwide and Brian O'Neill of Wolfington Body Company
Rose was called to the mic to discuss the trials and tribulations that operators will face when working Super Bowl XLVIII. Rose advised all operators to avoid curbside pickup at the Newark Liberty Airport due to a required ticketing system and staging lot that will bog the entire process down. Parking will also be difficult because of the limited number of parking passes for the event (and the overall involvement of Homeland Security), but there are still parking passes available from outside ticket brokers for $250.
Lefkowitz then segued into a discussion of the jitney legislation and introduced NJ Assemblyman Charles Mainor (D) 31st District, who is currently backing the LANJ initiatives for legislating hazardous jitneys. Mainor is working in conjunction with N.J. State Sen. Nicholas Sacco, who is on the N.J. Senate Transportation Committee, to ensure that jitneys must follow the same strict guidelines as limousine operators. Mainor also swore in the board.
Other speakers included Alan Lefkowitz (no relation) of Lefkowitz & Lefkowitz CPAs, who gave a short speech on his firm's CFO services. The meeting was sponsored by Wolfington Body Company, and Sales Manager Brian O'Neill was on hand to not only discuss and give tours of his company's newest products, but to educate attendees on the new requirements by National Highway Traffic Safety Administration (NHTSA). The agency is amending FMVSS No. 208 to require lap/shoulder belts at all seating positions on over-the-road buses and non-over-the-road buses with a GVWR greater than 11,793 kg (26,000 lbs.), exceptions being transit buses, school buses, prison buses, and perimeter-seating buses. The mandate will take effect in November 2016.
Visit www.lanj.org for more information.
1/14