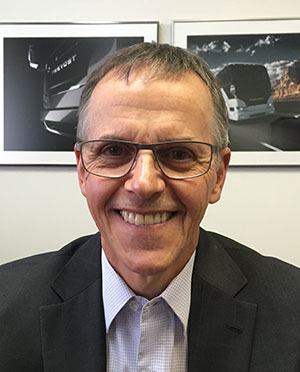 Guy French, Prevost vice president & general manager for services Sainte Claire, Q.C.—Prevost is very proud to announce Guy French as the new vice president and general manager (VPGM) for services for Prevost and Nova Bus. This appointment follows the retirement of long-time leader Clay Flynt, who left at the end of September after 33 years with the Volvo Group, including 10 as Prevost Aftermarket VPGM.

 Flynt oversaw the expansion of the Prevost Parts & Service Network to its current position as a leading service network in the industry.  "We would like to thank Clay for his dedication and passion.  He instilled a lot of trust and team spirit throughout the entire organization and it has been an immense privilege working with him," said Ralph Acs, president of Nova Bus and Prevost and senior vice president of Volvo Bus for the Americas.

"Guy has been part of the team for the past 26 years and has been instrumental in helping to shape and develop the Services business.  We worked together over the last 10 years and helped to build a culture of customer care, customer uptime, parts availability, and growing the service network; including introducing service vans to bring our customer care to the customer's doorstep," said Flynt.

 "I am very pleased with the announcement of Guy. His extensive experience, knowledge of the business, and care for our customers make [him] the natural choice. Our motto is, 'We go above and beyond' for our customers. This is engrained into our team of over 600 employees in services taking care of our customers day in and day out," said Acs.

"I am honored and excited to be leading our efforts to better serve and support our customers for our three brands, Prevost, Nova Bus, and Volvo.  We will continue to strive to keep our industry leading position by offering a larger array of services to help those customers be even more successful," said French.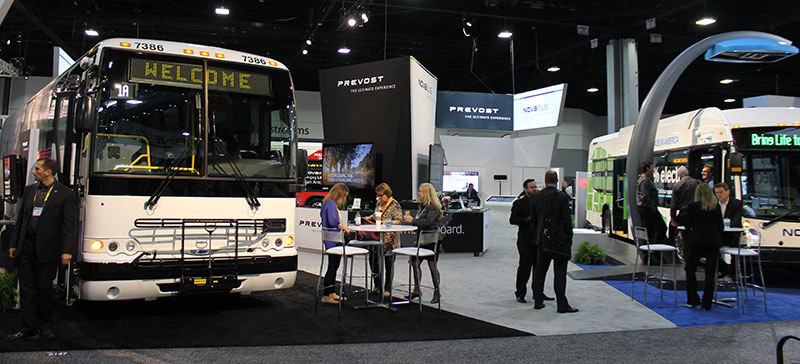 Prevost Commuter at the APTA Expo In other news, Prevost and Nova Bus joined together in an impressive and interactive exhibit at the recent American Public Transit Association (APTA) Expo held October 9-11 in Atlanta.

Prevost displayed an X3-45 Commuter coach equipped with the new Electric Fan Drive introduced earlier this year. Prevost's Electric Fan Drive is a fully integrated system that eliminates the need for a belt-driven fan, thereby reducing the engine horsepower required to operate the coach. The end result is an up-to-four percent improvement in fuel economy.  A detached fan drive was also available for a closer, more in-depth look.

On display from Nova Bus were the 100 percent electric LFSe model and the LFS CNG. The city of Montreal is currently running LFSe vehicles, which offer rapid and fully automatic charging to keep the fully electric buses on schedule. The CNG vehicle, which features the latest in clean natural gas technology, was on loan from San Antonio's VIA public transit.

Customers had access to additional product information such as features, benefits and specifications through touchscreen kiosk next to the coaches. In addition, a cutting edge virtual reality exhibit gave attendees the chance to see and experience the new Nova Bus driver's cockpit area with greatly improved driver visibility, which will be available on some vehicles in 2018.

Furthermore, Prevost and Nova Bus were official sponsors of EXPO Eats, an area where themed food, drinks, and entertainment were offered daily during lunch hours. Themes included BBQ, Taste of Atlanta, and a Beer Garden.

A desk dedicated to Prevost Parts & Service, which also fully supports the needs of Nova Bus customers, was staffed by Prevost Training and Service personnel. Show attendees were able to discuss parts needs and learn about the availability of service training online, in a classroom setting at Prevost facilities and on site at customer locations.

A press conference was held on Tuesday, October 10, to announce the opening of four new service centers, further extending Prevost's already widespread service network. In recognition of the direction in which the industry is headed, the progress both Prevost and Nova Bus have made in vehicle electrification was also highlighted.

Visit prevostcar.com for more information.

[CD1117]