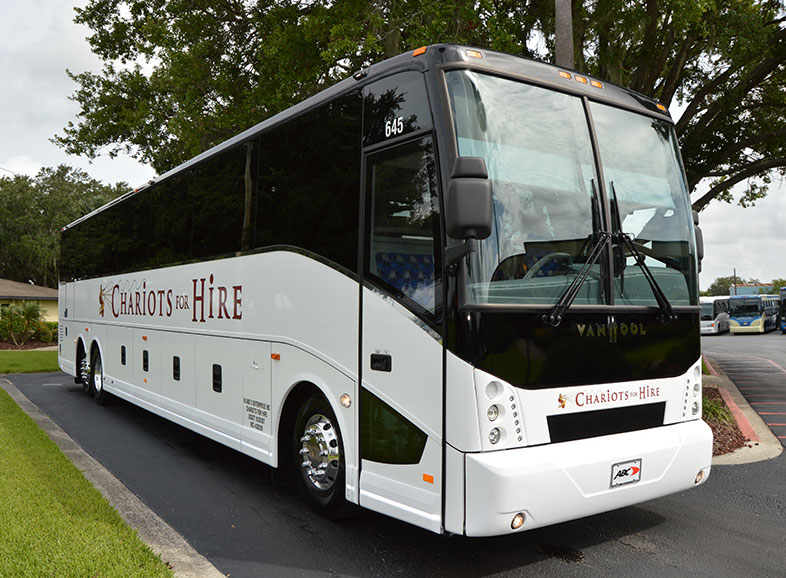 Chariots for Hire's Van Hool 56-passenger CX45 coach Faribault, Minn.— In an effort to serve the Washington, D.C. area's varied transportation needs, Chariots for Hire has chosen ABC Companies as its provider for motorcoaches and buses.

"Having zero knowledge of the motorcoach industry, we spent a lot of time researching different brands and companies," said Courtney West, co-founder of Chariots for Hire. "We chose ABC and Van Hool and never looked back. ABC is easy to work with, they provide great service, and act like a true friend. We have purchased 10 new coaches in the last year to try and keep up with the growth and demand."

Among the newest additions are two 56-passenger CX45s, which are powered by Detroit 450 HP DD13 engines coupled to Allison B500 six-speed automatic transmissions. They feature an REI Elite Entertainment system with six video monitors, 110-volt outlets, and Van Hool's unique rear-passenger window and Grande Luxe seating with leather trim. They also boast Van Hool safety features, including three-point seatbelts, backup camera, lane departure warning, antilock brakes, Smartwave Tire Pressure Monitoring, Kidde Fire Suppression Systems, automatic stability control, daytime running lights, curbside lighting, and adaptive static aiming lights. One of the coaches is ADA equipped with a Braun wheelchair lift. 


Olander's Van Hool C2045 coachAccording to Ryhan Cornell, ABC account manager, "Chariots added six Van Hool CX45s at the end of 2016 and two CX45s this year as well as one 40-passenger CX35. [The Chariots team] are very professional and easy to work with. They really understand the business. You can tell how determined they are to offer their customers the best by the way they specified these coaches."

In other news, Detroit Lakes, Minn.-based Olander Bus Service recently purchased of two 56-passenger refurbished Van Hool C2045 luxury motorcoaches to its fleet.

The two refurbished Van Hool coaches have completely renewed interiors—all new modern fabrics, along with LCD video monitors, WiFi, 110-volt outlets, LED lighting, and distinctive black paint and graphic packages. 

"We spent a ton of time planning what amounts to complete custom interiors," according to Olander Bus Service President Nathan Olander. "That's where our customers spend their time, and that's our way of letting them know how much we value them. ABC's level of service, along with the fact that support is available nearby, made ABC and Van Hool a natural choice."

ABC Companies Senior Account Manager John McFarlane said, "All of us at ABC are excited about being part of Olander's growth. This is their first venture into the motorcoach side of the business, and we are looking forward to watching them succeed and thrive. It's a pleasure working with this wonderful family business. They've provided their community with school bus service for generations, and now they're bringing that attitude and expertise to motorcoaches."

Visit abc-companies.com for more information.

[CD1117]