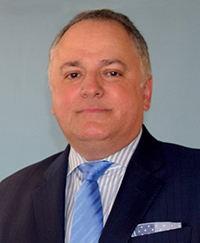 Scott Solombrino, president and CEO of Dav El / BostonCoach New York — The National Limousine Association (NLA) has announced that Congress' long-in-the-works federal tax bill contained a provision that would have given the TNCs a "safe harbor," which would allow companies like Lyft and Uber to continue to misclassify their workers. Through the hard work of the NLA's Government Relations and Public Relations programs, the association was able to garner the support of three senators who were able to strike the provision through an amendment.

In a letter to association members, NLA Secretary Scott Solombrino, president, Dav El/BostonCoach, cited this as "the single biggest event since our passage of the 'Ride Act' years ago" and praised Senators Murray, Brown, Warren, Casey, Carper, Sanders, Murphy, and Sheehan for their roles in pulling the provision from the bill. He also thanked his NLA President Gary Buffo of Pure Luxury Transportation along with Robert Alexander of RMA Worldwide and Jason Kaplan of The Driver Provider, his co-chairs on the Legislative Committee and Public Relations Committee.

"This is a HUGE win for our tiny but very powerful industry," said Solombrino. "Battles like this will not go away; they will continue to try to find pathways to legalize their criminal business practices."  

In the weeks after the NLA's legisilative win, Solombrino penned an open letter to President Trump in order to bring attention to the negative impact that autonomous vehicles will have on the American workforce. In the letter below, which was drafted on behalf of the NLA, Solombrino responds to Uber's move from its current model of ride-sharing using freelance drivers to owning a fleet of autonomous cars about not being a commercial business until drivers are no longer in the picture.



Chief among the issues raised to the president is Uber's advocating for the development of autonomous vehicles, despite the company "that has built its existence on the hard work and labor of its drivers, profited off of the revenue generated by hardworking Americans and now it has publicly stated that its goal is to rid itself of the majority of its workforce."

Solombrino also cited a report from CBS, which stated that "at least 10 million US jobs have a high risk of bowing to automation in the next decade as companies deploy machines that can learn and perform tasks." Also, he mentions that more than 1.8M truck drivers' jobs are now on the line, with .some estimates pegging the number of jobs in the U.S that rely on driving at 20 million.

The open letter (which can be read in its entirety at limo.org/press-room/5598789) makes an appeal that President Trump not only consider the economic effects of autonomous vehicles, but also the safety implications of not having a person in control.

"To be put simply, it is your promise and your prerogative to ensure that the American worker is protected and allowed to prosper," wrote Solombrino. "Drivers are voters, computers are not. This will be among your most enduring legacies as President, and I urge you to speak out on this issue and come to the aid of hard-working American drivers."

Visit limo.org for more information.

[CD1117]