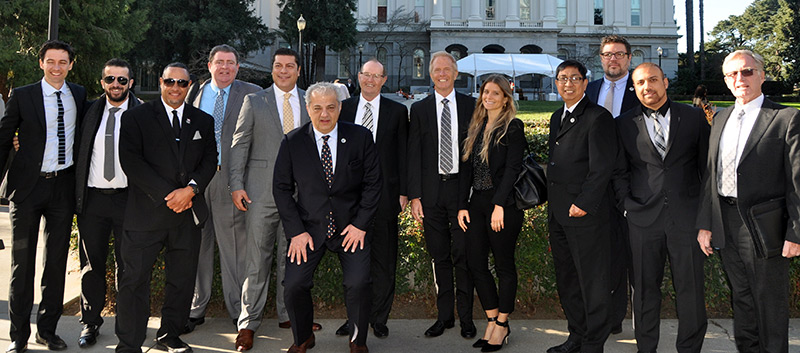 California operators headed to Sacramento to lobby for the industry Sacramento — Members and supporters of the Greater California Livery Association (GCLA) took to the state capitol February 21 for its annual Day on the Hill. CD's Industry & Brand Ambassador Philip Jagiela was among those lobbying for The Golden State's operators.

Prior to the legislative day, a board meeting was held February 20, where new GCLA President Mo Garkani of COTS Group highlighted the primary issues to address the next day.

The next morning, Nidia Bautista of the Senate Energy Committee, Nick Zangani of California Public Utilities Commission (CPUC) Transportation Enforcement Branch, and Edmond Cheung of the Assembly Conveyance Committee met with and spoke to GCLA members before they headed to the capitol to brief them on what to expect from the day and how to maximize their efforts.


L to R: Don Mahnke of ABC Worldwide Transportation, CD's Industry & Brand Ambassador Philip Jagiela, Robert Gaskill of Motev, and Perry Barin of MusicExpress The Day on the Hill itself was packed with meetings to tell senators, assembly members, and their staffs to demonstrate the unity of the statewide ground transportation industry, educate them on not only the issues operators face but also what the industry does, communicate the GCLA's positions on specific legislation, and demonstrate continued support for Lobbyist Gregg Cook of Government Affairs Consulting and his dedication to representing the GCLA's interests throughout the legislative year.

While TNCs were not among this year's focal points, safety issues within the transportation sector remained at the forefront of the day's message as part of the discussion about duty of care and the ongoing need for both Department of Justice background checks and monitoring for-hire drivers. There was also a call for supporting the CPUC, specifically its budget request to hire between six to eight enforcement officers and its efforts to increase enforcement overall.

After the whirlwind day concluded, participants regrouped to discuss the fruits of their labors and detail their meetings.

Check out the March issue of Chauffeur Driven for expanded coverage of this event.

The next GCLA meeting will be March 13 in Las Vegas.

Visit gcla.org for more information.

[CD0218]