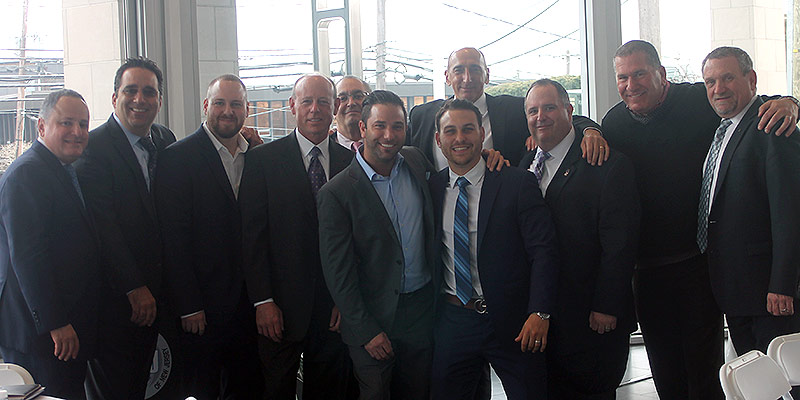 The LANJ board welcomed attendees from all over the country to its most recent meeting Englewood Cliffs, N.J. — The Limousine Association of New Jersey (LANJ) welcomed a packed house to its March 28 meeting at Englewood Cliffs Cadillac when nearly 100 attendees traveled from all across the state as well as Pennsylvania, New York, Virginia, and California for the event. CD Editor Madeleine Maccar and Industry & Brand Ambassador Philip Jagiela were among the members and supporters who were on hand for the meeting.

After the Englewood Cliffs Cadillac team put out a buffet lunch to kick off the afternoon meeting, the dealership's Livery Manager Bill Fellbaum offered his greetings, support, and ongoing assistance to not only those in attendance but also the industry at large.

LANJ President Jason Sharenow of Broadway Elite Worldwide then delivered The LANJ Report, which detailed the many legislative battles and changes the association is fighting for its members' benefit.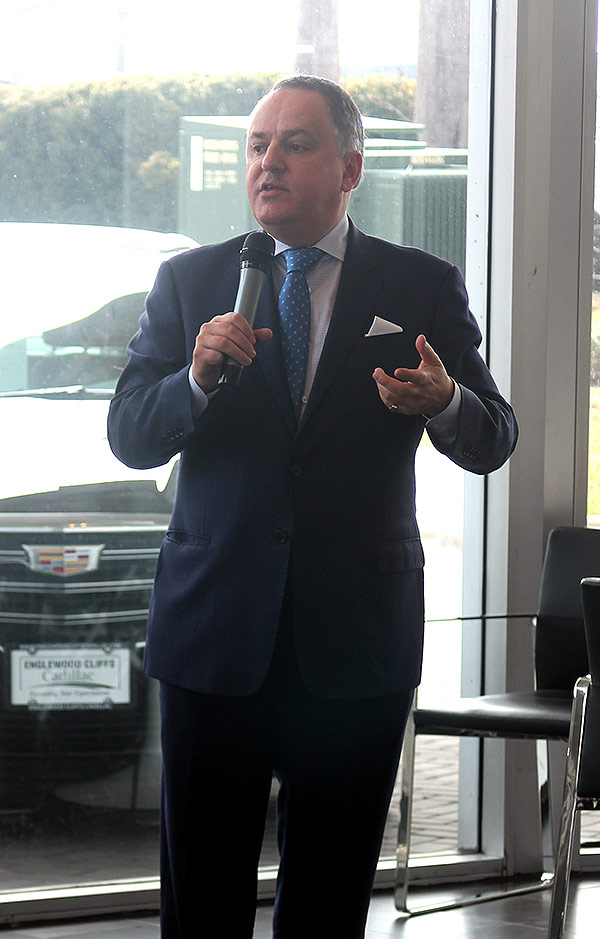 Keynote Speaker Scott Solombrino of Dav El/BostonCoach With newly installed Governor Phil Murphy looking to overturn several bills signed into law by his predecessor Chris Christie, it is feared that the tax relief transportation providers have seen these past few months is slated to be bumped back up to 7 percent, rather than the current 6.25 percent.

Other areas of concern included the proposal to raise minimum wage to $15, as well as the paid sick leave bill—which allows employees to accrue one hour of bankable time off for prolonged illness for every 30 hours they work—that recently passed through the Assembly and is expected to sail through Senate.

With a new attorney general and several industry-sympathetic legislators still in the state capital of Trenton, however, LANJ is optimistic about the future it will aggressively pursue for the benefit of not only its members but also their passengers' safety.

"LANJ will not stop fighting for you in Trenton," Sharenow promised attendees. "I will make sure our voices are heard."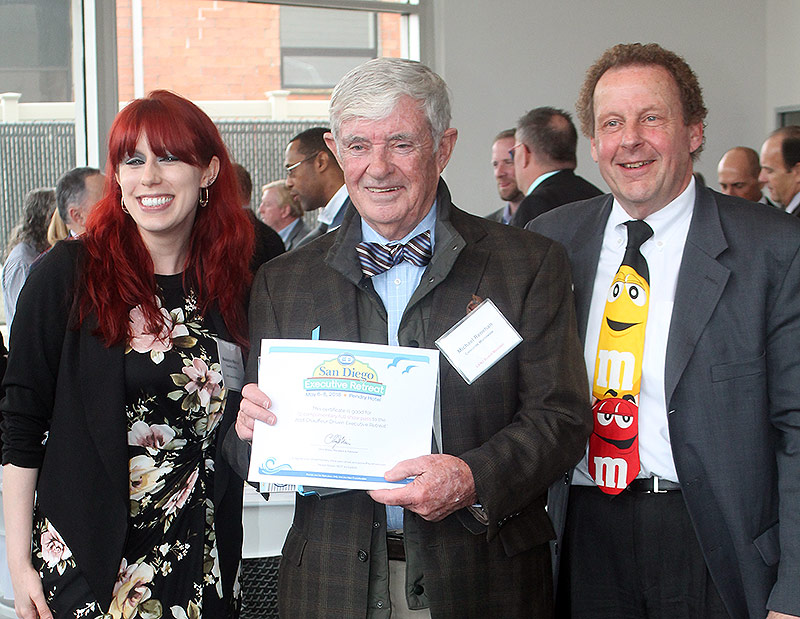 Michael Renehan of Concorde Worldwide (center) won a pass to the CD Executive Retreat in San Diego, which was raffled off by Editor Madeleine Maccar and Industry & Brand Ambassador Philip Jagiela First Vice President/Treasurer Jon Epstein of Royal Coachman Worldwide, who also serves as the association's Membership Committee Co-chair with Barry Trabb of Complete Fleet Livery Sales, then spoke about the importance of presenting a unified front and stepping up to help LANJ continually serve as a vehicle of activism for the industry at a statewide level.

"We can't do any of this without the board and active members we have," he said.

That sentiment was immediately echoed when the afternoon's Keynote Speaker Scott Solombrino of Dav El/BostonCoach took to the podium.

"There is nothing more important than volunteerism in your industry," Solombrino said. "Those are the people who show up and keep fighting those fights for you. The threats to our industry are enormous and we only have a chance if you all show up."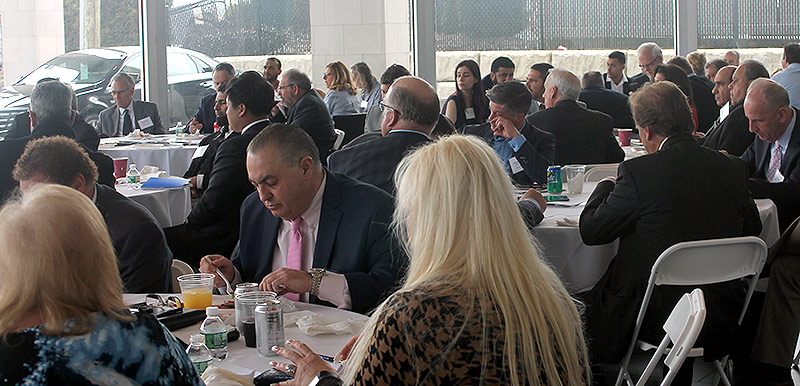 More than 100 members and supporters attended the March 28 meeting at Englewood Cliffs Cadillac Solombrino's speech touched on myriad topics that are keenly relevant in today's ever-shifting operational landscape. Among them: the NLA's PSA campaign with Pamela Anderson as its spokeswoman advocating for passenger safety through better understanding of TNCs' protective shortcomings; how fingerprinting laws differ among neighboring states; labor laws and their accompanying regulations; tax cuts; the importance of donating either time or money to worthy causes—"or both if you're really dedicated"; automated vehicles; and how the NLA is working on a national level to support its far-flung membership base.

At the heart of his message was that it is ultimately "people who still make things happen—not technology."

"I think we can win against the TNCs because we're on the right side of history," said Solombrino. "You can survive this battle because nothing can replace the level of service we provide to our customers."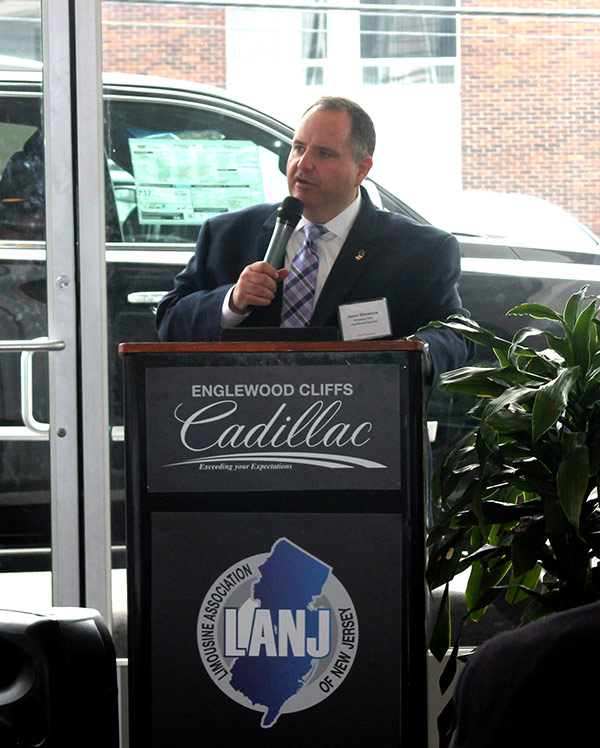 LANJ President Jason Sharenow of Broadway Elite Worldwide After an impassioned Q&A between Solombrino and several meeting attendees, Sharenow spoke about LANJ's upcoming dinner gala, calling for auction items to be donated for the evening's fundraiser. The association's second annual Golf Outing is also currently open to players and those just looking to spend the day with their industry peers.

At the end of the meeting, Jagiela and Maccar raffled off a pass to Chauffeur Driven's May 6-8 Executive Retreat in San Diego, which was won by Michael Renehan of Concorde Worldwide.

LANJ's next event will be its May 16 Dinner and Auction Gala at the Wilshire Grand Hotel in West Orange. Its Golf Outing is scheduled for September 17 at Cherry Valley Country Club in Skillman.

Visit lanj.org for more information.

[CD0418]