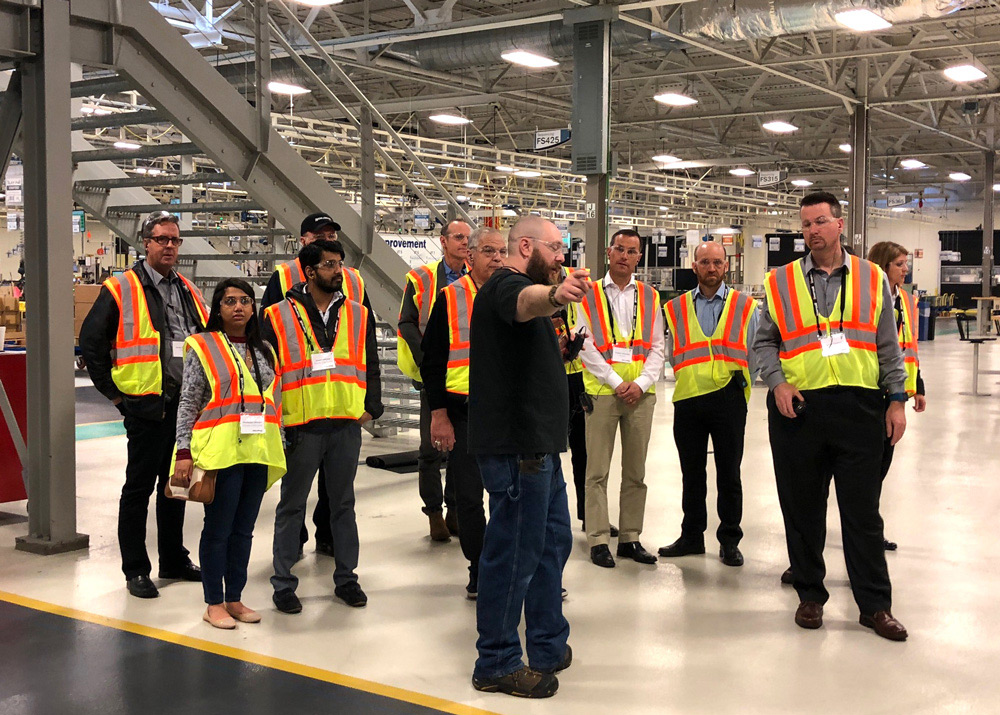 Ride and Drive 2018 attendees receive tour of Volvo Powertrain Manufacturing Facility in Hagerstown, Md. Sainte-Claire, QC — Prevost took pleasure in hosting its signature Ride and Drive 2018 event in late April in Hagerstown, Md. Close to 50 operators from 30 coach companies throughout the U.S. and Canada attended.

The Ride and Drive brings invited Prevost and Volvo 9700 operators and prospective owners together with Prevost sales and service representatives, executive staff members, and suppliers for three days of company updates, new product demonstrations, maintenance and service updates, and to share in a bit of industry fellowship.

"Ride and Drive 2018 presented unique opportunities for our customers to become better acquainted with the Prevost company," says Prevost Vice President and General Manager Francois Tremblay. "Not only do they get to experience our coaches and innovative features first hand, they gain a sense of the Prevost culture and our core values."

The packed agenda showcased new components and systems available on Prevost and Volvo 9700 coaches and gave operators the opportunity to participate in Prevost AWARE and Electronic Stability Program (ESP) demonstrations.

"So often in this industry, we introduce features, but showcase them only at the major trade shows and conferences, with no opportunity for customers to actually experience a new component or system," says Keith Hayward, director, Prevost New Coach Sales, Western Region. "I am grateful our Ride and Drive event gives coach operators first-hand experience with our safety features, which they would not likely fully understand from normal highway driving."

This year the group toured the Volvo engine facility in the morning then tested Prevost coaches on the tarmac and met with Prevost vendors at Hagerstown Regional Airport in the afternoon.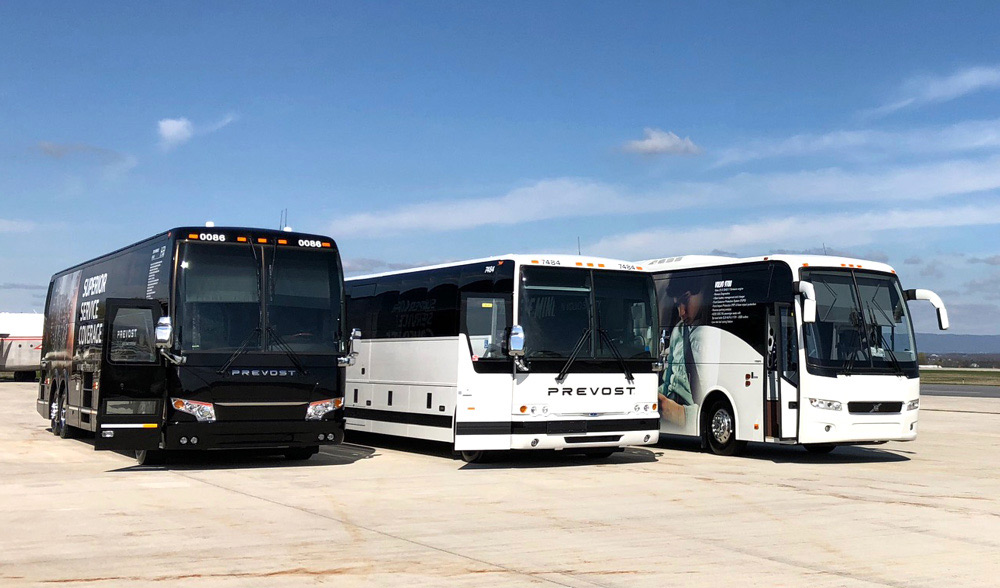 Prevost coaches on the tarmac at Hagerstown Regional Airport The keynote activity was a specially-arranged tour of the expansive 1.5 million-square-foot Volvo Powertrain Manufacturing Facility in Hagerstown where the D13 engines and Volvo I-Shift automated transmissions that drive Prevost H3-45, X3-45, and Volvo 9700 coaches are built.

"This tour provides an in-depth, behind-the-scenes look at all that goes into the Volvo D13 engine, which has been the very heart of Prevost and Volvo coaches since 2007," says Tremblay. "We believe it is important they see inside our state-of-the-art robotic manufacturing process to better understand the precision and high-quality workmanship craftsmanship behind the engine that runs their coaches."

During stops along the assembly line and in engineering, research, and testing laboratories, Volvo technicians and team leaders explained the processes, innovations, and product evolution that ultimately translate into safer, cleaner, smoother running, longer lasting, more efficient diesel engines for Prevost and Volvo coaches.

"I'm a mechanic at heart, so I could do the very top-notch tour through the Volvo Engine Plant every day," says Tim McCullagh, director of operations, Kincaid Coach, Kansas City, Kan. "Everyone knew their jobs and were extremely informative, and certainly comfortable talking about the assembly processes. Also, interacting with peers during the Ride and Drive was a pleasure— picking up on what other operators look for in their coaches. We're all basically on the same page, but some people have a little a different take, which makes it interesting."

Assembled and mingling on the tarmac of the Hagerstown Regional Airport, guests had ample opportunity to safely test the Prevost AWARE system (by Bendix), as well as enjoy a closer look at several new products and innovations now available on Prevost and Volvo 9700 coaches.

"This was my first Ride and Drive, which I found to be very well organized and extremely informative," says Dan Newby, president, Crossroad Tours, Olathe, Ks. "As we are a longtime Prevost customer, I especially appreciated this opportunity to meet with Prevost employees at every level in the company as well as to meet up with old friends and connect with the new people coming up."

"Our hope is that these company presentations and interactions strengthen our relationships with current and perhaps future Prevost operators," says Glen Gendron, director, Prevost New Coach Sales, Eastern Region. "Our Ride and Drive event further demonstrates how Prevost operates as a company and how we like to connect with our customers."

Visit prevostcar.com for more information.

[CD0518]