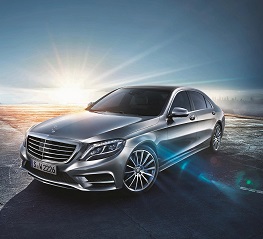 The dynamic Mercedes-Benz S-ClassGlasgow, Scotland—TBR Global, which has its headquarters in Glasgow and offices in Edinburgh, London, Asia, America, and Paris, has taken delivery of eight new S-Class HYBRID models from Mercedes-Benz of Edinburgh with a further six on order.
The prestige chauffeur business has long had an affiliation with Mercedes-Benz of Edinburgh and the esteemed brand, its latest purchase following the S-Class once again being voted the "Best Luxury Car" by the country's leading motoring magazines. TBR Global has a U.K. fleet of nearly 70 Mercedes-Benz models—all finished in silver and bought from Mercedes-Benz of Edinburgh--and the advanced new S 400 L HYBRID models will operate out of London, their high-tech electric/gas drivetrain being particularly suited to the demanding urban driving conditions of The Big Smoke.
The S-Class will be used to effortlessly transport the company's blue-chip clients and have been highly specified—including the fitment of electric panoramic roofs and even the Air Balance Package that controls the scent of the interior—to ensure the ultimate in comfort and refinement for both passengers and the driver. In addition, all the TBR Global S-Class benefit from the Executive Rear Seat Package, which includes such features as electrically-adjustable rear seats, luxury automatic climate control for the rear and roller blind package.
While offering unrivalled big car luxury and strong performance, the S 400 L HYBRID is capable of 44.8 mpg (combined) and emits just 147g/km CO2—both of which compare favorably with many family hatchback cars. Although established since 1992 and having operated all manner of Mercedes-Benz since 1995, including four generations of the award-winning S-Class, TBR Global has been astounded by the new S-Class. As Michael O'Hare, CEO of TBR Global, explains that his customers have been equally impressed.
"The S-Class has always been the benchmark but Mercedes-Benz has really upped its game with this latest model, the car being right in every single way," says O'Hare. "In all my time in the industry I've never seen such a reaction from customers, the first client even took photographs of the car and we've had others showing it to their contacts when they've been to meetings and saying that they've never been collected in anything like it before." O'Hare continued: "The environmental compatibility of the S 400 L HYBRID also conforms to our customers' requirements and the added refinement of the petrol engine hasn't gone unnoticed. Luxury is something that the S-Class does very well in standard form but we've tailor-made the specification of our cars to go beyond anything else that is available to clients, our reasoning being that customers often spend the whole day in the car and we want their experience to be as relaxing and convenient as it can possibly be. Likewise, for our drivers the S-Class is their office and we understand that for them to do the job better than ever, and for us to attract the best drivers, we need to make their working environment as comfortable and safe as it can be, the latter being behind our fitting of the optional Night Vision package as while much work is done in the city, it often involves driving clients home to poorly-lit rural areas at night."
TBR Global will keep the S-Class for between 15-24 months and will then change them for new models, which will again be bought from Mercedes-Benz of Edinburgh. Corporate Sales Manager at Mercedes-Benz of Edinburgh, Usman Akram, was delighted to once again assist TBR Global with its requirements.
"TBR Global has bought in excess of 65 cars from us over the last five years and we're very pleased that we've been able to help the business add what is the most impressive S-Class ever to its fleet," says Akram. "The S 400 L HYBRID represents a fantastic choice, being the first ever petrol hybrid model produced by Mercedes-Benz and combining an output of 333hp with exemplary efficiency, and the reaction of TBR Global to the new S-Class mirrors other feedback and interest in the latest model that we have received. The technology, particularly in terms of safety, is really something else and we've already sold in excess of 50 examples to the chauffeuring industry alone in the short time it has been launched."
Visit tbrglobal.com for more information.
3/14