Chauffeur Driven Director of Events Jess Pavlow (left) and Senior Business Development Manager Diane Druss with TEMSA CEO Hasan Yildirim Fort Lauderdale, Fla. — Nearly 2,000 members of the chauffeured ground transportation industry came together at the 2019 United Motorcoach Association (UMA) Motorcoach EXPO, including Chauffeur Driven Publisher Chris Weiss, Director of Events Jess Pavlow, and Senior Business Development Manager Diane Druss. The event ran from January 6-10, and brought together the industry's many operators, vendors, supporters, and associations so they could innovate, educate, and celebrate.

Meetings brought together like-minded individuals, education was found in a variety of seminars and sessions, awards and the driver and mechanics competitions honored an array of industry members' dedication and skills, while the expo floor hosted education of its own among the sprawling showcase of the latest and greatest services, products, and vehicles available to attendees.

The luxury ground transportation scene was well-represented, with 30 representatives of our industry segment coming together for a photo op organized by Chauffeur Driven outside the expo hall.

No industry event would be complete without some great nightlife, and UMA attendees took full advantage of the Floridian warmth during the beach party following a sneak-peek preview of the show floor.

Check out the February issue of Chauffeur Driven for in-depth coverage of the event and pages of photos.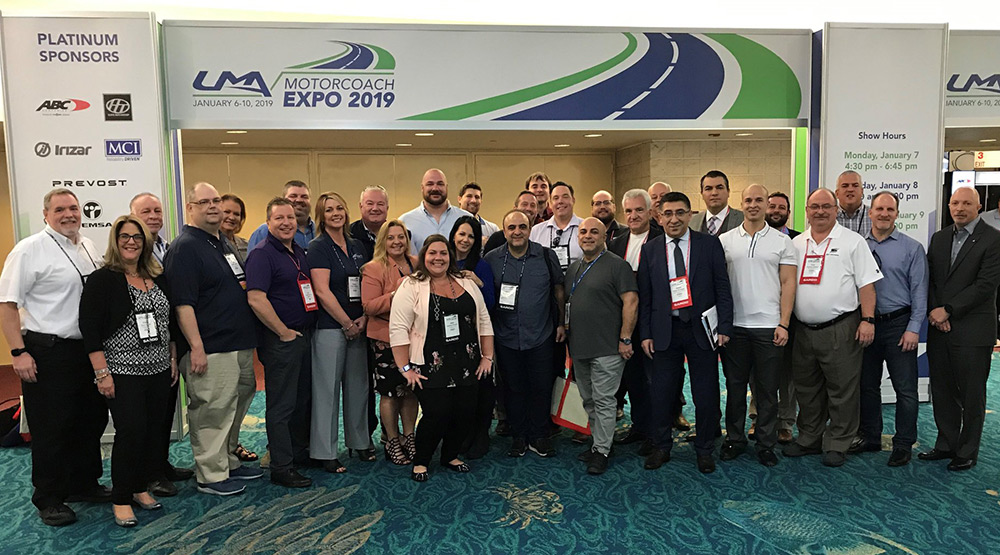 Thirty members of the luxury chauffeured transportation industry met up for a group photo during the 2019 UMA EXPO Next up for UMA is its annual legislative fly-in, scheduled for April 2 and 3 in Washington, D.C. A record attendance is expected for the event, which unites hundreds of individual representatives from a variety of bus and motorcoach industry groups with the common goal of speaking to members of Congress about how critical it is to protect the industry. UMA's goal is to have educated these legislators about the value of the bus and motorcoach industry, its concerns and envisioned solutions.

"I am pleased with the growing energy and collaboration transpiring between a wide variety of industry leaders who will be coming together with a single agenda for this important event. We are excited to expand the invitation list this year to include all industry leaders, both regional and national to unite and provide input for this year's legislative agenda," said UMA President and CEO Stacy Tetschner.

Attendees will have the opportunity to network with fellow industry members from major associations and organizations from around the country in order to create a unified vision that will be communicated with their elected leaders. Expected participants in this year's legislative fly in are active leaders, owners, operators from within the bus and motorcoach industry and the many organizations that make it up.

Visit uma.org for more information.

[CD0119]